Wife of Secretary of War Edwin Stanton
Edwin McMasters Stanton was born December 19, 1814, in Steubenville, Ohio, the eldest of the four children of David and Lucy Norman Stanton. He had six brothers and sisters. Beginning in childhood, Edwin suffered from asthma throughout his life. His father was a Quaker physician, and after he died in 1827, Edwin worked in a book store for five years thereafter to help support his family.
Image: Union Secretary of War Edwin M. Stanton
After leaving Kenyon College in 1833, Stanton studied law under a judge. He was admitted to the Ohio bar in 1835, but had to wait several months until his 21st birthday before he could begin to practice. He developed a very successful legal career in Ohio, then Pittsburgh, and finally Washington, DC.
Marriage and Family
On May 31, 1836, Edwin Stanton married Mary Lamson, and they had two children: Lucy Lamson Stanton (b. March 11, 1837) and Edwin Lamson Stanton (b. August 1842). They built a house in the small town of Cadiz, Ohio, and he practiced law there. Fifteen-month-old daughter Lucy died in 1841.
Mary Lamson Stanton died on March 13, 1844. The loss of his beloved wife sent Stanton spiraling into a deep depression. Then, in 1846, Stanton's brother Darwin cut his own throat – "The blood spouted up to the ceiling," a doctor recalled.
So many losses in so short a time changed Stanton, replacing a hearty good humor with a brusque, even rude, intensity. He moved to Pittsburgh, lost himself in legal work, and turned into a ferocious litigator.
In June 1856, twelve years after losing his first wife, Stanton married Ellen Hutchinson, a much younger woman. A member of a prominent Pittsburgh family, Ellen matched Stanton in aloofness. They had four children: Eleanor Adams Stanton (b. May 9, 1857), James Hutchinson Stanton (b. 1861; d. July 10, 1862), Lewis Hutchinson Stanton (b. 1862), and Bessie Stanton (b. 1863).
Stanton is listed with his family in the 1860 Census. At this time, his profession is noted as lawyer, his real estate value is $40,000, and his personal assets valued at $267,000. The family had four servants living with them.
Stanton's Legal Career
While still in Ohio, Stanton became active in the local antislavery society and was elected Prosecuting Attorney of Harrison county as a Democrat. Short, pudgy, myopic, and asthmatic, he was a brilliant lawyer known for his bad temper.
In 1847, Stanton moved to Pittsburgh, Pennsylvania. He was an apt lawyer and his business thrived there. From 1849 to 1856 he was counsel for the state of Pennsylvania, establishing a national reputation as he practiced before the United States Supreme Court.
Because of his large practice before the United States Supreme Court, Edwin Stanton moved to Washington, DC, in 1856. In 1858 he was sent to California by the US Attorney General as special Federal agent for the settlement of land claims, and Stanton succeeded in breaking up a conspiracy by which the government would have been defrauded of vast tracts of land of almost inestimable value.
In 1859, Stanton was one of the lead attorneys on the defense team of Daniel Sickles, a politician and later a Union general. Sickles stood accused of murdering his wife's lover, Philip Barton Key II, son of Francis Scott Key. Stanton and his colleagues convinced the jury to acquit Sickles on the grounds of temporary insanity, marking one of the earliest uses of that plea.
In 1860 President James Buchanan appointed Stanton US Attorney General. Stanton strongly opposed secession, and is credited with changing Buchanan's mind about secession. Instead of tolerating secession, Buchanan began to denounce it as unconstitutional and illegal. He advised Buchanan to act forcefully against the South, but when the president did not, Stanton secretly kept the Republicans, particularly William Henry Seward, informed about White House policy decisions.
Before the Civil War Stanton was a Democrat, opposed to slavery, but a firm defender of the constitutional rights of the slaveholders, and a bitter opponent of Abraham Lincoln, whose party he then hated and distrusted.
Stanton and the Civil War
Edwin Stanton was politically opposed to Republican Abraham Lincoln in 1860. After Lincoln was elected president, Stanton agreed to work as a legal advisor to Secretary of War Simon Cameron, only to "help save the country." In 1862, President Lincoln decided to remove the corrupt and ineffective Cameron, by appointing him Minister to Russia.
William H. Seward and Salmon P. Chase successfully lobbied the President to name Stanton as his new Secretary of War. Although he had often violently denounced President Lincoln, the latter thought he saw in Stanton a good Secretary of War, and in January 1862 invited him into his cabinet.
Stanton once again gave up a prosperous law practice to enter public service, sacrificing a yearly income of $40,000 to $50,000 as a lawyer for a cabinet salary of $8000. With no military experience, he moved into the office with zeal, fighting fraud and waste in the rapidly enlarged military.
Stanton proved to be a strong and effective cabinet officer, instituting practices to rid the War Department of waste and corruption. He removed a horde of fraudulent contractors, kept the armies in the field well equipped, and infused energy into procrastinating generals.
On August 8, 1862, the Secretary issued an order to "arrest and imprison any person or persons who may be engaged, by act, speech or writing, in discouraging volunteer enlistments, or in any way giving aid and comfort to the enemy, or in any other disloyal practice against the United States."
Stanton was very effective in administering the huge War Department. He was vigorous, rigid, and often harsh, and his manner was the cause of considerable friction between the War Department and Union generals. But when pressure was exerted to remove the unpopular secretary from office, Lincoln defended him. Not the least of Stanton's achievements was the peaceable disbandment of 800,000 soldiers at the end of the war.
Edwin Stanton and Abraham Lincoln
Early in the war, Stanton frequently lambasted President Lincoln in his correspondence, but Stanton's disrespect toward Lincoln dated back to early 1857. Two different companies in Illinois made reapers. The Cyrus McCormick Company of Chicago was larger and older. The Manny Company of Rockford was McCormick's only competitor.
Cyrus McCormick filed suit against John H. Manny for patent infringement. Stanton, George Harding and Abraham Lincoln were named to Manny's legal team. With enthusiasm, Lincoln began working on his brief. He knew little about patent law or reapers, so he traveled to Rockford to learn more about the Manny reaper.
Lincoln arrived in the courtroom dressed in his best suit. When Stanton saw him, he asked, "Where did the long-armed baboon come from?" He also described him as, "A long, lank creature from Illinois, wearing a dirty linen duster for a coat and the back of which perspiration had splotched wide stains that resembled a map of the continent." Lincoln was denied any role in the trial.
When Lincoln was elected president, Secretary of State William H. Seward and Secretary of the Treasury Salmon P. Chase both lobbied the president to appoint Stanton to a federal job in the spring of 1861 – perhaps US attorney for the District of Colombia, but another candidate got the post.
The situation was very different when it came to replacing Simon Cameron as Secretary of War. Stanton biographer Fletcher Pratt observed: "Practically everyone in Washington at the time, and some people outside the city, thought themselves personally responsible for Stanton's nomination as Secretary of War."
But the reality, according to Pratt, was "that Lincoln himself chose his man and quietly let the others think they were behind it, since the impression did not harm and made them feel good when the appointment turned out a success. As soon as it was evident that Cameron would have to go, the president wanted to replace him with a prominent Union Democrat, preferably one who had been associated with the previous administration." Stanton fulfilled both those requirements.
Stanton biographers Benjamin P. Thomas and Harold M. Hyman observed:
The President, heartsick over the failures that had attended the Union cause thus far, and weary of the ineptitude and incapacity of many of those who served him, saw in Stanton the man he needed. Almost immediately a deep intimacy began to grow up between these two disparate personalities. Lincoln never referred to the abuse he had suffered at Stanton's hands in earlier years, or to the epithets Stanton had used against him more recently. Stanton had found a man to follow.
Brusque and intemperate with people, rigid and vigorous in pursuit of victory for the Union, Stanton made few friends in the War Department or the cabinet, but he and the president gradually forged a mutual admiration.
Both men were doting fathers, and like the President, Stanton came to understand the loss of a child. Willie Lincoln died of a typhoid-like disease on February 20, 1862. Stanton's infant son, James Hutchinson Stanton, born in 1861, died on July 10, 1862.
Stanton and President Lincoln came to share the burdens of the war. In September 1863, Stanton's dispatch of 23,000 men from east to west in less than seven days to reinforce General William Rosecrans ranks as a logistical marvel. An early admirer of General Ulyysses S. Grant, Stanton pushed his advancement, and enthusiastically approved his appointment as general‐in‐chief of the Union armies in 1864.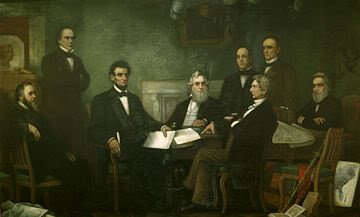 Image: President Abraham Lincoln and His Cabinet
Lincoln met with his Cabinet for the reading of the first draft of the Emancipation Proclamation on July 22, 1862. From left: Edwin M. Stanton, Salmon P. Chase, Abraham Lincoln, Gideon Welles, Caleb B. Smith, William H. Seward, Montgomery Blair, and Edward Bates.
Lincoln trusted Stanton's judgment and came to rely heavily on his advice. Stanton was also a strong supporter of Lincoln's Emancipation Proclamation and of the rights of freed men and women, which he did much to defend. Stanton frequently proclaimed his independence of and legal superiority over the President. It was a conceit which the President benignly tolerated. In the last three years of the Civil War, their relationship was transformed.
Lincoln's high opinion of Stanton can be seen in the following quote:
He is the rock on the beach of our national ocean against which the breakers dash and roar, dash and roar without ceasing. He fights back the angry waters and prevents them from undermining and overwhelming the land. Gentlemen, I do not see how he survives, why he is not crushed and torn to pieces. Without him I should be destroyed. He performs his task superhumanly.
Stanton became a Republican, staunchly pushing for action that would benefit the slave and free black population, and apparently changed his opinion of Lincoln. According to journalist Noah Brooks, Stanton was "what is popularly known as a bull-head; that is to say, he is opinionated, implacable, intent, and not easily turned from any purpose." That is to say, Stanton was not particularly likable – yet President Lincoln liked him.
When Supreme Court Chief Justice Roger Taney died in October 1864, Stanton wanted to be named as his replacement. Lincoln believed, though, that he was more important to the Union cause as Secretary of War, so the President appointed Chase instead. Stanton's effective management helped organize the massive military resources of the North and guide the Union to victory.
Because of his fragile health, Stanton tried to resign shortly after the Confederate surrender at Appomattox in April 1865, but his resignation was rejected by President Lincoln. The President reportedly said: "Stanton, you cannot go. Reconstruction is more difficult and dangerous than construction or destruction. You have been our main reliance; you must help us through the final act. The bag is filled. It must be tied and tied securely. Some knots slip; yours do not. You understand the situation better than anybody else, and it is my wish and the country's that you remain."
Lincoln's Assassination
Stanton's true heroic nature emerged in the hours after Lincoln's assassination. During that tumultuous night of terror and confusion, it was Edwin Stanton who held the United States together. Peace with the South was still shaky, and there was a lingering fear that officers like Nathan Bedford Forrest would drag out the war. Without a President to lead the United States and Jefferson Davis still at large, the future was uncertain.
Edwin Stanton stood firm in the face of all of this. On April 14, 1865, Abraham Lincoln was murdered by John Wilkes Booth. Booth had originally planned to decapitate the entire U.S. government by taking out Secretary of State William Seward, Vice President Andrew Johnson, and Edwin Stanton. Stanton was saved by a malfunctioning doorbell that hadn't been fixed.
Edwin Stanton learned about Lincoln's assassination while he was checking on the injured Seward, and went immediately to the Peterson House across from Ford's Theater, where Lincoln was taken after the shooting. Stanton immediately took charge of the scene.
Mary Todd Lincoln was so unhinged by the experience that Stanton had her ordered from the room. When Lincoln died, Stanton remarked, "Now he belongs to the ages. There lies the most perfect ruler of men the world has ever seen."
Washington was abuzz with rumors that the Confederates were regrouping, and Stanton sent out a steady stream of memos and letters to government officials. He ordered General Grant back to Washington and put the military on alert. He paved the way for a smooth transition of power to Vice President Andrew Johnson, getting all the Cabinet members to agree to stay on or resign as Andrew Johnson saw fit.
Presidential aide John Hay wrote to Stanton after President Lincoln's death: "Not everyone knows, as I do, how close you stood to our lost leader, how he loved you and trusted you, and how vain were all the efforts to shake that trust and confidence, not lightly given and never withdrawn."
Secretary Stanton vigorously pursued the apprehension and prosecution of the conspirators involved in Lincoln's assassination. These proceedings were not handled by the civil courts, but by a military tribunal, and therefore under Stanton's direction. He was subsequently accused of witness tampering, and of other activities that skewed the outcome of the trials.
Though from the start John Wilkes Booth was known to be the murderer, in the search for his conspirators scores of suspected accomplices were arrested and thrown into prison. The suspects were finally winnowed to eight: Samuel Arnold, George Atzerodt, David Herold, Samuel Mudd, Michael O'Laughlen, Lewis Powell, Edmund Spangler, and Mary Surratt.
Stanton ordered an unusual form of isolation for the eight suspects. He ordered eight heavy canvas hoods made, padded one-inch thick with cotton, with one small hole for eating, no opening for eyes or ears. A ball of extra cotton padding covered the eyes so that there was painful pressure on the closed lids. Stanton ordered that the hoods be worn by the seven men day and night to prevent conversation. Hood number eight was never used on Mary Surratt, the owner of the boarding house where the conspirators had laid their plans.
No baths or washing of any kind were allowed, and during the hot breathless weeks of the trial the prisoners' faces became more swollen and bloated by the day. The prison doctor began to fear for the conspirators' sanity, but Stanton would not allow the hoods, nor the rigid wrist irons and anklets, each connected to a ball weighing seventy-five pounds, to be removed.
Stanton remained as Secretary of War under President Andrew Johnson. Stanton was a staunch defender of the rights of freedmen following the Civil War, and he detested individuals who treated the freedmen unfairly. Initially, the Stanton and Johnson agreed on policy until Stanton heard rumors that the freedmen were being mistreated. His relations with the president thereafter were not good.
Stanton was finally asked to resign, and on his refusal to do so the President suspended him from office in August 1867. Under the terms of the Tenure of Office Act, the Senate refused (January 13, 1868) to concur in the suspension, and Stanton returned to his duties.
On February 21, 1868, President Johnson appointed General Lorenzo Thomas secretary of war and ordered Stanton to vacate the office, but on the same day the Senate upheld Stanton. He invoked military protection from General Ulysses S. Grant, who placed General Eugene Asa Carr in charge of the War Department building.
Congress came to Stanton's rescue by impeaching the President, the principal article of impeachment being that based on the removal of Stanton. President Andrew Johnson escaped impeachment by a single vote in the Senate, in part because of a secret agreement with Senate members to abide by the Republican legislations.
When the impeachment proceedings failed on May 26, 1868, Stanton resigned and returned to his private law practice.
Image: Stanton Monument
Jefferson County Courthouse
Steubenville, Ohio
Stanton's wish to sit on the Supreme Court appeared to be fulfilled when President Ulysses S. Grant appointed him and the Senate confirmed him on the same day, December 20, 1868. But Stanton died before taking the oath of office.
Edwin McMasters Stanton died of respiratory failure on December 24, 1869, in Washington, DC, and is buried there in Oak Hill Cemetery.
Stanton had a violent temper and a sharp tongue, but he was courageous, energetic, thoroughly honest and a genuine patriot.
SOURCES
Edwin M. Stanton
Blood, Tears and Glory
Mr. Lincoln and Friends
Wikipedia: Edwin M. Stanton
The Impeachment of Andrew Johnson