Civil War Nurse and Sanitary Agent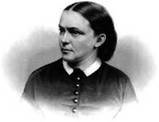 Cordelia Perrine Harvey (1824-1895) was a Civil War nurse and an agent of the Western Sanitary Commission. She worked throughout the war for Wisconsin's sick and wounded soldiers and children orphaned by the war. After five visits to the White House she convinced President Lincoln that building military hospitals in the North would allow soldiers to recover much quicker than in the hot putrid climate of the South.
Cordelia Adelaide Perrine was born December 27, 1824 in Barre, New York. Not much is known of her early life. The Perrine family moved to Wisconsin in 1842 and owned a prosperous farm in the Kenosha area. Cordelia lived for many years in Kenosha, where she taught school. She was teaching school in that city when she met and married Louis Harvey, who was also a teacher.
In 1845, they moved to Clinton Junction where Louis Harvey operated a country store. They then moved their home to Rock County, where they remained until 1859. The couple had one daughter who died in infancy. In 1859, Louis Harvey was elected Secretary of State, and he and Cordelia moved to Madison; in 1861 the people of Wisconsin elected him Governor.
From Fort Sumter on, both Louis and Cordelia Harvey had a deep interest in the Civil War and the welfare of Wisconsin soldiers fighting in the war. In the governor's honor, a company of Wisconsin volunteers were named the 'Harvey Zouaves.' Shortly after the first call for troops, Cordelia began to work for the soldiers of Wisconsin and their families.
In spring 1862 Governor Harvey went south to make sure the sick and wounded Wisconsin soldiers were being well cared for. He visited the hospitals in several cities along the way. In one of his reports, he wrote, "It would have moved a heart of stone to witness the interviews between the Governor and our wounded heroes. There was something more than formality about these visits, and the men knew it by sure instinct." At each of his stops, soldiers clustered around him.
At Savannah, Tennessee, he stopped to see the soldiers who had been wounded in the Battle of Shiloh. He wrote to Cordelia: "Yesterday was the day of my life. Thank God for the impulse that brought me here. I am well, and have done more good by coming, than I can well tell you."
On April 10, 1862, when he had been governor for only 100 days, Governor Harvey slipped while stepping from one boat to another. He fell into the Tennessee River and drowned before anyone could save him.
Cordelia Harvey was at the Capitol in Madison securing aid for a destitute family when the news of the accident was received. An attempt was made to take her home before the contents of the dispatch were revealed, but she knew immediately by the faces of the messengers that something horrible had happened.
Fortunately, she was not a woman to spend her life in mourning. She became inspired by that last letter she had received from her husband, and knew immediately what her life's work should be – to finish the work he had begun. One of her friends wrote to the new Wisconsin governor and asked him to appoint Cordelia to the Sanitary Commission. The friend wrote, "It is the sort of missionary labor for which you know her to be very capable, and she must have something to do or she will follow her husband, I fear."
Cordelia was appointed an agent of the Western Sanitary Commission at St. Louis. In this role, she toured Union military hospitals along the Mississippi River, as well as the regimental hospitals for Wisconsin soldiers. She sent immediately for hospital stores and supplies to serve the needs of her new patients.
The army would not allow wounded or sick soldiers to go north to recuperate, fearing they might never return. Harvey came to believe that the wounded men would recover more rapidly if they were sent away from the dangerous air, poor food and lack of care in the hospitals set up near the battle lines. When Harvey came down with camp fever, she returned to Wisconsin and got well quickly, further convincing her that the soldiers should be afforded this same opportunity.
Harvey traveled to Washington to persuade President Abraham Lincoln and Secretary of War Edwin Stanton to set up hospitals away from the front, but Lincoln also feared that if the men were sent home, they would desert. Harvey insisted that keeping these sick and wounded men in the hot climates of the South was really a death sentence.
At first, both Lincoln and Stanton refused to alter the military procedures, however Mrs. Harvey persisted. After five visits to the White House, both Lincoln and Stanton finally saw the logic in her argument and authorized the construction of hospitals in the North.
Three of those military hospitals were established in Wisconsin: one in Milwaukee, another in Prairie du Chien and the Harvey United States Army Hospital, in honor of her late husband, in Madison. Harvey happily returned to her duties at the front, and served there for the duration of the war. She was devoted to her work, and the soldiers began to call her the Wisconsin Angel.
Harvey's next project was to provide a home for the Wisconsin children who had lost their fathers to the war. When she returned to Madison in 1865, she learned that the government was planning to close Harvey Hospital, and thought the building was ideally suited for an orphanage.
Its rooms could easily be converted into dormitories and there was a classroom with seating for 150 children, and an infirmary. By April, 1866, there were 85 children living there, and the orphanage later grew to house as many as 300 children. The state of Wisconsin supported the institution with an annual grant of $25,000, and Harvey served as its superintendent from 1866 to 1874.
Cordelia Harvey remarried to Reverend Albert Chester from Buffalo, New York in 1876. After his death, she returned to Wisconsin and taught Sunday School, spending her remaining years in the home she had shared with the governor.
Cordelia Harvey died there February 27, 1895, at the age of 70 and was buried in Madison with the governor.
An historical marker on a highway near Kenosha serves as a wonderful tribute to Cordelia Harvey's selfless devotion to the helpless victims of the war. It reads:
Cordelia A. P. Harvey
Wisconsin women rallied to support the Union during the Civil War. They became nurses, hospital matrons, sanitary agents and ministers. C. A. P. Harvey attained national prominence for her role in promoting convalescent aid for sick and wounded soldiers.