Wife of Union General Fitz John Porter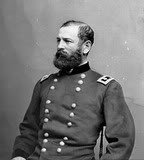 Fitz John Porter was a career U.S. Army officer and a Union General during the Civil War. He is most known for his performance at the Second Battle of Bull Run and his subsequent court martial, caused by his political rivals. After the war, he worked for almost 25 years to reclaim his reputation and restore his name to the army's roll.
Image: General Fitz John Porter
Harriet Pierson Cook was born in New York in May 1833. Fitz John Porter was born on August 31, 1822, in Portsmouth, New Hampshire. He came from a family prominent in American naval service; his cousins were Admirals David Dixon Porter, and David Glasgow Farragut. Nevertheless, he pursued an army career.
Porter graduated from West Point in 1845, ranking 8th out of 41 in his class, and was assigned to the artillery. He served in the Mexican War, being wounded at Chapultepec and earned 2 brevets. He was appointed as the Artillery and Cavalry instructor at West Point, served on the frontier, and the Utah Expedition. During the expedition, he was the adjutant for future Confederate General Albert Sidney Johnston.
After the war with Mexico, Porter returned to West Point and became a cavalry and artillery instructor from 1849 to 1853, and then became adjutant to the academy's superintendent until 1855. He next served at Fort Leavenworth, Kansas, as assistant adjutant general in the Department of the West in 1856, where he was brevetted to captain that June.
Harriet Pierson Cook married Fitz John Porter in 1857.
Porter inspected and reorganized the defenses of Charleston Harbor, South Carolina, until late 1860, when he aided in the evacuation of army personnel from Texas after that state seceded from the Union.
The Civil War
Porter was named a Colonel in the 15th U.S. Infantry on May 14, 1861. He was ordered to Washington, DC, by General George B. McClellan to assist in training Union recruits in the Army of the Potomac. This strengthened his relationship with McClellan, and he soon became a trusted adviser and loyal friend to McClellan.
In August 1861, Porter was promoted to Brigadier General of volunteers, backdated to May 17 so he would be senior enough to receive division command in the Army of the Potomac. McClellan created two provisional corps, and Porter was assigned to command the V Corps.
Porter led his division in the Peninsula Campaign from March through July 1862, and directed the seige against Yorktown. He fought at New Bridge, Hanover Court House, Mechansville, Gaines' Mill, Turkey Bridge, and Malvern Hill, where he played a leading role in covering the withdrawal of the Union army. For this series of battles, he was brevetted a Brigadier General in the Regular Army.
On June 27, 1862, with only Brigadier General Fitz John Porter's V Corps north of the Chickahominy River, General Robert E. Lee assaulted the lone corps at the Battle of Gaines' Mill. Struggling through the day, Porter's Corps fought bravely. Meagher's Irish Brigade and General William French's brigade were sent to reinforce Porter. With the Fighting 69th leading the way, the Irish Brigade allowed Porter's troops to cross the Chickahominy and rejoin the Army of the Potomac.
For his successful performance on the Peninsula, Porter was promoted to major general of volunteers on July 4, 1862. Porter was then transferred to the Army of Virginia under General John Pope in the Northern Virginia Campaign. Porter did not like Pope, and he openly challenged this reassignment, criticizing Pope personally.
Image: Brothers of Ireland by Don Troiani
The Ninth Massachusetts had already engaged in hours of vicious fighting with a Confederate army at Gaine's Mill. After a lull, the stillness was broken by a vigorous Southern assault as the rest of the Union forces melted away, leaving the Ninth nearly alone. Just then the 69th New York Volunteers came dashing in; firing ceased and the day was saved.
During the Second Battle of Bull Run on August 29, 1862, General Pope ordered Porter to attack the flank and rear of CSA General Stonewall Jackson's wing of the Army of Northern Virginia. Porter had stopped at Dawkin's Branch where he had encountered J.E.B. Stuart's cavalry. He received a message from Pope directing him to attack the Confederate right, but at the same time to maintain contact with the neighboring division under General John F. Reynolds, contradictory orders based on faulty information.
Pope was apparently unaware that General James Longstreet's wing of the Confederate Corps had arrived on the battlefield and the proposed envelopment of Jackson's position would have collided with Longstreet's large force. Porter chose not to make the attack because of the intelligence he had received that Longstreet was to his immediate front.
On August 30, Pope again ordered the flank attack, and Porter reluctantly complied. As the V Corps turned to head towards Jackson's right and attacked, it presented its own (and consequently the entire army's) flank to Longstreet's waiting men. About 30,000 Confederates attacked Porter's 5000 men and drove through them and into the rest of Pope's forces, exactly what Porter had feared would happen.
Pope was infuriated by the Union defeat, and he relieved Porter of command on September 5, 1862.
Porter moved back to McClellan's army, and remained in command of his corps through the Maryland Campaign; they served in the Battle of Antietam on September 17, 1862. Antietam seemed to prove everything that Union officials believed about General McClellan – that he was overly analytical, overly cautious, and prone to overestimating the size of his enemy. McClellan's slowness in committing Porter's V Corps allowed Lee's army to regroup. By November 5, McClellan was relieved of command.
Court Martial of Fitz John Porter
Porter was relieved of command of the V Corps on November 10, 1862, according to Special Order No. 337, issued by the War Department. By direction of the president, Porter was ordered to report immediately to the adjutant general in Washington, DC. For radical Republicans, led by Secretary of War Edwin M. Stanton, it was part of the continuing shakeup of an army "that was not quite responsive to the will of the government."
Since McClellan had been forced out of the army, he could not provide political cover for Porter. In fact, Porter's association with the disgraced McClellan and criticism of Pope were significant reasons for his conviction at court martial. Porter's friendship with McClellan was used against him during the trial.
On November 25, 1862, General Fitz John Porter was charged with two violations of the Articles of War, Article IX, disobeying a lawful order, and Article LII, misbehavior in front of the enemy. The charges contained specific incidences in which Porter violated both articles. It was obvious that the charges were instigated by the disgruntled General John Pope.
Secretary of War Edwin Stanton, who detested Porter's good friend McClellan, personally chose the court who would hear Porter's case, and most of them also disliked McClellan. As if this were not damning enough, Porter chose as his attorney Zachary Taylor Reverdy Johnson, a Democrat who had supported Stephen Douglas against Lincoln in the 1860 presidential election.
Porter's trial was open to the public, and quickly became a political battleground, the Republicans represented by the prosecution, the Democrats by the defense. Federal officers, including Pope and Irvin McDowell, used the trial to try to clear their names in the debacle that had occurred at Manassas.
General Fitz John Porter was found guilty of both charges on January 10, 1863. He was dismissed from the Union Army on January 21, 1863, and "forever disqualified from holding any office of trust or profit under the Government of the United States." Porter spent much of the rest of his life trying to restore his good name and reputation.
Porter finally found employment in late 1863 as the superintendent of a gold mining operation in Colorado. After the war, he returned east and went into the mercantile business, then served with distinction as Commissioner of Public Works, then Police and Fire Commissioner of New York City.
For years, Porter was kept from clearing his name by Edwin Stanton, who thwarted any government attempts to reinvestigate the matter, and punished any officers who supported Porter. Yet Porter never ceased petitioning for a new hearing, which was finally granted in 1886, after retired President Ulysses S. Grant wrote an article in his favor in the North American Review magazine.
In 1878, President Rutherford B. Hayes commissioned a board of inquiry under Edwin Stanton's replacement, Major General John Schofield, to investigate the matter. The commission found Porter guilty of no wrongdoing, finding that he was right in not committing his men to a doomed assault which Longstreet would have crushed.
However, this came too late to save Porter's military career. In 1882, the political climate was such that Porter finally had his citizenship and army rank reinstated. In 1886, President Chester A.Arthur reversed Porter's sentence. By a special act of Congress in 1886, Fitz John Porter was awarded the permanent rank of Colonel of Infantry, to rank from May 14, 1861, but back pay was denied him.
Two days later, August 7, 1886, a vindicated Porter retired from the Army at his own request.
Image: Fitz John Porter Monument
In 1904, this monument by James Edward Kelly was dedicated in Haven Park in Portsmouth, New Hampshire, near Porter's birthplace. The plaques on the base of the statue detail Porter's military career, including a daring spy mission in which Porter used a hot air balloon to fly over enemy lines.
Fitz John Porter died in Morristown, New Jersey, in 1901, and is buried in Green-Wood Cemetery, Brooklyn, New York.
Harriet Pierson Cook Porter died in 1924.
SOURCES
Fitz John Porter
General Fitz John Porter
Second Battle of Bull Run
Fitz John Porter Timeline
Wikipedia: Fitz John Porter
Major General Fitz John Porter
The Battle of Second Manassas
The Court-Martial of Fitz John Porter
The Court-Martial of Major General Fitz John Porter
Wikipedia: Court-Martial of Major General Fitz John Porter