Pennsylvania Conductors Led Slaves to Freedom
Abolition of slavery was the great moral issue of the nineteenth century, especially after the passage of the Fugitive Slave Law of 1850, which allowed owners to capture their slaves in free northern states and return them to the South. The Underground Railroad (UGRR) was a loose grouping of people who risked home and safety to help runaways escape bondage. The penalties for their actions were severe. If caught, a stationmaster on the UGRR could be jailed and fined $20,000, a huge sum at that time.
The Constitution of the United States had a fugitive slave clause that Congress implemented with the first Fugitive Slave Law in 1793, placing a fine on anyone rescuing, harboring, or hindering the arrest of a fugitive. This law was rendered ineffective by a decision of the United States Supreme Court in 1842 but Congress passed a stronger Fugitive Slave Law as part of the Compromise of 1850, in which federal authorities were required to hunt runaway slaves and return them to their masters.

Wright's Ferry Mansion
In 1726, Quakers John Wright and Robert Barber established a small settlement on the Susquehanna River, seventy miles west of Philadelphia. The Wrights operated a ferry that crossed the Susquehanna River, and a rural community called Wright's Ferry grew up around the ferry. Most of the settlers were Quakers, and most abhorred slavery.
With its close proximity to Maryland and easy accessibility by way of the Susquehanna, a large number of former slaves settled at Wright's Ferry. After a former slave was kidnapped in 1804, locals became actively involved in aiding runaways. Ferry boats transported fugitives across the river during this early period, and in 1812 authorities built a bridge across the Susquehanna near the Wright mansion.
Wright's Ferry was later named Columbia, and nineteenth-century historian Robert Clemens Smedley labeled the town of Columbia as the birthplace of the organized structure that we now know as the Underground Railroad. His work on the local Underground Railroad, History of the Underground Railroad in Chester and the Neighboring Counties of Pennsylvania, (1882) details persons actively involved in this effort.
Image: Wright's Ferry Mansion Parlor
Built in 1738, this is the restored home of Susanna Wright, an English Quaker settler who never married, but bought property on what was then the frontier and became self-sufficient operating the ferry crossing. She wrote poetry, taught herself Latin, and corresponded with such figures as Benjamin Franklin. She also grew silk worms and wrote a treatise on the subject.
The most important conductor in Wright's Ferry during the time of the Underground Railroad's greatest activity was black businessman William Whipper, who grew up there and established an extremely successful lumber business there. His home also was near the bridge. Whipper wrote in a biography that was part of William Still's book that:
My house was at the end of the bridge, and as I kept the station, I was frequently called up in the night to take charge of the passengers. On their arrival they were generally hungry and penniless. I have received hundreds in this condition; fed and sheltered from one to seventeen at a time in a single night. At this point the road forked; some I sent west by boat to Pittsburgh, and others … in our cars to Philadelphia. … From 1847-1860, I contributed from my earnings one thousand dollars annually.
Sarah McKim
In 1840, Sarah Speakman married James Miller McKim, a Presbyterian minister, prominent abolitionist and editor of the Pennsylvania Freeman. As a young lawyer, McKim frequently represented free men who had been kidnapped across the border into Maryland, and he acted as counsel in the many court cases that developed after the passage of the Fugitive Slave Law of 1850.
The McKims were strong advocates of the anti-slavery movement and some of their associates included Harriet Tubman, Lucretia Mott, Frederick Douglass and William Lloyd Garrison. Sarah and her husband became influential supporters of Underground Railroad operations as well. They traveled to various cities representing the Pennsylvania Abolitionist Society to assist in legal cases and speak on behalf of those who were being persecuted.
In 1859, with the impending execution of abolitionist John Brown, the McKims lent their support to his wife, Mary Brown and traveled with her to Virginia. Sarah and James prayed and held hands with Mary until the hour of John's execution had passed. Afterward, the McKims and Frances Harper assisted Mary in claiming her husband's body and escorted her northward, for the funeral service and interment.
During the Civil War, after the Union Army captured Port Royal, South Carolina in the winter of 1862, Miller McKim was instrumental in calling a public meeting to consider the needs of the 10,000 slaves who had been suddenly liberated. One of the results of this meeting was the Philadelphia Port Royal Relief Committee, which became statewide in 1863 as the Pennsylvania Freedman's Relief Association. He also became involved in recruiting African American units for the Union Army.
In addition to abolitionist causes, Sarah McKim was an advocate for women's rights, and a strong supporter of children's rights and animal rights. The McKims moved to New York City two years later, when James became the secretary of the American Freedman's Union Commission. He also helped establish The Nation, a newspaper produced to support the interests of the newly freed slaves.
Blairsville
Blairsville sits along the Conemaugh River at the southern edge of Indiana County in western Pennsylvania. From its beginning in the early 1800s, the town received an abundance of road, canal and railroad traffic. Many of the people who settled in the area had strict religious convictions and they became a strong force in the Underground Railroad movement.
Image: Map of Indiana County
Western Pennsylvania
Two important men from Blairsville were among many county residents involved in the Underground Railroad. John Graff was a wealthy business man who was passionate in his hatred of slavery; he belonged to many abolitionist societies and was a stationmaster for the UGRR. A safe room was constructed in the floor of John's carriage house to shelter escaping slaves. The room accessed an underground passage leading from the carriage house to the river.
Lewis Johnston, son of a free black father and a slave mother, was a coal miner and well respected in the community. He, too, was a stationmaster. In the early 1850s, an enslaved Virginian named Richard Newman headed north to freedom. He began a new life in Blairsville with the help of UGRR conductor and African American community leader Lewis Johnston, with whom Newman lived.
Rescue of 1858
In the spring of 1858, Uniontown tailor Peter Heck signed on to hunt fugitive slaves in Blairsville with a Virginian named Stump, who claimed to have a federal warrant for Richard Newman, who had been living in Blairsville for about six years. When Stump spotted Newman on the street, he told Heck to grab him. As Heck reached Newman, an angry mob of townspeople poured into the street and pulled Newman away to safety and drove Stump toward the Pennsylvania Canal. Heck later related:
It was like prodding a pole into a hive of bees. A swarm of whites and negroes poured from every direction. It fairly rained Negroes for a while. Stump and I were quick to take in the situation and determined that the only safety was by complete and rapid flight… Stump, having the start headed for the old canal and I in hot pursuit. We struck the towpath with an angry mob close upon our heels… but in spite of all I could do, one fleet-footed Negro insisted that my coat tail could assume a perpendicular instead of its already horizontal position. About every ten leaps I made, [his] number thirteen boots came into such violent contact with the nether part of my anatomy that I was lifted bodily from the ground. … Arrived home stiff and sore, made a solemn vow that… I would never more pursue a fugitive slave north of the fortieth degree, so help me Andrew Jackson.
Kennett Square
Kennett Square in Chester County was the hub of a large and tightly connected Underground Railroad in southeastern Pennsylvania. Many prominent citizens of Kennett Square and the surrounding region played an important role in securing freedom for runaway slaves. Its most active conductors were part of a huge Quaker network that collaborated with a smaller group of free black conductors. This network worked closely with the Vigilance Committee in Philadelphia that was coordinated by William Still and J. Miller McKim.
Already strongly against slavery, for many of Quakers the final straw was the passage of the Fugitive Slave Act, which brought the force of the Federal government to bear on individuals who helped fugitives escape from their owners. Proximity to the slave states of Delaware and Maryland caused Kennett Square to become a hotbed of abolitionist activity, a refuge for hundreds of escapees as they sought a better life in the North.
White Horse Farm
Built around 1770, White Horse Farm was the lifetime home of politician and prominent abolitionist Elijah Pennypacker (1802-1888). The mansion is a 2 1/2-story, stucco and stone structure with a gable roof. Pennypacker (1804-1888) served in the Pennsylvania State Legislature as a colleague of ardent abolitionist Thaddeus Stevens from 1831 until 1836. In 1839, Pennypacker decided to end his political career in order to fully aid the antislavery cause.
Pennypacker became active in several antislavery societies, lectured frequently against slavery and became one of most influential leaders of Pennsylvania's abolitionist cause. In 1840 he opened his home as a station on the Underground Railroad. Hundreds of fugitive slaves, coming from neighboring counties and the state of Delaware, were directed to White Horse Farm.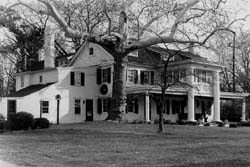 Image: White Horse Farm
Schuylkill Township, Pennsylvania
Elijah Pennypacker personally transported slaves from his home at White Horse Farm in Schuylkill Township to Norristown and other points north and east. No slaves were ever apprehended while in his care. Poet and abolitionist John Greenleaf Whittier said of Pennypacker, "In mind, body, and brave championship of the cause of freedom, he was one of the most remarkable men I ever knew."
Dr. Edwin Fussell
An abolitionist and conductor on the Underground Railroad, Dr. Edwin Fussell (1813-1882) was also one of the founders of the Women's Medical College in Philadelphia. After his death, the manuscript of his unfinished History was published by The Journal, a Quaker weekly. In this excerpt from a letter written by Dr. Fussell in 1880, he cleverly describes the activities on the UGRR:
I will endeavor to give a few facts in relation to the operations of the Underground Railroad in Chester county… I do not think there were signs, grips, signals or passes by which fugitives were known, or by which they reached in safety the various friends of freedom and agents on the route of the Underground Railroad. They were generally too well marked by the unerring signs of slavery not to be distinguished at once by any one that should see them on their way or hear them speak three sentences. …

The trains on this remarkable road nearly always ran in the night, and its success was owing to the darkness, the guidance of the North Star and to the earnest souls of the men and women who loved freedom… Hidden away in garrets, barn, cellar, or bedroom during the next day, (or sometimes many days) and then on an auspicious night, forwarded to the next station. Clothing is changed where possible, fetters removed where necessary; wounds are dressed, hungry bodies fed; weary limbs are rested, fainting hearts strengthened and then up again and away for Canada. …

One noteworthy peculiarity of these fugitive parties was that the babies never cried. Was it that slave mothers had no time to attend to infantile wants and the children found it did not pay to cry, or did the timid mothers teach their little ones to tremble and be still in horrible fear as do the mother partridges impress their young with dread of the hawk as soon as they are out of the shell? …

This is a large subject, and a thousandth part of its miseries and heart-breaks can never be written, but, thanks to the Father of the poor, the horror is dead, the bloodhound is no longer on the track, the Underground Railroad is no more.
SOURCES
Kennett Underground Railroad Center
Blairsville Underground Railroad: Rescue of 1858
Sarah McKim: Abolitionist. Women's, Children's and Animal Rights Activist.
Dr. Edwin Fussell: The Underground Railroad in Chester County, Pennsylvania