Wife of Union General Strong Vincent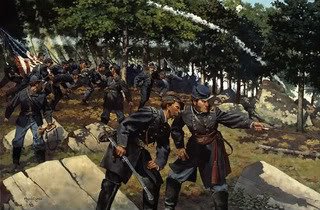 At Gettysburg, under his own initiative, Colonel Strong Vincent moved his men to Little Round Top and saved that important hill from immediate capture by the Confederates.
Image: Save the Ground at All Hazard
By Keith Rocco
Elizabeth Vincent had bade goodbye to her husband Strong Vincent the day after their wedding, as he left to fight in the Civil War. On the Gettysburg battlefield, Pennsylvanians like Vincent were fighting to defend their home state against an invasion by the Army of Northern Virginia, commanded by General Robert E. Lee.
Strong Vincent was born on June 17, 1837, in Waterford, Erie County, Pennsylvania, son of Bethuel B. Vincent and Sarah Ann Strong Vincent. In 1843, his parents moved the family to the city of Erie, PA, and he attended Erie Academy there. When he was about 14 years old, he was put to work in his father's iron foundry. For six months he worked as a laborer, making cast iron stoves and other products. He spent an additional year or so working in the office of the foundry.
Wanting a scientific education, Strong Vincent left home at the age of 17, and moved to Hartford, Connecticut, to study at Trinity College. There, he courted Elizabeth Carter, the young lady who would become his wife. Expelled for beating up a man who impugned his lady's honor, Vincent enrolled at Harvard College. After graduating in 1859, he returned to Erie.
Vincent returned to Erie to pursue a career in law, and studied under Attorney William Lane. Vincent was admitted to the Bar in 1860, opened an office in Erie, and practiced law until 1861. Within fifteen months of joining the law office, he passed the Bar Exam and became Mr. Lane's partner.
On the day after President Lincoln first called for volunteers, Strong Vincent enlisted as a private with the Wayne Guards, a division of the Erie Regiment.
Strong Vincent married Elizabeth Carter before his regiment received orders to leave Erie – they had been engaged for some time. Elizabeth was described as a very handsome, tall and graceful woman, and it was said that they were the ideal couple. She was a skilled horsewoman, and she gave him her riding crop to take with him when he left for the war the day after their wedding.
At the start of the Civil War, Vincent joined the Pennsylvania Militia as an adjutant and first lieutenant of the Erie Regiment. On September 14, 1861, he was commissioned lieutenant colonel of the 83rd Pennsylvania Infantry. His character and ability were known to all around him. He had earlier declined an appointment as the Judge Advocate General of the Army of the Potomac, a position that would have assured his personal safety and his success in civilian life after the war.
During the Peninsula Campaign, the colonel of the 83rd Regiment was killed on June 27, 1862, at the Battle of Gaines' Mill, and Strong Vincent assumed command of the regiment. After marching through the Chickahominy swamps near the Hanover Court House, he became ill with deadly malaria, which made him too ill to continue in the field, and he was on medical leave until October 1862.
Vincent led the 83rd Regiment into battle in December at Fredericksburg, and gained the confidence and admiration of his men when he rescued his troops from a dangerous position. On May 20, 1863, he assumed command of the Third Brigade, First Division, V Corps, replacing his brigade commander, who resigned after the Battle of Chancellorsville.
In the summer of 1863, Vincent's brigade supported the Union cavalry that sparred with Jeb Stuart's gray horsemen in the Loudoun Valley, and then assisted the cavalry at Middleburg and Upperville in mid-June. General George Meade, still in command of the V Corps, reportedly was overheard saying of Vincent, "I wish he were a brigadier general, I'd put him in charge of a division."
Strong Vincent started the Gettysburg Campaign knowing that his young wife was pregnant with their first child. The letters to Elizabeth were filled with phrases about the righteousness of the Union cause: "If I fall, remember you have given your husband to the most righteous cause that ever widowed a woman." He passed his 26th birthday on the march to Gettysburg.
The Army of the Potomac on the march to Gettysburg was full of Pennsylvanians who felt a special significance in fighting on their home turf. Vincent and his brigade arrived at the Gettysburg battlefield on July 2, 1863. They led the division south through the open fields just east of the John Weikert farm and northeast of the Wheatfield. When Colonel Vincent went into battle on July 2, 1863, he was wielding not his sword, but the riding crop his wife gave him as a parting gift.
Because General Daniel Sickles of the III Corps had moved his men forward without orders, he had left a significant terrain feature, Little Round Top, undefended. The chief engineer of the Army of the Potomac, General Gouverneur Warren, recognized the tactical importance of the hill and urgently sought Union troops to occupy it before the Confederates could.
A mounted messenger raced from the Wheatfield with an order to be delivered personally to the division commander, General James Barnes, directing him to divert one of his brigades to "occupy that hill yonder," and defend it. But Barnes had gone ahead to reconnoiter the ground, and was no longer in sight.
The messenger encountered Vincent's brigade nearby, and without consulting his superior officers, Vincent decided that his brigade was in the ideal position to defend Little Round Top. Without an instant's hesitation, Vincent replied, "I will take the responsibility of taking my brigade there."
Vincent exercised the independent judgment required of an officer confronted with a changing situation, one that demanded quick and decisive action. He gave temporary command of his brigade – the 16th Michigan, 44th New York, 83rd Pennsylvania, and 20th Maine – to senior colonel James C. Rice of the 44th New York, and rushed to the hill accompanied by his flag bearer. Scouting out the ground, Vincent chose for his brigade to occupy a part of the hill that is now known as Vincent's Spur.
Private Oliver Willcox Norton, Vincent's flag bearer and bugler, later wrote: "While our line was forming on the hill at Gettysburg, I came out with him in full view of the rebel lines. They opened two batteries on us instantly, firing at the colors. Colonel Vincent looked to see what was drawing the fire and yelled at me, "Down with the flag, Norton! Damn it, go behind the rocks with it."
The brigade was led around the protective east side of the hill and onto the south and west slopes. In a matter of minutes, he had the brigade placed in the best possible position using the slopes of the hill, and the boulders and rocks, to maximum advantage. His speedy and judicious deployment of his troops in the face of the onrushing enemy proved to be crucial in the next few minutes, as the attacking forces hurried to collide with Vincent's Brigade.
Vincent's 1300 men were barely in position on Little Round Top when Alabama and Texas troops assailed them. As Rebel shells burst among their ranks, Vincent quickly deployed his regiments for defense, just minutes ahead of the onrushing Confederates of Brigadier Generals Jerome Robertson's Texans and E.M. Law's Alabamians. For the next hour and a half, Vincent's men fought with grit and determination, denying Little Round Top to the Rebels who swarmed again and again up its steep slopes.
At the climax of the attack, the 16th Michigan began to falter and fall back towards the summit, and Vincent rushed forward to steady the line. Mounting a large boulder, Vincent brandished his wife's riding crop and shouted to his men "Don't give an inch!" As he uttered the words or soon after, a bullet tore through his thigh and groin and he fell.
Mortally wounded, Vincent was carried to the Bushman farm nearby, where he lay for the next five days, unable to be transported to his home due to the severity of his injury.
On the evening of July 2, General George Meade telegraphed President Abraham Lincoln a request for Vincent's promotion to Brigadier General. The request was promptly granted and affirmation was received just before his death, a rare promotion in the field to recognize the value of his services at Gettysburg. The promotion was dated July 3, 1863, but it is doubtful that Vincent knew about the honor before he died.
Strong Vincent died from his injuries on July 7, 1863, and is buried with his wife and daughter in Erie Cemetery, Erie, PA.
Colonel James C. Rice issued the following order:
The colonel commanding hereby announces to the brigade the death of Brigadier General Strong Vincent. A day hallowed with all the glory of success is thus sombered by the sorrow of our loss. Wreaths of victory give way to chaplets of mourning, hearts exultant to feelings of grief. A soldier, a scholar, a friend, has fallen. For his country, struggling for its life, he willingly gave his own.

Grateful for his services, the State which proudly claims him as her own will give him an honored grave and a costly monument, but he ever will remain buried in our hearts, and our love for his memory will outlast the stone which shall bear the inscription of his bravery, his virtues, and his patriotism. While we deplore his death, and remember with sorrow our loss, let us emulate the example of his fidelity and patriotism, feeling that he lives but in vain who lives not for his God and his country.
Elizabeth Carter Vincent gave birth to a girl she named Blanche two months later, but the baby died before reaching the age of one. She is buried between Elizabeth and Strong Vincent at Erie Cemetery.
Colonel Joshua Chamberlain, then commanding the 20th Maine, wrote:
Our Vincent, soldierly and self-reliant, waited word from no superior, but taking the responsibility ordered us to turn and push for Little Round Top at all possible speed, and dashed ahead to study how best to place us." [When I reached the slope of Little Round Top], I found Vincent there, with intense poise and look. He said with a voice of awe – 'I place you here. This is the left of the Union line. You understand. You are to hold this ground at all costs.'
Chamberlain's 20th Maine has received most of the fame for the defense of Little Round Top, but there is little doubt that the efforts and bravery of Strong Vincent were instrumental in the eventual Union victory. With gallant performances by the 20th Maine and the 140th New York, the Union line held against the Confederate onslaught; Chamberlain earned the Medal of Honor.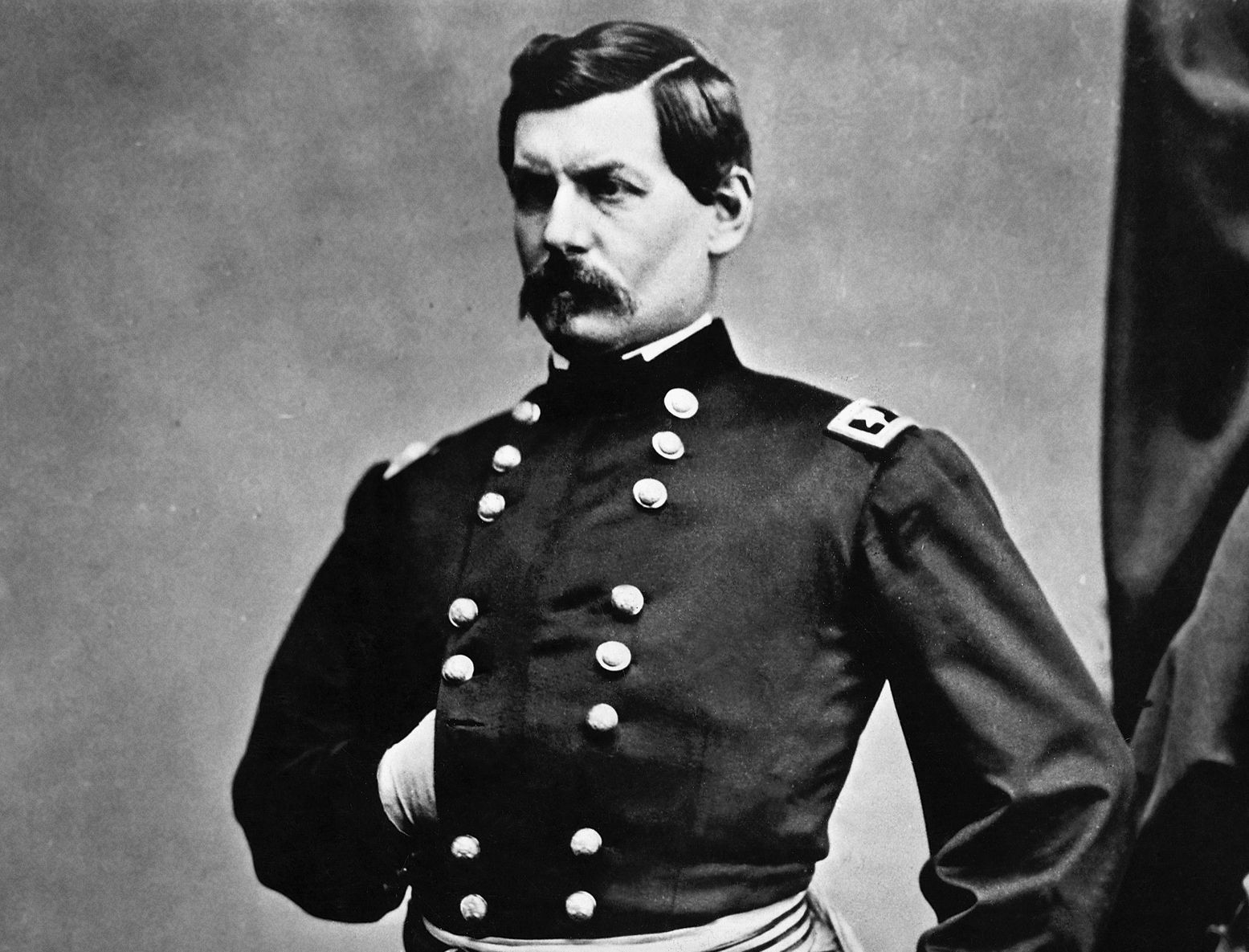 Strong Vincent's corps commander, Major General George Sykes, described Vincent's actions in his official report from the battle:
Night closed the fight. The key of the battlefield was in our possession intact. Vincent, Weed, and Hazlett, chiefs lamented throughout the corps and army, sealed with their lives the spot intrusted to their keeping, and on which so much depended… General Weed and Colonel Vincent, officers of rare promise, gave their lives to their country.
Elizabeth Vincent lived as a widow for the next 51 years, caring for Vincent's disabled brother Ward, whom she taught patiently in an effort to give him what little good and happiness was possible to him in this life.
In 1889, a monument to the 83rd Pennsylvania Regiment, topped with a life size statue of Strong Vincent, was dedicated on Little Round Top. Oliver Norton, General Vincent's flag bearer and bugler that fateful day, gave the dedication speech, surrounded by former members of the regiment:
I am convinced that the spirit of Strong Vincent is here in our midst today. I firmly believe that he is aware of what we have attempted to do to honor and remember him.

As long as the Gettysburg Battlefield exists, as long as the statue of Strong Vincent stands atop his regimental monument on Little Round Top, as long as his new statue looks over the City of Erie, as long as people come to gaze upon the painting of Vincent posting his brigade, as long as there is a Strong Vincent Highway, as long as there are students of Strong Vincent High School, as long as there are men and women who care about honor, character, duty, sacrifice, and remember those who have made this country the great nation that it is, Strong Vincent, you shall never be forgotten!
Brigadier General Strong Vincent was portrayed by Maxwell Caulfield in the film Gettysburg.
SOURCES
Strong Vincent
The Generals of Gettysburg: The Leaders of America's Greatest Battle by Larry Tagg. Vincent's Third Brigade
Colonel Strong Vincent
Brigadier General Strong Vincent
The Hero of the Battle of Little Round Top
Union Colonel Strong Vincent & Little Round Top
Strong Vincent: An Erie County War Hero – PDF File