Wife of Union General Gouverneur Warren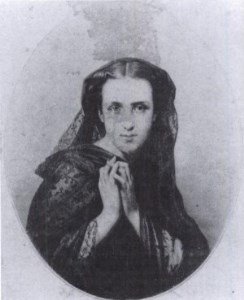 Image: Emily Chase, soon to be Mrs. G.K. Warren
New York State Library
On St. Valentine's Day 1862, Emily Forbes Chase met Gouverneur Warren at a party in Baltimore, and they fell in love. She was twenty-one at the time. The couple were married on June 17, 1863, and two weeks later General Warren was defending Little Round Top at the Battle of Gettysburg.
Emily Forbes Chase was born on September 16, 1840, the oldest of four children of a prosperous dry-goods merchant, Algernon Sydney Chase, who settled in Baltimore in 1850. In the spring of 1861, Emily's mother, Mary Augusta Chase, became famous for defiantly flying the Stars and Stripes from the family home when Confederate sympathizers attacked Union troops who were passing through Baltimore on their way to Washington, DC.
Gouverneur Kemble Warren was born on January 8, 1830, in Cold Spring, New York. He was named for Gouverneur Kemble, a prominent local Congressman, diplomat and industrialist. At the age of sixteen, Warren entered the United States Military Academy at West Point, which was just across the Hudson River from his home. He graduated second in a class of 44 in 1850, and was assigned to the Army Corps of Topographical Engineers.
From 1850 to 1853, Warren served on several important expeditions, including surveys of the lower Mississippi delta in 1850-1851 and the upper Mississippi rapids in 1853. From 1853 to 1855, he assisted in a government study to determine the best possible route for the transcontinental railroad. While involved in this project he examined reports of all explorations west of the Mississippi back to Lewis and Clark and began work on the first comprehensive map of the trans-Mississippi United States.
In 1855, Warren served as chief topographical officer in General William S. Harney's expedition against the Sioux in southern Nebraska Territory (in present-day Nebraska and South Dakota). He was praised in the U.S. Congress for his report of the region, which led to greater responsibility in future explorations. In 1856, he commanded a successful survey mission in northern Nebraska Territory along the Missouri and Yellowstone Rivers.
He took part in a dangerous survey of the Niobrara River and the Sioux-occupied Black Hills in 1857. These three expeditions were integral both to the Pacific Railroad report and to the building of military roads into the Nebraska Territory.
Warren spent the following year in Washington, DC, compiling his findings into official reports and completing his Map of the United States from the Mississippi to the Pacific Ocean, which accompanied Secretary of War Jefferson Davis' final report to Congress on the results of the transcontinental railroad route investigation. From 1859 to 1861, Warren served as an assistant mathematics professor at West Point.
Warren in the Civil War
In May 1861, Warren was given a leave of absence from West Point to become lieutenant-colonel of the 5th New York Regiment. By the end of the month, Warren and his regiment were stationed outside Fort Monroe, Virginia, and they saw their first action at the Battle of Bethel Church on June 9. Warren spent the rest of the year training his regiment and using his engineering skills to build the Washington defenses.
During the winter of 1861-1862, the 5th New York was stationed in Baltimore, where he helped to design and build Fort Federal Hill. For Emily Chase and Gouverneur Warren it was love at first sight when they met at a St. Valentine's Day party. He wrote in a letter to her:
But I don't know what to do – when I am with you it is 'sweet confusion' and when away it is 'bitter confusion'… It was very sweet of you to write me such a dear note late at night. If you are like me, only those thoughts which are real, influence that hour, and whether I closed my eyes first or not my last thoughts were, my darling, of you and ever will be.
In the spring of 1862, Warren joined the Army of the Potomac, serving in General George B. McClellan's Peninsula Campaign. He was given a brigade in the V Corps in May, with which he covered the extreme right of the army and took part in the capture of Hanover Court House, the pursuit of Confederate cavalry under General J.E.B. Stuart, the Battle of Gaines' Mill, at Malvern Hill, and the skirmish at Harrison's Landing.
On August 30, Warren commanded a brigade under General Fitz John Porter at the Second Battle of Bull Run. Warren earned praise for a strategic holding maneuver, but he lost more than fifty percent of his command. Understrength, his brigade was held in reserve at Antietam in September and Fredericksburg in December. On September 26, 1862, Warren was promoted to brigadier general.
During the winter months of 1862-63, General Warren did individual work in reconnoitring and correcting maps. On February 2, 1863, he was appointed Chief Topographical Engineer, and served mainly as an advisor to General Joseph Hooker at Chancellorsville in early May. There, Warren took part in the action on Orange Pike, the storming of Marye's Heights, and the battle of Salem Church. On May 12, he was named Chief Engineer of the Army of the Potomac.
Marriage and Family
On June 17, 1863, Emily Chase married Gouverneur Warren in Baltimore; they would later have a son, Algernon Sydney Chase Warren (1866-1907) and a daughter, Emily Braem Warren (1875-1965). Warren left for army headquarters almost immediately after the wedding.
The Army of the Potomac was then in Virginia, trying to shadow the movements of General Robert E. Lee and his Army of Northern Virginia. Lee's forces were strung out across the Shenandoah Valley and moving north. No one could have foreseen that these great armies would soon collide in a small crossroads town named Gettysburg in southern Pennsylvania, where they would fight to the death during the first three days of July 1863, in a battle that many believe (myself included) decided the ultimate outcome of the Civil War.
General Warren at Gettysburg
At the Battle of Gettysburg on July 2, 1863, General Warren, the chief engineer on General George G. Meade's staff, was sent by Meade to survey the left flank of the army that afternoon. Climbing to the summit of Little Round Top, a rocky hill at the southern end of Cemetery Ridge, Warren was surprised to see that General Daniel Sickles had not anchored the Federal left on this hill as ordered.
Warren realized that Little Round Top, which commanded a view of the entire Union left flank, offered a natural position from which to defend this important end of the Union line. When southern batteries opened fire at 4 o'clock, Warren spotted CSA General John Bell Hood's Confederates as they emerged from the cover of Warfield Ridge, moving toward the Round Tops.
Realizing they could easily flank the Union line at Devil's Den and capture Little Round Top, Warren sent aides to other commanders requesting troops to solidify the left flank. Colonel Strong Vincent was marching his soldiers toward the Peach Orchard when he was approached by one of General Warren's staff officers. As the aide explained his mission, Vincent immediately realized the desperate situation at the hill.
Ignoring his previous orders, Vincent immediately led his infantrymen to Little Round Top, where he posted his four regiments on the rock-strewn south side of the hill, just as General Hood's Division were prepared to attack the southern end of the Union line. During these maneuvers Colonel Joshua Chamberlain led a heroic charge down Little Round Top and routed the Alabama troops who had threatened the hill. For his actions, General Warren is considered the savior of Little Round Top.
Image: General Warren Monument on Little Round Top
Gettysburg National Military Park
This statue by sculptor Karl Gerhardt was erected August 8, 1888, the sixth anniversary of General Warren's death. He is portrayed looking over the battlefield holding binoculars in his right hand. The sculpture rests on a boulder near where the Union line was that day.
On August 11, 1863, Warren was promoted to major general and given temporary command of the II Corps, whose commander General Winfield Scott Hancock had been badly wounded at Gettysburg. Warren repulsed a heavy Confederate attack at Bristoe Station in mid-October, but his last-minute cancellation of an assault at Mine Run on November 30 began to raise doubts about his willingness to act offensively.
Warren's next important service was during the march on Centerville in October 1863, when he was attacked by CSA General A.P. Hill, and, although his force was about one half that of the Confederates, he held his position until he was reinforced by the V Corps.
When the Army of the Potomac was reorganized into three corps, Warren was given command of the V Corps on March 23, 1864, in time for General Ulysses S. Grant's Overland Campaign in Virginia. Warren and his new corps were engaged at the Wilderness, Spotsylvania Court House and Cold Harbor in May and June, losing more than 12,000 of his 28,000 men in a forty-three day period.
Warren's naturally lively imagination and an engineer's habit of caution did not serve him well. He was at his best when the military situation depended on him to exercise his initiative, as on May 3, 1864 at the Battle of the Wilderness, in which his action saved the army. Warren was at his worst only a week later on May 10 at Spotsylvania Court House when he failed to position his troops correctly. Another officer had to be sent to control the movements of the V corps after which both Generals Grant and Meade threatened to relieve him of his command.
On June 18, 1864, Warren was involved in the unsuccessful initial assaults on Petersburg, Virginia, then took part in the long siege which followed.
On July 30, a huge mine which had been placed in a seventy-five-foot tunnel under the Confederate lines was set to explode and Warren's corps was one of those scheduled to participate in an assault after the explosion. Warren's attack failed to go off as planned, but he later demonstrated that he could not move his troops because the IX Corps was blocking they way. In August and December, however, Warren earned distinction with his independent commands against the Weldon Railroad, a vital supply line to Petersburg.
Friction began to develop between Generals Grant and Warren because of their conflicting ideas about the handling of troops. Grant, aware that his army greatly outnumbered the Confederate army, constantly took the offensive without regard for casualties. Warren, on the other hand, was reticent to attack unless he could be reasonably sure of victory without losing a large number of his men.
Others did not always appreciate General Warren's analytical mind. General Grant later wrote about this in his Personal Memoirs:
He [Warren] could see every danger at a glance before he had encountered it. He would not only make preparations to meet the danger which might occur, but he would inform his commanding officer what others should do while he was executing his move.
At the beginning of the Appomattox Campaign, commander of the Cavalry Corps General Philip Sheridan, one of General Grant's key subordinates, requested that the VI Corps accompany him in his pursuit of Lee's army, but Grant insisted he take Warren's V Corps. Sheridan soon began complaining that Warren constantly criticized the acts and orders of his superior officers. To appease Sheridan, Grant gave him permission to relieve Warren if he felt it was justified.
At the Battle of Five Forks (April 1, 1865), when the V Corps advanced according to General Sheridan's orders, General Warren found that the enemy he was scheduled to attack was three-quarters of a mile away. Warren corrected this error and helped secure a Union victory at Five Forks, arguably the pivotal battle in the final days against Lee's army. Some 2,400 Confederate soldiers were captured.
Image: General Gouverneur Warren
At about seven o'clock, while regrouping his troops near Five Forks, General Warren was handed an order from General Sheridan relieving him from the command of his corps. When he confronted the cavalryman to ask that the decision be reconsidered, Sheridan snapped: "Reconsider? Hell! I don't reconsider my determination."
Following Sheridan's instructions, Warren reported to U.S. Grant at about 11 o'clock that night, and stated that he carried out his orders to General Meade's entire satisfaction and joined Sheridan sooner than Meade had expected; that the only lack of skill was that of Sheridan, who sent him to attack an enemy that was not there. However, Grant refused to reverse Sheridan's decision, as did Warren's immediate superior, General Meade.
Emily Chase Warren soon received a letter in which her husband vowed, "I will have justice done me yet." General Warren also sent a letter to Grant's chief of staff seeking "a full investigation" into the circumstances at Five Forks. By May 1, Emily was telling her father that Warren was "almost crazy sometimes over this affair of his."
Humiliated by Sheridan's dismissal, General Gouverneur Warren resigned his commission in the volunteer army and returned to duty as a major in the Army Corps of Engineers. He was assigned by General Grant to the defenses of Petersburg and the Southside Railroad, and later to the command of the Department of the Mississippi. From then until his death, Warren worked in various parts of the country, making surveys and performing other engineering duties.
Warren spent 1866 and 1867 conducting surveys of the Mississippi River system. Throughout the 1870s, he was involved in building numerous bridges and improving harbors on the Mississippi, along the Atlantic Coast, and in the Great Lakes. On March 4, 1879, he was promoted to lieutenant colonel of engineers.
Throughout the post-war period, Warren continually asked for an investigation into his removal from command at Five Forks, which weighed heavily on him emotionally and physically. All requests were ignored or refused during Ulysses S. Grant's presidency. Finally, President Rutherford B. Hayes ordered a Court of Inquiry, which convened in January 1880. After hearing testimony from dozens of witnesses the Court adjourned in July 1881 to consider a verdict.
General Gouverneur Warren died on August 8, 1882 of acute liver failure related to diabetes at Newport, Rhode Island at age 52. At his request he was buried in civilian clothes and without military honors at Island Cemetery.
The Philadelphia Inquirer reported:
He had been confined to his bed less than one week; but for a long time, especially since the close of the recent Court of Inquiry relating to his conduct at the battle of Five Forks, he has shown signs of great mental depression, and actually died of a broken heart, although he had diseases which in time might have caused death.
Three months later, the verdict from the Court of Inquiry supposedly exonerated Warren of the major accusations related to his actions at the Battle of Five Forks. However, the findings were rather ambiguous, and had Warren lived to read them, he probably would not have felt vindicated. This is an excerpt:
That by continuous exertions of himself and staff he substantially remedied matters; and the court thinks that this was for him the essential point to be attended to, which also required his whole efforts to accomplish.
Emily Chase Warren died on December 27, 1928 at age 88, and was buried beside her husband at Island Cemetery in Newport, Rhode Island.
SOURCES
Gouverneur K. Warren
Gouverneur Kemble Warren
Battle of Boydton Plank Road
Wikipedia: Gouverneur K. Warren
General Gouverneur Warren and Little Round Top
Happiness is Not My Companion: The Life of General G.K. Warren By David M. Jordan