Wife of Union General Daniel Sickles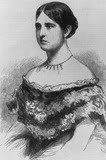 Born in New York City in 1836, Teresa Da Ponte Bagioli was the daughter of the wealthy and well-known Italian singing teacher Antonio Bagioli and his wife, Maria Cooke. During her youth, Teresa sometimes lived and studied in the household of her grandfather, Lorenzo Da Ponte, the noted music teacher who had worked as Mozart's librettist on such masterpieces as The Marriage of Figaro. An exceptionally bright child, Teresa spoke five languages by the time she was a young adult.
Daniel Edgar Sickles was born October 20, 1819, in New York City to Susan Marsh Sickles and George Garrett Sickles, a patent lawyer and politician. (Sickles' year of birth is sometimes given as 1825. Historians speculate that he deliberately chose to appear younger when he married a woman less than half of his age). He learned the printer's trade and studied at New York University.
Sickles was considered by his parents to be unsettled and in need of special tutoring, and arranged for him to live in the scholarly house of the Da Pontes – Teresa's family. It was a household like few others at a time when New York City had little of the Italian character it would later take on. Teresa was only three years old when Sickles began living and studying there. A year or so later, Sickles' benefactor died, and he moved out of the Da Ponte house. He then studied law in the office of Benjamin Butler, was admitted to the bar in 1846.
Though Sickles had known Teresa since her infancy, he made her acquaintance again in 1851, this time as an Assemblyman. He was thirty-two years old, she was fifteen. Sickles, a notorious womanizer, was quite taken with Teresa and soon proposed marriage. Despite his prominence and long connection to the family, the Bagiolis refused to consent to the marriage.
Undeterred, Sickles married Teresa Bagioli in a civil ceremony on September 17, 1852. Teresa's family finally relented, and the couple married again, by the Archbishop of New York City. Teresa was obviously pregnant at the time of their wedding – some seven months later, their only child, Laura Buchanan Sickles, was born.
Political Career
Sickles was a charismatic man who courted controversy throughout his life and held a succession of significant posts. In 1853, Sickles became corporation counsel of New York City, but resigned when he was appointed by President Franklin Pierce as secretary of the U.S. legation in London, headed by soon-to-be president James Buchanan.
Sickles' career, however, was replete with scandals. He was censured by the New York State Assembly for escorting a known prostitute, Fanny White, into its chambers. He also reportedly took her to England with him, leaving his pregnant wife at home, and presented White to Queen Victoria.
Sickles returned to America in 1855, and served in the New York State Senate from 1856 to 1857. From 1857 to 1861, he served as a Democratic representative from New York in the United States Congress. Daniel and Teresa moved to Washington, DC, where they were heavily involved in the political social scene. Congressman Sickles was very influential and Teresa was beautiful and charming.
The family moved into a house on Lafayette Square, and lived there while Congress was in session. Teresa, according to Harper's Weekly, quickly became a fixture in Washington society. The social functions in the city were numerous; Teresa held a reception every Tuesday morning and a dinner every Thursday night. She was especially celebrated as a hostess who was capable of charming the most sophisticated guest, while simultaneously making the most socially inexperienced feel at home.
Teresa and the other Washington wives were also expected to attend many similar events each week. If the husband was unavailable due to political responsibilities and travel, it was customary for the wife to be accompanied by one of the many bachelors in the city. One of Teresa's escorts was Philip Barton Key, a widower with four children and a member of the social elite of Washington, DC.
The Murder of Philip Barton Key II
Teresa was twenty years old and the beautiful wife of the newly elected congressman when she met the tall, dashing Philip Barton Key, who was a United States Attorney for the District of Columbia and the son of Francis Scott Key, the author of The Star-Spangled Banner. As an unattached gentleman of both means and stature, he was often called upon to serve as an escort for the married women of Washington.
When Teresa met Key at President James Buchanan's inauguration in March 1857, she was enduring her husband's infidelities and frequent absences on political business. As he had done in New York, Daniel Sickles continued to have love affairs, and seriously neglected his young wife. Teresa and Key subsequently grew friendlier at parties, which her husband often did not attend.
Key and Teresa soon became passionate about each other, and he began to follow her everywhere. They began to meet almost daily in the afternoon on the street, and he would frequently enter her carriage. On several occasions, they visited the Congressional Cemetery on the city's east side or the burying ground at Georgetown. "They would walk down the grounds out of my sight, and be away an hour or an hour-and-a-half," Teresa's coachman said later.
Key rented a house for their meetings in a poor racially mixed area, which was only a few minutes' walk from the Sickles home, and it was clear to nearby residents what was going on. Key would pass by the Sickles residence, signal to his lover by waving a handkerchief, and if an appropriate signal was returned, they would meet at the house.
While all of Washington seemed to know of the lovers' conduct, Daniel Sickles apparently did not. He eventually received an anonymous letter informing him of his wife's infidelity, and he soon discovered the allegations were true. Enraged at his discovery, Sickles confronted his wife. Though she initially denied everything, Teresa eventually confessed.
Sickles forced Teresa to write a detailed confession, in which she described her numerous rendezvous with Key at the vacant house. "There was a bed in the second story. I did what is usual for a wicked woman to do. I undressed myself. Mr. Key undressed also." She also confessed to first having met privately with Key in the Sickles mansion. "Mr. Key has kissed me in this house a number of times. I do not deny that we have had connection in this house – in the parlor, on the sofa." She signed it with her maiden name, "Teresa Bagioli."
A few days later, on February 27, 1859, Sickles allegedly saw Key outside his home, signaling Teresa in broad daylight by waving a white handkerchief toward her bedroom window. Sickles was enraged. Key continued walking, and Sickles sent his friend Samuel Butterworth to intercept Key while Sickles threw on his overcoat, stuffing his pockets with three guns. Regrettably for Key, he had no warning that Sickles had become aware of the love-triangle as he stood in Lafayette Park, trying to signal Teresa.
Sickles burst from his house, and intercepted Key at the corner of Madison Place NW and Pennsylvania Avenue about 2 pm. The details of what took place have always been somewhat in dispute, as there were at least twelve witnesses who would see all or part of the scene between Sickles and Key, and all managed to see and hear something different.
But all agreed that Sickles uttered something along the lines of "Key, you scoundrel, you have dishonored my house; you must die!" Some witnesses swore that the statement noted that Key had specifically dishonored his bed. Whatever part of his life he felt had been dishonored, Sickles' first shot grazed Key's hand. The two men struggled together, and Key retreated into the street.
Sickles, within ten feet of Key, fired a second bullet that struck Key below the groin, and passed through his thigh. No major arteries were damaged, and this may not have been a fatal wound. Key staggered over to a tree, leaned against it, then fell. He cried, "Don't shoot me!" and "Murder!" but Sickles pulled out one gun after another and continued to fire at Key.
A third shot misfired. The fourth shot hit Key square in the chest, just below his heart, causing the fatal wound from which Key could not recover. His chest filled with blood and he quickly lost consciousness. Sickles attempted one final shot directly at Key's head, but this one, too, misfired.
Philip Barton Key was taken into the National Club building on Madison Place – a social club that both Key and Sickles had spent much time in – where a doctor pronounced him dead. A United States Congressman had just killed the District Attorney for Washington, DC.
Sickles was quickly ushered away by friends and passersby, and was taken in a carriage to Attorney General Jeremiah Black's house, a few blocks away on Franklin Square. There Sickles surrendered and confessed to the murder. "Of course I killed him," Sickles said. "He deserved it."
Sickles' behavior was no better than his wife's; throughout his life he carried on affairs with many women. But this was accepted behavior for a man in the mid-nineteenth century. Because of the double standard of that era, Sickles' affairs made no difference to much of the public.
After a visit to his home, accompanied by a constable, Daniel Sickles was placed in a cell at the Washington jail, but he was allowed to receive visitors. So many came that he was granted the use of the head jailer's apartment to receive them. There Sickles received meals from home and visits from his 6-year-old daughter, Laura, famous political figures and other leading members of Washington society. He was also allowed to keep his firearm, unusual even for the time.
Teresa's mother and her clergyman came to see him, and told him that Teresa was distracted with grief, shame and sorrow, and that the loss of her wedding ring (which Sickles had taken when he visited their home) was more than Teresa could bear.
Sickles' Murder Trial
Sickles was charged with murder and secured several leading politicians as his defense attorneys, among them was famed lawyer Edwin M. Stanton, who would later become Abraham Lincoln's Secretary of War and New York friends who were working for free. The team amassed as much evidence as possible against Philip Barton Key and Teresa Sickles, putting their actions on trial.
The trial began on April 4, 1859, and was the celebrity event of the day. Sickles pleaded temporary insanity, the first time in United States history this defense had been used. Before the jury, Stanton argued that Sickles had been driven insane by his wife's infidelity, and thus was out of his mind when he shot Key.
The graphic written confession that Sickles had obtained from Teresa was ruled inadmissible in court, but Sickles leaked it to the press, and it was printed in full. The defense strategy ensured that the trial was the main topic of conversation in Washington for weeks to come, and the national papers provided extensive coverage sympathetic to Sickles.
On April 26, 1859, the jurors left the courtroom around 2 pm to deliberate; they returned one hour later with the verdict: Sickles was found not guilty. He was even viewed as something of a public hero after the sensational 22-day trial, a man who had fought to protect the sanctity of his marriage.
Sickles remained in office, and would consider Edwin Stanton a close friend for the rest of his life, and would name his first son George Stanton Sickles. But his reputation and character were stained by his rash actions on that February day, and his political career never completely recovered.
After his acquittal, Sickles publicly forgave Teresa, who had asked for his forgiveness. "God bless you for the mercy and prayers you offer up for me," she wrote in a letter to her husband. The public was more outraged by his forgiveness of the wife he had publicly branded a harlot and adulteress than by the murder. The press, which had championed his acquittal, criticized him for forgiving her.
Said Sickles to his critics:
I am not aware of any statute or code of morals, which makes it infamous to forgive a woman. I can now see in the almost universal denunciation with which she is followed to my threshold, the misery and peril from which I have rescued the mother of my daughter. I shall strive to prove to all that an erring wife and mother may be forgiven and redeemed.
However, Sickles was effectively estranged from his wife after the trial. Teresa never regained her place at his side, and while provided for, she had little joy in her life. She left Washington, and Sickles came back to finish his term in Congress. Knowing that he would not be able to win another term in office, Sickles turned to other projects.
Teresa Baglioli Sickles was never well after the scandal. She took ill and died of tuberculosis on February 5, 1867, at the age of thirty-one. She was buried in a plot at Green Wood Cemetery in Brooklyn, where her daughter Laura, her parents and a few other family members are interred – a plot which even today bears no marker.
The Civil War
Following the surrender of Fort Sumter in April 1861, Daniel Sickles hoped that his patriotic fervor would help him overcome his scandalous past. A Democrat who nevertheless supported President Abraham Lincoln's policies, Sickles was authorized by New York Governor Edwin Morgan to recruit a brigade of five regiments of volunteers, which Sickles did within a month, and was appointed colonel of one of the regiments he organized.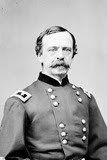 Image: General Daniel Sickles
In September 1861, Lincoln nominated Sickles for the rank of brigadier general to command his new brigade of New Yorkers, dubbed the Excelsior Brigade. In March 1862, he was forced to relinquish his command when Congress refused to confirm his commission, but he lobbied among his Washington political contacts and reclaimed both his rank and his command on May 24, 1862, becoming one of the most famous political generals in the Union Army.
Sickles and his brigade rejoined the Army in the Peninsula Campaign, and he did a competent job commanding his brigade in the Battle of Seven Pines and the Seven Days Battles. He was a close ally of General Joseph Hooker, his original division commander. Both men had notorious reputations as political climbers and as hard-drinking ladies' men. Sickles was promoted to major general on November 29, 1862.
Hooker, now commanding the Army of the Potomac, gave Sickles command of the III Corps in February 1863, a controversial move because he was the only corps commander without a West Point education. On May 2, 1863, at the Battle of Chancellorsville Sickles vigorously opposed Hooker's orders moving him off good defensive terrain in Hazel Grove. In the end, Hooker lost his nerve and the Rebels won the battle.
Battle of Gettysburg
On day 2 of the fighting at Gettysburg, Sickles was ordered by Army of the Potomac Commander General George G. Meade to position his corps next to Hancock's II Corps, with his left flank anchored at the base of Little Round Top, but Sickles did not like this position. He scouted forward some 1500 yards in front of the main Union line wanted to move his men to that position, and despite being ordered three times to remain where he was, Sickles moved his men forward.
This greatly diluted the concentrated defensive posture of his corps by stretching it too thin, and created a salient that could be attacked from multiple sides. Meade rode out to confront Sickles about his insubordination, but it was too late. By the time Meade arrived, Confederate troops were firing on Sickles' men.
Sickles' disobedience of Meade's orders proved costly for the Union. In the ensuing engagement against CSA General James Longstreet's Corps, Sickles' men were forced to retreat to the original Union line after a bloody struggle. Meade kept sending reinforcements to keep the line from crumbling altogether. Had daylight not expired on Longstreet, he may have been able to break through the line. By the end of the day, Sickles lost more than 30 percent of his men.
General Sickles himself fell wounded. He was on horseback when a 12-pound cannonball mangled his right leg. He was carried by stretcher to a field hospital, where his leg was amputated just above the knee. He insisted on being transported to Washington, DC, which he reached on July 4, 1863, bringing news of the great Union victory at Gettysburg, and starting a public relations campaign to ensure his version of the battle prevailed.
Sickles continued to defend his actions at Gettysburg, and attempted to smear General Meade's reputation. He was not court-martialed for insubordination, possibly because he had been wounded. Furthermore, he was a powerful, politically connected man, who would not be disciplined without protest and retribution. Sickles ran a vicious campaign against General Meade's character after the war.
Sickles managed to get himself awarded the Medal of Honor for his actions at Gettysburg, but it took him 34 years to do so. The official citation that accompanied his medal recorded that Sickles "displayed most conspicuous gallantry on the field, vigorously contesting the advance of the enemy and continuing to encourage his troops after being himself severely wounded." Sickles remained in the army until the end of the war, but General Ulysses S. Grant would not allow him to return to a combat command.
Early in 1865, President Lincoln and Secretary Seward sent General Sickles on a confidential mission to Colombia and other South American States. He negotiated an important treaty to permit the United States to convey troops across the Isthmus of Panama.
After his return, Sickles served as military governor of the Carolinas from 1865 to 1867. President Andrew Johnson's views differed from those of Sickles, however, and the President relieved Sickles of his command. Sickles was mustered out of the service January 1, 1868, and was placed on the retired list with the full rank of Major General on April 14, 1869.
In spring 1869, President Grant appointed him United States Minister to Spain, a post which he retained until March 20, 1874. He continued his reputation as a ladies' man in the Spanish royal court. In 1871, Sickles remarried Senorita Carmina Creagh, the daughter of a Spanish Councillor of State. He converted to Catholicism, and fathered two children with her. After relinquishing his position as minister, Sickles continued to live abroad until 1880.
Sickles returned to New York alone and re-entered politics, living out the remainder of his life in New York City. He lived apart from his wife and children for almost thirty years. In 1890, his eldest daughter, Laura, died at the early age of 38.
In 1886, at the age of 67, Sickles was re-elected to Congress, where he made important legislative contributions to the preservation of the Gettysburg Battlefield, a site he often visited during his later years.
More Troubles in Later Life
Problems dogged Sickles in his final years. In June 1911, his European daughter, Edna Sickles Crackenthorpe sued to prevent a disposal of certain properties to which she believed she was entitled. In 1911, the New York Commandery of the Loyal Legion refused to admit Sickles to membership.
During the twenty-six years of its existence, Sickles was chairman of the New York Monuments Commission, but he was forced out in December 1912 by a financial scandal. There was a shortage of $27,000, and there was some talk of arresting the old soldier, but nothing came of it. He faced bankruptcy in his last years, and several attempts were made to seize the art treasures in his Fifth Avenue home to cover his debts.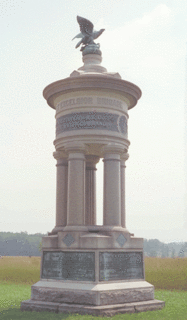 Monument to the Excelsior Brigade
Gettysburg National Military Park
Of the principal senior generals who fought at Gettysburg, virtually all have been memorialized with statues at Gettysburg. Sickles is a conspicuous exception. A memorial was commissioned, which was to include a bust of Sickles – the monument to the New York Excelsior Brigade. It was rumored that the money appropriated for the bust was stolen by Sickles himself; the monument is displayed in the Peach Orchard, without a bust. When asked why there was no memorial to him, Sickles supposedly said, "The entire battlefield is a memorial to Dan Sickles."
General Daniel Edgar Sickles died on May 3, 1914, at the age of 94. He was buried at Arlington National Cemetery with the full trappings due his rank as General.
SOURCES
Dan Sickles
A Brief Biography
Philip Barton Key II
Daniel Edgar Sickles
Teresa Bagioli Sickles
Daniel Sickles (1819-1914)
Major General Daniel E. Sickles
Encyclopedia of World Biography