Fiancee of General John Reynolds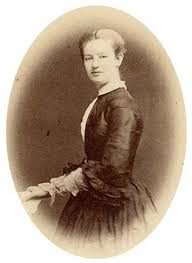 Catherine Mary Hewitt became engaged to future Union General John Reynolds in California in the late 1850s. Since they were from different religious denominations – Reynolds was a Protestant, Hewitt a Catholic – she kept their engagement a secret, even from her parents. Kate and Reynolds had decided that if he were killed during the war and they could not marry, she would join a convent.
Born in Stillwater, Saratoga County, New York, there is some dispute about the year of Kate Hewitt's birth but 1836, despite the date on her grave marker, appears to be the most consistent and logical year. Her life from the beginning was tragic and tumultuous as she lost her mother and brother at a young age.
Kate left for San Francisco, California in 1856 to serve as a governess in the household of relatives, but soon began working in a Catholic girls' school run by the Daughters of Charity, where she began her conversion to that religion. It must have been there that she met Major John Fulton Reynolds, a career United States Army officer, who was then on duty in San Francisco.
Kate and John fell in love, and ultimately became engaged to be married, but kept it a secret because of his position with the army during the Civil War and her newfound faith, which was unpopular in some social circles. When Kate returned to the East in 1860, she entered the Academy of the Sacred Heart, where she became a convert to the Catholic faith.
After the humiliating Union defeat at the Battle of Chancellorsville, President Lincoln ordered the relief of General Joseph Hooker. On the night of June 27, 1863, General George G. Meade took command of the Army of the Potomac in Frederick, Maryland. Meade had to immediately deal with General Robert E. Lee's invasion of Maryland and Pennsylvania.
General Meade drew up a defense plan that included a line of troops that stretched from Middleburg to Manchester, Maryland. By June 30, General John Reynolds and his First Corps were in the middle of that line near Emmitsburg, Maryland, with 80,000 troops.
General John Buford and his cavalry were the first to encounter Lee's Confederate forces just outside Gettysburg, Pennsylvania, on July 1, 1863. He hastily scribbled notes to General Reynolds, urging his rapid march to the battle site. Buford was at the Seminary in Gettysburg when Reynolds and his forces came on the scene.
Reynolds entered the fray, quickly assessed the situation and sent a member of his staff to General Meade with this situation report: "Tell the General that we will hold the heights to the south of the town, and that I will barricade the streets of the town if necessary."
Personally directing his men, General Reynolds shouted out, "Forward men, forward for God's sake, and drive those fellows out of the woods." But before long a Confederate sniper shot and instantly killed General Reynolds, who wheeled and fell from his horse. The characteristically quiet Reynolds was dead. His loss was keenly felt by the army. He was loved by his men and respected by his peers.

Image: General John Reynolds
The Union Army quietly removed the body of its First Corps commander from the field by ambulance. Then, because his family lived so close to the battlefield, Reynolds' body and personal effects were sent to the home of his sister Catherine on Spruce Street in Philadelphia, there to lie in state until the public funeral services scheduled for July 4 in Lancaster, Pennsylvania, the family's hometown.
Kate Hewitt's existence was discovered by John's family when they found her Catholic medal and a gold ring in the form of clasped hands around his neck. Inside the ring were inscribed the words Dear Kate. They also noticed that his West Point ring was missing.
On the morning of July 3, while the battle was reaching its climax 100 miles away, Kate Hewitt called at the house on Spruce Street. Catherine and her sisters rushed downstairs to meet their beloved brother's fiancee, and embraced her warmly.
While the introductions were taking place Kate maintained her composure, but on seeing John's body she broke down and wept. She explained that she had hesitated to come to Catherine's home because she knew no one in the family, but that she could not resist the wish to see John again. Kate returned in the evening to sit by him during the night-long vigil. She returned John's ring, but kept the Catholic medal he had worn.
Reynolds' sister, Jennie Reynolds Gildersleeve, wrote to her brother Will, a captain in the United States Navy:
She seems to be a very superior person. We all regret that he [John] had not told some of us about her, and that we had [not] known her, yet are happy she came and had all the comfort we could offer her.
Eight days after Reynolds' burial in Lancaster, Kate Hewitt applied for admission to the Sisters of Charity Convent in Emmitsburg, Maryland. This was, she said, part of the plans that she and John had made for their future. If all went well, they would be married after the war. But in the event of General Reynolds' death, they had agreed that Kate would become a nun.
The establishment of the Sisters of Charity was located only ten miles from the Gettysburg battlefield where General Reynolds had been killed. The sisters had maintained a convent and school there since their founding by Mother Elizabeth Ann Seton in 1809. Reynolds and his First Corps had passed the convent grounds only a few hours before he was killed.
In her eagerness to learn every detail of her fiance's death, Kate asked the Reynolds sisters to bring the General's orderly, Sergeant Veil, to visit her at the convent. Veil later wrote about the occasion:
I, of course, was glad to do so: and next day we drove over and, through the influence of the [Reynolds sisters], I was allowed to enter the convent and see the young lady. Miss Hewitt was a very beautiful lady, highly educated. I had to tell her all about the General, his last moments, and so forth, and she wanted very particularly to know if he had left any last message.

When we came to leave, she said, "Mr. Veil, I have a little token here I had for the General, some of my own work, and I want to give it to you as a token of remembrance of both of us," and taking from the folds of her dress a small package, she handed it to me. I thanked her for it and left. After we had left the convent, I told the [Reynolds] sisters of what had taken place, and on opening the little package which was nicely done up and tied with a ribbon, found a very beautiful embroidered handkerchief — the Coat-of-Arms of the United States, very beautifully done — and I have the handkerchief and token to this day.
A few months later, Eleanor Reynolds wrote to Sergeant Veil that Miss Hewitt, now Sister Hildegardis (the Reynolds girls had helped her select the name), had gone to Albany, New York, and was teaching in a large school that the Sisters of Charity had recently opened there.
And then on January 15, 1867, Eleanor wrote that Kate was well and that they had spent a week with her at Albany in October and had "cheered her somewhat." She said that they tried to make Kate a yearly visit.
On August 11, 1868, five years after Kate Hewitt had kept her pact with her lost fiance by entering the convent at Emmitsburg, Eleanor wrote:
Miss Hewitt is still at Albany – I hope we shall visit her in October. She is not strong and has a cough that is almost constant. She says she is happier as a 'sister' than she would be 'in the world.'
But the October visit to Albany never took place. On September 3, 1868, for reasons unknown, Kate left the Community of the Sisters of Charity. She had made no vows, and was free to leave if she found the life was too much for her. The notation of her leaving was the end of Catherine Mary Hewitt's association with the Sisters of Charity.
Still mourning for a man that was neither husband nor blood relative, Kate was alone in the world. She apparently gave up on the Catholic faith and returned to her hometown of Stillwater, New York. She never married.
Catherine Mary Hewitt died of pneumonia at Stillwater in 1895. She is buried in the Stillwater Union Cemetery, not far from the Saratoga Battlefield. Her stone is an octagon and symbolic of rebirth and resurrection. The word Mizpah is carved on the stone and is a Hebrew benediction meaning, 'May God watch over you until we are together again.' Kate Hewitt is emblematic of the generations lost forever because of civil war.
SOURCES
Catherine "Kate" Mary Hewitt
On War and Love: From the 1860s