Washington Hostess During the Civil War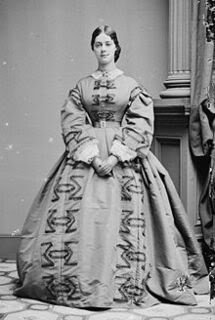 Kate Chase was the daughter of Salmon P. Chase, Treasury Secretary under President Abraham Lincoln and later Chief Justice of the Supreme Court. Despite her youth, Kate was the reigning social queen of Washington, DC during the Civil War and a strong supporter of her widowed father's presidential ambitions that would have made her First Lady.
Katherine Jane Chase was born August 13, 1840, in Cincinnati, Ohio, the daughter of famous Ohio politician Salmon P. Chase and his second wife Eliza Ann Smith, who died shortly after Kate's fifth birthday. Kate is best known as a society hostess during the American Civil War, and a strong supporter of her father's political ambitions.
Kate Chase was educated at the Haines School in New York City, where she learned languages, elocution and the social graces along with music and history. Kate witnessed her father's political rise in Ohio, where he established a reputation as an antislavery lawyer. At sixteen, Kate decided that her father should be President of the United States, and dedicated her life to that end.
After nine years of schooling, Kate returned to her father in Columbus, Ohio, to serve as official hostess for her father, the new Governor of Ohio, and by now widowed three times. Salmon Chase was also haunted by the deaths of four children, and therefore cherished his two surviving daughters – Kate and her younger sister Nettie.
Beautiful and intelligent, Kate impressed such friends of her father as Charles Sumner, the Massachusetts senator and fellow anti-slavery champion and Carl Schurz, the German-born American politician, who described her as follows:
She was about eighteen years old, tall and slender and exceedingly well formed… vivacious hazel eyes, shaded by long dark lashes and arched over by proud eyebrows. The fine forehead was framed in waving, gold-brown hair. She had something imperial in the pose of the head, and all her movements possessed an exquisite natural charm. No wonder that she came to be admired as a great beauty and broke many hearts.
In 1861, Salmon P. Chase became Secretary of the Treasury in the Lincoln administration. He set up residence in Washington, DC, with Kate as his hostess and her soirees were eagerly attended in the nation's capital. At 21, Kate set out to be the First Lady of Washington in fact if not name. She had no intention of acquiring another stepmother – despite her father's interest in women such as Adele Douglas, the widow of Senator Stephen A. Douglas.
Historian Doris Kearns Goodwin wrote:
Kate's dynamic grace and intellect made her the most interesting woman in any gathering, as well as a critical force behind her father's drive for the presidency. [Her] father's ambitions and dreams became the ruling passions of her life. She gradually made herself absolutely essential to him, helping with his correspondence, editing his speeches, discussing political strategy, entertaining his friends and colleagues. While other girls her age focused on the social calendar of balls and soirees, she concentrated all her energies on furthering her father's political career.
During the Civil War, Kate Chase visited Union Army camps in the Washington area and befriended Union generals, offering her own views on the proper prosecution of the war, often contrary to the wishes of the Administration.
At twenty-two, Kate, clad in designer gowns from Paris, had numerous suitors vying for her hand. Brigadier General James A. Garfield was her frequent companion on buggy rides into the countryside around Washington. Kate's extravagance in clothes, however, threatened her father's fragile budget.
William Sprague IV was Kate's most ardent suitor. In 1860, Sprague was elected the governor of Rhode Island at age twenty-nine. With his own personal fortune, the 'boy governor' raised and equipped a Union regiment of infantry and a complete battery of artillery. In April 1861, the Rhode Island troops were the first to appear in Washington, led by the Governor on a white horse.
In fall 1862, Sprague was elected to the U.S. Senate, taking office in 1863 and serving until 1875. Like much of male Washington, Sprague was clearly infatuated with Kate, and she became convinced that he would be the vehicle that would convey her father to the presidency, but their strong personalities clashed from the very beginning.
Sprague had a troubled past, and a fiery temper. When he was thirteen years old, his father was murdered. At twenty-six, he had inherited the family business, which included the manufacture of locomotives. Miss Chase was very much impressed by Sprague's financial and political power when the two visited Rhode Island, and she developed a close relationship with his mother.
The Senator had money, but he longed for social acceptance, and believed he would acquire that if he could persuade Miss Kate Chase to become his wife. Although he drank too much and had a bad reputation with the ladies, Kate thought she could correct these faults in his character, and she was soon sporting a beautiful engagement ring around Washington.
Young John Hay, President Lincoln's personal secretary, had been one of Kate's beaus. Just before her marriage, Hay wrote a friend:
The town is dull. Miss Chase is so busy making her father next President that she is only a little lovelier than all other women. She is to be married on November 12th which disgusts me with life. She is a great woman and with a great future.
Kate was elated at how well her father accepted her new companion. The two men soon formed a lasting friendship. William met with Mr. Chase on several occasions concerning problems he was having with Kate. William purchased the home the Chases had been renting for $28,000 a year, and it was agreed that after the honeymoon, they would all live there while the Senate was in session.
Mr. Chase's career as Treasurer of the United States was at its pinnacle in 1863. He had managed to do what most men considered impossible – he financed the war and stabilized the value of the currency at the same time. He was held in high esteem for the excellent job he was doing managing the country's money, but the Chases were on the verge of bankruptcy. Sprague's money could solve that problem for Kate.
Kate Chase married William Sprague on November 12, 1863. Their extravagant wedding invited criticism but was attended by everybody who was anybody in Washington. Kate wore a dress of white velvet. Her lace veil was capped by a tiara of pearls and diamonds was a gift from William that cost more than $50,000. As the bride entered the room, the Marine Band played "The Kate Chase March" which composer Thomas Mark Clark had written for the occasion. President Lincoln attended the wedding; Mary Todd Lincoln did not.
The Spragues had four children: William (1865), Ethel (1869), Catherine (1871) (who was mentally retarded) and Portia (1873). At first glance, it seemed a charmed marriage, but William's weakness for alcohol, his constant philandering, and his verbal and physical abuse of his wife told another story. Kate's devotion to her father may have caused some of the early tension in her marriage. She continued to serve as his chief political aide, even while she was pregnant.
Kate worked behind the scenes to assist her father in his effort win the 1864 Republican nomination for President from Lincoln, but the plot blew up in Chase's face when it became public. Chase offered Lincoln his resignation, and the President accepted, leaving Mr. Chase completely surprised. However, when Chief Justice Roger B. Taney died in October 1864, Lincoln graciously nominated Chase for Chief Justice of the Supreme Court, and Chase accepted.
On June 16, 1865, William Sprague V was welcomed into the family. Willie, as he was called, was the pride and joy of his grandfather Chase. It was not long after Willie's birth that Kate's attitude toward her marriage began to change. Sprague complained about her excessive spending, and this turned her against him.
Despite his position on the Supreme Court, Chase let it be known in 1868 that he was available as a candidate for the Presidency. He switched parties from the Republicans to the Democrats, hoping they would nominate him. In that summer of 1868, Kate ran her father's campaign for the Democratic nomination from their hotel on Fifth Avenue in New York City, where the convention was being held.
Although tradition prevented a woman's appearance on the convention floor, Kate did much of the back-room maneuvering to win the nomination. However, the convention ended up nominating Horatio Seymour, the Governor of New York, whom Kate had been counting on to place her father's name in nomination. Salmon Chase then retired to his Edgewood estate, just outside Washington, DC, where Kate visited him frequently.
Shortly after this, Kate informed Mr. Chase that she and her sister Nettie were taking Willie to Europe so Nettie could continue her studies in the arts. Sprague was not happy with Kate's plans, but she went anyway. Sprague bombarded her with letters telling her how much he missed her, but Kate ignored him. He finally went to see her in a vain attempt to influence her to return to the States; Kate was adamant about remaining with her sister.
While Kate and Nettie were in Europe, Salmon Chase suffered his first stroke, which triggered her return to the States. Kate resumed her duties of a wife, mother and the daughter of a man who needed her special care. In no time it seemed that Mr. Chase was regaining his strength, and Sprague seemed to be behaving himself now that Kate was home.
Soon thereafter Kate informed her father and her husband that another child had been conceived. Mr. Chase was elated, but William seemed indifferent. On October 23, 1869, Kate gave birth to Ethel, the first of three daughters.
Salmon Chase made one final bid for the presidency in 1872 with Kate's support, but by then he was physically weakened and a political has-been. He ran as a Liberal Republican, challenging the incumbent, President Ulysses S. Grant. The effort went nowhere and Chase died a year later, with Kate at his bedside.
After her father's death, Kate's marriage deteriorated further with Sprague's infidelities, alcoholism and constant belittling. Sprague's financial and political fortunes rapidly worsened in 1873. His holdings were extensive both in Rhode Island and nationally, but severe setbacks occurred to the A. & W. Sprague Company following the Panic of 1873.
In the 1870s, Kate began an indiscreet affair with New York Senator Roscoe Conkling, one of the most powerful Republican politicians of the era. According to a well-known story and contemporary press reports, Sprague confronted Kate and Conkling at Sprague's Rhode Island summer home and pursued Conkling with a shotgun and threatened to throw Kate out of a second story window, thus ending the affair.
Kate's subsequent downfall was emblematic of women's unequal vulnerability to the consequences of scandalous behavior. A messy divorce soon followed in 1882, and Willie stayed with his father and the daughters lived with Kate, who took back her maiden name after the divorce.
After spending some time in Europe, Kate moved to Edgewood, her father's estate outside Washington, DC, where she lived with her daughters Ethel, Kitty and Portia, raising pigs and chickens. When her only son Willie committed suicide at age 25 in 1890, Kate Chase became a recluse.
Kate Chase died in poverty at Edgewood on July 31, 1899, of Bright's disease (a kidney ailment) at the age of 58.
The Cincinnati Enquirer article regarding Kate's funeral read:
Hardly more than two or three – and they the nearest relatives on earth – were gathered together yesterday morning around the new-made grave in Spring Grove Cemetery, where, with the simple ceremony of commitment – "Dust to dust, ashes to ashes" – the mortal remains of the daughter of Salmon P. Chase were laid to rest forever beside the dust of her illustrious father.
And yet, they recognized her legacy:
No Queen has ever reigned under the Stars and Stripes, but this remarkable woman came closer to being Queen than any American woman has.
Kate Chase is featured in Gore Vidal's historical novel, Lincoln, and is also portrayed in the 1988 made-for-TV movie.
SOURCES
Wikipedia: Kate Chase
Mr. Lincoln's White House: Kate Chase Sprague
Kate Chase and William Sprague: Politics in a Civil War Marriage, by Peg Lamphier