Civil War Art at the Battle of Gettysburg
Highest Ranking Soldier Killed at Gettysburg
Pennsylvania native John Reynolds was a West Point graduate, and soon after the American Civil War began, he was promoted to brigadier general. During the 1862 Peninsula Campaign in Virginia; Reynolds was taken prisoner by the Confederates but was released some weeks later. After his return to the army, Reynolds was named commander of the Union Army's First Corps. He received the rank of major general on November 29, 1862.
In late June 1863, Reynolds led the Left Wing of the Army of the Potomac (First, Third, and Eleventh Corps) as it advanced north towards Gettysburg, Pennsylvania. On the morning of July 1, 1863 Brigadier General John Buford and his cavalry held defensive positions on the northwest side of Gettysburg. The dismounted cavalrymen fought briefly with Confederate Major General Henry Heth's forces as they advanced toward the town, and then waited for the rest of the army to arrive.
Buford sent word of the skirmish to Reynolds, and the two generals met at the Lutheran Seminary. Buford informed Reynolds that his men were fighting a delaying action but were being pushed back. It was Reynolds' decision whether the Federals would continue to fight at that location or withdraw. Reynolds decided to fight. He ordered Buford to hold his posiiton until the Left Wing's three corps arrived.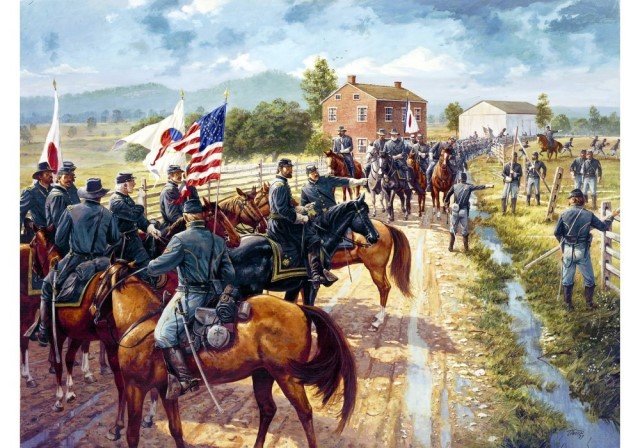 Reynolds recognized the importance of holding the Confederates at bay until the bulk of the army came and occupied the high ground to the east and south of town. Reynolds directed the deployment of his Union regiments as they arrived. The two brigades of the First Division of the First Corps came first. The First Brigade of the division consisted of the 2nd, 6th, and 7th Wisconsin Infantry Regiments, the 19th Indiana Infantry, and the 24th Michigan Infantry: the Iron Brigade. These regiments hurried forward toward the Herbst Woods on McPherson's Ridge where they clashed with the Tennessee and Alabama troops of CSA General James J. Archer's brigade.
Reynolds rode back and forth on his horse as he issued orders, just east of the Woods. As the 2nd Wisconsin rushed past him, Reynolds shouted "Forward men, forward, for God's sake, and drive those fellows out of the woods." As the two sides fought on with devastating effect, Reynolds, in his hazardous forward position, was hit in the neck by a bullet and killed instantly.
His death was a great blow to the Army of the Potomac, but his actions that day played an important part in the eventual Union victory at Gettysburg. The Union Army set up strong defensive positions on the high ground from Culp's Hill on the north, along Cemetery Ridge, and down to the Round Tops south of town.
SOURCES
Wikipedia: John F. Reynolds
Civil War Trust: John Fulton Reynolds
Iron Brigadier: The Death of General John Reynolds at Gettysburg