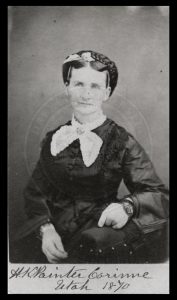 Hettie Painter, a Civil War doctor, was born in 1821 in Philadelphia, the daughter of Joseph and Charity Kersey Cope. Her parents died when she was young, and she was adopted by her uncle and aunt, Mordecai and Esther Hayes of Chester County, Pennsylvania. They were widely known for their humanitarian work.
She married Joseph Painter of West Chester, Pennsylvania. After their wedding, Hattie and Joseph moved to Ohio, where Hettie devoted her time to benevolent works. Hettie and Joseph were supporters of the anti-slavery movement, and their home was always open to fugitive slaves.
In 1852, Hettie and Joseph returned east and lived in Philadelphia and later in Camden, New Jersey. During this time she studied medicine, "having had from her childhood a natural turn and desire to make herself useful in that profession." She graduated from the Penn Medical University in 1860.
At the outbreak of the Civil War, Hettie volunteered as a nurse in the Union Army. (I can only assume that she wasn't allowed to serve as a doctor.) She organized the first hospital south of the Potomac River at the Theological Seminary, under the auspices of General Philip Kearney.
She was a petite woman with a kind smile and the confident inspiring manner of a true physician. Her son was a telegrapher at Hatcher's Run. When she visited him Christmas Day in 1864, he had his instruments set up at a Negro cabin. He had just relayed a telegram from Major General William Tecumseh Sherman to President Lincoln, which impressed his mother greatly.
One of the most important acts of loyalty performed by women was the formation of societies. These organizations were mostly known as the Ladies' Soldiers' Aid Society. These societies began to emerge from the first day of Lincoln's call for troops. By mid- November 1861, a majority of the female population was involved in one of these societies. Young girls from the ages of four and up did their part by gathering lint and bandages, knitting socks, and holding children's fairs to raise funds for the wounded soldiers.
These women greatly aided the work of the nurses in the field. They made sure the soldiers had all the clothing they needed. But within a few weeks, their concerns included the health and comfort of the soldiers, and the work of the army nurses began.
After the first Battle of Manassas, under commissions from the governors of New Jersey and Pennsylvania, Hettie Painter joined the army in the hospitals and in the field. General Ulysses S. Grant gave her a free pass on all railroads and steamboats, with orders to officers to assist her in her work. She received and dispensed large quantities of stores, gave comfort to the weary, and soothed the dying, many of whom were far from home.
She then moved to Washington D.C. and served at several hospitals there. She sometimes accompanied the wounded to northern hospitals and to their homes in hospital cars. She continued to work until all the troops had been removed.
After the war, Hettie continued practicing medicine in Washington D.C., and later in Alexandra and Richmond Virginia. In 1868, she visited her two sons in the West. They were pioneers on the Union and Pacific Railroad. While she was there, her health began to fail. After her recovery, she practiced medicine until she again experienced health problems.
She then moved to Lincoln, Nebraska, where Joseph was the editor of a semi-monthly farm journal. Within a year she was able to resume her medical practice, in which she was highly successful. In 1883, Hettie organized the Woman's Relief Corps of the Grand Army of the Republic.
Her obituary in August 1889 said
"the old soldiers have lost a true friend, one ever ready to do good for the veterans in times of peace as she did a quarter of a century ago amid the clash of arms."
She was buried in Lincoln, Nebraska.