First African American Woman Doctor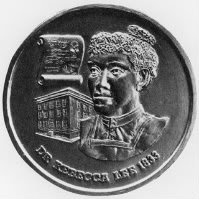 Rebecca Lee was born in Delaware in 1833. An aunt in Pennsylvania, who spent much of her time caring for sick neighbors, raised her. Due to her aunt's influence, Rebecca developed a strong compassion for the sick at a very young age, and learned to care for ill patients. The first formal school for nursing did not open until 1873, so she performed her work without any formal training.
By 1852, she moved to Charlestown, Massachusetts, where she worked as a nurse for the next eight years. Her dedication gained her notice from the doctors she served under, and with their recommendations, she entered the New England Female Medical College in Boston in 1860.
In 1861, at the outbreak of the Civil War, Rebecca was forced to quit her studies. She was able to return to college in 1863, only to discover that her financial aid was no longer available. Fortunately, she won a tuition award from the Wade Scholarship Fund, which was established by the Ohio abolitionist, Benjamin Wade.
Rebecca graduated in 1864, becoming the first African American woman in the United States to earn a medical degree, and the only African American woman to graduate from the New England Female Medical College, which closed in 1873.
Rebecca practiced in Boston for a short while, but moved her practice to Richmond, Virginia, after the Civil War ended in 1865, though she experienced intense racism working in the postwar South. She understood the urgent need for medical care among newly freed slaves in the South, and her reputation for excellent care and hard work spread quickly. She worked with the Freedmen's Bureau, and missionary and community groups to provide medical care to newly freed slaves.
Richmond, she felt, would be "a proper field for real missionary work, and one that would present ample opportunities to become acquainted with the diseases of women and children. During my stay there nearly every hour was improved in that sphere of labor. The last quarter of the year 1866, I was enabled . . . to have access each day to a very large number of the indigent, and others of different classes, in a population of over 30,000 colored."
Rebecca worked in Richmond's black community for many years. "At the close of my services in that city," she explained, "I returned to my former home, Boston, where I entered into the work with renewed vigor, practicing outside, and receiving children in the house for treatment; regardless, in a measure, of remuneration."
Before returning to Boston, Rebecca married Dr. Arthur Crumpler. She established a practice in a mostly black neighborhood, and dedicated her services to women and children, especially through nutrition and preventative medicine.
By 1880, she had moved to Hyde Park, Massachusetts, and was no longer in active practice. Hoping to educate the public about health, Rebecca wrote a book based on journal notes she kept during her years of medical practice. In 1883, a Boston company published her two-volume work, A Book of Medical Discourses in Two Parts. It offered women a reference on how to provide medical care for themselves and their children.
The little that is known about the life of Rebecca Lee Crumpler comes from the introduction to her book, which is a remarkable record of her achievements as a physician at a time when very few African Americans were able to gain admittance to medical college. It was also one of the very first medical publications by an African American.
Dr. Rebecca Lee Crumpler died on March 9, 1895. In her lifetime, she inspired many as a role model for breaking barriers, and for dedicating oneself to improving the lives of others. She fought against racism, prejudice, and other difficult obstacles to obtain a medical degree.
And she became a published author, which was nearly unheard of for African Americans at the time, and even more rare because she was a women. She will long be remembered for her achievements and as a pioneer for those who would follow in her footsteps.
SOURCES
Dr. Rebecca Lee Crumpler