Female Soldier from Rhode Island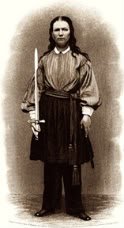 Kady Southwell was born in 1842 in an army camp on the coast of Africa, where her French mother had traveled to watch her Scottish father on maneuvers. Accounts of her life have always been in dispute, but it is known that her mother died shortly after her birth. Good friends of the family, the McKenzies, took Kady into their home and soon moved to Providence, Rhode Island. There is no record that they ever adopted her.
Kady did not appear in any census records until 1860. At that time, she was living with the Rodman family while she worked as a weaver in the mills. Working in the textile mills was a hard and perilous existence. The windows were kept closed, forcing the workers to inhale large quantities of dust and lint into their lungs, and the sounds of hundreds of machines running at once was deafening.
During that time, Kady met a millwright named Robert Brownell, who was six years older than Kady. He was married, but he and Kady were instantly attracted to each other. Robert's wife filed for divorce, charging him with adultery. There were many conflicting stories about when and where Kady and Robert were married. Maybe they were never married, but she used the Brownell name from then on.
In 1861, when the state of Rhode Island called for young men to enlist in the Union army for 90 days, Robert joined right away. Kady was determined to go with him, but he would not allow it. She went to Rhode Island Governor Sprague, who was so impressed by her determination that he took her into his own company. They left for Washington, DC, where she found Robert and convinced him to take her with him.
Kady was determined not to be a water carrier or a laundress. At some point, she became the official color bearer for Robert's company, the 1st Rhode Island Infantry. This was a company of sharpshooters, and she worked hard to become a crack shot and handy with a sword.
Being the color bearer is a very dangerous job, because you cannot handle a gun and the huge heavy flag at the same time. The color bearer was also the favorite target of the enemy. If the flag went down, the soldiers would not be able to find their comrades in the smoke and chaos of battle. The men would scatter and lose their ability to fight as a cohesive unit.
In the middle of July 1861, the company marched into Virginia, to a place near Manassas, where the first battle of the Civil War took place. Kady marched with the troops and carried the flag. Their company soon came under fire. She became separated from Robert, but she stood on the line of battle, holding the flag high, while cannonballs and minie balls whizzed over her head.
What had initially looked like a Union victory became a terrible rout, but Kady stood her ground, encouraging her company not to give up. The Confederates were only a few hundred feet from her when a Pennsylvania soldier grabbed her hand and started leading her off the field. They had only gone a short distance when a cannonball took off the soldier's head.
Kady ran on into the woods, where she found some of her comrades. Rebel batteries let loose a withering fire into the woods where they stood. Kady caught a horse that was running loose and spent the next thirty hours searching for her husband. She had reports that he was injured, others that he was dead. She finally found him, safe and uninjured. The company returned to Providence in August 1861, when their three-month enlistment expired.
Kady and Robert Brownell immediately enlisted in the 5th Rhode Island. They fought at Roanoke Island in January 1862, under General Ambrose Burnside, who appointed Kady nurse and Daughter of the Regiment. In early March, they were marching toward New Bern, North Carolina. On the 13th, they marched all day through the mud of the Neuse River bottom.
The following morning, Kady dressed in her uniform and begged to be allowed to carry the company colors, but her request was denied. Just then, her company unexpectedly encountered some other Union troops who mistook them for the enemy. Kady grabbed the flag, ran to some high ground, and waved it high until the other soldiers realized they were friends, saving untold lives.
And then, she went to the rear to help with the wounded. A few minutes later, she received news that Robert had been injured. She found that a minie ball had shattered the bone in his thigh, but it had not severed any major arteries.
She spent the next six weeks in New Bern, caring for Robert. She also helped nurse the other wounded soldiers, even carrying soup and coffee to the Rebel hospital there. In late April, the Brownells traveled to New York on a steamship. Stories of Kady's adventures spread quickly in the hospital where Robert recuperated. He was given a medical discharge in December 1862.
Kady kept the colors she had so proudly carried and her sword, and she was the only woman to ever receive discharge papers from the Union army. A legend began to develop about Kady and her army experiences.
The Brownells lived in Rhode Island for a time, and then moved to Bridgeport, Connecticut. In 1870, Kady was inducted into the Elias Howe Post of the Grand Army of the Republic. Angry veterans protested her GAR membership and discounted the story of how she saved lives that morning at New Bern. But, after some initial controversy, Kady received her army pension of $8.00 per month, beginning in 1884.