Suffragists and Women's Rights Activists
Julia Evelina Smith and Abby Hadassah Smith grew up on a wealthy estate in Glastonbury, Connecticut called Kimberly Farm. In their later years, the sisters refused to pay their exhorbitant property taxes until they were granted the right to vote in town meetings. Several of their cows were seized to pay overdue charges.
Image: Kimberly Mansion
1625 Main Street
Glastonbury, Connecticut
Early Years
Abigail Hadassah Smith (1797-1878) and Julia Evelina Smith (1792–1886) were the two youngest of a large family of women born to Hannah Hadassah (Hickok) Smith and Zephaniah Smith, a Congregational minister and lawyer. The sisters spent their entire lives at Kimberly Mansion, the Smith home at 1625 Main Street in Glastonbury, Connecticut.

Social Activists
The Smith women were active in social reform movements like women's education, abolition of slavery, and women's suffrage, and they used the Kimberly Mansion as a base of operations. They hosted abolitionist meetings and lectures, and distributed pamphlets. The family worked with African American antislavery leaders and sought the end of slavery, as well as improved conditions for free blacks.
The Smith sisters circulated an antislavery petition among the women of Glastonbury and obtained forty signatures, which they then forwarded to former president John Quincy Adams – who was then serving in the U.S. House of Representatives – to present to Congress. Historians often suggest that this was the first petition to be submitted there.
Translating the Bible
Julia Smith had read the Bible in its original languages. Well educated with a working knowledge of Latin, Greek and Hebrew, and she decided to create her own translation. She completed the project, entitled The Holy Bible: Containing the Old and New Testaments; Translated Literally from the Original Tongues, in 1855 after eight years of work.
In 1876, at 84 years of age, some 21 years after completing her work, Julia paid $4,000 to have it published. The 1,000 copies printed were sold for $2.50 each, but about fifty remaining copies were sold in her household auction in 1884. Smith's edition is considered the first complete translation of the Bible into English by a woman. The book's preface begins:
It may seem presumptuous for an ordinary woman with no particular advantages of education to translate and publish alone, the most wonderful book that has ever appeared in the world, and thought to be the most difficult to translate.
Women's Suffrage
By 1869 Julia Smith and her sister Abigail Hadassah Smith were the only surviving members of their family. Angered by what they considered artificially elevated tax rates on their valuable farmstead, the Smith sisters began to attend women's suffrage meetings in Hartford. In 1873, Abby attended the first meeting of the Association for the Advancement of Women in New York City.
This excerpt from Connecticut History.org clearly explains the situation between the Smith sisters and the tax authorities:
In November 1873, the Glastonbury tax collector informed the sisters that their recently reassessed property had raised $100 in value. Two widows in the town also had their property reassessed, but none of their male neighbors' property values had risen, and the sisters immediately became indignant at what they perceived to be a grave injustice. Being women, they were politically powerless, since they lacked the right to vote.
At a Glastonbury town meeting a few weeks later, Abby Smith protested the taxation of unenfranchised women:
The motto of our government is "Proclaim liberty to all inhabitants of the land!" and here, where liberty is so highly extolled and glorified by every man in it, one-half of the inhabitants are not put under her laws, but are ruled over by the other half, who can take all they possess. How is Liberty pleased with such worship? … All we ask of the town is not to rule over them as they rule over us, but to be on an equality with them.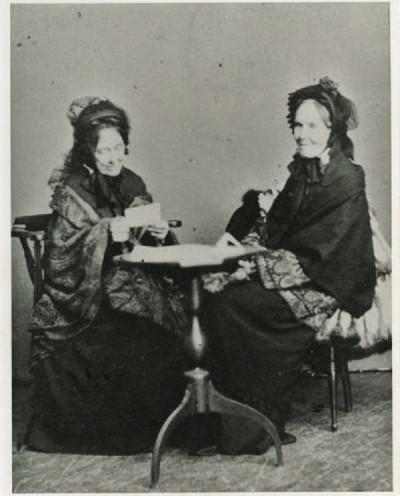 Image: Julia Evelina Smith, left, and Abigail Hadassah Smith
Abby and Julia thereafter refused to pay taxes on their property unless they were granted the right to vote in town meetings. In 1873 – when the sisters were in their seventies and early eighties – they began a two-year fight with local authorities over what they considered an unfair tax assessment on their property, Kimberly Farm. Theirs was the most valuable property in town, and they believed they were being exploited by the town tax collector.
Cows for Taxes
The following January local authorities seized seven of their valued Alderney cows, which were sold to cover the unpaid taxes. In June 1874 officials auctioned off fifteen acres of the Smiths' pasture land, valued at $2,000, to cover $50 in property taxes. The Smiths succeeded in getting their land back after a protracted lawsuit. Meanwhile, their cattle was taken away repeatedly for tax payments.
The sisters' speeches and letters were published in newspapers throughout the country, bringing wide national attention to the sisters, their cows, and the cause of women's suffrage. This notoriety eventually led to the return of the cows; however, it did not give women the right to vote. In April 1874, after being refused permission to speak at a town meeting, Abby climbed upon a wagon outside and delivered her protest to the crowd.
Abby Smith and Her Cows
In 1877 Julia Smith published an interesting account of the disappearing cows: Abby Smith and Her Cows, with a Report of the Law Case Decided Contrary to Law, calling the entire incident "a fine commentary on the doings of our Forefathers one hundred years ago." This publication, Abby's speeches, along with witty letters both sisters wrote to various newspapers, made the sisters quite famous. Both sisters spoke at numerous suffrage meetings and also testified before state and federal legislative committees concerning women's suffrage.
In 1879, at the age of 87, Julia Evelina Smith married widower Amos Parker and moved to Hartford – most likely because she dearly missed her sister Abby, who had passed the year before. Julia Evelina Smith lived on until 1886.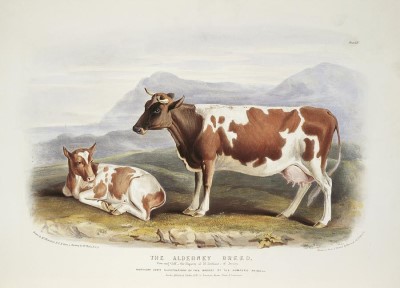 Image: Alderney Cows
Four of the Smith sisters' confiscated Alderney cows were named Daisy, Whitey, Minnie, and Proxy, plus two calves called Martha Washington and Abigail Adams.
The Kimberly Mansion was declared a National Historic Landmark in 1974 for its association with the Smith sisters and its role in their protest. The large wooden two-story farmhouse was built in the early 18th century by the Connecticut politician Eleazer Kimberly. Zephaniah Smith bought the house in 1790.
The Smith family as a whole was inducted into the Connecticut Women's Hall of Fame in 1994.
SOURCES
SMU: Julia Evelina Smith
Wikipedia: Kimberly Mansion
Freedom Trail: Kimberly Mansion
Wikipedia: Julia E. Smith Parker Translation
Britannica: Abby Hadassah Smith and Julia Evelina Smith
The Smith Sisters, Their Cows, and Women's Rights in Glastonbury