Woman Who Ran the Colt Firearms Factory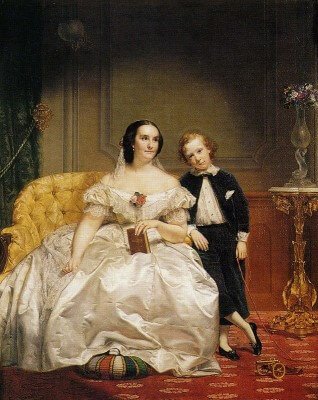 When firearms manufacturer Samuel Colt died in 1862, majority ownership in the Colt Fire Arms Company passed to his wife, Elizabeth Jarvis Colt. Called the Grande Dame of Connecticut, she worked tirelessly to preserve her husband's accomplishments and safeguard his legacy. The company continued to thrive under her leadership for almost forty years.
Image: Elizabeth Jarvis Hart Colt
With her son Caldwell
Portrait by Charles Loring Elliott
Early Years
Elizabeth Hart Jarvis was born October 5, 1826 in Saybrook, Connecticut to Episcopal Minister William Jarvis and Elizabeth Jarvis, the eldest of five children in an affluent and socially prominent family.
Samuel Colt, born July 19, 1814, was an inventor and arms manufacturer in Hartford, Connecticut. In 1836, he received a U.S. patent for a revolver mechanism that would allow a gun to fire six shots in rapid succession without reloading. Colt established a company to manufacture his revolving-cylinder pistol; but the business floundered.
All the while he was perfecting his revolver, and he was ready when the U.S. government ordered 1,000 Colt revolvers to be used in the Mexican War (1846-48). Colt designed his guns with interchangeable parts and was the first to successfully use the assembly line method of manufacturing, making mass production possible, which enabled him to deliver all the requested firearms by 1847.
Colt Armory
Beginning in 1855, Samuel Colt created a factory complex for the manufacture of firearms on a 260-acre site along the banks of the Connecticut River in Hartford. The armory created many jobs as the city of Hartford grew around this grand building, and Colt added 20 multi-family dwellings for his most skilled workers. The main armory building is five stories high and made of brick with brownstone accents, a massive 508-foot by 61-foot structure. The Colt Armory – the largest privately owned manufacturing plant in the world – opened in 1855 under the company's new name, the Colt Patent Fire-Arms Manufacturing Company.
Colt installed a distinctive onion-shaped dome, painted deep blue and decorated with gold stars to draw extra attention to his business. His innovative use of art, celebrity endorsements and corporate gifts to promote his products made him a pioneer in advertising.
Marriage and Family
Elizabeth Jarvis met Samuel Colt in 1851 in Newport, Rhode Island, but the two were not married until June 1856. The couple resided at Armsmear, a new home Colt had built. The couple had five children, four of whom died in infancy. Caldwell Hart Colt was the only child to survive to adulthood.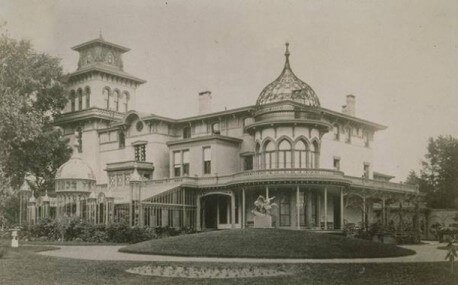 Image: Armsmear
Hartford, Connecticut
Note glass roof on conservatories
Armsmear, the Colt Mansion, was constructed in 1856 on a hill overlooking the recently completed Colt Armory. It was described by a contemporary as "an Italian villa in stone, massive, noble, refined, yet not carrying out any decided principle of architecture…" with arched doors and windows, iron balconies, Italianate tower and details, and Turkish domes. Samuel Colt lived in Armsmear for approximately five years. The Colts occupied Armsmear in 1857 and promptly began to develop its gardens. Glass-domed conservatories were added in 1862. Ultimately the estate contained some 2,600 feet of greenhouses, as well as ponds, fountains, and a deer park.
Colt's Death and Funeral
Sam's health began to fail in 1860 just before the Civil War. Prior to the formal declaration of war, Colt continued to supply his customers in the South. However, once it was official, he supplied only Union forces. By the end of 1861, more than one thousand employees were required to keep the factory running at full capacity, and for the first time, annual profits exceeded a quarter million dollars.
Samuel Colt became ill with complications from gout and died January 10, 1862 at the age of 47. The funeral of America's first great gun manufacturer was the most spectacular ever seen in Hartford. Colt's workmen filed past the casket in the parlor of Armsmear. After the simple Episcopal service, the workers formed two lines. Behind them, eight pallbearers bore the coffin to the private graveyard near the lake.
The foremost mourner was Colt's composed young widow, Elizabeth Jarvis Colt who was holding the hand of Caldwell Colt, the only one of their five children to survive infancy. Her mother, her sister Hetty, and her brothers Richard and John Jarvis, both Colt employees, sat behind her. Near the Jarvises sat Lydia Sigourney [link], Hartford's aging poet, who had been Sam Colt's friend since childhood. Sigourney looked upon Elizabeth Colt as "one of the noblest characters, having borne, like true gold, the test of both prosperity and adversity."
Samuel Colt was buried on the grounds of Armsmear near the grave of the infant son he and Elizabeth had lost in 1857, beneath a group of weeping willow trees. The most successful inventor in the United States had made his ambitious dream come true, and the Colt guns that helped conquer the American frontiers would forever serve as his monuments.
Following her husband's death in 1862, Elizabeth Jarvis Colt inherited a controlling interest in the Colt Manufacturing Company (worth $3.5 million at the time, about $200 million in today's currency). Colt also left a $15 million fortune (more than $350 million today) for Elizabeth, along with ownership of the Armsmear.
Unfortunately, Elizabeth Colt would suffer more heartbreaking losses over the next two years. On January 20, 1862 – ten days after her husband's death – her daughter Henrietta Selden Colt died. The child Elizabeth was carrying when Sam died was stillborn on July 25, 1862. Her namesake, Elizabeth Jarvis Colt, age three, passed away on October 17, 1863.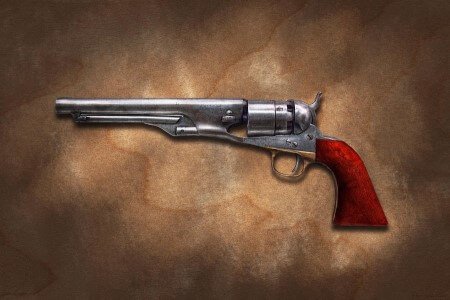 Image: Colt Revolver Army Model 1860
A muzzle-loaded cap and ball .44-caliber revolver used during the American Civil War as a side arm by the cavalry, infantry, artillery and navy.
Running Colt
At the age of 35, Elizabeth Jarvis Colt had inherited the largest armory in the world, and she managed Colt Firearms for almost 40 years. Her brother, Richard Jarvis took over as president of the company in 1865, and the two siblings transitioned the company from the end of the Civil War through the early 20th century. During that time they saw the guns they were manufacturing evolve from percussion to cartridge revolvers, and then from semiautomatic pistols to machineguns.
The Colt Armory was almost completely destroyed by a disastrous fire in 1864, leaving only two small outbuildings – the Forge and the Foundry. The fire caused almost $2 million in damages and killed one worker. The factory then employed about 900 men who depended on the Armory for their livelihood. Elizabeth Jarvis Colt opted to rebuild rather than close the factory. She directed the reconstruction of the Armory on the original foundation in brick and brownstone, making it as fireproof as possible. Colt directed the addition of a second story to the Armory and the rebuilding of the iconic blue onion dome; the Armory re-opened in 1867.
Mark Twain, who visited the rebuilt factory in 1868, supposedly said:
It comprises a great range of tall brick buildings, and on every floor is a dense wilderness of strange iron machines that stretches away into remote distances and confusing perspectives – a tangled forest of rods, bars, pulleys, wheels and all the imaginable and unimaginable forms of mechanism. It must have required more brains to invent all those things than would serve to stock 50 Senates like ours.
Colt Monument
In 1867 Colt hired Edward Tuckerman Potter to design an Episcopal church near Armsmear as a memorial to her husband and the four children she had lost. The Church of the Good Shepherd was consecrated in 1869. Guns and gun-smithing tools were sculpted into the marble designs of the church.
Caldwell Hart Colt
Elizabeth's only child to survive to adulthood, Caldwell Hart Colt, was born November 24, 1858, and he attended Yale University. His contribution to the family business was the Colt double barrel rifle, which he invented in 1879. This gun has one Rifling barrel and one Smoothbore barrel. It fired the .45-70 rifle cartridge and is one of the rarest Colt firearms ever made.
Caldwell Colt was known later in life as an ardent yachtsman. He served as vice-commodore of the New York Yacht Club in 1888 and commodore of the Larchmont Yacht Club from 1892-1893. Colt drowned at sea under mysterious circumstances on January 21, 1894 at the age of 35. The incident occurred near Punta Gorda, Florida while piloting his ship, The Dauntless.
Excerpt from Elizabeth Colt's letter of dedication of the Parish House, September 10, 1896:
May this [place] be an incentive to all connected with it to do a far better, nobler and more self-sacrificing work in the Master's service than ever before. And may He without whom our labor is in vain have it in His holy keeping, making it an increasing blessing to those for whose use it is intended, and to their children's children, that thus may be fulfilled the heartfelt prayer of their and your friend, Elizabeth Hart Jarvis Colt.
In 1896, Elizabeth persuaded Edward Tuckerman Potter to come out of retirement and design a Parish House for the Church of the Good Shepherd at Armsmear as a memorial to her son Caldwell. Many of the decorative features of the building have a nautical theme, reflecting his love of the sea.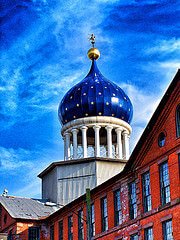 Image: Onion-shaped dome over the rebuilt Colt Armory
Philanthropy
Elizabeth sold her interest in the Colt Company in 1901. She then used both her position and wealth to play a leading role in numerous charitable organizations in Connecticut. For 22 years, Elizabeth Colt served as president of the Union for Home Work, an organization that provided daycare for children of working mothers. She also gave her time and money to the Hartford Soldiers Aid Society, the Connecticut Society of the Colonial Dames of America, the Decorative Arts Society, and served as president of the Hartford Women's Auxiliary. For these good works she was dubbed The First Lady of Hartford.
Elizabeth Jarvis Colt died August 23, 1905 at the age of 78; she is buried alongside her husband and children in historic Cedar Hill Cemetery.
The following day, the Hartford Courant ran a full page obituary of Colt, the first ever for a woman, calling her The First Lady of Connecticut.
In her will, Colt bequeathed 1,000 pieces of art to the Wadsworth Atheneum, one of New England's finest private art collections. The collection includes paintings and sculpture, along with the furnishings and contents of Armsmear. She also gave that museum $50,000 to build the Elizabeth Hart Jarvis Colt Memorial Wing, the first American museum wing named for a woman patron.
As per instructions in her will, her former home, Armsmear, was converted into a retirement home for widows of Episcopalian ministers, and it is still administered by the Colt Trust. She also gave 140 acres of Armsmear's grounds to the city of Hartford, which is now home to Colt Park.
In 1997, Colt was inducted into the Connecticut Women's Hall Of Fame.
SOURCES
Wikipedia: Armsmear
Colt Company History
Wikipedia: Caldwell Hart Colt
Wikipedia: Elizabeth Jarvis Colt
Sam Colt's Funeral: The Day Hartford Stopped
New England Historical Society: Elizabeth Jarvis Colt Survives to Make the Colt .45