Wife of Declaration of Independence Signer John Hart
Deborah Scudder was the only child of Richard Scudder from Scudder Falls, and she had a distinguished family history, going back almost to the Mayflower. Deborah's great-grandfather, John Scudder, came to Salem, Massachusetts, on the James in 1635. With his brothers Thomas and Henry, John Scudder moved from there to Southold, Long Island, in 1651, to Huntington in 1657, and to Newtown in 1660, where he was prominent in town affairs.
John Hart was born, probably in 1711, in Hopewell Township, Hunterdon County, New Jersey. Edward Hart, John's father, was a Justice of the Peace, a Public Assessor, and a farmer. He arrived in Hopewell about 1710, at the age of twenty. He married Martha Furman on May 17, 1712, and they had five children, one of whom was John.

John Hart learned to read, write, and do figures, but like most men of his time, had little formal education. His spelling was not of the best, but he shared this problem with many of his fellow delegates in Congress. He was said to have been a man of medium height and well proportioned, with black hair and light eyes, and was characterized as handsome in his youth. He was well regarded for his common sense, was reasonably well read as proved by his understanding of the law, and showed acumen on business matters.
In 1739, Hart bought a homestead plantation of 193 acres in the town of Hopewell. In 1751, he and his brother bought a mill, and in the 1770s, he acquired land making him the largest land owner in Hopewell with over 600 acres. As a young man, John Hart was attracted to a young lady of considerable beauty, Deborah Scudder. He rode his horse approximately 30 miles round trip to court her.
In 1740, John Hart married Deborah Scudder. The couple would have thirteen children: Sarah, Jesse, Martha, Nathaniel, John, Susannah, Mary, Abigail, Edward, Scudder, Daniel, and Deborah. The youngest, Deborah, was born when her mother was 44 years old.
Hart was a member of the Pennington Presbyterian Church, but in 1747, he donated a piece of land in his front meadow to local Baptists, who had been seeking a place to build a church of their own. This endeared him to the Baptists in the area, who may have supported him later when he ran for office. The location was known for some time thereafter as the Old Baptist Meeting House
John Hart began his public service when he was elected to the Hunterdon County New Jersey Board of Chosen Freeholders in 1750, and became Justice of the Peace in 1755. With this appointment he was considered a gentlemen, and was called John Hart, Esquire. He was first elected to the New Jersey Colonial Assembly in 1761, was as its speaker in 1766, and served there until it was dissolved in 1771, representing Hunterdon, Morris, and Sussex counties. There, he first met Abraham Clark, who would later become a fellow signer of the Declaration.
In 1765, Hart left his home and traveled to New York to attend the secret Stamp Act Congress, in which nine of the thirteen colonies drew up grievances against the Crown. The elite of New Jersey had long sided with the king on the issue of taxation, and were against a radical break with Britain. But the tide was turning against them.
Popular support for separation from England was growing in the colony, and Hart, the simple but politically active farmer, more closely embodied the sentiments of the New Jersey populace. He opposed outside taxation and the stationing of royal troops in the colonies. He became a judge on the Court of Common Pleas in 1768, and was often called Honest John by his neighbors because of his integrity and fairness.
Image: John Hart House
The original part of his home was made of stone.
It stands on Hart Avenue in Hopewell, New Jersey.
In 1773, Hart bought a substantial mill enterprise in Rocky Hill with his son-in-law John Polhemus, who would later become a captain in the militia, and then in the Continental Army. On his prosperous plantation Hart had many cattle, sheep, swine, horses and fowl, and he also owned four slaves. His adult children were doing well.
Hart was appointed to the local Committee of Safety in 1774, which was established "to act in the public welfare of the colony, in the recess of the Congress." In 1775, he became a member of the New Jersey Committee of Correspondence, which shared information with the other colonies, and was elected to a committee to appoint delegates to the First Continental Congress, and to protest the Tea Act.
Prior to June 1776, the New Jersey delegates at the First Continental Congress were Tories, who were opposed to independence. As a result, the entire delegation was replaced, and John Hart was one of those selected for the Second Continental Congress.
His fellow delegates and signers were Abraham Clark, Francis Hopkinson, Richard Stockton, and John Witherspoon. John Hart was the oldest and least educated of the group. They arrived in Philadelphia at the end of June, just in time for the debates. When Hart took his seat in the Congress, he voted for the independence of the American colonies.
On August 2, Hart and the other delegates signed the Declaration of Independence. Hart was the thirteenth delegate to put his signature on the historic document, and he pledged his life, his fortune, and his sacred honor in doing so. He was 65 years old. Benjamin Rush, also a signer of the Declaration, described John Hart as "a plain, honest, well meaning Jersey farmer, with but little education, but with good sense and virtue enough to pursue the true interests of his country."
Hart served in the Congress only until August 1776, then was elected to the newly formed revolutionary government – the first New Jersey General Assembly that was governed by a new state constitution. Of all the educated men available, Hart was chosen as its first Speaker on August 29. The same year, he was designated to sign the new Bill of Credit Notes – money issued by the State of New Jersey – and signed all 25,000 himself.
On October 5, Hart returned home to see his sick wife. He returned to the Assembly, but was called home again. The Assembly adjourned, because they could not conduct business without the Speaker.
Deborah Hart died at home on October 8, 1776, with John at her side.
The British invaded New Jersey in November, 1776, and General Washington could not stand against them, and retreated across state. In December 1776, the British advance reached Hunterdon County. A marked man due to his status as Speaker of the Assembly, the elderly Hart had to escape and hide for a short time in the nearby Sourland Mountains – an unpleasant experience for an elderly man in the winter weather. His two minor children fled to nearby family members. Hart's farm was raided by British and Hessian troops, who damaged but did not destroy his property. The Continental Armys' capture of Trenton on December 26 allowed Hart to return home.
In contrast, Samuel Tucker, President of the Joint meetings of the New Jersey legislature, signed a loyalty oath to the British crown after accepting amnesty, and so did Richard Stockton, fellow signer, after being captured and held under deplorable conditions. Thus were the desperate times of the Revolution.
On January 3, 1777, General Washington won at the Battle of Princeton, and the British and Hessians began to pull out of most of the state, and John Hart promptly called for the Assembly to convene at Pittstown on January 22. From 1777 to 1778, the Assembly met 10 times, in session for a total of 270 days. Twice John Hart was re-elected Speaker.
In 1778, he was elected to the Council of Safety, who were given "extraordinary and summary powers" to conduct the most urgent affairs of the state. He was also designated as President of the Joint meetings of the New Jersey Congress (replacing Samuel Tucker), Treasurer of the Council of Safety, and Commissioner of the New Jersey Loan Office, signing more bill of credit notes.
Prior to the Battle of Monmouth, John Hart invited General George Washington and his Continental Army to camp on his farm, and his offer was accepted. From June 22 through June 24, 1778, 12,000 men occupied his fields during the growing season, and refreshed themselves with the cool water that flowed on the property. Washington had lunch with Hart, then had his famous Council of War at the nearby Hunt House. After resting and preparing for battle, the troops left on the 24th, and fought the Battle of Monmouth was fought on June 8.
John Hart was twice re-elected as Speaker of the Assembly and served in that position until November 7, 1778, when he left Trenton and returned to his home at Hopewell. Two days later, he indicated that he was too ill with gravel (kidney stones) to return. He continued to suffer from the painful affliction for more than six months, and was never well enough to return to the Assembly.
John Hart died on May 11, 1779, after a long and very painful illness, at the age 66, less than three year after signing the Declaration of Independence. He was in his home surrounded by family; only Daniel and Deborah were still minor children when Hart died.
In his 29 years of public service, John Hart rode his Northumberland thoroughbred stallion and a Bulle Rock mare several thousand miles and received meager pay for his duties. He was able to continue his public service, because he became a successful farmer and businessman. But Hart died owing money, and due to the shortage of hard money, depreciation of colonial money, and a glut of land on the market as Loyalist land was confiscated and sold. Most of his property was sold for a pittance. His sons later moved to the frontier, his daughters married area men.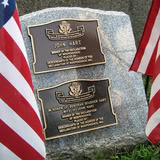 Image: John and Deborah Hart Graves
On July 3, 2006, the Descendants of the Signers of the Declaration of Independence dedicated bronze plaques to the graves of John and Deborah Hart. Many descendants were at the Baptist Meeting House on Broad Street in Hopewell for the dedication. It is very fitting that John and Deborah are now buried and honored on the very land that he gave to the Baptists.
SOURCES
The Price They Paid
Wikipedia: John Hart
John Hart: A Biography
Signer of the Declaration of Independence