Confederate Spy and Guerrilla Fighter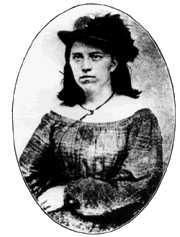 Nancy Hart, a Confederate spy and soldier, was born in 1846, in Raleigh, North Carolina. When she was an infant, her family moved to Tazewell, Virginia. Her mother was first cousin to Andrew Johnson, who became president after the assassination of President Abraham Lincoln.
Image: Nancy Hart Douglas in 1862
In 1853, Nancy and her family moved in with her sister and brother-in-law, Mary and William Clay Price. In the next six years, Nancy lived in the wilderness of Roane County, Virginia—now West Virginia. She became an excellent shot with a rifle and an expert rider.
After the Civil War began, western Virginia became a dangerous place. The citizenry held divided loyalties—some pro-Confederate and many pro-Union. Neighbors, friends, and families were separated by their opposing beliefs.
William Price didn't volunteer for service, but he aided the Confederate army when he could. On October 16, 1861, a party of Union soldiers rode into the Prices' yard. They announced that they were taking William to the town of Spencer for questioning. William never made it to Spencer. He was found three days later, shot in the back.
This fueled Nancy's hatred for the Union cause. Three days later, she joined the Moccasin Rangers—a group of pro-Southern guerrillas led by Perry Conley. Nancy Hart rode at the head of the column with Perry for about two years, during 1861 and 1862, throughout the central counties of western Virginia.
She picked up bits of information here and there that were helpful to the marauding Moccasins and to the other loosely associated groups operating as Virginia Partisan Rangers. She carried messages between the Southern Armies, traveling alone by night and sleeping during the day. She also saved the lives of many wounded Confederate soldiers by hiding them with sympathizers.
Nancy posed as a farm girl and peddled eggs and vegetables to the Yankees in order to spy on them. She scouted isolated Federal outposts in the mountains and reported their strength, population, and vulnerability to General Stonewall Jackson. Nancy led Jackson's Cavalry on several raids against Union troops.
Conley was surprised by a detachment of the Thirtieth Ohio Infantry in Webster County in the early summer of 1862, and was mortally wounded in the ensuing engagement. After his death, the band disintegrated. It had never been mustered into the state or regular Confederate service. Federal troops were closing in and most of the men ran to cover, while others carried on their private war from the hills.
Nancy Hart married Joshua Douglas, one of the Conley partisans, who then joined Captain Downs's company of the Nineteenth Virginia Cavalry. Nancy moved on into the mountains of Nicholas County, near the Confederate lines, where she continued to carry information to the regular forces while passing as an innocent country girl.
In the summer of 1862, a large reward was offered for Nancy's capture. She was recognized and taken into custody by a Union patrol Lieutenant Colonel Starr, who had been sent out into the surrounding mountain country. She was held prisoner in present-day Summersville, West Virginia, in the upstairs portion of a dilapidated house, with soldiers quartered downstairs and a sentry with her at all times.
One evening, Nancy grabbed the pistol from her naive young guard, and shot him dead with a single shot. She leapt out a second-story window into a clump of tall jimson weeds, stole a horse, and escaped behind Confederate lines.
About a week later at 4:00 am, Nancy returned to Summersville with 200 Confederate cavalrymen. The Rebel troops came storming up the road, overran the pickets located about a quarter of a mile from the headquarters, and entered the streets of the town without opposition. The officers and soldiers were caught sleeping and fell an easy prey.
After setting fire to three houses, including the commissary storehouse, destroying two wagons, and taking eight mules and twelve horses, the raiders retreated, taking their prisoners with them. Nancy had her revenge; Lieutenant Colonel Starr and his officers were on their way to Libby Prison at Richmond.
Nancy faded out of the picture as an active partisan after that incident, but it is more than likely that she lent a helping hand, whenever possible, until the end of the war. She knew that a rope awaited her if captured again
Joshua survived the war and returned to his home country after the collapse of the Confederacy. He and Nancy they settled down on a mountain farm in Greenbrier County, and there they passed the rest of their lives.
Joshua Douglas died in Richwood, West Virginia in 1905. The story goes that Joshua had gone to Richwood to sell a team of oxen, had a stroke, and went to a friend's house in Richwood. Nancy Douglas and her granddaughter rode from Spring Creek to Richwood where they found Joshua unconscious. He died on October 25, 1907 in Nicholas County, West Virginia, and is buried in Richwood.
Nancy Hart Douglas died in 1913, and was buried on Manning's Knob, near Richwood, West Virginia. Her grave is in the cemetery where the Manning family buried their slaves. At the foot of the hill stood the Manning plantation.