Female Militia in Georgia
Near the beginning of the Civil War, almost all of the men of LaGrange, Georgia, enlisted in the Confederate Army, leaving the small town unprotected. Two upper-class ladies and some graduates of the LaGrange Female College decided that they should gather the women and form a female militia to help protect their community. They called themselves the Nancy Harts in honor of Georgia's Revolutionary War heroine, who single-handedly defended her home against a group of invading British soldiers.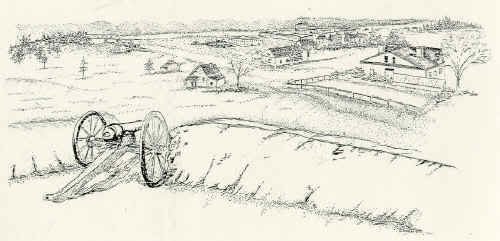 Nancy Colquitt Hill Morgan had been married for only 6 months, and was only 21 years of age when her husband left for war. Mary Cade Alford Heard was 27 when her husband left, leaving her in charge of their plantation and that of her in-laws; she managed more than 100 slaves.
Lady Soldiers
The ladies of LaGrange formed a female militia to help protect their town. They held their first meeting at the nearby school house in May of 1861. They called on all available women to come and bring any guns or pistols they could find.
Forty women responded to the call, meeting to organize at an old red schoolhouse. Nancy Morgan was elected captain; Andelia Bull, Mary Heard and Aley Smith lieutenants; Augusta Hill and M.E. Colquitt sergeants; Sally Bull, Leila Pullen and Caroline Poythress corporals; and Ella Key treasurer.
Although a few other Southern cities armed women briefly in response to local crises, LaGrange's women are considered unique, because their group would become a well-organized, disciplined, commissioned military company that would train regularly for almost three years.
Dr. Augustus Ware agreed to help the ladies drill, because he was too debilitated to enlist in the army. Clothed in their regular attire of day dresses, some in hoops, and their hats, they drilled two days a week. Some evenings the ladies would drill, followed by loud and boisterous marching through town to keep the townspeople aware of their presence. By the end of the war the women had become sharpshooters and expert markswomen.
Halfway through the war, LaGrange became a hospital town. Because a major railroad line connected this ostensibly safe area to the battlefields in Virginia, Tennessee, and Mississippi, every train passing through delivered wounded and dying soldiers. Each of the Nancy Harts did regular hospital duty in addition to attending to her militia and family responsibilities.
The autumn of 1864 brought to Georgia the shocking realization that the South was losing the war. After a valiant defense, Atlanta fell. Sherman then burned and looted his way to Savannah. One of his cavalry units came within 30 miles northeast of LaGrange to the city of Newnan, but it was soundly defeated there by Major General Joseph Wheeler's cavalry.
Confederate General Robert E. Lee had surrendered his Army of Northern Virginia at Appomattox on April 9, 1865, effectively ending the Civil War. But 13,000 Union troops under Brigadier General James Wilson of the Union Military Division of the Mississippi, better known as Wilson's Raiders, were still striking at targets in Alabama and Georgia.
On April 16, 1865, the LaGrange telegraph operator received an urgent request from Confederate Brigadier General Robert Tyler in nearby West Point. Federal troops were approaching the fort that guarded the railroad bridge, and he needed all able-bodied men to report immediately to help defend West Point. All the walking wounded and aged men in LaGrange gathered and rode a train to the fort. The defense of the West Point fort was gallant, but the 300 defenders couldn't hold out long against the Union's 3,000 attackers
The defeat was troubling news for the Nancy Harts. Many had had family and loved ones at the fort. Then, retreating Confederate cavalrymen brought news that a Federal column was coming up the road from West Point, and the Nancies were alerted.
Defending Home and Hearth
On April 17, 1865, a column of Union cavalry was reported to be approaching LaGrange from the west. This unit of Wilson's cavalry corps was commanded by Colonel Oscar LaGrange. The previous day they had crossed the Chattahoochee River at West Point (18 miles away), captured Fort Tyler, a strong redoubt commanding the town, and destroyed the bridges, the rail facilities, 19 locomotives, 340 cars loaded with army supplies, and much valuable machinery.
The Nancy Harts quickly assembled at the home of Mary Heard. As they were forming their ranks, several Confederate cavalrymen pleaded with them to return home and lock their doors. They refused and started marching to meet the column. When they came within a few hundred yards, Lt. Nancy Morgan marched out to meet the leader, Colonel LaGrange. Nancy informed him that the women were determined to defend their families and homes.
That night, despite all precautions, the Federal troops torched the local tannery, cotton warehouses, the train depot, and some buildings around the town square, and looted stores. But LaGrange's homes were spared, including Bellevue, the home of Confederate politician and former U.S. Senator Benjamin Harvey Hill – though it was routine practice to jail high-ranking Confederate officials and destroy or confiscate their property.
Apparently Oscar LaGrange was returning a favor. In the spring of 1864, he had been seriously wounded and captured by Confederate troops. Since Confederate hospitals were overwhelmed in the LaGrange area, he was placed under the care of a local woman, who was Senator Hill's niece. LaGrange recovered from his wounds, was exchanged in the autumn and returned to duty to later repay the kind gesture that had been accorded him.
The following morning, Colonel LaGrange marched on toward Macon, leaving behind this gracious Georgia town whose name he chanced to bear. Teary-eyed women bade farewell to their husbands and sons who had been taken as prisoners of war. But upon reaching Macon, LaGrange learned of General Lee's surrender and immediately freed his prisoners.
SOURCES
Battle of West Point