Wife of Founding Father: Oliver Ellsworth
Oliver and Abigail Ellsworth
Abigail Wolcott was born February 8, 1755, in East Windsor, Connecticut, the fifth of seven children born to William and Abigail Abbott Wolcott. Oliver Ellsworth, the second son of Captain David and Jemima Leavitt Ellsworth, was born in Windsor April 29, 1745. At 17 Oliver went to Yale to study the ministry, but was expelled for playing pranks. Ellsworth graduated from the College of New Jersey in 1766 and began the study of law.
Returning to his home in Windsor, Connecticut, Oliver studied theology and then law, and was admitted to the bar in 1771. At first his law practice was so poor that he had to support himself by farming and occasionally wood cutting, and on days when the court was sitting he had to walk from his farm in Hartford and back – a round trip of twenty miles – since he was too poor to keep a horse.

Abigail Wolcott married Oliver Ellsworth on December 10, 1772, providing him with the strength and stability to continue his highly productive life. It was said of Abigail: "She exercised such concern and thoughtfulness for her husband's needs that no anxiety regarding household cares ever disturbed his public life."
Abigail bore nine children with Oliver Ellsworth:
• Abigail (born 1774) traveled with her father to Philadelphia in 1790.
• Oliver Jr. (born October 1776) died May 1778.
• Oliver III (April 1781) received a Master's degree at Yale in 1802; died July 4, 1805.
• Martin (April 1783) served as a Major in the War of 1812; died November 2, 1857.
• William (June 1785) died July 24, 1785.
• Frances (August 1786) died March 14, 1868.
• Delia (July 1789) married Thomas Scott Williams; died June 24, 1840.
• Twins Henry and William (November 1791). Henry was a lawyer and a businessman; died in 1858.
• William (November 1791) married Emily Webster, daughter of Noah Webster; professor at Trinity College; served in the US House of Representatives and Governor of Connecticut; died in 1868.
Elected to state office in 1773, Oliver Ellsworth quickly became one of the most powerful political figures and successful lawyers in Connecticut. He served throughout the Revolutionary War in many state and federal political positions, including delegate to the Continental Congress, member of Connecticut's Council of Safety, and the Governor's Council.
In 1775, Oliver sold his farm and moved his small family to Hartford. There his rise was rapid, and before long there were few important cases in Connecticut in which Ellsworth did not represent one side or the other. He was a delegate to the General Assembly of the state that met soon after the Battle of Lexington, and throughout the Revolutionary War was a member of the Continental Congress.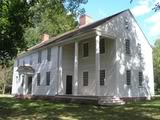 Oliver Ellsworth Homestead
Oliver Ellsworth named his home Elmwood for the thirteen elm trees he planted on the property that represented the original states. Built in 1781 on land that had been in the Ellsworth family since 1664, the original house is a 2-story wood frame building with a peaked cedar shake roof and clapboard exterior walls. Its design was four rooms on the first and second floors with a central hallway running front to back.
In 1788, a two-story addition for a drawing room on the first floor and a bedroom above was added. Elmwood has the distinction of being visited by two sitting Presidents. On October 21, 1789, President George Washington visited, entertaining the Ellsworth children by singing the Darby Ram. On October 3, 1799, President John Adams was a guest.
In 1787, Oliver Ellsworth joined William Samuel Johnson and Roger Sherman as Connecticut's delegation to the Constitutional Convention. He was one of the five men who drafted the Constitution and one of the three who proposed the Connecticut Compromise that resolved issues allowing the Constitution to be ratified.
When the Constitutional Convention met in Philadelphia in 1787, Ellsworth once again represented Connecticut and took an active part in the proceedings. During debate on the Great Compromise, Ellsworth proposed that the basis of representation in the legislative branch remain by state. He also left his mark through an amendment to change the word national to United States in a resolution. Thereafter, United States was the term used in the convention to designate the government.
His name was not affixed to that document, because pressing domestic considerations compelled his return home as soon as all of the provisions of the constitution had been completed. But his force and energy were successful the following year in securing its ratification in the Connecticut state convention.
While serving a seven year term in the new US Senate, Ellsworth helped to work out the practical details necessary to run a new government. As chairman of the committee for organizing the national judiciary, he drafted the Judiciary Act of 1789. The original bill, in his own handwriting, passed with but slight alterations, and the federal court system it established has continued to the present with few changes. In 1796, George Washington asked Ellsworth to be the third Chief Justice of the US Supreme Court.
President John Adams appointed Ellsworth as a commissioner to France to renegotiate a treaty. He led a delegation there between 1799 and 1800 in order to settle differences with Napoleon's government regarding restrictions on US shipping that might otherwise have led to war between the two nations. Highly respected by Napoleon, Ellsworth was successful.
Ellsworth came down with a severe illness resulting from his travel across the Atlantic. As a result, he retired from national public life upon his return to America in early 1801, and he and Abigail lived at their family home in Windsor, CT. He was nevertheless able to serve again on the Connecticut Governor's Council until his death.
In May 1807, after a reorganization of the Connecticut state judicial system, he was appointed chief justice of the Supreme Court, but failing health compelled his resignation within a few months.
Oliver Ellsworth died at Windsor on November 26, 1807, and was buried in the cemetery of the First Church of Windsor. Yale had honored him with an honorary LL.D. in 1790; Princeton did the same in 1797. It has been speculated that Ellsworth's negotiations with Napoleon might have contributed to his sudden decision three years later to sell the Louisiana Territory to the United States for $15 million.
Abigail Wolcott Ellsworth died August 4, 1818, and is buried in Palisado Cemetery, Windsor, Connecticut. Her influence as a mother was so profoundly felt not only by her children, all of whom became active in public service, but also in the lives of their descendants, many of whom carried out Oliver and Abigail's commitment to excellence in public service in many fields of endeavor.
SOURCES
Oliver Ellsworth, From Alexander Leitch, A Princeton Companion, copyright Princeton University Press (1978).
Wikipedia: Oliver Ellsworth
The Founding Fathers: Connecticut