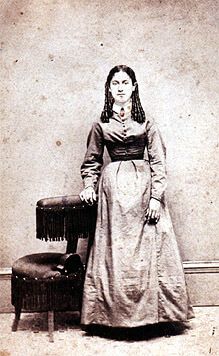 Pioneer in Education for African American Women
Sarah Jane Woodson Early was an African American educator, author and feminist. For 30 years Early was a teacher and school principal in Ohio, and in the South after the Civil War. In 1866 she became the first African American woman professor when she was hired by Wilberforce University to teach Latin and English.
Image: Young Sarah Woodson
Early Years
Sarah Jane Woodson, fifth daughter and youngest child of eleven of Jemima (Riddle) and Thomas Woodson (1790–1879), was born free in Chillicothe, Ohio November 15, 1825. Her parents had moved to the free state of Ohio about 1821 from Virginia, where they had been freed from slavery. They lived for some years in Chillicothe, and founded the first black Methodist church west of the Alleghenies.