Harriet Morrison Irwin (1828-1897) of Charlotte, North Carolina holds a special place in American history as the first woman to patent an architectural design. The structure she created in 1869 was a hexagonal house. She and her husband built at least one version in Charlotte, and she may have designed other hexagonal houses. In addition to her work in architecture, Irwin wrote primarily nonfiction articles related to history and progress.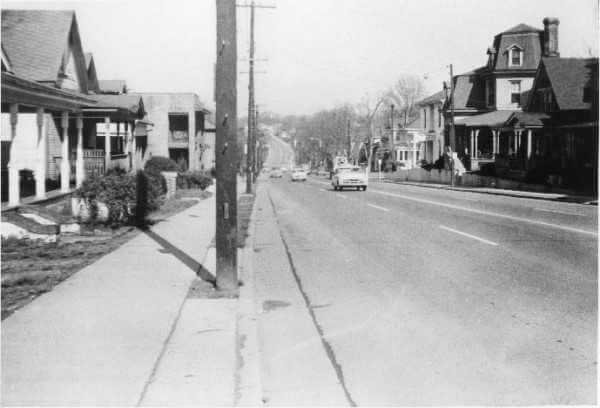 Early Years
Harriet Abigail Morrison was born in Charlotte, North Carolina in 1828 to Mary Graham Morrison and Dr. Robert Hall Morrison – founder and first president of Davidson College. She was one of ten children born to the couple who survived into adulthood. Harriet was frail, lacking strength and the ability to take part in physical activities with the rest of the family. While her brothers and sisters played outside, Harriet spent much of her time reading books and writing stories.
The Morrison family believed in educating their daughters as well as their sons. In 1844 Harriet attended the Salem Female Academy in what is now the city of Winston-Salem, one of the state's few institutions of higher learning for women at that time. There she studied literature, religion, history, mathematics, painting, and music. There were no courses available to satisfy her interest in advanced mathematics and engineering.
Among Harriet's siblings were Mary Anna, who married college professor and future Confederate General Thomas J. (Stonewall) Jackson; and Isabella, who wed Daniel Harvey Hill, also a future general in the Confederate Army.
Marriage and Family
In 1849 Harriet Morrison married planter and merchant James Patton Irwin, a graduate of the University of North Carolina. Irwin was then living in Mobile, Alabama, and the newlyweds resided there for three years. Harriet claimed that the climate in Mobile was damaging her health, and in 1852 the couple made a permanent move to Charlotte. Harriet continued to suffer from ill health from time to time, including intestinal disorders and respiratory conditions, but she gave birth to nine children between 1850 and 1864, five of whom survived infancy.
After the Civil War
When the Civil War ended in 1865, Harriet began submitting articles to Charlotte's first magazine, The Land We Love, edited by her husband and her brother-in-law, Dana Harvey Hill, who was also a scholar, businessman, college president, and publisher. Her writing addressed various historical topics and promoting progress and prosperity.
The construction of many new buildings in Charlotte prompted Harriet Morrison Irwin to renew her earlier interest in engineering and architecture. Influenced by her own illnesses, she wanted to design a home for an invalid housekeeper, one that was both practical and economical. She studied nineteenth-century engineering texts and popular architectural books and came to believe that buildings should have convenient access to the outdoors as nature contributed to people's mental power and good health.
Irwin's hexagonal house design featured a central chimney, three exterior entrances, a mansard roof and pointed windows. Her patent letter explained:
Thus it will be observed, that without the aid of the ordinary passage, and its consequent waste of the interior area of the building, I at the same time have afforded every facility of communication between the different rooms. Thus it will readily be seen, that for the purposes of ventilation, &c., my arrangement is far superior to any other now used, while at the same time, when privacy is desired in either or all of the apartments, you have simply to close the doors that are hung in the jambs … and the same is instantly executed.

H. M. Irwin
U.S. Patent No. 94,116
On August 24, 1869, Harriet Morrison Irwin, a self-taught architect, received U.S. Patent 94,116 for the design of a hexagonal house. At age forty-one, she became the first woman in the United States to patent an architectural design. The patent emphasized more efficient lighting, better movement of air, and better use of space. Even the rooms in the house were six-sided. She and her husband built and lived in a hexagonal home.
Harriet Morrison Irwin believed that her hexagonal house's best feature was the careful placement of windows, as well as doors that allowed easy passage to the outside. These doors and windows provided comfortable air flow in the warmer months but could be efficiently closed during colder weather. There were no hallways and only one central fireplace, with flues leading to the other rooms. Numerous fireplaces led to dirtier air and required more cleaning.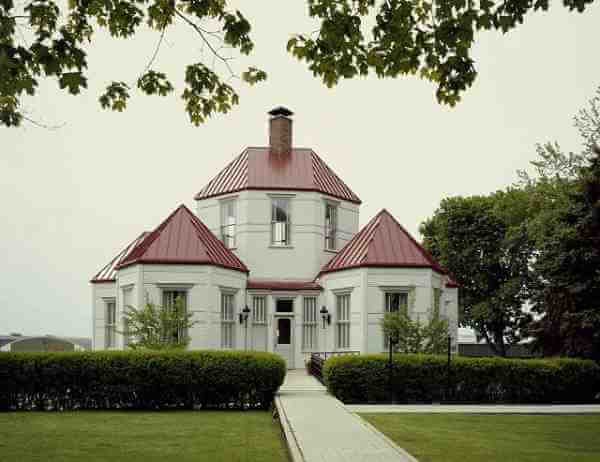 The first part of Harriet Morrison Irwin's hexagonal house patent reads:
Be it known that I, H. M. Irwin, of Charlotte, county of Mecklenburg, State of North Carolina, have invented an Improvement in the Construction of Buildings; and I do hereby declare the following to be a full, clear, and exact description of the same.

My invention consists of a dwelling-house or other building, hexagonal in form, and enclosing a space separated into hexagonal and lozenge-shaped rooms, substantially as described hereafter; also a chimney-stack, arranged at the junction of the walls of the adjacent hexagonal rooms, and containing flues communicating with the fire-places in the several rooms.

The objects of my invention are the economizing of space and building-materials, the obtaining of economical heating mediums, thorough lighting and ventilation, and facilities for inexpensive ornamentation.
Harriet and her house design attracted national attention. The February 3, 1870, issue of the Revolution, edited by women's rights advocate Elizabeth Cady Stanton and owned by Susan B. Anthony, carried an article called "Woman as Architect," which stated that women knew best how to plan domestic architecture and noted:
The papers say that Mrs. Irwin … proposes an entire revolution in the method of building houses, and has applied for a patent for six-walled, or hexagonal apartments. She believes they are cheaper, handsomer, will give more space, and are capable of greater artistic beauty than the square houses.
That same month, the Charlotte journal, The Southern Home (founded in 1869 by Harriet's brother-in-law, Daniel Harvey Hill), carried a more accurate report:
Mrs. Irwin of Charlotte, N.C. … has secured a patent for an improvement in the construction of houses, which, it is claimed, will create a new era in architecture. … The patentee also claims that this mode of building … is capable of assuming greater artistic beauty than the square quadrangular form. The octagonal building attracted a good deal of attention some years ago, but the hexagonal is claimed to be something entirely new.
Harriet and James Irwin built a hexagonal house on property they owned at 912 West Fifth Street in Charlotte and made it their home. A photograph shows that it had a central tower, projecting wings, and a porch similar to the 1871 design. Some accounts indicate that the Irwins built other examples in Charlotte. A model home in Charlotte's Fourth Ward – two stories with a central tower, mansard roof and arched porch – was torn down in the 1960s.
Although no known examples of houses built from Harriet Irwin's designs are known to survive, her patented design and the published notices of her work assured that her unusual accomplishments would become part of history. The expanding studies of women's history during the mid-to-late 20th century highlighted Irwin in such works as Madeleine B. Stern's We the Women, Career Firsts of Nineteenth-Century America (1963) and Susan Torre's Women in American Architecture (1977).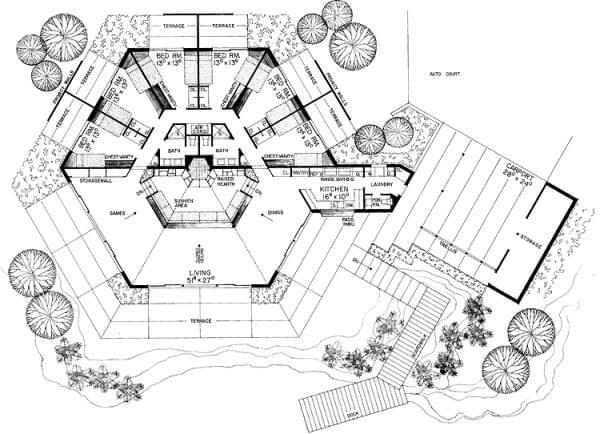 After her recognition as a self-taught architect, she achieved success with her writing, contributing articles to several newspapers and magazines. In 1871, Irwin published a novel, The Hermit of Petraea (1871) to promote her patent. The book was about a sickly youth who is banished to Arabia Petraea – a name once used for the northwest part of the Arabian peninsula – to find better health and living conditions in a six-sided house.
Harriet Morrison Irwin died in Charlotte in 1897 and is buried in Elmwood Cemetery there.
Irwin lived in a century when girls seldom received more than a sixth-grade education, yet she taught herself skills in engineering and architecture that no college or university taught at the time. She helped open doors for women, not just in the field of architecture, but set the example for other young women to follow, showing that they, too, could aspire to professional jobs once held only by men.
SOURCES
NCPedia: Harriet Morrison Irwin
A Hex on Her Houses: Harriet Irwin of Charlotte
North Carolina Architects and Builders: Harriet Morrison Irwin
Beverly Heisner, "Harriet Morrison Irwin's Hexagonal House: An Invention to Improve Domestic Dwellings"
(North Carolina Historical Review LVIII, No. 2 [Spring, 1981])