Passionate Love, Civil War and Tragic Loss
The letters exchanged between General Stonewall Jackson to his wife Anna tell the story of this remarkable couple. Even in the midst of the most difficult military campaigns of the Civil War, the general made time to write extensive letters of love and devotion to his bride. Theirs was one of the great love stories of the war.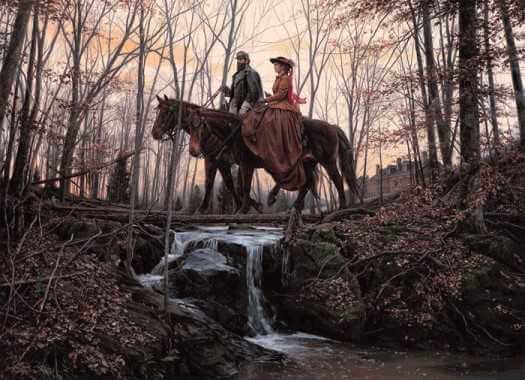 Image: A Ride With Anna by John Paul Strain
Riding along the bridle paths of Winchester in the stillness of the twilight
Like many officers' wives, Mary Anna Jackson traveled to winter encampments to be with her husband. In February 1862, she was at Winchester, Virginia, where they were able to spend several weeks together for the first and only time during the war. Anna became pregnant during that visit.
Anna's Early Life
Shortly after her birth on July 21, 1831, Mary Anna Morrison's father became the first president of Davidson College near Charlotte, North Carolina. Always called "Anna," she was educated at Salem Academy (1847–49) in Winston-Salem, North Carolina. She could speak well, write and was an accomplished pianist.
Anna was visiting her sister Isabella Morrison Hill when she met her future husband, Major Thomas Jonathan Jackson. Isabella had married Major (later Lt. General, CSA) Daniel Harvey Hill, a member of the faculty of Washington College (later Washington and Lee University) in Lexington, Virginia.
Major Jackson (also Lt. General, CSA) was then a mathematics professor at the Virginia Military Institute, also in Lexington. Jackson's first wife had died in 1853 while giving birth to a stillborn son.
Marriage and Family
On July 16, 1857 Anna and Thomas Jackson were married at the Morrison mansion, Cottage Home, in North Carolina. A few days after their wedding, the couple set out on a northern tour which included Richmond, Baltimore, New York, Saratoga, and Niagara Falls. The Jacksons were deeply religious and devoted to one another. Their happy home life in Lexington was marred only by the death of their first child, Mary Graham, who lived only a few weeks.
Stonewall in the Civil War
When the call to arms was issued for the Confederacy in 1861, the cadets at Virginia Military Institute offered their services and Major Jackson was chosen to lead them. Mary Anna Morrison Jackson returned to Charlotte to live with relatives. Anna remained in Charlotte, but made several trips to see General Jackson at various camps in Virginia.
Letters to Anna
Jackson wrote to his wife on July 22, 1861, the day after the First Battle of Bull Run – the first battle of the war:
My precious Pet,
Yesterday we fought a great battle and gained a great victory, for which all the glory is due to God alone. Although under a heavy fire for several continuous hours I received only one wound, the breaking of the longest finger of my left hand; but the doctor says the finger may be saved. It was broken about midway between the hand and knuckle, the ball passing on the side next to the forefinger. … My horse was wounded, but not killed. Your coat got an ugly wound near the hip, but my servant, who is very handy, has so far repaired it that it doesn't show very much. My preservation was entirely due, as was the glorious victory, to our God, to whom be all the honor, praise, and glory. The battle was the hardest that I have ever been in, but not near so hot in its fire.
From Life and Letters of General Thomas J. Jackson (Stonewall Jackson) (1892) by Mary Anna Jackson, this is a letter from Stonewall to Anna:
September 25, 1862

Darling, my heart turns to you with a love so great that pain flows in its wake. You cannot understand this, my beautiful, bright-eyed, sunny-hearted princess. Your face is the sweetest face in all the world, mirroring, as it does, all that is pure and unselfish, and I must not cast a shadow over it by the fears that come to me, in spite of myself. No, a soldier should not know fear of any kind. I must fight and plan and hope, and you must pray. Pray for a realization of all our beautiful dreams, sitting beside our own hearthstone in our own home – you and I, you my goddess of devotion, and I your devoted slave. May God in his mercy spare my life and make it worthy of you!

Your soldier
Anna gave birth to a daughter, Julia Laura Jackson, on November 23, 1862, but Stonewall did not see the baby in April 1863 when she was five months old. Anna describes the scene in her book, Memoirs of Stonewall Jackson by His Widow, Mary Anna Jackson:
It was raining and he was afraid to take her in his arms with his wet overcoat, but upon arrival at the house, he speedily divested himself of his overcoat, and, taking his baby in his arms, he caressed her with the tenderest affection, and held her long and lovingly. During the whole of this short visit, when he was with us, he rarely had her out of his arms, waking her, and amusing her in every way that he could think of – sometimes holding her up before a mirror and saying, admiringly, "Now, Miss Jackson, look at yourself." Then he would turn to an old lady of the family and say, "Isn't she a little gem?" When she slept in the day, he would often kneel over her cradle, and gaze upon her little face with the most rapt admiration, and he said he felt almost as if she were an angel in her innocence and purity.
In April 1863 Anna took daughter Julia to see her father for the first time. They remained in a cottage there for several days, enjoying their first days together as a family. Unfortunately, Jackson soon received word that General Joseph Hooker's Army of the Potomac had clashed with Confederate cavalry at a crossroads called Chancellorsville. General Robert E. Lee sent orders for Jackson to stop their advance.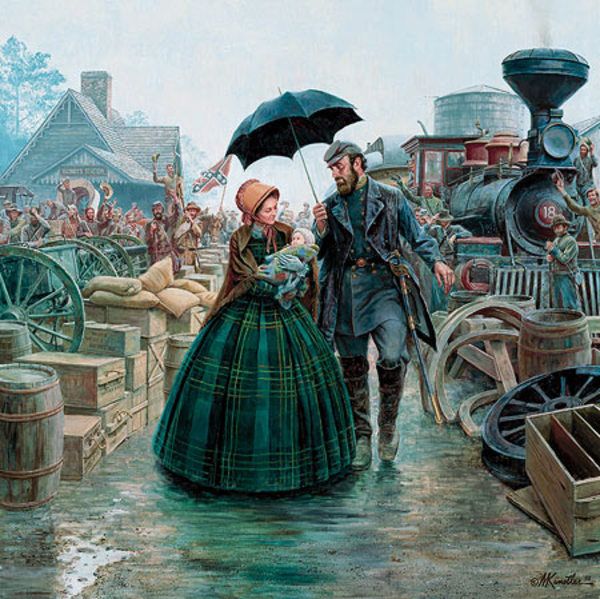 Image: Julia, by Mort Kunstler
Mort Kunstler made these comments about the painting he named Julia:
One of the most wonderful moments in the life of Stonewall Jackson occurred on April 20, 1863, when he saw his daughter, Julia for the first time. The child was five months old; she had been conceived in Winchester where Jackson spent the winter of 1861-62 with his wife Anna. Julia was born the following winter, while Jackson was in the Fredericksburg area. The general refused to visit Anna and the new baby during the winter inactivity, feeling he could not abandon his troops even for a short period of time. By April, Jackson decided it would be safe enough for his family to visit him at the front.

Guinea Station was the rail head for Fredericksburg, and it was there that Anna and Julia arrived. It was the first time Jackson had seen Anna in more than a year. It was a dreary, rainy day, but Jackson's spirits were bright. He met his wife and daughter in the railroad car and then led them to a waiting carriage. The troops cheered wildly for the family. On April 29th, he felt it was no longer safe for them to remain at the front, so Anna and Julia left for Richmond immediately. Jackson's greatest triumph, Chancellorsville, would follow, but at a tremendous sacrifice.
Anna to Stonewall
Anna wrote this letter sometime in April 1863:
My precious husband –
I will go to Hanover and wait there until I hear from you again, and I do trust I may be permitted to come back to you again in a few days. I am much disappointed at not seeing you again, but I commend you, my precious darling, to the merciful keeping of the God of battles, and do pray most earnestly for the success of our army this day. …

I leave the shirt and socks for you with Mrs. Neale, fearing I may not see you again, but I do hope it may be my privilege to be with you in a few days. Our little darling will miss dearest Papa. She is so good and sweet this morning. God bless and keep you, my darling.

Your devoted little wife.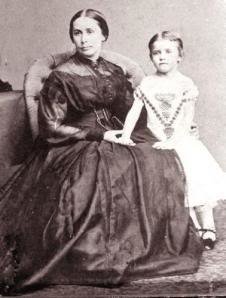 Friendly Fire
During the Battle of Chancellorsville, General Stonewall Jackson was returning to camp on the evening of May 2, 1863 after surveying his troops and lines of battle with members of his staff. At about 9:00 p.m. shots rang out – Jackson had been mistakenly fired upon by his own men. He received wounds from three .57 caliber bullets: two in the left arm and one to the right hand. The general was taken to a field hospital where Dr. Hunter McGuire amputated his left arm two inches below the shoulder in an effort to save his life.
Jackson realized his wounds were serious and sent for his wife and daughter. On May 4, he was moved to the home of Thomas and Mary Chandler near Guinea Station, about thirty miles from the battlefield, to recuperate. Anna and Julia joined him there. However, his condition began to decline, and he died May 10, 1863, most likely from pneumonia. His body was taken for burial to Lexington, Virginia, where he had lived during his years as Professor at Virginia Military Institutue.
Life Without Stonewall
Anna returned to her parents' home in Lincoln County, North Carolina, where she and Julia lived until 1873, after which they lived in Charlotte for six years. They then spent two years in Baltimore while Julia attended school there. After Julia had graduated, the two women spent winters in Richmond and summers in Lexington.
Julia Laura Jackson survived to adulthood and married William Edmund Christian June 2, 1885 and bore him a daughter and a son. Tragically, Julia Jackson Christian died of typhoid fever August 30, 1889, at the age of twenty-six. This obituary appeared in the Lafayette Advertiser in Lafayette, Louisiana, on September 7, 1889:
A dispatch from Charlotte, North Carolina, August 30th, conveys the following sad intelligence:

Mrs. W.E. Christian (nee Julia Jackson), the only child of General "Stonewall" Jackson, died here at six o'clock this morning, after two weeks illness of typhoid fever. Her husband is editor of a weekly paper here called the Charlotte Democrat. The remains will be taken to Lexington, VA, for interment beside those of her father. She leaves two little children.
Anna Jackson did not remarry. She lived the rest of her life in Charlotte, although she frequently traveled to visit friends and family. She was known as the "Widow of the Confederacy," especially at the many Confederate Veterans' events she attended, and devoted much of her time to the United Daughters of the Confederacy during her later years.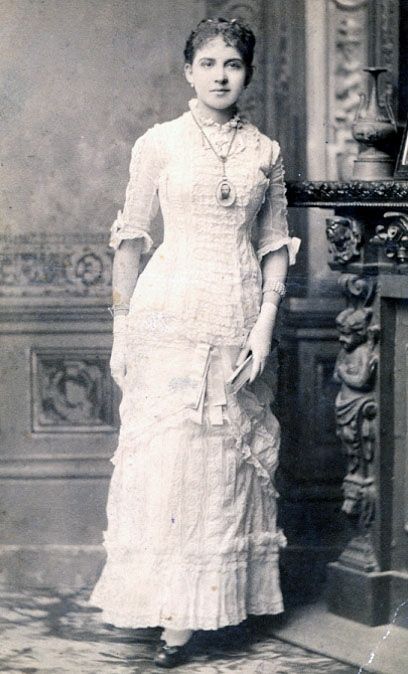 Image: Julia Laura Jackson
As a young lady
Anna also wrote two books about her General: Life and Letters of General Thomas J. Jackson (Stonewall Jackson) (1892) and Memoirs of Stonewall Jackson, by His Widow (1895). In 1910 she published Julia Jackson Christian, Daughter of Stonewall Jackson.
Mary Anna Morrison Jackson died March 24, 1915 in Charlotte at age eighty-three; she is buried beside her husband in Stonewall Jackson Memorial Cemetery in Lexington, Virginia.
SOURCES
Stonewall Jackson House
John Paul Strain: A Ride With Anna
NCPedia: Mary Anna Morrison Jackson