Nurse for the Union Army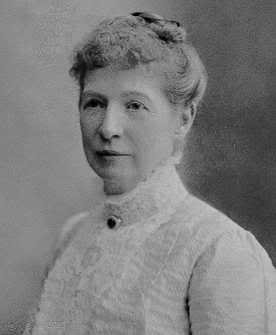 While serving as a Union Civil War nurse Lucy Bainbridge was called Sister Ohio because she wore the badge of the Ohio Soldiers' Aid Society. She was given that name by a Union trooper with both arms wounded to whom she brought water and food. She described her experiences on the battlefield in her autobiography, Yesterdays.
Lucy Elizabeth Seaman was born in Cleveland, Ohio on January 18, 1842. She was tutored at home until she was nine years old. She then attended grade school, high school, and the Cleveland Female Seminary for one year. She was then transferred to a seminary at Ipswich, Massachusetts. Her extensive education was unusual for females living in that era.
The Civil War
Lucy describes a pivotal event in her life when she visited Washington, DC with her mother in 1864, a visit which brought about an immediate change in her life:
We were guests at a public dinner where one of the speakers told of the need of nurses at the war front – a vital need, for which there was no adequate supply. At that time our country had no trained nurses; the women who took upon themselves that duty had only their home-experience and common-sense on which to rely.
Bainbridge immediately joined the Ohio Soldiers' Aid Society and was sent to Fredericksburg, Virginia, where she cared for the wounded soldiers as they were being transported by boat to Washington, DC.
There was no pretty nurse's cap or white uniform to wear, but just plain, every-day clothes – a gingham dress and apron; no dainty and becoming white veil with a red cross over my forehead or on my arm. My distinguishing mark was simply a badge of red silk pinned on my left breast, on which were printed in gilt the words "Ohio Relief."
Very successful in this work, Bainbridge was asked to go to the front of the Union Armies, and she subsequently served at Port Royal, White House Landing and City Point, all in Virginia.
Because of lack of army supplies, or because they were tied up with red tape, more poor fellows were brought wounded and helpless back from the Front than there were tents to cover them. On the grassy floor they were laid close together, with an orderly to care for them as best he could. When the tents were filled to the utmost, other men from the battle and rifle pits were left outside on the grass.

Among the wounded men lying in one of the tents another day – men recently brought from the very Front and waiting to get to Washington – was a soldier who called out, "Say, Ohio Relief, what's your name, please?" Pointing to my badge, I replied, "There's my name." "Well, Sister Ohio," said the soldier, "I am from that state, too, and the worst of it is I am hungry, and the orderly has too much to do to bother with me. What are you going to do for a fellow who wants to eat and can't feed himself?"

Both arms were shot through and he was helpless. I soon found that he was ready for bread-and-milk, and liked it better than anything else. So my supplies of crackers, toasted bread, and condensed milk were put to good use. I fed my wounded Ohioan for several days, until he was carried to a Washington hospital.
Lucy was thereafter known as Sister Ohio.
During her war service, Lucy met William Folwell Bainbridge, a young man working with the Christian Commission that sought to bring hope and faith to the soldiers. He had graduated from Rochester University in 1862 and was working his way through Rochester Theological Seminary.
After the war, William was minister to a Baptist church in Erie, Pennsylvania, and began visiting Lucy in Cleveland. On September 5, 1866, they were married. Soon thereafter, William was appointed pastor of the Central Baptist Church of Providence, Rhode Island.
Lucy gave birth to a daughter, Cleora Emily Bainbridge at Cleveland on November 8, 1868. The infant died on April 14, 1870. A son, William Seaman Bainbridge, was born on February 17, 1870. Lucy adopted a second daughter, Helen Augusta Bainbridge, who was born on November 23, 1872.
The Bainbridges returned to Providence for several years and then moved to Brooklyn, New York, where William was in charge of the New York City Mission Society. Lucy was appointed as Superintendent of the Woman's Branch of that same organization, a position she held for 18 years. She managed a force of fifteen nurses, fifty missionaries and forty trained workers. She also lectured constantly and authored four books.
At the age of 83 and almost blind, Bainbridge went to California for several months. In 1928, her son bought the house in the country she had always longed for. She spent some happy months there and was brought back to her old home at Gramercy Park for her final days. "Sister Ohio" died in New York City on November 19, 1928.