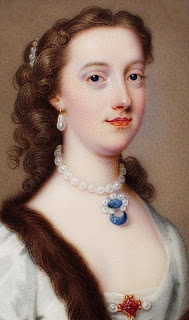 Margaret Bentinck became known to me through my readings of Mrs. Mary Delany, the first to make flower mosaics out of cut paper. Here's a link to my post on Delany. The two were lifelong friends, Margaret having met Mary Delany when she was a child of eight and Mary a young woman of 22 years. Mary Delany was introduced as a friend of Margaret's mother, Henrietta, and yet as time went by Mary became one of Margaret's closest friends. Perhaps it was because of Mary's older age that Margaret sought her out as a sister but the two had other interests in common, namely plants and animals. This shared interest would last their lifetimes, and perhaps from this Margaret would become an avid collector of shells, but also plants, fossils, birds, fungus, beetles, butterflies, porcelain and pottery. Margaret Bentinck Duchess of Portland amassed the largest collections of fine art and natural history in Britain.
Born Margaret Cavendish Harley, Margaret was the only surviving child of Edward Harley, who would become the 2nd Earl of Oxford, and the strait-laced Henrietta Holles, daughter of the 3rd Duke of Newcastle upon Tyne. Her father Edward was a great collector of manuscripts, books, and pottery, a landscape gardener and patron of the arts and unsurprisingly he encouraged Margaret's collecting as a child. Their lifestyle was one of great wealth and the house was always visited by aristocrats, politicians, and writers. Margaret knew Jonathon Swift and Alexander Pope and the poet Matthew Prior who had dedicated the poem "A Letter to Lady Margaret Cavendish Holles–Harley, when a Child" to Margaret when she was five.
At the age of nineteen Margaret married William Bentinck (1709-1766) Duke of Portland and she bore him six children. The marriage brought her a town house in Whitehall and a country house in Buckinghamshire called Bulstrode. She lived most of her life at Bulstrode, the last twenty three of her years in widowhood. Margaret was not the shy or reclusive type. She followed in her parents footsteps and made Bulstrode a place of great scientific and artistic activity. In time it began to be known and referred to as the hive. Here she raised her children, entertained and worked with people of now great renown, developed the house, designed the gardens, and collected.
A glimpse is all we get of the gardens at Bulstrode as they no longer exist as they were in the Duchess's time. A large estate of many acres, the park was renowned for its formal landscaped gardens. According to Repton, there were a botanic garden, flower garden, kitchen garden, ancient garden, American garden, shrubbery and parterre. In some unknown place there was an allee of lime fruit trees. While there is no listing of the plants in Bulstrode we can be sure that Margaret had one specimen of every plant available. Margaret built greenhouses, an aviary and a zoo to house the innumerable animals. There was also a pond and a shell grotto that Margaret and Mary Delany built with the shells they collected.
Margaret's greatest interest was botany. This was not unusual for the time as women were encouraged to find interest in natural history in the eighteenth century. What was unusual was the Duchess's depth of knowledge and involvement in botanical research. Margaret had cultivated an impressive, and from today's perspective,a very distinctive number of friends in the field of science. Margaret employed the Swedish botanist Daniel Solander to catalogue her botanical collections using Linnaeus's classification. Solander was a student of Carolus Linnaeus and was part of the entourage of Joseph Banks' trip with James Cook's first Endeavour voyage.  Joseph Banks was known to have brought back new plant specimens from North America for the Duchess. Others included John Lightfoot her personal chaplain and conchologist, Philip Miller the chief gardener of the Chelsea Physick Garden, and Georg Dionysus Ehret a German botanical illustrator who Margaret hired to engrave the native plants in her flower gardens, as well as, teach drawing to her daughters.
In 1766 Margaret was introduced to Jean-Jacques Rousseau, through Mary Delany's brother, Bernard Granville. Rousseau was a philosopher and his interest in botany helped to popularize natural history in eighteenth century Europe, America and Great Britain. Rousseau did not hold women high in his esteem. He believed that they were incapable of abstract thought in the sciences and should instead concentrate on matters of practical reason. Despite his beliefs, Rousseau appointed himself as the Duchess's 'herborist' collecting and preserving plants for her. He seems to have held the Duchess in high esteem as he refers to her as his botany teacher and testifies that her botanical knowledge is far superior to his own.
Margaret lived a full and busy life. She must have loved life as she delved into its mysteries one shell, flower, and art piece at a time. Family was important to her, as well as, all the scientific friends and acquaintances she cultivated in order to pursue and fulfill her life's objective "to have had every unknown species described and published to the World", according to John Lightfoot. While she never published any of her findings (she left that to others) Margaret did leave behind notebooks and letters documenting her vast knowledge. The Portland name was given to a moth, a rose and an ancient glass vase, in her honour. It is her vast collections of natural history that she is best remembered and the gardens of Bulstrode that housed them.