Pioneer in Women's Education
A thirty-six-year-old Rhode Island high school teacher and principal, Sarah Elizabeth Doyle was a founder of the coeducational Rhode Island School of Design (1877). In the mid-1890s, she became a leader of the Rhode Island Society for the Collegiate Education of Women, which sponsored the establishment of The Women's College at Brown University. This feminist and education reformer also ardently supported women's suffrage.
Early Years
Sarah Elizabeth Doyle entered Providence High School during its initial enrollment in 1843. One of seven siblings, she completed her formal education in 1846 when she graduated from that school, and she dedicated the rest of her life to the advancement of higher education for women.

A Life in Teaching
Doyle spent all of her 92 years in Providence, where she taught in private schools for ten years, and then returned to Providence High School, where she taught from 1856 to 1892. She simultaneously served as the Girls' Principal there from 1878 until her retirement in 1892. She spent a total of thirty-seven years as an educator in Providence.
During that time she actively participated in the social reform movements of the nineteenth century. Although her neighbors were conservative in their views, she stepped out of what society believed to be woman's sphere and became a pioneer for educational opportunities for women.
In her leadership capacity, Doyle assisted in founding the coeducational Rhode Island School of Design – one of the nation's premiere art schools – in 1877 and served as secretary from 1877 to 1899. She also served on the board of the Providence Athenaeum, was vice president of the Rhode Island Institute of Instruction, and attended numerous conferences and helped nurture other women in the field of education.
Women's Clubs
Noting that men gained many advantages from club membership, Sarah Doyle joined the Women's Suffrage Association in 1870. She founded the Rhode Island's Women's Club in 1876 and became chairman of the General Federation of Women's Clubs in 1895. She used her status as a clubwoman to assist in her work as an educator. Social movements against child labor and attempting to find a cure for tuberculosis also found a platform through the upper-class network of women's clubs.
A group of her students formed the Sarah E. Doyle Club in 1894. That same year, she became the first woman to receive an honorary degree from Brown University, which she earned for teaching and training teachers.
Women's College at Brown University
To further her quest for greater equality in higher education, Sarah Elizabeth Doyle achieved her greatest accomplishment by leading the campaign to admit women to Brown University. In 1891, the first six female students were allowed to enroll as undergraduates: Maude Bonner, Clara Comstock, Nettie Goodale Murdoch, Elizabeth Peckham, Anne T. Weeden, and Mary Emma Woolley.
The first women's classes were held at a grammar school that had once been associated with Brown. The boys who attended the school were dismissed at two o'clock. The young women arrived soon after; professors from the university taught them in a classroom on the second floor. The school had no lights, so they worked until the daylight had completely faded.
By 1895, Doyle had established the Rhode Island Society for the Collegiate Education of Women to raise funds for a Women's College at Brown. She served as president of that organization from 1896 until 1919. Within a year the group had raised $75,000; in 1897, they constructed 'Pembroke Hall' on the Brown campus – the first permanent building for female students. This new school was called the 'Women's College at Brown University' – the first institution of higher learning for women in Rhode Island.
Sarah Doyle was instrumental in all of these momentous events in the history of Brown University. At the dedication of Pembroke Hall on November 22nd, 1897, she told her audience how important education was for changing women's lives::
Today marks an era in the education of women in the State. No longer need they stand at the door of the temple of knowledge, but [they] may enter and be ministered into its shrines. What an immense gain has been achieved in the intellectual training of women since Hannah Adams [link], a hundred years ago, expressed her idea of heaven to be a place where women would have their thirst for knowledge gratified.
Doyle ended her speech with a dream for the women who would graduate in future years from the Women's College:
We dedicate Pembroke Hall to the service of women who, like Mary Somerville or Maria Mitchell [link], shall prove their ability to grapple with scientific problems; to women like George Eliot and Elizabeth Barrett Browning, who will enrich the literature of the world by their imagination; to women like Florence Nightingale and Dorothea Dix [link], who will practice and teach the Christian spirit of love. We dedicate, nay, we consecrate it to the highest, holiest womanhood
Late Years
Sarah Doyle was present at every major meeting of educators in the country by then, and she became known across the nation for her effectiveness as a leader and organizer. In 1898, Providence Mayor William C. Baker asked Doyle to serve as secretary of a commission of five members to investigate the management of public schools in that city. She remained an advocate for women's education and was active in life at Brown University until her death.
In August 1997, Brown officials were arranging to repair the 14-inch tear in this portrait when it was sliced out of its frame and stolen from Sayles Hall. It has never been recovered.
Sarah Elizabeth Doyle died December 21, 1922 at her home at 119 Prospect Street in Providence. One of the many newspaper obituaries announcing her death called her "one of the five or six most prominent women in the country." The $3,000 left in her bank account went to benefit the Pembroke library.
Pembroke College at Brown University
In 1928, the College was renamed 'Pembroke College at Brown University' in honor of Pembroke College at the University of Cambridge in England. Roger Williams [link], one of the founders of Rhode Island, was an alumnus of Cambridge's Pembroke. The school slowly evolved, and in 1931 collaborated with the Rhode Island Hospital to establish the Training School for Nurses.
In 1969, students from Pembroke College and Brown University began living in shared dormitories. Since women had been attending classes and participating in other activities at Brown for decades, the Advisory and Executive Council proposed a merger between the colleges. On July 1, 1971, the two schools became one and all undergraduate students began attending the same college. At that time, only twenty-five percent of the undergraduate students were women. By 2005, fifty-one percent of students at Brown University were female.
Sarah Doyle Women's Center
In 1974, the Sarah Doyle Women's Center (SDWC) was founded as an organization at Brown University which "seeks to provide a comfortable, yet challenging place for students, faculty, and staff to examine the multitude of issues around gender." The Center houses an art gallery, a darkroom used by the Brown Photo Club, a library and resource center, and a student lounge and offers services and programs, and meeting space for university and community groups.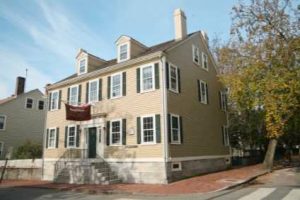 The Sarah Doyle Gallery is a professional art gallery within the Women's Center. It exhibits six to seven juried shows a year, and an annual commencement show. The goal of the gallery is to expose Brown students to high quality professional artwork on campus. The gallery openings offer a chance to interact with the artists.
The library at SDWC has more than 4,000 volumes and films available to students, staff, and faculty, and subscribes to a variety of scholarly journals, news publications, and magazines.
The SDWC is also affiliated with the Pembroke Center for Teaching and Research on Women, which was established in 1981 and calls itself a "center for interdisciplinary research on gender and society." Pembroke Center is home to the university's Gender Studies program and and publishes an academic journal: differences: A Journal of Feminist Cultural Studies. Its mission also includes the preservation of the history of women at Brown.
Although Brown became a fully coeducational institution with the merger of the men's and women's colleges in 1971, the history of women at Brown was still evolving. On September 3, 1991, Jill Ker Conway, the president of the all-female Smith College, delivered the opening convocation address to the student body in celebration of Brown's 100 years of women on campus. A four-day symposium was also held in October of that year in order to discuss women's issues, with President of Ireland Mary Robinson delivering the keynote address.
Sarah Elizabeth Doyle was inducted into the Rhode Island Heritage Hall of Fame in 2005.
SOURCES
Wikipedia: Sarah Elizabeth Doyle
Brown University: Pembroke College
Wikipedia: Pembroke College in Brown University
Brown University: Sarah Doyle's Women's Center
Rhode Island Heritage Hall of Fame: Sarah Elizabeth Doyle
Brown Daily Herald: Pembroke to Paxson: Women at Brown
Brown University Office of the Curator: Sarah Elizabeth Doyle