Daughter-in-Law of John Quincy and Louisa Adams
First Lady Louisa Johnson Adams, wife of sixth United States President John Quincy Adams, invited her niece Mary Catherine Hellen to live with her family at the White House after the death of her father. The shameless young hussy proceeded to seduce all three Adams boys before settling on their middle son John Adams II, whom she married at the White House February 25, 1828.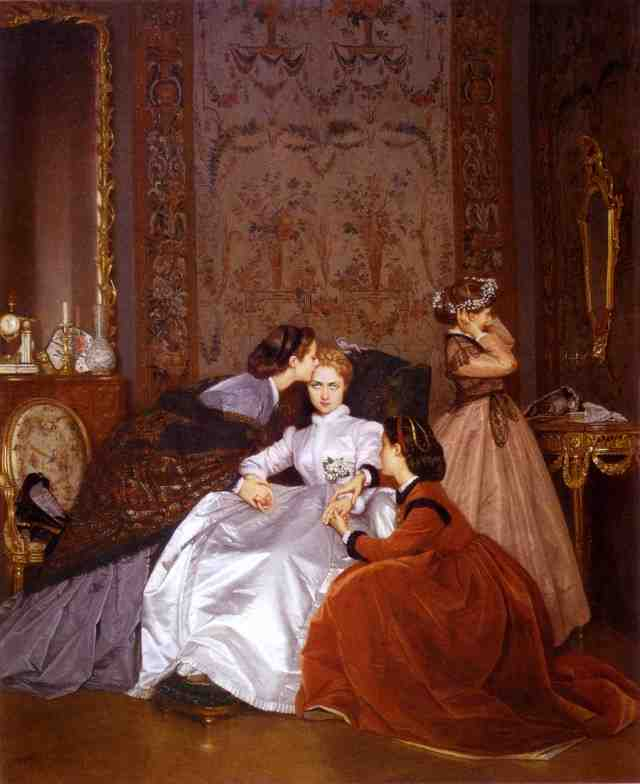 Smith-Adams Curse
Today alcoholism is recognized as a disease that can be inherited. The families of the second U.S. president and First Lady Abigail Adams were greatly affected by that affliction. William Smith was Abigail's only brother. By the time he was thirty, William had become a heavy drinker, was always in debt, and eventually deserted his wife and four children. He was then involved in some questionable activities that bordered on the criminal, and he died at the age of forty-two. The men of the Adams family suffered similar fates.
Sons of John and Abigail Adams
The sons of John Adams (second president of the United States) and his son John Quincy Adams (sixth president of the United States) shared several unique traits. Both of these men were often absentee fathers who spent much of their time away from their families serving in the government. Of John and Abigail Adams' three sons, only their eldest, John Quincy Adams, would make his parents proud of his achievements.
Their other two sons – Charles and Thomas Boylston Adams – died of alcoholism. Both of these men had unique personalities and great abilities but were considered mentally unstable. After struggling with alcoholism for many years, Charles Adams, their second son, died of cirrhosis of the liver November 30, 1800 at the age of thirty.
Their youngest, Thomas Boylston Adams, served in the Massachusetts legislature and was appointed chief justice of the Circuit Court of Common Pleas for the Southern Circuit of Massachusetts in 1811. His plan to combine legal work and farming was largely unsuccessful, due to his frequent illness and struggles with alcoholism. He lived to the age of fifty-nine, but left his family deep in debt.
Despite all of his successes, John Quincy Adams suffered most of his life from melancholy and self-doubt. After successfully serving in almost every important position in the United States government, he wrote in his diary that he had accomplished nothing in his life. His children shared the same traits displayed by their father and uncles. Their youngest son, Charles Francis Adams, developed a career in diplomacy and politics.
Third Adams Generation
John Quincy Adams and his wife Louisa Adams also had three sons, two of whom fell under the old Smith-Adams curse. Only the third son would rise to meet their great expectations. They named their first son George Washington Adams (1801–1829) after the first president; their second son John Adams II was given the name of his grandfather, second U.S. president, John Adams. Their youngest son, Charles Francis Adams would become the most successful.
Enter Mary Hellen
Mary Catherine Hellen was born September 10, 1806 in Washington, DC, the daughter of Walter Hellen and Anne Johnson Hellen – First Lady Louisa Adams' sister. Mary became an orphan after the death of her father in 1815. When John Quincy Adams was appointed Secretary of State under President James Monroe in 1817, the Adams family moved to Washington DC, and Louisa Adams took her niece Mary into her household.
Within a few years, Mary had blossomed into a beautiful girl with an outrageous talent for flirting. Her first conquest was the youngest Adams son, Charles Francis, but she soon abandoned him for his older brother, George Washington Adams. A bitter, rejected Charles described her as
"one of the most capricious women that were ever formed in a capricious race."
Mary then captured the attention of George Washington Adams, of the three Adams sons. George was a sensitive young man without the slightest bit of character. Mary accepted George's marriage proposal, but his parents insisted that George finish his education before the wedding. So, off George went off to Harvard.
In the meantime, John Quincy Adams was elected president of the United States in 1825, and the whole extended family moved into the White House. About that time, the middle son, John Adams II, was expelled from Harvard for participating in a student riot. John was described as arrogant and brusque in manner, a great change from his older brother George. As the custom was at the time, John moved into the White House to serve as his father's secretary. John's daily interactions with Mary prompted whispers within the White House.
Louisa Adams watched with worry as she had little faith in her niece's chastity. She urged her husband to have the couple married immediately, but John Quincy would not consent.
George Washington Adams
As John Quincy Adams filled several government positions, some overseas, the two older boys were forced to spend most of their childhood away from their parents. In July 1809, John Quincy accepted an appointment as ambassador to Russia, and he insisted that the two older boys – George and John II, then ages eight and six – remain in America with family to continue their education. This was all done on very short notice and without the approval of their mother, who left in tears.

They were not reunited with their parents until 1815, when President James Madison appointed John Quincy minister to Great Britain. Again, in September 1817, when John Quincy became secretary of state, their parents moved to Washington, DC, but John II and Charles Francis were enrolled in the Boston Public Latin School and boarded with friends of their parents.
George Washington Adams (1801-1829) was handsome and charming, and he was considered the most likely candidate to carry on the family tradition of public service. In 1826, he was elected to the Massachusetts legislature. Soon after, he developed a "debilitating nervous condition." He began hallucinating and became paranoid.
Then came Mary Hellen and the heartbreak of losing her to his brother John II. George felt his failure in love as keenly as he felt his failure to win his parents' approval. The depression and inadequacy of the Smith-Adams curse seized George. Though he graduated from Harvard and started a law practice in Boston, he drank heavily and accumulated large debts. His father was forced to pay off some of his debts.
In the aftermath of John II's wedding to Mary Hellen in February 1828, George Washington Adams began his descent into alcoholism and depression. In spring 1829, John Quincy summoned George to Washington to assist his parents as they prepared to move back to Massachusetts. George had recently fathered an illegitimate child with a chambermaid, and his brother Charles Francis wrote that George "quivered with fear" at the prospect of his parents' reproach.
Aboard the steamer Benjamin Franklin headed for Washington, George became agitated and accused the other passengers of plotting against him.
George Washington Adams drowned April 30, 1829 after either falling or jumping from the steamboat in Long Island Sound. He was twenty-eight-years-old. His body washed up on City Island six weeks later. His death was marked as lost at sea, but was considered by most as a suicide.
Charles Francis, by then happily married to the wealthy Abigail Brooks, cleaned up the messes his brother left behind.
John Adams II
John Adams II (1803-1834) was born July 4, 1803 in Quincy, Massachusetts, the second son of John Quincy and Louisa Adams. John II entered Harvard in August 1819. His academic career was marked by mediocre work. In 1823, shortly before he would have graduated, he participated in an 1823 student rebellion that protested the curriculum and living conditions at the university. Along with more than half the members of his class, he was expelled.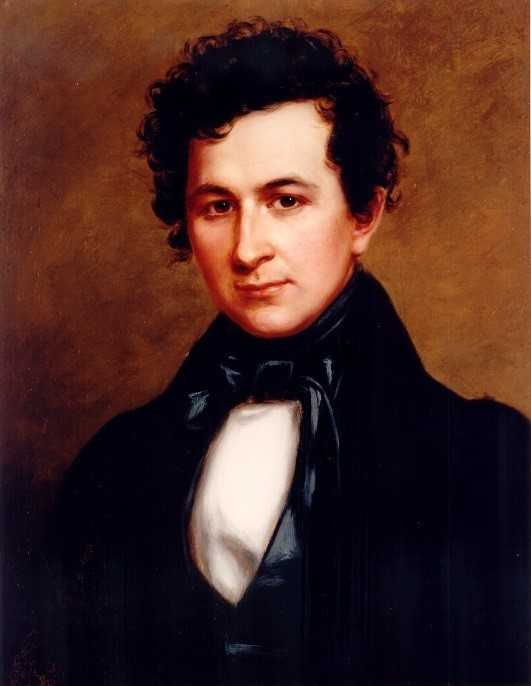 He spent the following summer with his grandfather in Quincy and in October moved to Washington to study law with his father. He lived with his parents in their house on F Street, along with his cousin Mary Hellen, who had been living with the the Adamses since 1817. John II drank heavily, following in the footsteps of his uncle, Thomas Boylston Adams, a more or less functioning alcoholic.
When John Quincy became President in 1825, his middle son moved with the family to the White House to serve as his secretary, a common practice at the time. A romance developed between John and Mary Hellen, his brother George's fiancee; the President and First Lady knew their eldest son would be heartbroken.
Marriage and Family
On February 25, 1828, Mary Catherine Hellen, age 22, married John Adams II, age 25, in a private ceremony at the White House, which was then known as the Executive Mansion. The jilted Charles Francis and George Washington Adams refused to attend the wedding. Louisa Adams wrote to Charles Francis the following day: "Madame [Mary] is cool easy and indifferent as ever," and that he should not envy his brother for he "looks already as if he had all the cares in the world upon his shoulders and my heart tells me that here is much to fear."
Nine months later – December 2, 1828 – Mary Hellen Adams gave birth to a daughter at the White House; they named the child Mary Louisa – for her mother and grandmother. A second daughter, Georgeanna Frances – named after her father's brothers – was born September 10, 1830. Louisa and John Quincy were delighted with the girls; their only daughter had died in infancy. But pregnancy and motherhood did not suit Mary Hellen; she was often ill and disheartened.
In 1827, John II had begun running a family-owned Washington flour mill, Columbian Mills, but failed miserably at the business. A relative was eventually given charge of the mill, and John fell into debt and despair, spending most of his time at his home near the White House, abusing alcohol and not bothering to dress. His health soon failed. At home in Massachusetts, John Quincy Adams received word that his son was near death. The former president reached his son's bedside a few hours before he died.
John Adams II died October 23, 1834 from complications of alcoholism at the age of thirty-one.
This loss, just five years after his brother's suspected suicide, caused his parents great anguish. It appears that the shared grief over the early deaths of their two older sons began to mend the long-strained relationship between John Quincy and Louisa Adams.
Mary Hellen Adams was a widow at 31. By the time of John's death, Mary was a reclusive, prematurely old woman. She and her daughters lived in Quincy and Boston with her in-laws. Four years after John died, their youngest daughter Frances became ill and died at the age of nine.
The failures of George Washington Adams and John Adams II might be traced to their childhoods.
The Good Son: Charles Francis Adams
As John Quincy Adams was the only successful son of John Adams, Charles Francis Adams was John Quincy's only successful son. Charles' children and grandchildren were also quite successful. An author, diplomat and politician, Charles Francis served in the Massachusetts House of Representatives and Senate from 1841 through 1845. He then purchased the Boston Whig newspaper and served as its editor. He wrote a number of important historical works, including a biography of his father.
In 1848, Charles Francis Adams was chosen as the Vice Presidential candidate of the Free Soil Party, running with Martin Van Buren; the election was won by Zachary Taylor and Millard Fillmore. Charles Francis served in the U.S. House of Representatives from 1859-1861, when President Lincoln appointed him U.S. Minister to Great Britain, a position previously held by both his father and grandfather.
From 1861 through 1868, Charles Francis Adams served as ambassador to Great Britain, a post previously held by his father and grandfather. He helped maintain British neutrality and prevented their recognition of the Confederate State of America during the American Civil War. In 1871, President Ulysses S. Grant appointed him to the international commission formed to determine damage claims stemming from England's support and aid given to the South during the Civil War. Adams won a $15 million claim for the United States.
Mary Hellen Adams continued to reside with the former President and First Lady, running their household and tending to their needs until their deaths.
Late Years
On June 30, 1853, Mary Hellen's surviving daughter, Mary Louisa Adams, wed William Clarkson Johnson, a great-grandson of John Adams. They were the first descendants of a president to marry each other. Mary Hellen moved with her daughter and son-in-law to Utica, New York, where every three months Charles Francis gave her money from her inheritance and tried to cheer her up.
Mary Louisa Adams Johnson became ill with brain fever and died July 16, 1859.
William Johnson eventually ordered Mary Hellen out of the house. Charles Francis invited her to come live in Quincy, but she refused. She moved into her former home in Washington, where Charles Francis visited her and made sure she had financial support. "I feel for her much, though my recollections of her are mostly painful," he said.
Mary Catherine Hellen Adams died August 31, 1870 in Bethlehem, New Hampshire at the age of sixty-three.
SOURCES
Wikipdedia: John Adams II
White House Weddings: John Adams II, A Love Triangle
Massachusetts Historical Society: Adams Biographical Sketches
Presidential History Blog: The Adams Sorrow: The Second Generation
New England Historical Society: Mary Hellen Picks the Wrong Son of John Quincy Adams
White House Weddings: John Adams II and Mary Catherine Hellen: The seduction of a president's son