Pioneers in the Fight for Women's Rights
Activism consists of efforts to promote changes in society, politics, the economy, or the environment. Activism can be expressed through political campaigns, boycotts, confrontational strikes or street marches, or by simply writing letters to newspaper editors.
Judith Sargent Murray (1751-1820)
Judith Sargent Murray was light years ahead of her time. Her ideas about women's education were extremely radical for the late 18th century. She believed that the idea that women were intellectually inferior to men stemmed from the way they were raised: boys were encouraged to learn while girls were neglected.

Although her family was wealthy, Judith found few opportunities to receive a formal education. Therefore, most of her knowledge was self-taught. Fortunately, there was much to learn about history, philosophy, geography, and literature in the vast family library. At the age of nine, she began writing poetry, which her father read to family members with pride.
In 1769 Judith married ship's captain John Stevens. When the American Revolution ended in 1783, Stevens was deep in debt. Judith began to publish articles in magazines, hoping to add to the couple's income.
Using the pseudonym Constantia, Judith Sargent Murray published Desultory Thoughts upon the Utility of Encouraging a Degree of Self-Complacency, Especially in Female Bosoms in the Gentleman and Lady's Town & Country Magazine in October 1784. In this essay, she urges parents to nurture the self-esteem of their daughters, to encourage their abilities, and value them as much as their sons. Murray later states in a letter that the editors of this magazine did not invite her to submit more work. Excerpt from Desultory Thoughts:
I think to teach young minds to aspire ought to be the ground work of education: many a laudable achievement is lost from a persuasion that our efforts are unequal to the arduous attainment. Ambition is a noble principle, which properly directed may be productive of the most valuable consequences. … I would, therefore, have my pupils believe that every thing in the compass of mortality was placed within their grasp. … That I should impel them to progress on, if I could not lead them to the heights I would wish them to attain. It is too common with parents to expatiate in their hearing upon all the foibles of their children and to let their virtues pass, in appearance, unregarded: this they do, least they should, (were they to commend) swell their little hearts to pride, and implant in their tender minds, undue conceptions of their own importance.

Those, for example, who have the care of a beautiful female, they assiduously guard every avenue, they arrest the stream of due admiration, and endeavour to divest her of all idea of the bounties of nature: what is the consequence? She grows up, and … encounters the tongue of the flatterer, he will exaggerate, she finds herself possessed of accomplishments which have been studiously concealed from her. … Her natural connexions, her home is rendered disagreeable, and she hastes to the scenes, whence arise the sweet perfume of adulation. … Those who have made her acquainted with the dear secret, she considers as her best friends; and it is more than probable, that she will soon fall a sacrifice to some worthless character. …
Despite Judith's best efforts, John Stevens was forced to flee to the West Indies to avoid being imprisoned for unpaid debts; he died there in 1786. Two years later, Judith married preacher John Murray, a Universalist, which was also Judith's chosen faith. Universalists believe that everyone will ultimately be saved. Some also teach that there is no such thing as hell or eternal punishment.
In 1789, Judith Sargent Murray gave birth to a son who lived only a few hours. Two years later, at the age of forty, she delivered her only child to survive childhood, a daughter, upon whom she doted and educated at home.
Murray's three-volume book of essays and plays titled The Gleaner (1798) established her as a leading author and an advocate for equal rights, education opportunities, and economic independence for women. Essays in The Gleaner also championed the new republic, virtue, and philanthropy. Such prominent figures as George Washington, John Adams, Henry Knox, and Mercy Otis Warren purchased Murray's book.
Emergence of the Women's Rights Movement
When Angelina and Sarah Grimke, daughters of a slave-holding family in South Carolina, began lecturing against slavery in the northeastern United States in the mid-1830s, their actions were condemned. Women belonged at home with their children, not at the lectern. Hostility toward women's involvement in public affairs – which was not fully accepted even among social reformers – soon developed. The opposition was particularly strong against females who spoke to a crowd of both men and women; these were called promiscuous audiences.
Nonetheless, in 1838 Angelina Grimke delivered an antislavery speech before the Massachusetts legislature, becoming the first woman in the United States to speak before a legislative body. In Boston in 1838, Sarah Grimke published Letters on the Equality of the Sexes and the Condition of Women, which was widely circulated. Below is an excerpt from that document:
The General Association say, that "when woman assumes the place and tone of man as a public performer, our care and protection of her seem unnecessary; we put ourselves in self-defense against her, and her character becomes unnatural." Here again the unscriptural notion is held up, that there is a distinction between the duties of men and women as moral beings; that what is virtue in man, is vice in woman. …
Other women began to give public speeches in opposition to slavery and in support of women's rights. Early female speakers include Ernestine Rose, a Jewish immigrant from Poland and Quaker abolitionist Abby Kelley. In the late 1840s abolitionist Lucy Stone launched her career as a public speaker and played a major role in reducing the prejudice against women speaking in public.
Five Who Changed the World for Women (1840-1848)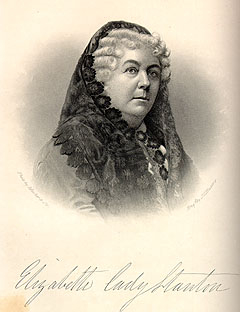 On June 12, 1840, abolitionists from numerous countries and antislavery societies crowded into Freemason's Hall in London, England to attend the World Antislavery Convention. The purpose of this meeting was to organize and unite all abolitionists in the fight for emancipation.
These excerpts from Elizabeth Cady Stanton's book Eighty Years and More explain the treatment the women delegates received at the World Antislavery Convention in London and the impetus that caused them to convene another in Seneca Falls, New York:
Delegates from all the anti-slavery societies of civilized nations were invited, yet, when they arrived, those representing associations of women were rejected. Though women were members of the National Anti-slavery Society, accustomed to speak and vote in all its conventions, and to take an equally active part with men in the whole anti-slavery struggle, and were there as delegates from associations of men and women, as well as those distinctively of their own sex, yet all alike were rejected because they were women. … The question was hotly debated through an entire day. My husband made a very eloquent speech in favor of admitting the women delegates.

It was really pitiful to hear narrow-minded bigots, pretending to be teachers and leaders of men, so cruelly remanding their own mothers, with the rest of woman-kind, to absolute subjection to the ordinary masculine type of humanity. … However, the women sat in a low curtained seat like a church choir, and modestly listened to the French, British, and American Solons for twelve of the longest days in June. …

As Mrs. [Lucretia] Mott and I walked home, arm in arm, commenting on the incidents of the day, we resolved to hold a convention as soon as we returned home, and form a society to advocate the rights of women. At the lodging house on Queen Street, where a large number of delegates had apartments, the discussions were heated at every meal. … Having strongly opposed the admission of women as delegates to the convention it was rather embarrassing to meet them, during the intervals between the various sessions, at the table and in the drawing room.

These were the first women I had ever met who believed in the equality of the sexes and who did not believe in the popular orthodox religion. The acquaintance of Lucretia Mott, who was a broad, liberal thinker on politics, religion, and all questions of reform, opened to me a new world of thought. As we walked about to see the sights of London, I embraced every opportunity to talk with her. It was intensely gratifying to hear all that, through years of doubt, I had dimly thought, so freely discussed by other women, some of them no older than myself–women, too, of rare intelligence, cultivation, and refinement. …

In the spring of 1847 we moved to Seneca Falls. Here we spent sixteen years of our married life, and here our other children – two sons and two daughters – were born. …

The general discontent I felt with woman's portion as wife, mother, housekeeper, physician, and spiritual guide, the chaotic conditions into which everything fell without her constant supervision, and the wearied, anxious look of the majority of women impressed me with a strong feeling that some active measures should be taken to remedy the wrongs of society in general, and of women in particular. My experience at the World's Anti-slavery Convention, all I had read of the legal status of women, and the oppression I saw everywhere, together swept across my soul, intensified now by many personal experiences. It seemed as if all the elements had conspired to impel me to some onward step. I could not see what to do or where to begin – my only thought was a public meeting for protest and discussion.

In this tempest-tossed condition of mind I received an invitation to spend the day with Lucretia Mott, at Richard Hunt's, in Waterloo. There I met several members of different families of Friends, earnest, thoughtful women. I poured out, that day, the torrent of my long-accumulating discontent, with such vehemence and indignation that I stirred myself, as well as the rest of the party, to do and dare anything. My discontent, according to Emerson, must have been healthy, for it moved us all to prompt action, and we decided, then and there, to call a "Woman's Rights Convention." We wrote the call that evening and published it in the Seneca County Courier the next day, the 14th of July, 1848, giving only five days' notice, as the convention was to be held on the 19th and 20th. The call was inserted without signatures, in fact it was a mere announcement of a meeting, but the chief movers and managers were Lucretia Mott, Mary Ann McClintock, Jane Hunt, Martha C. Wright, and myself. The convention, which was held two days in the Methodist Church, was in every way a grand success. The house was crowded at every session, the speaking good, and a religious earnestness dignified all the proceedings.

These were the hasty initiative steps of "the most momentous reform that had yet been launched on the world–the first organized protest against the injustice which had brooded for ages over the character and destiny of one-half the race." No words could express our astonishment on finding, a few days afterward, that what seemed to us so timely, so rational, and so sacred, should be a subject for sarcasm and ridicule to the entire press of the nation. … All the journals from Maine to Texas seemed to strive with each other to see which could make our movement appear the most ridiculous. The anti-slavery papers stood by us manfully and so did Frederick Douglass, both in the convention and in his paper, The North Star, but so pronounced was the popular voice against us, in the parlor, press, and pulpit, that most of the ladies who had attended the convention and signed the declaration, one by one, withdrew their names and influence and joined our persecutors. Our friends gave us the cold shoulder and felt themselves disgraced by the whole proceeding.

If I had had the slightest premonition of all that was to follow that convention, I fear I should not have had the courage to risk it, and I must confess that it was with fear and trembling that I consented to attend another, one month afterward, in Rochester. Fortunately, the first one seemed to have drawn all the fire, and of the second but little was said. But we had set the ball in motion, and now, in quick succession, conventions were held in Ohio, Indiana, Massachusetts, Pennsylvania, and in the City of New York, and have been kept up nearly every year since.
Lydia Maria Child (1802-1880)
On October 19, 1828, Lydia Maria Francis (who preferred to be called Maria) gave up her financial security by marrying David Lee Child, an irresponsible young lawyer and newspaperman. Child impressed her with his idealism and his enthusiastic promotion of her writings in his newspaper, the Massachusetts Journal. Maria quickly became the couple's chief breadwinner, and despite her best efforts, they were deeply in debt for most of their married life. They had no children.
Published during the Indian Removal Crisis, The First Settlers of New-England: or, Conquest of the Pequods, Narragansets and Pokanokets: As Related by a Mother to Her Children, and Designed for the Instruction of Youth (1829) was set during the Indian wars of the seventeenth century. In this work, Child focused on the atrocities committed by the Puritans against the Indians.
In 1856, Lydia Maria Child wrote "The Kansas Immigrants," which depicted women as active political agents. That piece was reprinted in Autumnal Leaves: Tales and Sketches in Prose and Rhyme (1857), Child's last published collection of her short fiction. The stories encompass a wide range of social concerns, from slavery and capital punishment to women's rights and religious tolerance.
Excerpt from Child's essay, "Woman's Rights," in Letters from New‐York, Vol. 1 (1843):
That the present position of women in society is the result of physical force, is obvious enough; whosoever doubts it, let her reflect why she is afraid to go out in the evening without the protection of a man. What constitutes the danger of aggression? Superior physical strength, uncontrolled by the moral sentiments. If physical strength were in complete subjection to moral influence, there would be no need of outward protection. That animal instinct and brute force now govern the world, is painfully apparent in the condition of women everywhere. …

This sort of politeness to women is what men call gallantry; an odious word to every sensible woman … So far is it from indicating sincere esteem and affection for women, that the profligacy of a nation may, in general, be fairly measured by its gallantry. This taking away rights, and condescending to grant privileges, is an old trick of the physical force principle; and with the immense majority, who only look on the surface of things, this mask effectually disguises an ugliness, which would otherwise be abhorred. The most inveterate slaveholders are probably those who take most pride in dressing their household servants handsomely, and who would be most ashamed to have the name of being unnecessarily cruel. And profligates, who form the lowest and most sensual estimate of women, are the very ones to treat them with an excess of outward deference. …
SOURCES:
Wikipedia: Lydia Maria Child
Judith Sargent Murray Society: Desultory Thoughts
Eighty Years and More, by Elizabeth Cady Stanton – PDF