Women Settled the West
Starting from Monroe County, Iowa, April 9, 1853 and ending Near Milwaukie, Oregon Territory, September 17, 1853, Amelia Stewart Knight, her husband, and seven children traveled the Oregon Trail searching for a new home in the Pacific Northwest.
Early Years
Amelia Stewart was born in Boston, Massachusetts in January 1817. Her future husband, Joel Knight, had been born in Sussex, England, April 5, 1808. In 1825, he immigrated with his father to the United States, landing in New York, November 7, 1825. Mr. Knight settled in Wayne County, and Joel went to Canandaigua, Ontario County, New York State, where he resided until April 1831. There he learned to make gentlemen's hats and supported himself by that trade. From that date until the spring of 1834, Joel moved around, making himself acquainted with his adopted country. He then moved to Boston where he studied medicine supporting himself meanwhile by working at his trade.

Marriage and Family
On September 18, 1834, Amelia Stewart married Joel Knight. Joel continued his medical studies in Boston until March 1837, when the couple and their 5-month-old son Plutarch moved to Lucas County, Iowa – then part of Wisconsin Territory – where they lived for the following sixteen years. By 1853, Joel and Amelia Stewart Knight had tired of the harsh Iowa winters; they decided to move to the healthier climate of the Pacific Northwest.
The Oregon Trail
Each spring, pioneers gathered at Council Bluffs, Iowa, to begin a 2,000 mile journey westward on the Oregon Trail. The first portion of the Trail stretched across several hundred miles of the Great Plains: a wide, rolling prairie of lush grasses and wildflowers. Immigrants from the east were greatly impressed with the beauty of the plains, which were so flat that one could see nothing but flatland in every direction. In 1846, Francis Parkman described the scene as an endless "carpet of fresh green grass." The Great Plains lies west of the Mississippi River and east of the Rocky Mountains and includes portions of twelve states.
Most emigrants overloaded their covered wagons; therefore, few could ride inside. Most people walked; some made the entire journey on foot. River crossings were a constant source of anxiety for the pioneers. Hundreds drowned trying to cross the Kansas, North Platte and Columbia Rivers and their tributaries.
Amelia Stewart Knight on the Oregon Trail
On April 9, 1853, Amelia and Joel Knight left Monroe County, Iowa in a covered wagon. They had seven children at that time: Plutarch, Seneca, Frances, Jefferson, Lucy, Almira, and the youngest, Chatfield. Amelia kept a diary of the trip. What Amelia did not mention in her diary: she is in the first trimester of her eighth pregnancy. She did sometimes write about being too sick to cook or having adverse reactions to the smell of the dead oxen along the road.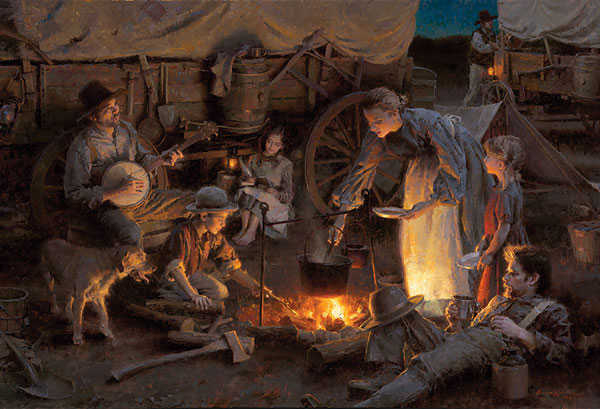 Amelia's Diary, April 14, 1853
Quite cold. Little ewes crying with cold feet. Sixteen wagons all getting ready to cross the creek. Hurrah and bustle to get breakfast over. Feed the cattle. Hurrah boys, all ready, we will be the first to cross the creek this morning. Gee up Tip and Tyler, and away we go, the sun just rising. Evening – We have traveled 24 miles today and are about to camp in a large prairie without wood. Cold and chilly; east wind. The men have pitched the tent and are hunting something to make a fire to get supper. I have the sick headache and must leave to boys to get it themselves the best they can.
Amelia's Diary, June 1, 1853
It has been raining all day long and we have been traveling in it so as to be able to keep ahead of the large droves. The men and boys are all soaking wet and look sad and comfortless. The little ones and myself are shut up in the wagons from the rain. Still it will find its way in and many things are wet; and take us all together we are a poor looking set, and all this for Oregon. I am thinking while I write, "Oh, Oregon, you must be a wonderful country." Came 18 miles today.
Amelia's Diary, June 16-27, 1853
These excerpts from the diary note her experiences along the Oregon Trail:
Thursday, June 16th – We are now traveling up Sweetwater Valley between two mountains, one of them being covered with snow. Sweetwater is a clear, cool, and beautiful stream, and close to its margin lies the road. This morning we passed the Devil's Gate [rock formation] – came 16 miles, and have camped on the banks of Sweetwater. No wood or grass on this side of the river.
Friday, June 17th – Concluded to stay in camp and rest the cattle a day or two. Swam the cattle and horses across the river where there is plenty of good feed. We also get our wood from the other side. The best swimmers go over and cut a light cedar log and swim back with it. Have been washing and cooking today. The mosquitoes are very bad here. Cut the first cheese today. …
Tuesday, June 21st – We have traveled over a very rough, rocky road today; over mountains close to banks of snow. Had plenty of snow water to drink. Husband brought me a large bucket of snow and one of our hands brought me a beautiful bunch of flowers which he said was growing close to the snow, which was about 6 feet deep. Traveled 16 miles today, and have camped on the mountain about 7 miles from the summit. We are traveling through the South Pass. The Wind River Mountains are off to our right. Among them is Fremont's Peak. They look romantic covered with snow.
Wednesday, June 22nd – Very cold. Water froze over in its buckets; thermometer down to 30;the boys have on their overcoats and mittens. Evening – It snowed a little through the day. The road has been very dusty, but smooth and level as a turnpike. Came 18 miles and camped about one-half mile from Pacific Springs. …
Friday, June 24th – Came from Little Sandy to Big Sandy, 7 miles, and will camp for a day or two, to rest the stock; good grass and water here. Henry Miller left us this morning. We started with 5 hands and have only two left. …
Sunday, June 26th – We are on our way again traveling in the dust, dust. We must go 17 miles or more without water or grass. Evening – All hands come into camp tired and out of heart. Husband and myself sick. No feed for the stock. One ox lame. Camp on the bank of Big Sandy again.
Monday, June 27th – Cold, cloudy, and very windy – more like November than June. I am not well enough to get out of the wagon this morning. The men have just got their breakfast over and drove up the stock. It is all hurry and bustle to get things in order. It's "children milk the cows, all hands help yoke these cattle, the d–l's in them." Plutarch answers, "I can't, I must hold the tent up, it is blowing away." Hurrah boys. Who tied these horses? "Seneca, don't stand there with your hands in your pocket. Get your saddles and be ready." Evening – Traveled 18 miles today and have camped on the bank of Green River and must wait our turn to cross on a ferryboat. No grass for the poor cattle. All hands discouraged. We have taken in two new hands today, which will make us full handed again.
Amelia's Diary, August 18, 1853
Commenced the ascent of the Blue Mountains. It is a lovely morning and all hands seem to be delighted with the prospect of being so near the timber again, after the weary months of travel on the dry, dusty sage plains, with nothing to relieve the eye. Just now the men are hallooing to their echo rings through the woods. Evening – Traveled 10 miles today and down steep hills, and have just camped on the banks of Grand Ronde River in a dense forest of pine timber – a most beautiful country.
Amelia Stewart Knight noted that she carried her youngest child, Chatfield, when the Blue Mountains were too steep to travel by wagon.
Amelia's Diary, September 17, 1853
In camp yet. Still raining. Noon – It has cleared off and we are all ready for a start again, for some place we don't know where. Evening – Came 6 miles and have encamped in a fence corner by a Mr. Lambert's, about 7 miles from Milwaukie [Oregon]. Turn our stock out to tolerable good feed. A few days later my eighth child [Wilson] was born. After this we picked up and ferried across the Columbia River, utilizing skiff, canoes and flatboat to get across, taking three days to complete. Here husband traded two yoke of oxen for a half section of land with one-half acre planted to potatoes and a small log cabin and lean-to with no windows. This is the journey's end. (Finis)
Finally Home
On October 25, 1853, Joel Knight purchased land in Clark County, Washington Territory, which would later become the city of Vancouver. This incorporated area of the United States was created March 2, 1853 from the portion of the Oregon Territory north of the lower Columbia River. At times it also included all of modern Idaho and parts of Montana and Wyoming. The Territory was admitted to the Union as the State of Washington November 11, 1889.
Joel Knight died May 20, 1867.
Amelia Stewart Knight lived on until January 25, 1896.
SOURCES
Diary of Amelia Stewart Knight (1853)
Oregon-California Trails: Amelia Stewart Knight
Amelia Stewart Knight: 'No fool of a job to be mixed up with several hundred head of cattle'