Phoebe Couzins: Pioneer Lawyer and Suffragist
In the 1870s, Phoebe Couzins (1842-1913) became the third or fourth female lawyer in the United States and a popular public speaker in support of women's rights. After her father died in 1887, the U.S. government appointed her as the first female in the U.S. Marshal Service, and she finished her father's term of service.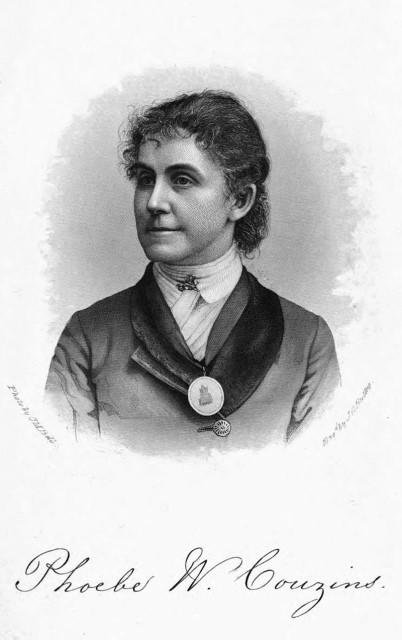 Early Years
Phoebe Wilson Couzins was born September 8, 1842 in St. Louis, Missouri to John E.D. Couzins and and Adaline Weston Couzins, both of whom were tireless public servants. John Couzins was the chief of police in St. Louis and acting provost marshal of Missouri during the Civil War. After the onset of the American Civil War, Adaline joined the St. Louis Ladies' Union Aid Society, which partnered with the Western Sanitary Commission in providing medical services and supplies to Union soldiers from Missouri. She worked as a nurse on the battlefield and in hospitals. At the Battle of Vicksburg (Mississippi) in July 1863, she received a wound to her knee.
Blazing a Trail for Future Women Lawyers
In 1869, at age 27, Phoebe Couzins began her studies at Washington University Law School in St. Louis and earned a Bachelor of Laws Degree (LL.B.) in 1871, becoming the first female graduate of Washington University School of Law. She was also recognized as one of the first few women in the United States to graduate from law school. After passing the bar exam, she was licensed to practice in the federal courts, Missouri, Arkansas, Utah, and Kansas.
A Career in Women's Rights
Phoebe Couzins had discovered the philosophy of the women's rights movement through connections she made during the Civil War. By 1869 both Phoebe and her mother had joined the St. Louis Woman Suffrage Association, and Phoebe served as a delegate to the American Equal Rights Association convention held in St. Louis in October 1869.
After graduating from Washington University Law School in 1871 and establishing a legal practice in St. Louis, Couzins began writing articles for The Revolution, a women's rights paper published by nationally known feminists Elizabeth Cady Stanton and Susan B. Anthony.
Phoebe Couzins practiced law for barely two months before devoting herself to the women's suffrage movement, fighting for American women's right to vote. She began traveling across the United States giving speeches in favor of women's rights. She became a powerful and popular public speaker. Described as a riveting orator, Couzins captivated audiences of 3,000 or more and became particularly well-known in the West. She stood beside Susan B. Anthony as she presented her famous speech – 'Declaration of Rights of Women of the United States,' at the country's centennial celebration in Philadelphia in July 1876.
First Woman United States Marshal
In 1884, President Chester Arthur appointed Phoebe's father, John E.D. Couzins, U.S. Marshal of the Eastern District of Missouri. Created by the Judiciary Act of 1789 during the presidency of George Washington, the United States Marshals Service (USMS) is a federal law enforcement agency. It is the enforcement arm of the federal courts and the primary agency for fugitive situations, responsible for prisoner transport, and the protection of officers of the court.
Phoebe began working as one of her father's deputies in 1884. When John Couzins died September 1, 1887, President Cleveland named Couzins interim marshal, making her the country's first female U.S. Marshal. The job did not last, however – after only two months she was replaced by a man. Couzins then moved to Washington, DC, where she made a modest living as a writer.
Chicago World's Fair
In 1890, Couzins was appointed a Missouri representative on the Board of Lady Managers for the 1893 World's Fair in Chicago, and she was elected secretary of the board – a paid position she desperately needed. However, the group's executive committee did not particularly like Couzins; they disapproved of her outspoken and persistent nature. A Chicago Tribune article reported of her tenacity toward the men on the Committee:
If Col. Couzins could almost scare them to death by her apparition on their threshold, what will become of them if she once gets her clutches on a seat in their midst and proceeds to run things in her wild St. Louis way?
As time went on, Couzins attempted to dominate the meetings. With help from the men, the Lady Managers fired Couzins and locked her out of the building. She sued for reinstatement but lost.
Turned on the Women's Rights Movement
As noted, Phoebe's confrontational style was not always popular. The National Woman Suffrage Association (NWSA) and the American Woman Suffrage Association (AWSA) merged in 1890, and Phoebe was outspoken in her support of the NWSA leadership. This antagonized women in both organizations, locally and nationwide.
After years of fighting, Couzins became bitter and turned on the movement she had so ardently supported for most of her life. In 1897, she renounced her support for women's rights. The nation's newspapers and those who believed women did not deserve the right to vote were delighted with this turn of events, and she received more publicity than ever before.
She spent the next twenty years turning her gift for oratory toward renouncing her suffrage beliefs. Sadly, her lecturing career dwindled and a writing career never materialized. As a woman of working class origins, Phoebe Couzins had neither the money nor contacts to develop a law practice. By the age of fity-one, she was destitute, and her health had begun to fail.
Late Years
Hard up for money by the late 1890s, Phoebe Couzins took a job as a national lecturer for the United Brewers Association and actively protested prohibition in exchange for funds. As a lobbyist for the Brewers, Couzins spoke out against the temperance movement's determination to prohibit the sale and consumption of alcohol. Her actions further alienated her acquaintances in the women's suffrage movement as temperance was a favorite cause of many women's rights activists.
Couzins lost her job with the Brewers Association in 1908. She appealed to the federal government for a job, pleaded with the Brewers Association for financial aid, and solicited friends for help. At the age of sixty-six, Couzins was living in poverty with few friends, little support, and chronic arthritis pain. Penniless, she returned to St. Louis.
Phoebe Couzins died December 6, 1913 in St. Louis with her brother and a few close companions at her bedside. A friend she knew from childhood paid for her burial in Bellefontaine Cemetery, and she was interred with her U.S. Marshal badge pinned to her chest as she had requested.
Couzins' grave remained unmarked until 1950, when the Women's Bar Association of St. Louis paid to erect a headstone in honor of her achievements on behalf of the women lawyers who were inspired by her.
In 2000 Susan Frelich Appleton, J.D. (Juris Doctor of Law), was installed as the first Lemma Barkeloo and Phoebe Couzins Professor of Law at the Washington University School of Law in St. Louis, Missouri.
SOURCES
Wikipedia: Phoebe Couzins
Phoebe Couzins: Blazing the Way for Women
Historic Missourians: Phoebe Couzins (1842-1913)