Pioneer for Women's Equal Rights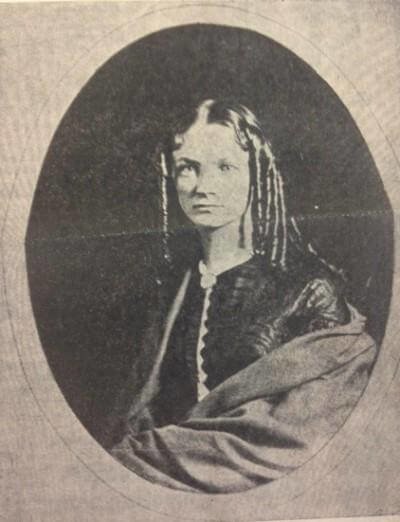 Early Years
When Rebecca Pennell, born in 1821, was four years old, her father died and her mother moved back to her childhood home in Franklin, Massachusetts. Rebecca's mother was the sister of the prominent educational reformer Horace Mann and had a strong relationship with him.
Mann took a particular interest in the education of his nieces and nephew after their father's death, and provided them with financial support. Rebecca remembered Mann as a loving figure during her childhood years, someone she and her siblings admired.
Women's Education in the 19th Century
The late eighteenth and early nineteenth centuries were a time of great change in terms of the evolving social, economic, and governmental structures in the United States.
As a result, education began to receive greater emphasis. Americans viewed the ability to read, write, and solve mathematical problems as necessary to take part in modern society. During this time, women gained access to higher education as hundreds of academies and seminaries were established. State normal schools were established to train young women to become teachers.
Rebecca's Education
On November, 18, 1839, at the age of eighteen, Rebecca Pennell began her studies at the first state normal school in Massachusetts. This institution and the others that followed were established to provide trained teachers to meet the needs of the growing common school movement. Horace Mann was involved in the school's founding and was a regular visitor. Pennell had started to work as a substitute teacher at the age of fourteen and was eager to continue her studies.
Antioch: First College to Treat Women as Equals
Antioch College may not have been the first to admit women students, but it was the first college to treat them as equals. Some colleges had different classes for men and women, but at Antioch women could take the same classes as the men. Although the usual occupations for college women were teachers, librarians, and secretaries, Antioch widened job opportunities for women. The first curriculum focused on Latin, Greek, mathematics, history, philosophy and science, and offered electives in art, botany, and modern languages. Tuition was $24 a year, and the first graduating class consisted of 28 students.
A Woman Professor
When Antioch College opened in 1853, Rebecca Pennell was hired as one of the college's ten original faculty members. By accepting that position, she became one of the first female college professors in the United States and the first female college professor in the United States to have the same rank and pay as her male colleagues. By 1856 she was the highest paid of the college's professors, receiving $1,000 a year. She taught physical geography and civil history.
Marriage
In 1856, at the age of thirty-four, Rebecca Pennell married the assistant treasurer of Antioch, Amos Dean, surprising her family and peers. From the beginning, the Mann family thought he was not suitable for Rebecca. On her wedding day, Horace Mann was visibly upset, and his relationship with Amos Dean deteriorated. The college's financial problems led to a lack of regular salaries for the faculty.
Rebecca Pennell's sister Eliza and her husband Gardiner Blake moved to the college from their home in Brooklyn, New York in 1855. Horace Mann hired Eliza's husband to serve as the assistant treasurer of the college. In 1857, Eliza died, and Pennell adopted her son.
Financial Woes
Antioch College was insolvent the day it opened in 1853; by 1858, it was bankrupt. The college's financial worries consumed Pennell, especially after her husband Amos Dean was accused of falsifying financial records. Pennell's reputation was subsequently questioned which led to conflict between Rebecca Pennell and Horace Mann and subsequently between Pennell and Mann's wife Mary Peabody Mann.
Money troubles at the college began to affect Horace Mann's health. Due to the debt, it was unclear whether the college would remain open. In 1859, Mann died. Mary and his children, as well as Pennell were at his bedside during his final hours. She kept notes about his death, of the words he spoke to his wife suggesting that there was enough money for her and the children, and his final words to family and friends. Mary Mann wrote a bitter letter to her sister, Sophia Hawthorne regarding Pennell's interactions with Mann during his final hours.
Pennell House
This 3,200-square-foot brick house was built on the campus in 1856 for Rebecca Pennell and her husband, Arthur Dean. Built next door to Horace Mann's home, the house served as Pennell's residence and as a lodging for visitors to the college. Some of the guests who stayed at the house include Chief Justice Salmon P. Chase and Horace Greeley.
The Mary Institute
After Mann's death, Pennell left Antioch College and moved to St. Louis, Missouri, where she worked in the Mary Institute at Washington University. Her brother Calvin accepted a job there as school principal. An historical publication of the Mary Institute reported, "In the very year that Mary Institute was founded there died at Yellow Springs, Ohio, the seat of Antioch College, one of the greatest educational reformers that America has known."
The Mary Institute, a school for girls, was founded by William Greenleaf Eliot, a Unitarian minister in St. Louis who cofounded Washington University in 1853. A goal of the school was to provide an education that equaled what men received at that time, as well as prepare women for college.
Though married, Rebecca Pennell continued to teach; her husband went with her to St. Louis. At the Mary Institute, as she had at Antioch, she developed a strong science curriculum. The catalogues from 1859 to 1868 listed her as a teacher of physiology, natural sciences, natural history and drawing.
The Civil War
Horace Mann's successor, Thomas Hill, took Antioch's presidency on the condition that faculty salaries be paid despite deficits. But his salary was often not paid, and he supported his family with loans. Hill resigned in 1862 due to increasing financial troubles, and to accept the position of president of Harvard. In 1862, the college was closed until finances improved and remained closed until after the end of the Civil War.
Though Pennell enjoyed teaching at the Mary Institute, the Civil War brought a period of tension and unsettledness in St. Louis. A publication of the Mary Institute recorded, "St. Louis in 1861 was not the most orderly of cities, for it was torn by the tempers and partisanship of the Civil War." Amos Dean, a captain in the U.S. Army, died during the Civil War. Pennell retired from the Mary Institute in 1868 after teaching there for nine years.
She then relocated to St. Paul, Minnesota where she lived with her nephew, Henry, whom she had adopted. She then tackled social issues and founded the Fall Rivers Women's Union, which provided daycare, housing, and education to working class women.
SOURCES
Wikiwand: Antioch College
Antioch College: Songs from the Stacks
Professor Rebecca Pennell: The social networks of Rebecca Pennell: an early woman college professor to have equal pay with her male colleagues