Nurses for the Confederacy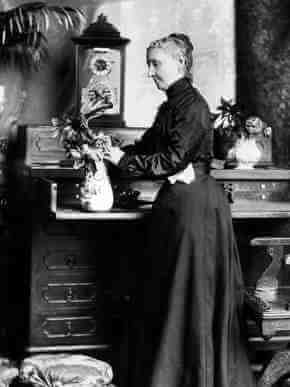 One of the most popular American novelists of the nineteenth century, Augusta Jane Evans (1835-1909) became the first female author in the United States to earn more than $100,000 for her work. Although Evans' first novel was a failure, her second, Beulah (1859), was a resounding success; it sold 22,000 copies in the first nine months and received high praise from reviewers. With her literary success, Evans was able to support her family. She purchased a house, Georgia Cottage, which still stands on Springhill Avenue in Mobile, Alabama, where she spent the remainder of her life.
During the American Civil War, Evans devoted herself to the Confederate cause as a volunteer nurse and organizer, as well as the author of several newspaper articles in support of the South. Two noted leaders – General P.G.T. Beauregard and Alabama congressman J.L.M. Curry – corresponded with Evans regarding her views on military and political subjects. Despite these demands, she continued to write fiction. Macaria; or Altars of Sacrifice (1864), her third novel, was published in the Union and the Confederacy.
The Civil War left Evans bankrupt and depressed. Her immediate family had survived the war, but her beloved brother Howard was left permanently crippled. Evans again devoted herself to writing, publishing her most successful novel, St. Elmo (1867), which depicts a moral struggle between good and evil. Its male protagonist, St. Elmo Murray, at first a cynical and cruel man, converted to Christianity through his love for Edna Earle. Earle's willingness to give up her literary career when she marries St. Elmo reflects Evans' belief that women were happiest and most powerful in the domestic sphere.
In 1868 Augusta Jane Evans married 60-year-old businessman Lorenzo Madison Wilson and moved into Wilson's mansion, Ashland. Evans enjoyed her role as mistress of Ashland and stepmother to her husband's youngest child, Fannie. After her husband died in 1891, Evans Wilson moved to a house 255 State Street in downtown Mobile, where she lived with her brother Howard and wrote the novel A Speckled Bird (1902). She was almost blind when she wrote the novelette Devota (1907), which she dictated to her niece. On May 9, 1909, Evans died of a heart attack.
Juliet Opie Hopkins
After her first husband died, Juliet Opie (1818-1890) married widower Arthur Francis Hopkins on November 4, 1854 and moved to Mobile, Alabama, where he had a law practice. Hopkins was twenty-three years older than Juliet. When the Civil War began, the couple sold most of their real estate holdings in three states and donated the money to the Confederate States of America. When her husband was appointed Superintendent of Civil War Hospitals for Alabama soldiers in November 1861, Juliet began converting tobacco factories into hospitals.
Operating out of a supply depot in Richmond, Juliet Opie Hopkins converted three tobacco factories into hospitals from December 1861 through April 1862. The three facilities held a total of 500 patients, and Juliet visited them daily. During these visits, she wrote letters and supplied reading materials for the soldiers. When a patient died, she personally sent a lock of his hair to their next of kin.
She also traveled to the battlefields to nurse the wounded. During the Battle of Seven Pines on May 31, 1862, Hopkins received two wounds to her hip, which left her with a permanent limp. For her brave service at that battle, she was given the nickname Florence Nightingale of the South. In 1862, Alabama authorities moved patients at the smaller hospitals to larger facilities elsewhere. Hopkins went home to Alabama to work in hospitals in the state until the close of the war. She was considered a heroine for her service, and her portrait appeared on Alabama state bank notes during the war years.
Arthur Hopkins died within months of the close of the war, and Juliet spent the rest of her life in poverty. When she died, she was interred with a full military burial at Arlington National Cemetery with the Alabama congressional delegation serving as her pallbearers. In 1991, she was inducted into the Alabama Women's Hall of Fame.
Kate Cumming
Early in April of 1862, Kate Cumming and a small group of women traveled to Tennessee, hoping to assist a large Confederate army there. Along the way, they learned that a battle had just been fought at Shiloh. When the women volunteered their services at a military hospital, they were refused.
Cumming later wrote in her journal, "The surgeons entertain great prejudice against admitting ladies into the hospital in the capacity of nurses." In fact, the chief surgeon "carried this so far that he will not even allow the ladies … to visit his patients. I only wish that the doctors would let us try and see what we can do!" On April 10, 1862, the women nurses were allowed to proceed to the main Confederate hospitals at Corinth, Mississippi.
The scene Cumming saw when she arrived in Corinth was worse than she could have imagined. The camp of the Confederate army was all mud. "As far as the eye could reach, in the midst of all this slop and mud," she wrote, were the tents of the men, "suggestive of anything but comfort." Although Kate Cumming had tried to prepare herself emotionally for the work she was about to begin, she wrote that "nothing that I had ever heard or read had given me the faintest idea of the horrors witnessed here. I do not think that words are in our vocabulary expressive enough to present to the mind the realities of that sad scene."
Shiloh was the first massive battle in the Western Theater of the war, and it left more than 23,000 men killed, captured, or wounded. The untried Confederate medical system collapsed before the battle ended. Arriving three days after the Battle of Shiloh, Kate Cumming noted that wounded men were still being brought to the hospitals in Corinth. Many of the men who had come earlier and who were too badly injured to take care of themselves, had not even been fed, let alone treated.
The first thing Nurse Cumming did was to try to feed the men. Supplies were so inadequate that all she had to offer them was some bread, a biscuit, and coffee or tea. The hospital did not even have plates, so she passed out the meager food to the men from her hands to theirs. On April 13, Cumming wrote in her journal:
The confusion and want of order are as great as ever. … The amount of good being done is not near what it might be, if things were better managed. … Some one is to blame for this state of affairs.
Unlike most women nurses, who served only temporarily, Cumming continued as an active nurse for the duration of the war. After a two-month respite in Mobile during the summer of 1862, she traveled to Chattanooga, Tennessee, to volunteer at Newsome Hospital, where she remained for the next year. The Confederate government reluctantly decreed in September 1862 that hospitals could legally pay nurses rather than rely on them as volunteers. Thus Cumming's status changed from volunteer to professional; for the war's duration, she was officially enlisted in the Confederate Army Medical Department.
Cumming returned to Mobile after the war, and in 1866 she published A Journal of Hospital Life in the Confederate Army of Tennessee from the Battle of Shiloh to the End of the War, a chronicle of her day-to-day nursing experiences on the Civil War battlefields of Tennessee and Georgia. In 1874 she moved with her father to Birmingham, Alabama. She never married. She resided there as a teacher and active member of the United Daughters of the Confederacy until her death on June 5, 1909.
Sisters of St. Joseph
She was born Jane Keating in Kedra, County Tipperary, Ireland and came to the United States with her family in 1852. Keating entered the novitiate of the Sisters of St. Joseph of Brooklyn, New York in her youth. In 1853 seven sisters from Carondelet, Missouri opened a private orphanage and hospital in Wheeling, Virginia (now, West Virginia) and in 1856 took possession of a building chartered by the Assembly of Virginia for a hospital.
During the Civil War the hospital was rented by the U.S. government and the sisters worked there as nurses. In February 1864, at the request of Bishop Whelan, Sister Mary De Chantal was loaned to his fledgling community as superior and administrator of Wheeling Hospital during the Civil War. As a token of her devotion to the wounded soldiers she received a bronze medal from the Grand Army of the Republic.
SOURCES
Wikipedia: Juliet Opie Hopkins
Wikipedia: Sisters of St. Joseph
Encyclopedia of Alabama: Augusta Jane Evans Wilson