Nurses Who Served the Union Army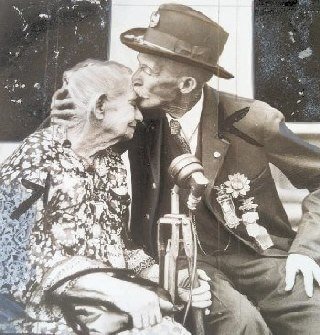 Thousands of women served as volunteer nurses during the Civil War. At the beginning of the war, nurses were merely volunteers who showed up at military hospitals. However, Union officials soon saw the need for an organized nursing corps, and they appointed Dorothea Dix Superintendent of Women Nurses for the Union Army in June 1861.
Image: Alice Farmer Risley receiving a kiss from a veteran (1936)
Alice Farmer Risley
Alice Farmer was born in Wilmington, Ohio on November 1, 1847. In fall 1859, the family relocated to New Iberia in the Bayou Teche region of Louisiana, where her father was a basket maker. As Unionists, the Farmers were not well accepted after the Civil War broke out. In the fall of 1861, Alice's father was forced to flee the Confederate-controlled Teche region for Union-occupied New Orleans, leaving his family in New Iberia. In the summer of 1862, Alice's mother was accused of being a spy, and Phoebe and Alice left for New Orleans, where they were reunited with Mr. Farmer.
Union Nurse Volunteer
The public buildings and hospitals in New Orleans were overcrowded with sick and wounded soldiers. Alice and her mother Phoebe volunteered as nurses and began a daily routine of visiting the local hospitals between 1862 and September 1865. When there was no room left in the hospitals, the Farmers took patients into their home, sometimes for weeks at a time. Their service to the sick and wounded continued through September 1865. Alice also worked as a teacher in a school for blacks in New Orleans and Baton Rouge.
Samuel Risley served as an officer of the United States Army Signal Corp in the 117th Illinois Infantry Regiment of General Ulysses S. Grant's army. He was hospitalized in New Orleans in 1863, and Alice cared for him at the hospital and later at the Farmer home. After the war, the Farmer family left New Orleans and moved back to Massachusetts, then later to Illinois. Samuel Risley corresponded with Alice during this time.
Marriage and Family
In 1872, Alice Farmer married Samuel Risley in St. Louis. Alice and Samuel had four children – Guy Weston (1875-1965), Florence (1877-1926), Nellie (1879-1905), and Frank (1883-1898). Samuel became one of West Plains, Missouri's first newspapermen when he established the South Missouri Journal there. Later, the couple was appointed postmaster and postmistress of West Plains, and Samuel served as the city's mayor. The Risleys were among the most prominent citizens in social and civic circles.
After Samuel's death in 1894, Alice actively participated in the Women's Relief Corps of Missouri, the Ladies of the Grand Army of the Republic, and the National Association of Army Nurses of the Civil War, which met annually at the national encampment of the Grand Army of the Republic. Alice faithfully attended those reunions for 40 years, and served as national president of the National Association of Army Nurses for 16 years, and was often featured in stories in the national press.
Alice Farmer Risley died at her son's home in Alexandria, Louisiana, on May 10, 1939, and was buried in Oak Lawn Cemetery in West Plains, Missouri. She was the last surviving member of the National Association of Army Nurses. In 1940, state officials of the Ladies of the Grand Army of the Republic dedicated a granite marker at her gravesite.
Mary Jewett Telford
Mary Jewett Telford was a humanitarian who worked as a nurse at Hospital No. 8 in Nashville, Tennessee during the American Civil War. In her later years, Mary lectured on the temperance circuit and became a charter member of the Woman's Relief Corps, an auxiliary to the Grand Army of the Republic.
Image: Photo of Mary Jewett Telford
January 1, 1885
Early Years
Mary Jewett was born March 18, 1839 in the town of Seneca in central-western New York state. She was the sixth child of Dr. Lester Jewett and Hannah Southwick Jewett. Another four children would be born after Mary. Within a few days in 1846, the Jewetts lost infants Ruth and Oakley, probably during a diphtheria or scarlet fever epidemic. After they had buried the children at Old No. 9 Cemetery in Seneca, the family decided to move to Lima Township, Michigan, where Lester's brothers had migrated in the 1820s. Mary was extremely bright. By the age of 14, she was teaching in a district school; she also spent one year teaching at Morganfield, Kentucky.
Civil War
After Mary Jewett returned to Michigan from Kentucky, her younger brother, William Jewett, enlisted in the 4th Michigan Cavalry. William died from typhoid fever four months later. Soon after, Mary's elder brother, Edward Jewett, joined the 124th Ohio Infantry.
Mary strongly desired to nurse the soldiers who were convalescing from their wounds. The U.S. Sanitary Commission refused her application because she was too young, but Mary persisted. Her father's friend, Michigan Governor Austin Blair, gave her a special permit and Mary left for the front.
Nurse at Hospital No. 8 in Nashville
Once Nashville's largest building, the First [now Downtown] Presbyterian Church at 154 Fifth Avenue provided 206 beds as part of Union Hospital No. 8 during the Civil War. There is scant information about Hospital No. 8, but Elvira J. Powers related her experiences there in her book, Hospital Pencillings; being a Diary while in Jefferson General Hospital, Jeffersonville, Ind., and others at Nashville, Tennessee, as Matron and Visitor (1864):
We crossed the street and entered the First Presbyterian Church, which constitutes a good part of the hospital [No. 8]. This place is notable for the promulgation of secession sentiments from its pulpit in other days. A specimen of the style was given here a short time before the entrance of our troops, by Profr. Elliot of the Seminary, who in a prayer besought the Almighty that he would "prosper the arms of the Confederates and bring to naught the plans of the Federals, that every hill-top, plain and valley around Nashville should be white with the bones of the hated Yankees!"

After hearing that it is doubly a pleasure, in the company of Miss J., another 'Northern vandal,' to make the walls of the old church echo to the words of The Star Spangled Banner, with an accompaniment from the organ; and it would have done any loyal head good to see how much pleasure it gave to the sick and wounded soldiers.
Working at the hospital must have been exhausting for young nurse Telford; she worked there for only eight months before returning home to Michigan.
Marriage and Family
During her travels and nursing service, Mary met Jacob Telford of the 15th Indiana Infantry, who had been severely wounded at Murfreesboro, Tennessee. Jacob, nearly six years older than Mary, was also a native New Yorker. Mary and Jacob married on July 8, 1864, at her home in Lima Township, Michigan.
The Telfords moved often during the following years, and they adopted several girls who had been orphaned during the Civil War. They are listed in the 1870 census as living in Grinnell, Iowa with two such girls, Mattie Stokes and Olive Montgomery. Jacob and Mary moved from Iowa to Denver, Colorado in 1873, hoping the climate there would improve Mary's asthma. In 1880 they were still in Denver, where Jacob was a wholesale dealer of some sort.
Woman's Relief Corps
In July 1883, Mary became a charter member of the Woman's Relief Corps (WRC), an organization dedicated to assisting veterans, as well as their wives and children. Later the same year, Mary was appointed to the Child-Saving Work Committee on the Board of Charities and Corrections. She served as president of the Woman's Relief Corps in the Department of Colorado and Wyoming and also president for several terms of the Colorado WCTU and participated in a five-months' speaking tour. The WRC is still in existence.
Career in Journalism
Mary Jewett Telford had been writing since her teenage years, and she continued that career in Denver. Her children's story, "Tom," was published in St. Nicholas magazine in 1880. In 1884, she founded, edited and published the Challenge, a temperance journal which supported the ideals of the Women's Christian Temperance Union (WCTU). This organization supports moderation or self-restraint, especially in drinking. In the late 1880s, Mary accepted a position as the editor of the Colorado Farmer journal, while still submitting articles to newspapers across the country.
On May 24, 1892, the House of Representatives granted a pension to Mary Jewett Telford based on her service as a nurse during the Civil War. The extra income was helpful, especially during the times they were living on Jacob's $8 a month government Civil War pension and whatever Mary earned from her journalism jobs.
Late Years
In 1900 the Telfords were in Grand Junction, Colorado where Mary continued her writing and editing duties and began to tour the country as a lecturer for the WCTU, becoming close personal friends with WCTU founder Frances Willard.
During late 1900 or early 1901, Mary and Jacob moved to McMinnville, Tennessee. Jacob Telford died there in 1905 after 41 years of marriage to his sweetheart. As per his wishes, Mary brought his body for burial at Stones River National Cemetery, the former battlefield on which he had been wounded in the Civil War.
Less than twelve months later, Mary discovered she had a health issue which required surgery. She traveled to the Hinsdale Sanitarium in Hinsdale, Illinois for medical care. Mary Jewett Telford died August 5, 1906 after a serious operation. She was buried in Illinois, but nine months later Mary's older sister, Catherine Jewett Wilkinson, brought Mary's remains back home and interred her beside their mother Hannah Southwick Jewett at South Perinton Cemetery in Perinton, New York.
Sarah Graham Palmer Young
She was born Sarah Graham on August 19, 1830 in Ithaca, New York. She married Abel Palmer, who died sometime before 1862.
Nursing in the Civil War
Palmer left her two daughters in the care of relatives on September 3, 1862 and traveled with the 109th New York Volunteer Infantry Regiment to Maryland where they guarded the railroad to Washington, DC.

Image: Sarah Graham Palmer Young War Memorial Plaque
Woodland Cemetery in Des Moines, Iowa
This plaque was dedicated at her grave in 2009
Sarah disliked being called Mother; therefore, after a soldier said she looked like his Aunt Becky, she became nationally known by that nickname. In an interview she said:
Many a dying message was given to me for far away friends, many a last farewell was whispered in my ear for the dear wife and children.
During the Siege of Petersburg, just before the war ended, Palmer wanted to send a seriously ill patient to Washington but the doctor in charge refused. However, Aunt Becky bought a train ticket for the ailing soldier and sent him north. A rather loud argument with the doctor ensued the following day. Through the years, Young embellished the story, claiming that the doctor complained to General Ulysses S. Grant, who "laughed and said 'I've got nothing to say. Aunt Becky outranks me!'"
A Civil War veteran later said this about Aunty Becky:
Almost everywhere she went, she was observed by some soldier whose life she saved or who had been cheered and nursed back to life and happiness by her, and many is the time that I have seen strong men clasping her hand in theirs, stand weeping before her, the noblest tribute, I imagine, that it was possible to pay to womanhood.
After her remarriage to David Young on April 6, 1867, she moved to Des Moines, Iowa. Young felt her calling again on the outbreak of the Spanish-American War, and she raised funds for the Iowa Sanitation Commission, which provided medical supplies for the soldiers, and later served as the Commission's president.
Sarah Palmer Young died on April 6, 1908, which was also her 41st wedding anniversary, and was buried in Woodland Cemetery in Des Moines.
Young published an account of her Civil War experiences entitled The Story of Aunt Becky's Army-Life (1867).
SOURCES
Wikipedia: Mary Jewett Telford
Wikipedia: Sarah Palmer Young
Fisher (Alice Risley) Family Papers – PDF
Patriots in Petticoats: Alice Farmer Risley
Illuminated History: Mary Jewett Telford, Humanitarian
Aunt Becky Young Tent #92: Daughters of Union Veterans of the Civil War