First American Woman to Climb the Matterhorn
Meta (Marguerite Claudia) Brevoort was born November 8, 1825 in New York. She spent her early years in a Paris convent school. She was an American mountain climber who waited until she was about 40 to become a mountaineer. With her nephew and and dog Tschingel, she was the first climber to ascend several peaks in the Dauphine Alps of southeastern France, an unexplored region at that time. She was one of a small band of women who blazed a trail in the Alps for climbers who came after her.
Image: The Tschingel Company in 1874
Left to right: Christian Almer, Ulrich Almer, Meta Brevoort with the dog Tschingel and her nephew William Coolidge
Meta Brevoort began mountain climbing at the age of forty, in the summer of 1865 she brought her nephew William Augustus Brevoort Coolidge (1850-1926) from his home in New York to Europe and introduced him to Alpine climbing. They climbed together for more than ten seasons. In Switzerland, they met alpine-guide Christian Almer and adopted him as their personal guide. Brevoort and Coolidge began winter mountaineering, which was not very pleasant, but they became the first people to ascend the Wetterhorn and other nearby peaks.

In July 1868, the company had to give up climbing the Eiger due to dangerous ground conditions. Coolidge was greatly disappointed by the failure, and Almer offered him his dog Tschinghel as a gift. Coolidge later wrote:
I do not clearly recollect hearing of Tschingel till July 11, 1868. That month Almer had for the first time become guide to my aunt, Miss Brevoort, and myself. On July 8 we all three made our first high climb together (the Wetterhorn) and on July 11 started from Little Scheidegg for the ascent of the Eiger. But the rocks (as often) were glazed, and we had to retreat. This disappointed me bitterly, for I was not quite eighteen years of age. Almer sympathised much with me, and so, as we were walking down that afternoon to Grindelwald, tried to comfort me by promising to give me his dog Tschingel, as one of her sons, Bello by name, was now able to act as his [Almer's] watchdog.
One of the great alpine figures of his era, in 1870 the Alpine Club elected William Coolidge as a member at the age of twenty. He eventually became an outstanding mountaineer, with over 1,700 ascents in the Alps and the greatest Alpine historian of his era.
Pioneer Female Mountaineer
Meta Brevoort began mountain climbing at the age of forty and made a name for herself as a mountaineer in the late 1860s, making several important ascents in the Alps. Her dream was to be the first woman to climb the Matterhorn and the first person to climb the Grand Pic de la Meije in the Dauphine Alps of southeastern France.
La Meije is located in the Dauphine Alps, a group of mountain ranges in southeastern France, west of the main chain of the Alps. Meije is composed of three principal summits. The highest point, the Grand Pic de la Meije at 13,071 feet, is notorious for its treacherous ascent, and it was the last major peak in the Alps to be climbed (in 1877). The ridge from the central to the main peak, which is 13 meters higher, was considered an insurmountable obstacle for the next 15 years.
Meije's second highest summit has five teeth; the highest is known as Doigt de Dieu (Finger of God), which rises 12,349 feet. Meta Brevoort, her nephew William Coolidge, and their three guides reached this height on June 28, 1870. Brevoort and her nephew Coolidge journeyed several times to the Dauphine Alps to attempt the Grand Pic de la Meije, but encountered bad weather every time.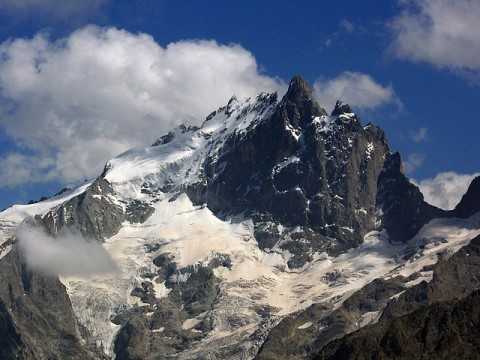 Image: La Meije as seen from the French Alps
Climbed by Meta Brevoort, September 1871
By Guillaume Piolle /, CC BY 3.0,
https://commons.wikimedia.org/w/index.php?curid=4673343
First Woman to Climb the Matterhorn
A majestic mountain that straddles the border between Switzerland and Italy, the Matterhorn is 14,692 feet high – one of the highest summits in the Alps and in Europe. Edward Whymper was the first person to ascend the Matterhorn (July 14, 1865). The first woman to ascend its peak would be another pioneer in Alpine history. The two most likely contenders were Meta Brevoort from the United States and Lucy Walker from Britain.
In 1869, Meta Brevoort made her first attempt to climb the Matterhorn and reached an altitude of just under 13,000 feet before being forced to turn back due to severe weather conditions. Two years later, she set out for Zermatt, Switzerland to attempt another ascent of the Matterhorn.
Until the mid-19th century, Zermatt was an agricultural community; after Whymper's ascent of the Matterhorn in 1865, people rushed to the village and the mountains surrounding it. This led to the construction of many tourist facilities, and Zermatt quickly became a very popular mountaineering and ski resort in the Swiss Alps.
Living in England
In about 1869 Meta and her younger sister Elisabeth, came to live in Oxford, England. The following year, Meta took her nephew and his dog Tschingel on an expedition to Dauphine Alps, and wrote thus about their arrival at Le Grave:
We arrived soaking at 4:10 after six hours' march from the chalets, and to such an inn. The floor of our room black as the ace of spades, a bag of flour and a sieve in one corner. No means of washing, apparently flowers spread out to dry on the floor, no pillows, sheets like dishcloths! Will went to bed while his clothes were drying and, concluding it was the best place for him, remained there. We made some tea and had boiled eggs, but neither milk nor butter as the cows are away. Fleas without end.
The 1871 census listed Meta Brevoort (45) at home at 6 Museum Terrace in Oxford, England and described her as head of household. Also living at the residence were her sister Elisabeth Brevoort Coolidge (49) and Elisabeth's children: William (20), an undergraduate at Exeter College and Elisabeth (13), who was at school.
Lucy Walker
In 1871, Brevoort's rival, Lucy Walker (1836-1916), learned that Meta was on her way to Zermatt to climb the Matterhorn. Walker was already in Zermatt. Walker had begun her mountaineering career in 1859 at the age of 28 when her doctor advised her to take up walking to cure her rheumatism. With the assistance of her father Frank and her brother Horace, both early members of Alpine Club, and Oberland guide Melchior Anderegg, Lucy became the first woman to climb regularly in the Alps.
Walker quickly assembled a party that included the famous Oberland guide, Melchior Anderegg; she reached the summit of the Matterhorn. Walker's ascent was a jewel in the crown of female mountaineering. The news of her achievement spread like wildfire. Four days later, Punch magazine dedicated a poem to Lucy Walker, entitled "A Lady has Clomb to the Matterhorn's Summit."
The two women Alpinists met in Zermatt in the summer of 1871, just after Brevoort received the shocking news that Walker had reached the peak first.
Later that year, Lucy Walker completed her fourth ascent of the Eiger, a 13,020-foot mountain of the Bernese Alps in western Switzerland. In all Lucy Walker completed a total of 98 expeditions; only three times did she fail to reach the summit. In 1909 she became a member of the newly formed Ladies' Alpine Club where she was acclaimed as the pioneer of women climbers.
Meta was not discouraged by Walker's successful ascent of the Matterhorn. She waited until weather conditions on the mountain were ideal and became the first woman to traverse the mountain from Zermatt to Breuil in Italy on September 5, 1871. During the following two weeks, she also became the first woman to ascend the Weisshorn (14,783 feet) and the Dent Blanche (14,295 feet).
The Lady Wore Trousers
For climbing, Lucy Walker wore an ankle-length dress which could have been difficult to manage in some of the most dangerous ascents. To climb the Matterhorn she wore a long flannel skirt as was appropriate for a Victorian lady, but dresses could be dangerous. British mountain climber Kathleen Richardson was nearly killed when her climbing partner's skirts dislodged a rock which crashed down onto Richardson's head.
Meta Brevoort was the first female mountaineer to wear pants. She wore wool trousers and gaiters when climbing and refused to allow anyone to photograph her in this outfit. Gaiters typically extend from the bottom of the foot to mid-calf and are made with weather-resistant materials. They protect the foot and lower leg from deep snow, wet underbrush or debris while hiking, skiing or mountaineering.
Image: Female Climbers in the Alps
In 1876, Brevoort had her final opportunity for a first ascent of the Grand Pic de la Meije, but stayed below and gave money to her nephew to support his efforts in the range.
Meta's sister Elisabeth Coolidge died in January 1875, and Meta moved to Dorking with her niece Miss Elisabeth Coolidge in 1876.
Meta Brevoort died December 19, 1876. Her body was brought to Oxford, England to be buried in St. Sepulchre's Cemetery in a grave next to that of her sister, Elisabeth Neville Coolidge.
Her sudden death at the age of fifty-one stunned her nephew William Coolidge, but he always returned to the Alps.
Pointe Brevoort, the summit of the Grande Ruine in the Dauphine Alps, was named after Meta Brevoort.
SOURCES
Wikipedia: Meije
Wikipedia: Meta Brevoort
Wikipedia: W.A.B. Coolidge
Miss Margaret "Meta" Claudia Brevoort (1825–1876)
First Ladies: The First Women to Climb the Matterhorn
Alpine pioneers: the Tschingel Company, a legendary team