Civil War Nurse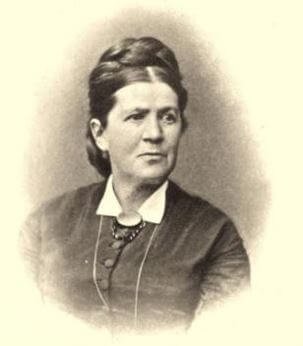 Also known as Mary Phinney von Olnhausen, Mary Phinney was the widow of a Prussian nobleman when she served as a Civil War nurse at the Mansion House Hospital in Alexandria, Virginia. Her journals, published as Adventures of an Army Nurse in Two Wars, give a glimpse into the life of a Union nurse.
Early Years
Mary Phinney was born February 3, 1818 in Lexington, Massachusetts to lawyer Elias Phinney and Catherine Barlett Phinney, the daughter of a doctor. Mary was well educated at several academies. Mary received an excellent education at the Lexington Academy and Smith's Academy in Waltham, and she worked on the family farm. In 1849, Elias Phinney died and the family sold the farm.
Owners of a cotton mill in Manchester, New Hampshire hired Mary as a designer for printed goods. There she met Baron Gustav von Olnhausen, a German aristocrat whose political views and financial troubles had forced him to sell his castle and leave his homeland. Gustav was then making a meager living as a chemist in a dye-house at a Manchester Mills. At age 40, Mary Phinney married Baron Gustav von Olnhausen on May 1, 1858; Gustav died in 1860.
Backstory
Alexandria, Virginia is located across the Potomac River from Washington, DC. The Union Army occupied Alexandria the morning after Virginia seceded from the Union and remained until the war was over. Military officials ruled the city under martial law – an extreme measure used to control society, during which military personnel often make and enforce civil and criminal laws. Some civil liberties were usually suspended, such as the writ of Habeas Corpus, which allows those who have been unlawfully imprisoned to seek freedom through the courts.
From the first days of the Civil War to the last, Union medical personnel transformed public buildings, churches, and civilian homes into military hospitals to care for wounded soldiers from the Virginia battlefields. By the end of the war, they had established more than thirty Union hospitals with 6,500 beds in Alexandria.
In October 1861, a writer for The Local News wrote:
There has been, we expect, few places more affected by the present war than Alexandria. Not six months ago, a thrifty growing city – with an energetic, prosperous, and happy population – unusually free from the crime and misery of cities generally, Alexandria occupied an enviable position, and in a social point of view, stood pre-eminently high. But a change – aye! – a sad change has come over the good old town. A large number of the oldest and most respected families are no longer 'of us,' having left their homes at the beginning of the war – their houses are closed or occupied by others, and their wonted life and cheerfulness has departed. The many pleasing promenades and places of familiar resort in the neighborhood are deserted, and the streets on which principally are residences of the citizens present a most desolate appearance. …

Our absent citizens would hardly know the environs of this town if they could be suddenly transported to them. The once wooded heights all around, are now destitute of trees, and the landscape, dotted with frowning fortifications, earthworks, and entrenchments, has that hard, cold, stern look, which is any thing but pleasant either in nature or design.
Civil War Nurse
After the death of her husband, Baron Gustav von Olnhausen, Mary Phinney was eager to aid the war effort, and she petitioned Dorothea Dix [link], Superintendent of Union Army Nurses, for a nursing position. Nursing was considered a scandalous occupation for a lady, but for Phinney, thirty, widowed and childless, working as a Civil War nurse might give her a new purpose in life. She arrived in Alexandria in August 1862, just after the Battle of Cedar Mountain and was assigned to the Mansion House Hospital, the city's largest military hospital.
In her book An Army Nurse in Two Wars, Phinney wrote:
Miss Dix, who had been appointed by the President head of the army nurses, took me from Washington to Alexandria to the Mansion House Hospital. She told me on the journey that the surgeon in charge was determined to give her no foothold in any hospital where he reigned, and that I was to take no notice of anything that might occur, and was to make no complaint whatever might happen. … The surgeon told me he had no room for me, and a nurse told me he said he would make the house so hot for me I would not stay long. …

I was horribly ignorant, of course, and could only try to make the men comfortable; but the staff doctors were very friendly and occasionally helped me, and some one occasionally showed me about bandaging, so by degrees I began to do better. The worst doctor had been discharged, much to my joy, but the other one, despite his drinking habits, stayed on. … I know now that many a life could have been saved if there had been a competent surgeon in the ward.
Civil War Surgeons
In An Army Nurse in Two Wars, Phinney wrote:
One of the rooms of the ward was the operating-room, and the passing in and out of those who were to be operated upon, and the coming and going of the surgeons added so much to the general confusion. … The insufficient help, the unskilful surgeons, and a general want of organization were very distressing; but I was too busy then and too tired for want of proper sleep to half realize it. Though I slept at the bedsides of the men or in a corner of the rooms, I was afraid to complain lest I be discharged.
At the time of the Civil War, obtaining a medical degree was very easy; students only had to apprentice with a local physician and take a few courses at a private medical college. Most physicians had little, if any, surgical experience; many had never done an operation. Surgeons trained at the few major hospitals that had operating rooms usually performed amputations.

Image: Photograph of Alexandria, Virginia during the Civil War
Library of Congress
Most military surgeons learned to amputate and perform other procedures at field hospitals near the battlefields. Of the more than one hundred surgeons in the U.S. Army in January 1861, twenty-four resigned to join the Confederate Medical Service. Few were mentally or physically prepared for the conditions they would face.
The rising numbers of casualties in each major engagement dictated that doctors perform many amputations, the most common major surgery. Amputation performed within twenty-four to forty-eight hours after injury was considered a "primary amputation." A "secondary amputation" was performed more than three days after injury. Surgeons soon realized that waiting to operate often resulted in a horribly infected wound and sometimes death.
Unfortunately, sterility was yet unknown, and operations led to deadly infections. Surgeons operated with dirty hands and did not clean instruments and dressings. As the war progressed, officials established medical standards and evaluated physicians; only the best were allowed to operate. In 1863 there were only three competent surgeons at field hospitals; they helped create techniques for secondary amputations and complicated fractures.
After the Battle of Fredericksburg in December 1862, nurse Mary Phinney wrote:
The whole street (Fairfax Street) was full of ambulances and the sick lay outside on the sidewalks from nine in the morning till five in the evening. Of course places were found for some; but already the house was full; so most had to be packed back again and taken off to Fairfax Seminary, two miles out. I have been so indignant all day – not a thing done for them, not a wound dressed… They reached town last evening, lay in the cars all night without blankets or food, were chucked into ambulances, lay about here all day, and to-night were put back into ambulances and carted off again. I think every man who comes a soldiering is a fool!
In 1863, rumors ran rampant of a possible Confederate attack on the northern Virginia area, especially Alexandria. Mary wrote in her journal in May 1863:
For the last week all sorts of rumors have been afloat of the invasion of Alexandria: preparations have been making all around, rifle pits dug everywhere … even the bridge made ready to be destroyed at a moment's notice, and no one permitted to go out of town. … Rifle pits are dug across all streets leading to the commissary departments, for here lie all the stores for the whole Army of the Potomac. Just at the corner of our hospital and just under my window one is dug, and a battery of four guns planned … and since I began to write, up comes the orderly, counts every man in the hospital able to shoulder a gun, and arms them all, so that at a moment's warning they may be ready.
Mary Phinney later worked at a military hospital in New Bern, North Carolina. Trying to understand the accent of the local Tarheels, she wrote in her journal that "one could detect the nationality of a man however poor English he might speak."
Nursing in the Franco-Prussian War
After the war, Mary Phinney moved west until the war between France and Prussia. Although she did not speak German, she offered her services and worked in a hospital at Vendome, France. The German Emperor presented Mary with the Order of the Iron Cross.
In her journal, she compared her observations as a nurse in Germany during the Franco-Prussian War (1870) with her experiences during the American Civil War:
I have been to other hospitals to-day, and I can hardly contain myself to see the treatment of the wounded. It seems like actual murder. We never treated amputations so badly – head, hands without any care… I can see now how good our surgeons were.
Back in the United States, Phinney worked in hospitals in Boston and New York for a while and then as a designer for embroideries.
In 1888, the Committee on Invalid Pensions granted her a pension, stating that "for her efficient and human services during the war of the rebellion at the hospitals of Alexandria, Morehead City, Beaufort, and Smithville, North Carolina," the governor of Massachusetts presented her with a letter of thanks:
Mrs. von Olnhausen is over seventy years of age, a widow and without means of support. This is shown by the statement of Hon. E.D. Hayden, who has known her for many years. Your committee are of the opinion that the claim of this petitioner to the bounty of the Government is equally as meritorious as those of many others of her class who are now upon the pension-roll…
Mary Phinney, Baroness von Olnhausen, died on April 2, 1902 at the age of 84.
Nursing was considered a scandalous occupation for a lady, but for Phinney, thirty, widowed and childless, working as a Civil War nurse might give her a new purpose in life.
Mercy Street
Mercy Street is a television series that follows two volunteer nurses – Mary Phinney, a Unionist and Emma Green, a Confederate sympathizer – who both work at the Mansion House Hospital. The first season of six episodes premiered on Sunday, January 17, 2016, and ran until Sunday, February 21, 2016. In early March 2016, PBS announced that the series had been renewed for a second season.

Image: Mansion House Hospital in a scene from the movie Mercy Street
Before the war, Mansion House was one of the finest hotels on the East Coast. In early November 1861, owner James Green received a letter that stated he had three days to vacate the premises. Opened December 1, 1861 with 500 beds, Mansion House Hospital was the largest of the confiscated buildings used as military hospitals in Alexandria.
Set in 1862, Mercy Street follows the lives of two volunteer nurses on opposite sides of the conflict: Mary Phinney, a staunch New England abolitionist, and Emma Green, a young Confederate sympathizer. The two collide at the Mansion House Hospital.
Phinney arrives at Mansion House Hospital as the new head nurse (despite her limited nursing experience) whose mission is to create order out of chaos. There she encounters Dr. Jedediah Foster, a forward-thinking physician, who enjoys mocking her politics. Samuel Diggs, a young, free black man who works at the hospital and her only ally, seems to have a good deal of knowledge about medicine.
Undaunted, Mary eventually earns the respect of the staff.
SOURCES
PBS.org: Nurse Mary Phinney
PBS.org: Surgery in the Civil War
The Baroness Von Olnhausen Nurses At Alexandria
Alexandria.gov: Mary Phinney von Olnhausen, Nurse
PBS.org: Alexandria – The Crossroads of the Civil War