African American Women in Antebellum America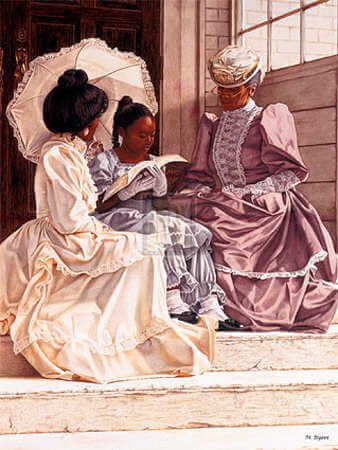 Amid the harshness of slavery, American women of African descent managed to preserve the culture of their ancestry and articulate their struggles. Black female poets and writers emerged throughout the Civil War and Reconstruction eras. Many prominent free black women in the North were active in the Abolitionist Movement.
Slave Women
Enslaved women in every state of the antebellum Union undoubtedly considered escaping from bondage, but relatively few attempted it – often to avoid splitting up their families. Some bought their liberty with hard-earned money; others filed freedom suits and were declared free by the courts. Historian Deborah Gray White explains the life of slave women: "Black in a white society, slave in a free society, woman in a society ruled by men, female slaves had the least formal power and were perhaps the most vulnerable group of Americans."
Many slave masters sexually exploited their female slaves, who often bore his children as well as those of his sons and overseers; thus keeping the slave population growing without any financial outlay. If these women attempted to defend themselves, they were severely beaten.
Historian Martha Saxton writes about the experiences of enslaved mothers in St. Louis before the Civil War:
In Marion County, north of St. Louis, a slave trader bought three small children from an owner, but the children's mother killed them all and herself rather than let them be taken away. A St. Louis trader took a crying baby from its mother, both on their way to be sold, and made a gift of it to a white woman standing nearby because its noise was bothering him.
African American Women Abolitionists
Knowledge of the plight of African American women slaves came to the forefront in public awareness in the early 1830s. Abolitionist organizations were created to promote the emancipation of slaves and to aid fugitives. Thousands of white women participated in the movement to abolish slavery; they wrote articles for abolitionist papers, circulated pamphlets and presented thousands of petitions to Congress calling for abolition. Some became prominent leaders in the movement.
Many of the African American women we know today were abolitionists; we know them because abolitionist societies kept records and a few women kept journals and diaries. These were brave and defiant women who demanded the immediate abolition of slavery.
Salem Female Anti-Slavery Society (1832)
Black women established the first women's anti-slavery society in the United States on February 22, 1832 in Salem, Massachusetts. They named their organization the Female Anti-Slavery Society; but as other societies were being formed, they changed the name to the Salem Female Anti-Slavery Society. It supported schools for free blacks, assisted runaway slaves, and opposed racial discrimination in the northern free states.
The Society raised money to support abolitionist publications like William Lloyd Garrison's The Liberator by organizing annual bazaars that featured the contributions of local free blacks and organized a lecture series about the horrors of slavery. Whereas some abolitionists believed in a gradual approach, these women advocated the immediate end of slavery as well as an expanded role of women in the movement. They also supported education for the free black population, such as being able to attend school, segregation and discrimination against blacks.
Philadelphia Female Vigilant Society (1837)
As northern states became havens for enslaved people who sought to escape bondage, free blacks and sympathetic whites organized committees to protect and assist fugitive slaves. Under the leadership of well-to-do abolitionist leader Robert Purvis, blacks founded the Philadelphia Vigilance Committee in 1837. Citizens in rural counties soon followed suit, and Vigilance Committees began to appear throughout the region.
Women's auxiliaries soon followed. Robert Purvis' wife, Harriet Forten Purvis, the daughter of successful black businessman James Forten, was a leading member of the Philadelphia Female Anti-Slavery Society and the Philadelphia Female Vigilant Society, which provided money, clothes, food, and transportation for runaway slaves. Harriet also hosted abolitionist meetings, and her home was a frequent stop on the Underground Railroad.
Pennsylvania Hall (1838)
During the 1830s, anti-black and anti-abolitionist violence broke out in Philadelphia, especially from white workers who feared they would have to compete with freed slaves for jobs.
Abolitionists were struggling to find meeting places in Philadelphia willing to host them because of the threat of violence from anti-abolitionist forces. A local group of more than 2,000 people raised $40,000 to build their own venue, which they named Pennsylvania Hall. This grand structure was dedicated on the morning of May 14, 1838. By May 18, Pennsylvania Hall was an ash-filled hulk. However, during those four glorious days, the Pennsylvania Anti-Slavery Society, the Requited Labor [Free Produce] Convention, and the Anti-Slavery Convention of American Women held meetings there.
The first event scheduled was a dedication ceremony, during which a letter from John Quincy Adams was read. Adams, who had by then already served as president of the United States, wrote:
I learnt with great satisfaction… that the Pennsylvania Hall Association have erected a large building in your city, wherein liberty and equality of civil rights can be freely discussed, and the evils of slavery fearlessly portrayed. … I rejoice that, in the city of Philadelphia, the friends of free discussion have erected a Hall for its unrestrained exercise.
Despite a growing crowd outside the hall, the Anti-Slavery Convention of American Women met as scheduled the following day. A crowd of men gathered around the building. Later in the day they became more unruly, and during the evening meeting, they disrupted the proceedings. Three thousand white and black women gathered to hear abolitionist lecturers Maria Weston Chapman and Angelina Grimke, the speakers' voices were often drowned out by the shouts of the mob and rocks crashing through the windows.
Image:
Burning of Pennsylvania Hall
Engraving by J. Sartain in Elizabeth Palmer Peabody's copy of History of Pennsylvania Hall, Which Was Destroyed by a Mob, on the 17th of May, 1838. Constructed to serve as a meeting place for abolitionists, Pennsylvania Hall was burned down by an angry mob four days after its opening.
Several times during the meeting the audience stood up, preparing to leave, but the speakers persuaded them to stay. After the program had concluded, white women and black women walked out of the hall together, arm in arm. The mob hurled insults and rocks at them as the abolitionists tried to protect their heads from the blows.
The Anti-Slavery Convention of American Women had scheduled more meetings for the following day, but the board of managers canceled them and turned over the keys of the hall to Mayor John Swift, who locked the doors in the early evening hours and told a crowd estimated to be in excessive of 12,000 people, to go home.
The gathering crowd cheered. After the Mayor had left, they broke into the building and set fire to the interior. The mayor returned with the police, but by then flames had engulfed the building. Firefighters responded to the alarm, but they only sprayed nearby structures to keep the fire from spreading, and allowed Pennsylvania Hall to burn to the ground.
Excerpt from Yankees and Slavery: Pennsylvania Hall Association:
There was unprecedented mixing of racial, gender, and class at Pennsylvania Hall events; as a jury noted in July 1841, "more parade of familiarity between persons of different sexes and colors … than had ever before, or has ever since, been exhibited in the city of Philadelphia." Aside from general hostility toward abolitionists, it was apparently this racial/sexual mixing that above all infuriated Philadelphians.
Fugitive Slave Act (1850)
The Fugitive Slave Act of 1793 was a federal law that required officials and citizens of free states to cooperate in the seizure and return of fugitive slaves to their masters and imposed penalties on anyone who aided in their escape. Widespread resistance to the 1793 law led to the passage of the Fugitive Slave Act of 1850, which added further provisions regarding runaways and levied even harsher punishments for interfering in their capture.
The Fugitive Slave Law resonated with anti-slavery citizens in the North, as it required them and their institutions to enforce slavery. Moderate abolitionists who were not active in the movement still must decide whether or not to defy an unjust law. Free blacks formed Vigilance Committees throughout the North to watch for slave hunters and alert the black community.
Many abolitionists defied the law openly. Reverend Luther Lee, pastor of the Wesleyan Methodist Church of Syracuse, New York, wrote in 1855:
I never would obey it. I had assisted thirty slaves to escape to Canada during the last month. If the authorities wanted anything of me, my residence was at 39 Onondaga Street. I would admit that and they could take me and lock me up in the Penitentiary on the hill; but if they did such a foolish thing as that I had friends enough on Onondaga County to level it to the ground before the next morning.
Sarah Parker Remond (1859)
Sarah Parker Remond was a prominent abolitionist lecturer whose family was among the black elite of Salem, Massachusetts with financial security rooted primarily in food catering and hair salons. Sarah joined the Salem Female Anti-Slavery Society and soon followed her brother, Charles Lennox Remond, into lecturing for anti-slavery societies. She made her first speech against slavery at the age of sixteen.
After honing her skills lecturing against slavery in the Northeast and Canada, Sarah Parker Remond delivered her first speech in Liverpool, England in January 1859, gradually adding Ireland and Scotland to her itinerary.
Remond urged Europeans to support the North and the "poor enslaved Blacks of the South." During this time she also decided against returning to the United States. By 1868 she had settled in Italy.
Living out the rest of her life in Italy, some sources say she studied medicine in Florence and built a successful medical practice in Rome. Abolitionist and former slave Frederick Douglass visited her and two of her sisters in Rome in 1887. All three Remond women had chosen exile over life in the United States.
Image: Frances Ellen Watkins Harper
Black Women Writers Before the Civil War
Harriet Wilson's autobiographical novel Our Nig; or, Sketches from the Life of a Free Black (1859) is considered the first novel published by an African American woman in North America. Harriet Jacobs wrote the first autobiography published by a former female slave, Incidents in the Life of a Slave Girl (1861), in which she described the sexual abuse she suffered at the hands of her master.
The renaissance of literature written by African American women in the 1850s included short stories by Frances Ellen Watkins Harper and a haunting poem entitled "Bury Me in a Free Land," which was published in her first book of poetry, Poems on Miscellaneous Subjects:
Make me a grave where'er you will,
In a lowly plain or a lofty hill;
Make it among earth's humblest graves,
But not in a land where men are slaves.

I could not rest, if around my grave
I heard the steps of a trembling slave;
His shadow above my silent tomb
Would make it a place of fearful gloom

I could not sleep, if I heard the tread
Of a coffle-gang to the shambles led,
And the mother's shriek of wild despair
Rise, like a curse, on the trembling air.

I could not rest, if I saw the lash
Drinking her blood at each fearful gash;
And I saw her babes torn from her breast,
Like trembling doves from their parent nest.

I'd shudder and start, if I heard the bay
Of a bloodhound seizing his human prey;
And I heard the captive plead in vain,
As they bound, afresh, his galling chain.

If I saw young girls from their mother's arms
Bartered and sold from their youthful charms,
My eye would flash with a mournful flame,
My death-pale cheek grow read with shame.

I would sleep, dear friends, where bloated Might
Can rob no man of his dearest right;
My rest shall be calm in any grave
Where none can call his brother a slave.

I ask no monument, proud and high,
To arrest the gaze of the passers by;
All that my yearning spirit craves
Is – Bury me not in a land of slaves!
SOURCES
PBS.org: Abolitionism
Pennsylvania Hall Historical Marker
Wikipedia: Female Slavery in the Antebellum Period
Female Anti-Slavery Society, Salem, Massachusetts (1832-1866)