Bride-To-Be of Stonewall Jackson of the West
Susan Tarleton was born January 6, 1840 in Talladega County, Alabama. She was the daughter of a cotton farmer in Mobile, Alabama. She attended Barton Academy there and was accomplished in music and literature.
Best Man and Best Woman
Confederate General Patrick Cleburne served as Best Man at the wedding of his friend General William Hardee in Demopolis, Alabama on January 13, 1864. Susan Tarleton, the 24-year-old daughter of an Alabama planter, was the Maid of Honor for Hardee's bride, Mary Foreman Lewis. There Cleburne met Susan and immediately fell in love with her.
He received permission to visit her the following day, and then the two traveled with the wedding party to her hometown of Mobile. They became inseparable during the continuing celebration of General and Mrs. Hardee's new marriage. Mobile officials had organized a military review to honor Cleburne, and Susan was undoubtedly impressed with her new beau as he rode by in his finest uniform.
After his two-week furlough ended, General Cleburne impulsively proposed marriage to Miss Tarleton who responded with neither a yes nor a no. She suggested they should write to each other for now.
A Confederate General
Irish-born Patrick Cleburne emigrated to America in 1849 and settled in Helena Arkansas, where he became a druggist and a student of the law. By 1860, he was a naturalized citizen, a successful property attorney, and very popular with the local residents.
Patrick Cleburne was among the first to answer the call to arms of the Confederate States of America. He raised a company and with it joined the First Arkansas regiment, of which he was almost unanimously elected colonel. He served in Arkansas before being named as commander of the state unit. At the head of the Yell Rifles, he then transferred with William J. Hardee to central Kentucky & was promoted to brigadier general.
Image: General Patrick Cleburne
After the Battle of Chickamauga, Cleburne achieved lasting military fame for his defense of Tunnel Hill (November 25, 1863) on Missionary Ridge in Tennessee. Hoping to force the Confederates out of their position on Missionary Ridge, General Ulysses S. Grant attacked the Confederate line on both flanks at once.
On the morning of November 25, 1863, General William Tecumseh Sherman's troops attacked General Patrick Cleburne's division on Tunnel Hill, the northern end of the Confederate line, with little success. Cleburne's troops were forced into a salient (that could be attacked from multiple sides) and their line almost broke, but reinforcements arrived in time to launch a counterattack.
Cleburne's Confederates routed Sherman's men and captured numerous Federal prisoners. Cleburne received high praise for his actions at the Battle of Ringgold Gap (November 27, 1863) in North Georgia and for covering the Confederate retreat from Chattanooga.
Cleburne's brilliant strategy on the battlefield earned him the nickname of Stonewall of the West.
Slaves Fighting for the Confederacy
In January 1864 Cleburne met with General Joseph Johnston and others of the exhausted Western army. Cleburne presented a proposal that, in order to reinforce the Confederate Army's thinning ranks, slavery should be abolished and blacks should be recruited for military service on the promise of their freedom after the war.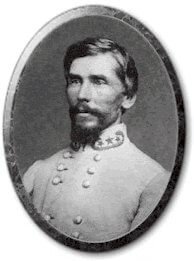 Image: General Patrick Cleburne
His concept was shocking to some, endorsed by others, but Confederate President Jefferson Davis ultimately rejected the proposal at the urging of Braxton Bragg, Cleburne's previous commander in the West. Bragg had been relieved of his command in the army and was now serving as military advisor to Davis in Richmond. However, the Confederate Congress passed the measure a few months after Cleburne's death.
Love by Letter
Cleburne agreed to continue his courtship of Susan Tarleton by mail, and would later confess to a friend that he "fell in love with Miss Sue on first sight" and that he was determined to marry her. Cleburne returned to the army at Tunnel Hill, Georgia, and his staff immediately noticed a difference in his behavior. As promised, Cleburne and Miss Tarleton began a long distance romance by faithfully writing letters to each other, and the general soon came to the conclusion that Susan truly was the one for him.
The general had gone three years without taking leave, and now he was requesting his second in six weeks to return to Mobile, and again seek her hand in marriage. With the army secure in its winter quarters, Cleburne received a twelve-day leave in late February and hurried back to Mobile and received the answer he sought. "After keeping me in cruel suspense for six weeks," he wrote, "she has at length consented to be mine and we are engaged." He left Mobile the day after.
The betrothed couple hoped to reunite in Georgia in June, but General Sherman's drive on Atlanta prevented the visit. That same month, Cleburne received official notice that his younger brother, Captain Christopher Cleburne, who was killed in the Battle of Cloyd's Farm in Virginia while serving in General John Hunt Morgan's Cavalry.
Cleburne in the Atlanta Campaign
Many historians agree that the most brilliant episode of the Atlanta Campaign in the spring and summer of 1864 was Cleburne's victory at Pickett's Mill against General Oliver O. Howard's corps of Sherman's army.
After the fall of Atlanta in early September 1864, Cleburne hoped he might take another leave. He had hinted in his letters to Susan that he hoped he would return to his command a married man. He requested another furlough in October, but once again, his army duties interfered with his plans. Susan Tarleton complained to her friend Sallie Lightfoot:
I received a letter from the General which put an end to my writing for the day, and sent me off for a good cry. You must know he had been counting on a furlough for some time and expected to get it about the first of this month. Well! On the 28th when he went to apply, [General John Bell] Hood informed him that the next day his Corps was to move across the Chattahoochee and take such a position in Sherman's rear as would break up his communications. This puts an end to his visit, and what grieves me more, is but the commencement of another long arduous campaign. I don't know how I am going to get through it. …
Disheartened by the derailment of his marriage plans, the general gave a speech to his men at Powder Springs, Georgia on October 2, 1864, in which he said:
If this cause that is so dear to my heart is doomed to fail, I pray heaven may let me fall with it, while my face is toward the enemy and my arm battling for that which I know to be right.
Battle of Franklin
On November 30, 1864, ordered his Army of Tennessee to assault a nearly impregnable Federal fortification in the town of Franklin, Tennessee. General Daniel Govan told Cleburne, "Few of us will ever return to Arkansas." "Well, Govan," Cleburne replied, "if we are to die, let us die like men."

Image: Patrick Cleburne by Don Troiani
General Cleburne leads his Division in the assault on the earthworks built by Union troops around Franklin, Tennessee.
General Cleburne mounted his horse and led his men forward. His horse was soon shot from under him, and a second was wounded before he could completely mount it. Undaunted, Cleburne led the charge on foot, with his sword raised high and pointing toward the enemy breastworks. He and his men conducted numerous frontal assaults against the fortified positions of Union forces under General John Schofield but were unable to break through.
As the gallant Cleburne charged forward, his men on his heels, a minnie ball pierced his chest, killing him instantly at the age of 36. One of Cleburne's soldiers, John McQuade of Vicksburg, Mississippi later wrote:
I and two others were the first to discover his dead body at early dawn the next morning. He was about 40 or 50 yards from the works. He lay flat upon his back as if asleep, his military cap partly over his eyes. He had on a new gray uniform, the coat of the sack or blouse pattern. It was unbuttoned and open; the lower part of his vest was unbuttoned and open. He wore a white linen shirt, which was stained with blood on the front part of the left side, or just left of the abdomen. This was the only sign of a wound I saw on him. … I have always been inclined to think that feeling the end was near, he had thus laid himself down to die. … He was in his sock feet, his boots having been stolen. His watch, sword belt and other valuables were all gone, his body having been robbed during the night.
Cleburne's loss was a disastrous blow to the Army of Tennessee, and he was mourned throughout the South. His body was carried to the McGavock home at Carnton Plantation in Franklin. His remains were later laid to rest at St. John's Episcopal Church near Mount Pleasant, Tennessee.
Goodbye, My Love
At home in Mobile, Alabama, Susan Tarleton waited anxiously for word from General Cleburne. Union raiding parties had destroyed telegraph lines into the city, and its citizens were virtually cut off from the rest of the country. Susan was walking in her garden six days later when a newsboy shouted: "Big battle near Franklin, Tennessee! General Cleburne killed! Read all about it." Susan fainted on the spot.
After spending a year confined to her bedroom in deepest mourning, Susan Tarleton continued her life. In 1867 she married her brother's college friend and former Confederate officer Hugh Cole. Less than a year later, they were awaiting the birth of their first child when Susan died unexpectedly on June 30, 1868. Her death was caused by an effusion of the brain – an abnormal collection of fluid within the brain cavity.
Image: Patrick Cleburne Monument
Ringgold Gap, Georgia
A Hero's Return
In April 1870, Cleburne's former law partner Leonard Mangum and friend Dr. Hector Grant traveled to Memphis, Tennessee to retrieve Cleburne's remains. Black-plumed horses draped in black crepe and green ribbons pulled the hearse from the railroad station to the wharf. Jefferson Davis and other former Confederates followed behind while people lined the streets to bid the fallen hero a sad farewell.
On April 27, 1870, Cleburne's remains were reburied in Helena, Arkansas. Businesses closed and draped their storefronts in black crepe. As noted in local newspapers, "a cortege of carriages a quarter mile long carried the ladies of Phillips County who bore in their hands wreaths and festoons of flowers to decorate the hero's grave."
SOURCES
Wikipedia: Patrick Cleburne
Findagrave: Susan Tarleton Cole
Historynet: Miss Tarleton and General Cleburne