She Painted Backgrounds for Audubon's Famous Birds
Maria Martin Bachman was one of the most influential woman in natural history in the nineteenth century. She is best known as a skilled illustrator of flora and fauna who worked in collaboration with the famed naturalist and artist John James Audubon.
Early Years
Maria (pronounced ma-RY-ah) Martin, the youngest of two daughters, was born July 6, 1796 to Rebecca Solars and John Jacob Martin. The widow Rebecca Solar's dower provided generously for the family they would have together, and Martin nurtured it into a fortune. Records of Maria's childhood years were destroyed by General William Tecumseh Sherman's March to the Sea in 1864 during the Civil War.

Maria and her sister Harriet were well educated for their time. They either attended a seminary for young ladies or were tutored at home. Maria's letters reveal that she was well-read in classical literature, music, French, and the natural sciences.
John Bachman
Born in 1790 in eastern New York State near the village of Rhinebeck, while still a boy John Bachman served as secretary of a group that met with representatives of the Oneida Indians. He also enjoyed walking the countryside and sleeping in the woods with a family slave who was familiar with the ways of nature, and he became an ardent outdoorsman at a young age.
While he was in school in Philadelphia, Bachman met naturalist Alexander Wilson, an early expert on birds of North America. His book American Ornithology inspired students of natural history (naturalists) in the fledgling United States. Wilson introduced Bachman to Prussian botanist Friedrich Heinrich Alexander, aka Baron von Humboldt.
These men showed Bachman that studying natural history was an acceptable vocation, and he took great pleasure in his scientific study of small mammals, wildflowers, and all kinds of plants and wildlife.
Image: John Bachman
In January 1815, Lutheran minister and naturalist John Bachman arrived in Charleston to serve as the new pastor of St. John's Lutheran Church. Maria's sister Harriet married Bachman in 1816. While teaching at the College of Charleston, Bachman joined a group who called themselves a Circle of Naturalists – consisting of physicians and students of nature from the faculty of the College of Charleston and the Medical College of South Carolina. Charleston became a center of Natural History, attracting such notables as Louis Agassiz.
In 1827, at age 31, Maria began living with her ailing sister and her husband. Harriet was suffering from chronic tic douloureux – a severe, stabbing pain on one side of the face. Maria Martin moved into the Bachman house to care for her ailing sister, and Maria became surrogate mother and tutor to the nine Bachman children. She taught the children piano and wrote out her brother-in-law's sermons.
John James Audubon
Maria Martin was still residing with the Bachmans in October 1831 when John James Audubon arrived in Charleston. Already a well-known artist and ornithologist, he had published the first volume of Birds of America (1827-1838) as a series along with the accompanying text, Ornithological Biography, or an Account of the Habits of Birds of the United States of America (1827-1839).
He was notable for his extensive studies documenting all types of American birds and for his detailed illustrations that depicted the birds in their natural habitats. His major work, Birds of America, is considered one of the finest ornithological works ever completed. Audubon had identified twenty-five new species.
Audubon was on a trip to attract more subscribers to his publications and to discover birds of the Southeast and West for his future books. Bachman and Audubon met through scientific circles and became lifelong friends. They became relatives six years later when Bachman's daughters Maria and Eliza married Audubon's sons Victor and John.
Audubon stayed at the Bachman home whenever he was in Charleston, and he and Bachman spent a great deal of time together collecting specimens along the coastal plain of South Carolina. Maria and the rest of the family were excited about their adventures in the fields surrounding Charleston. The men were always eager to show the birds they had shot as specimens or that Audubon had sketched.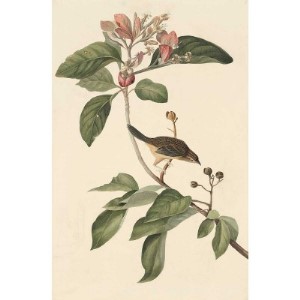 Image: Bachman's Sparrow
Using a specimen obtained from a neighbor's garden, Maria Martin Bachman painted a branch of the rare fever tree on which the Sparrow perches.
Bachman's Sparrow
In a journey to Florida in the spring of 1832, Audubon discovered several new species. After returning to Charleston, Audubon and his assistants worked almost a month painting the Black Crowned Night Heron, the Common Egret, and the bird Audubon named Bachman's Sparrow for his friend John Bachman:
In honoring … this Finch with the name Bachman, my aim is to testify to the high regard in which I hold that learned and most estimable individual, to whose friendship I owe more than I can express on this occasion … I have represented a male in full summer dress, which was presented to me, while yet quite fresh, by my friend Bachman. On my return from the Floridas to New York in June 1832, I travelled through both the Carolinas, and observed many of the Finches on the sides of the roads cut through the pine woods of South Carolina.
Painting the Scenery
When Audubon discovered Maria's obvious talent in illustration, he encouraged her and kept her well supplied with painting materials. She was excellent at illustrating the flowers and plants surrounding his birds in their natural habitat. Critics would later describe her renderings as particularly good because they were scientifically accurate yet presented with an artist's sense of color and natural beauty.
John Bachman wrote to Audubon, who went north for the winter of 1832-1833:
Maria has figured for you the white hibiscus and also a red one, both natives and beautiful; a suanymus in seed in which our Sylvia is placed; the white nondescript rose; the gordonia, a begonia, etc.
Audubon begged for more of Maria's flowers; he was "extremely desirous of introducing them in my second volume." Maria began painting the scenery for Audubon's bird portraits. This arrangement allowed Audubon focused on the birds while she painted the natural features surrounding them. He painted the Fork-Tailed Flycatcher he had sketched earlier directly onto Maria's drawing of a Gordonia or Loblolly Bay branch with flowers. He used her Red Hibiscus in Anna's Hummingbird, and her Begonia in the Mango Hummingbird.
Maria then studied insects in order to add them to her illustrations for Audubon. Her beetles, butterflies, caterpillars, worms, spiders set his work apart from other artists. He paid Maria Martin the ultimate compliment when he wrote his son Victor from Charleston:
Miss Martin with her superior talents, assists us greatly in the way of drawing; the insects she has drawn are, perhaps, the best I've seen.
Double Elephant Folio
Audubon's four-volume series Birds of America – published in a series between 1826 and 1838 – consists of 435 hand-colored plates of birds, which much of the world had never seen before. It is called the Double Elephant Folio because it was printed on double elephant paper, the largest size of paper available at the time. This project consumed 14 years of Audubon's; each volume measures more than three feet by two feet.
Maria Martin Bachman created many of the paintings and watercolor drawings of flowers and insects in volumes two and four. Although they were often overlooked, the background illustrations were important contributions to natural history as well as the birds. Her work with Audubon became common knowledge.
As a result of Audubon's encouragement years before, Maria Martin Bachman became one of the few women artists to develop talent in natural history illustration in 19th century America. She continued to work as an artist, contributing drawings for North American herpetology: or, A description of the reptiles inhabiting the United States (1836-1840) by zoologist and naturalist John Edwards Holbrook.
Quadrupeds: From Birds to Beasts
In 1839 Audubon decided that his next project would be about North American quadrupeds. Audubon acknowledged that Bachman knew far more than he about the habits of these creatures, so he asked him to collaborate. Bachman turned down the presidency of South Carolina University to work on this project. This was a monumental effort, considering that most of the animals are nocturnal.
Together they created the three-volume The Viviparous Quadrupeds of North America (1845-1851). Audubon painted North American four-legged land mammals while Bachman supplied much of the scientific knowledge to identify and name the animals. Maria Martin Bachman helped with the companion text for each of the three volumes and painted background features for The Viviparous Quadrupeds of North America.
In 1846 Harriet Bachman died. In 1848 Maria Martin, age 52, married her brother-in-law John Bachman, now 56 and losing his eyesight.
Maria Martin Bachman's achievements are even greater when placed in the context of the first half of the 19th century when women were rarely encouraged to develop their talents or make them public. Audubon so respected her work that he named a bird for her, Maria's Woodpecker:
In honouring this species with the name of Miss MARIA MARTIN, I cannot refrain from intimating the respect, admiration, and sincere friendship which I feel towards her, and stating that, independently of her other accomplishments, and our mutual goodwill, I feel bound to make some ornithological acknowledgment for the aid she has on several occasions afforded me in embellishing my drawings of birds, by adding to them beautiful and correct representations of plants and flowers.
On January 27, 1851 John James Audubon died in New York City, at age 64. With the assistance of Audubon's sons, John Bachman published the third and final volume of the Imperial Folio of The Viviparous Quadrupeds of North America.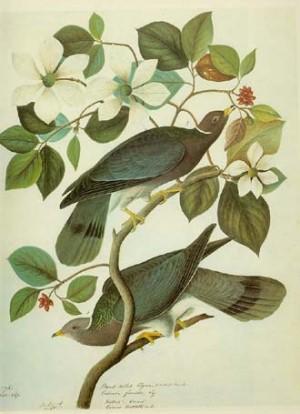 Image: Band Tailed Pigeon
Maria Martin Bachman painted the dogwood flowers and the branch on which the birds sit.
Civil War
On December 20, 1860, Reverend Bachman led an opening prayer as the Secession Convention met in Charleston to vote for secession from the Union. The Ordinance of Secession passed unanimously.
On April 12, Confederate forces fired on Fort Sumter in Charleston harbor, setting of the American Civil War. Life was difficult for John Bachman during the War. The blockades prevented normal scientific communication, and there was constant fighting in and around Charleston.
Maria Martin Bachman died December 18, 1863 in Columbia, South Caroline at age 67.
One of Bachman's sons was mortally wounded fighting for the Confederacy. As the war progressed, the Confederate military melted down his church's new bell for ammunition.
During the final Union siege and capture of Charleston, Bachman attempted to flee, but Union troops detained his party and beat him very badly, leaving him with a paralyzed arm. Bachman's church, school, and library were left in ruins, and many of his collections and Maria's sketches and paintings were destroyed.
With the end of the Civil War, Bachman concentrated his efforts on his role as pastor of St. John's, retiring in 1871. John Bachman died at Charleston, South Carolina February 24, 1874 at age 84.
SOURCES
Wikipedia: John Bachman
John Bachman's Personal Background
Charleston Museum: Maria Martin Bachman
Charleston County Public Library: 1831-1832
Maria Martin Bachman and John James Audubon
Setting the Scene for Audubon's Birds: Maria Martin Bachman
Sierra College Natural History Museum: Maria Martin Bachman
Until Darwin: Audubon's Birds and some often Overlooked Contributions of Women to Natural History