Pioneer in Education in Early Missouri
Mary Easton Sibley was an early American pioneer and educator. In 1830, she and her husband founded a girls' school in St. Charles, Missouri that would become the Lindenwood College for Women, the first women's college west of the Mississippi River. Today, Lindenwood University is a major coeducational institution that continues to honor Sibley and her dedication to education for women.
Image: Map of the Louisiana Purchase
Including exploration routes of the early 1800s
Early life
Mary Easton was born January 24, 1800 in Rome New York, the first of eleven children born to Rufus Easton and Alby Smith Easton. In 1804, President Thomas Jefferson appointed Rufus Easton territorial judge of the Louisiana Territory, and the family moved to St. Louis. Rufus Easton became a prominent St. Louis attorney and Missouri's second Attorney General.

President Jefferson asked Easton to keep an eye on the Territorial Governor General James Wilkinson, who was suspected of collaborating with Vice President Aaron Burr, who wanted the western part of the United States to secede and form a separate country. It appears that Wilkinson was planning a coup in the West, but it has never been determined whether they were attempting to separate the western territories from the Union, or to conquer Texas without officially involving the United States Government.
Mary Easton had strong opinions about girls and their place in the world, writing in her journal that they should not be:
… helpless, dependent creatures, mere Doll babies … for exhibition decorated with external accomplishments, very pretty to hold in the Drawing room or Ball room but of no manner or use either to themselves or their fellow creatures, when called upon to take their stations in life as wives, mothers, and heads of family. Then they need to be practically and experimentally and what is more — worth more than all habitually acquainted with the various duties of domestic economy and arrangement. When this is combined with a liberal education then women become the pride, the comfort, the stay of their relatives and friends.
Family records indicate that Mary attended boarding school in Shelbyville, Kentucky, and according to her diaries, she had returned to her family in St. Louis by 1815. Details of this period of Mary's life have mostly been lost to history, but Mary may have met her future husband George Champlin Sibley at one of the dances she loved to attend with friends. Sibley was an interesting character – an explorer, soldier, Indian agent, politician and educator then stationed at Fort Osage, on the Missouri River west of St. Louis.
Fort Osage
Fort Osage was one of three forts established by the U.S. Army to establish control over the newly acquired Louisiana Purchase territories. William Clark had noticed the spot while on the Lewis and Clark Expedition, and he led a team back to the site in September 1808 to begin construction of Fort Osage. Fort Osage was built on a strategic bluff overlooking the Missouri River, west of St. Louis. The height and location of the bluff provided a clear view of the river for many miles.
In November 1808 Pierre Chouteau negotiated a deal for Fort Osage to be built for the protection of the Osage Nations. In order to get the protection, the Osage ceded all of Missouri east of the fort. The Great Osage were to receive $1,000 and the Little Osage were to get $500.
What was called the factory system in the United States was established in 1796 under President George Washington and expanded by President Thomas Jefferson into the Louisiana Territory. The factor's job was to run the factory or trading post and to trade quality goods at a low price with the Indian tribes in order to establish good relations with them.
George Champlin Sibley was the factor at Fort Osage from 1808 until 1822. His duties included bookkeeping, supervising the trade room, processing furs and attending to Indian affairs. For this work, Sibley was paid an annual salary of $800 until 1811, when he received a raise of $300. This salary can compare in today's economy of around $90,000 a year. The United States factory system was discontinued by Congress in 1822 due to pressure from the rival fur trade interests.
Fort Osage was one of the first United States military installations in Louisiana Territory became a major stopping point for visitors traveling the Missouri. Daniel Boone visited in 1814 at the age of 81, while on one of his last hunting trips. Sacagawea and her husband Toussaint Charbonneau also stayed at the fort on their way back north to Dakota Territory.
As the Osage Nations ceded more and more of their land a new trading post at Fort Scott, Kansas was established closer to the ancestral villages near the headwaters of the Osage River near Nevada, Missouri and its Osage mission formally ended in 1822.

Image: Reconstructed Fort Osage as it appears today
Rebuilding began in the 1940s with a single blockhouse. Now there are five blockhouses, a barracks, a forge and the factory or trading post. The small community that grew up around the reconstructed fort is called Sibley.
Marriage and Family
Mary Easton married George Sibley August 19, 1815; she was 15; he was 32. They were married for 48 years. Due to George's duties as a factor, the newlyweds quickly returned to Fort Osage. Mary was pampered even on the frontier. When she came to the Fort, she brought with her several keelboats worth of household goods and clothing and person items, along with her younger sister and an entourage. The original fort accommodated approximately 100 residents, military and civilian.
Soon after his wedding to Mary, George wrote about her to his father and brother:
I was married yesterday evening at seven p.m. to Ms. Mary Smith Easton, the eldest daughter of the Honorable Rufus Easton of this place. I anticipate the question from you-all. Do you intend to take this charming wife with you among the Indians? Yes. She has long ago expressed her willingness to live anywhere with me. Until I can withdraw from the Indian Service she will willingly share with me the privations of a forest life. … [I] had the singular good fortune to obtain a young lady to be my friend and companion through life who will not deceive my hopes for happiness.
Mary remained with George at Fort Osage until it closed in 1825 and at some point began teaching the children at the fort. Between 1822 and 1825, George was Postmaster General for the area, while also trying unsuccessfully to start up a privately owned trading post. When the trading post failed, George found work as the lead commissioner who surveyed and made a map of the Santa Fe Trail.
Move to St. Charles
When work on the Santa Fe Trail ended in 1827, the Sibleys moved to St. Charles, Missouri. When Missouri was granted statehood in 1821, the legislature decided to build a "City of Jefferson" to serve as the state capital. Since the land on which they planned to build the state capital was undeveloped, a temporary capital was needed. St. Charles beat eight other cities in a competition to house the temporary capital.
Mary's parents were living in St. Charles, where her father Rufus Easton was serving as Attorney General of Missouri. As the Sibleys settled in St. Charles, Mary started a small school in town, teaching her sister Louisa and a few town girls in her home. Mary wrote in her diary that she was tutoring the children of German immigrants using a bilingual Bible to teach the girls English. She began teaching several slave girls, but slaveowners worried that enlightened blacks might stage a rebellion, and she was quickly forced to stop.
According to the deed on record, the Sibleys purchased 280 acres of land August 4, 1829, property that had originally been part of the common fields of the town of St. Charles. The land was known as Linden Wood because of its numerous linden trees. George began clearing the overgrown property to start a farm with livestock brought from Fort Osage after its closing.
While George cleared the land for farming, a home was built on the property. Construction of a cabin and outhouses was completed and they moved to Lindenwood in December 1829. As work on Lindenwood continued, the idea of opening a boarding school for girls evolved. Mary Sibley's twelve-year-old sister, Alby became the first student at Lindenwood in the fall of 1830. A year later the first two paying students arrived.
Lindenwood School for Girls
By 1831, a log cabin was built to house boarding students, as well as additional classroom space. Mary Easton Sibley served as the school's headmaster, while George helped with maintenance and additions to the property as enrollment at the boarding school grew. In early 1832, the Sibleys made plans to expand the cabin to house more than a dozen students.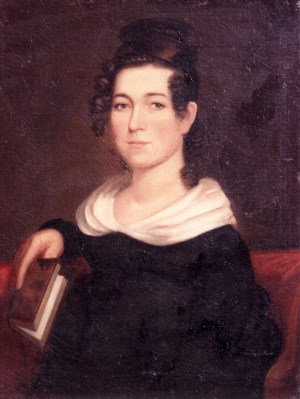 During the 1830s the school was known as the Lindenwood School for Girls, the second oldest higher-education institution west of the Mississippi River. Mary took charge of the boarding school and developed a strict curriculum that included literature, grammar, writing, spelling and diction. French, music and piano, landscape painting, flower painting and needlework were available for an additional fee. The school was one of the first to require physical education, which included walking and dancing.
Image: Mary Easton Sibley in the 1830s
Painted by Chester Harding
By the 1840s, the boarding school had grown to thirty students. As enrollment increased, the Sibleys added new rooms to the cabin. The continued improvements created a financial strain on the school and Mary Sibley traveled to the East Coast to solicit additional funding. She succeeded in raising enough money to keep the school in operation.
In the early 1850s, the school was again on the brink of closing due to financial issues. The Sibleys decided to retire from education and in 1853 deeded Lindenwood over to the Presbyterian Church. In 1853 the school was incorporated by special act of the Missouri Legislature and became known as the Lindenwood College for Women, the first women's college west of the Mississippi.
On July 4, 1856 the cornerstone was laid for a new brick building to replace the original log cabins. The new building, named Sibley Hall, was completed in July 1857, and at the time contained the entire school.
The Sibleys moved to a new home, which they built close to the Lindenwood property. By this time, George Sibley was considered an invalid; he led a quiet life until his death on January 31, 1863.
Late Years
Soon after George died in 1863, Mary Sibley sold her house and moved to St. Louis to be near her sister Louisa Gamble. In 1866, Mary joined an organization called the House of Bethany, which was created by prominent St. Louis philanthropist James E. Yeatman. Women members of the organization provided food and medical care for the needy, while promoting their Christian beliefs. After the House of Bethany closed in 1869, Mary moved back to St. Charles, living in a house near the edge of the Lindenwood campus.
In 1873, Mary received a letter from a Japanese man named Isaac K. Yokoyama who requested that she send educators to Japan who could spread Christianity. At the age of 73, she left New York City and traveled by boat to Panama, crossed the Isthmus, and reached California. But before she left the United States she realized that the journey would be too difficult for someone her age and returned to St. Charles.
On June 20, 1878, Mary Easton Sibley died at the age of 78. She is buried in a small family cemetery behind Sibley Hall where George is also interred.
Today Lindenwood University has an annual enrollment of more than 12,000 students in all programs, including 5,662 undergraduate day students at its 500-acre academic and residential campus in St. Charles, Missouri.
SOURCES
Wikipedia: Fort Osage
Wikipedia: George C. Sibley
Wikipedia: Mary Easton Sibley
Wikipedia: Lindenwood University
The Indomitable Mary Easton Sibley: Pioneer of Women's Education in Missouri