First Woman Eye Surgeon and Prison Reform Activist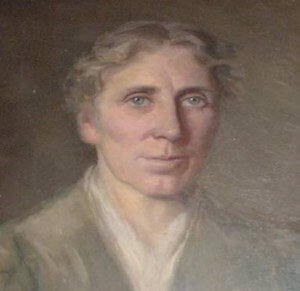 Image: Dr. Bella Chapin Barrows
Credit: Hartland Historical Society
Artist unknown
Dr. Bella Chapin Barrows accomplished many firsts in her 68 years of life. She was the first woman employed by the U.S. State Department, first woman to have a private medical practice in Washington DC, first woman ophthalmologist (a specialist in eye ailments) in the United States, first woman eye surgeon, and first woman professor at a medical school (Howard University).
Early Years
Born Isabel Hayes April 17, 1845 in Irasburg, Vermont to Scottish immigrants Dr. Henry Hayes and Anna Gibb Hayes. Young Isabel – called Bella by everyone – helped her father on house calls by tending to wounds and packaging medications. The family moved to Derry, New Hampshire in spring 1856, when Dr. Hayes took over the medical practice of another physician. After receiving her primary education, Bella enrolled at the Adams Academy in Derry, originally run by Zilpah Grant and Mary Lyon. After graduation in 1862, Bella taught in one of Derry's one-room schoolhouses.
William Chapin
While visiting Charlotte Chapin, head of Mt. Holyoke Seminary in South Hadley, Massachusetts, Bella met Charlotte's brother William Wilberforce Chapin, a Congregational minister eight years Bella's senior. Bella had planned to teach botany at Mt. Holyoke, but instead was forced to return home to New Hampshire to care for her ailing mother. Chapin graduated from Andover Seminary in 1863 and was ordained on September 24 that same year.
William and Bella were married two days later, September 26, 1863 in a Derry church. Her mother died a month after the wedding and her father died the next year in Tennessee as a U.S. Army surgeon in the Civil War.
The first church assignment for Reverend William and Bella Chapin was to serve as missionaries in Bombay, India. In January 1864, the Chapins traveled to India with the intention of completing a ten-year missionary assignment together. Tragedy marred the trip when Bella miscarried their first child, but she recovered. They were stationed in a rural area of India in a place called Pimplus, and made their home in a mud hut.
Three months after their arrival, William became ill, and though he recovered, he continued to have fevers off and on while preaching across India. Since they were living in such a remote area, by the time they were able to seek medical care it was too late. William Chapin died March 22, 1865 at the age of 28, leaving his wife a widow at the age of 19. Bella remained in India for ten months teaching at a school for girls, and then returned to the United States.
Samuel June Barrows
A young widow with no family and few prospects, Bella had to find a way to support herself. She soon found a job at Dr. James Jackson's Water Cure Hospital in Danville, New York, where she was trained in hydropathy – the use of water to relieve pain. At the hospital, Bella fell in love with Jackson's secretary and stenographer Samuel June Barrows. Stenography was a method of writing down the spoken word very quickly using a special type of writing called shorthand.
Ending her work at the hospital, Bella and Samuel became engaged in 1866 and moved to New York City. Unable to afford a wedding, they arranged a betrothal ceremony in which they promised to support each other financially and emotionally to achieve their personal goals. Bella began to study shorthand while Samuel worked as a stenographer.
Bella and Samuel were officially married June 28, 1867 by Reverend Henry Ward Beecher. The bride and groom were both twenty-two years old. Shortly after the wedding, Bella expressed her desire to follow in her father's footsteps and become a doctor. Samuel encouraged her to follow her dream, but he was soon hired as personal secretary to Secretary of State William Seward. Ever the good wife, she put her plans aside and moved with her husband to Washington DC.
The next summer Samuel took critically ill with typhoid fever and would be required to spend several months as a bedridden invalid. With no money coming in, Bella knew she needed to find employment. She approached Secretary Seward and told him that Chapin had taught her shorthand and that she could do his job. She passed a dictation test, and was immediately hired, the first woman in our country's history to work for the State Department and she received equal pay for her work. This was only the first of many of her firsts.
Medical Education
After Samuel recovered, Bella left him in Washington to continue at his position there while she moved back to New York City in 1869 and enrolled at the Woman's Medical College of the New York Infirmary for Women and Children founded by Dr. Elizabeth Blackwell. Her stenography skills were invaluable in her note taking for her course work.
Bella Barrows developed an interest in surgery while attending Women's Medical College. After graduating in 1869, leaving Samuel in the United States, she traveled to Europe in 1869, where she studied under Professor Johann Friedrich Horner at the University of Zurich in Switzerland. There she developed a love for the human eye and began an in-depth study of ophthalmology.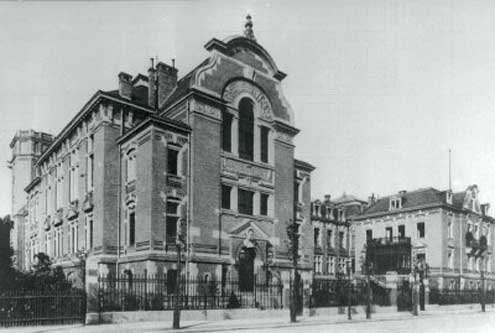 Image: University of Leipzig, Germany
One of the European colleges where Bella Chapin Barrows finished
earning her medical degree
Bella then studied with the world's leading medical doctors at the University of Leipzig in Germany, where she finished earning her medical degree. She then continued her studies at the clinics of Ferdinand Arlt and Eduard Jaeger at the University of Vienna. While she was there, Professor Jaeger greatly surprised Bella and his students one day by inviting her to perform cataract surgery. The operation went quickly and smoothly without anesthesia and "without a tremor," to Dr. Jaeger's delight.
Career in Medicine
Bella Chapin Barrows, M.D. returned to Washington DC, where she had a sign painted "to tell the world that there was [a woman] oculist," and hung it outside her office at 628 F Street, becoming the first woman to have a private medical practice in Washington, DC and America's first woman eye surgeon.
Howard University School of Medicine hired Dr. Barrows as professor of ophthalmology, the first woman professor at Howard. By hiring a female, the school risked censure by the American Medical Association (AMA), whose Code of Medical Ethics required physicians be "recognized by this Association." Although the AMA strongly advocated the recognition of regularly educated and qualified female physicians by 1868, the first female member was not admitted until 1876.
Following a previous arrangement, once Bella completed her education, Samuel enrolled at Harvard Divinity School in Cambridge, Massachusetts. To supplement the family income, Bella continued on at all her positions in Washington, including working as a stenographer for congressional committees. Between 1870 and 1873, Dr. Barrows was in charge of all eye and ear cases at Freedmen's Hospital in Washington, which was established to care for the many African Americans who had flocked to the capital during the Civil War seeking freedom.
Bella also sought work at the Capitol according to these excerpts from We the Women: Career Firsts of Nineteenth Century America, by Madeleine Stern:
The offer of work at the Capitol while Congress was in session, brought to Isabel the unprecedented opportunity for a woman [the first woman] to report hearings before committees on finance and commerce, public lands and Indian matters. … In the House committees, discussions were so spirited and rapid that a verbatim report required all the stenographic skill she could muster. Her work was an education in itself… She earned her pay as her long day testified:

I rose at five and… prepared breakfast. … At nine I was in the classroom of the university. Then from there I flew to F Street to my office, where I had an hour only a day that winter. Then to the Capitol where from twelve till four, sometimes longer, I had not a moment to call my own. … I did not even stand up once from one at noon till one in the middle of the night. … I earned all that I had and never felt guilty when I received and kept my share of the back-pay that made so much talk. … That winter, from all sources combined, I earned $400 a month.
Dr. Bella Chapin Barrows left her medical practice in 1873 to give birth to a daughter, Mabel Hayes Barrows, who would grow up to be a director, dancer, and women's suffrage activist. Mabel would marry economics professor Henry Mussey of Columbia University, who would later serve as editor of the reforming periodical The Nation.
Career in Prison Reform
The Barrows family then moved to Dorchester, Massachusetts, where Samuel served as a Unitarian pastor at Meeting House Hill. In 1880, Bella and Samuel Barrows became editors of the Christian Register, a Unitarian monthly magazine known worldwide for its progressive ideas on social reform. She worked as both a journalist and editor covering controversial issues. For the next sixteen years, they worked tirelessly for several social reform movements: women's rights, temperance, peace, education, immigration reform, black civil rights, and prison reform.
In 1897, the people of Massachusetts elected Samuel Barrows to the U.S. House of Representative; they did not reelect him. Instead of returning to prior career choices, Samuel accepted a position as secretary of the New York Prison Association (1899-1909) and moved the family to Staten Island, New York. He attended the International Prison Congress in 1895, 1900, and 1905 as an American delegate.
Dr. Bella Barrows' contributions to the drive for prison reform was nearly as distinguished as Samuel's. Her membership in the Women's Committee to Inspect Women's Institutions gave her a place of authority in the debate over the poor condition of prisons. She was also secretary of the Lake Mohonk Conference on black rights for seventeen years.
For quite a few years she acted as stenographer and editor for a many conferences, including the National Conference of Charities and Correction and the National Prison Association. She was secretary of the Lake Mohonk Conference on black rights for seventeen years. These conferences gave Bella the opportunity to use her skills as a stenographer and to participate as a key player of reform movements of the day.
Late Years
The year 1900 marked a major change in Bella's life when she began writing articles and books with her husband about prison reform and the treatment of the feeble minded. She was the author or co-author of numerous books and magazine articles about reform and lectured all over the United States and Europe. The Republic of France made her a member of the Order of Chevaliers in honor of her career in social reform.
In 1909 Bella traveled to Saint Petersburg, Russia to petition for the release of Russian revolutionary Catherine Breshkovsky, who had been imprisoned and exiled to Siberia for more than twenty years for teaching peasants working on her estates to read. After Breshkovsky's release in 1896, she formed a Socialist-Revolutionary group. She escaped to Switzerland and the United States in 1900. After returning to Russia in 1905, she was captured and exiled to Siberia again.
Image: Bella's husband Samuel Barrows
Bella was in Europe attempting to win freedom for Russian revolutionary Catherine Breshkovsky when Samuel Barrows died in 1909. After returning to New York for the funeral, she returned to Russia to continue pleading for Breshkovsky's release.
Samuel had been chosen to serve as president of the 1910 International Prison Congress, but he died before the conference was held. Bella took his place at the Congress in Paris, and continued to work for women's prison reform and human rights issues, both national and international.
Through her novels, newspaper articles, and speeches, her influence was enormous in both social and political arenas. She also wrote A Sunny Life, a biography of Samuel June Barrows, which was published by Little, Brown and Company in 1913 just months before her death.
Bella Chapin Barrows died October 24, 1913 at Croton-on-Hudson, New York.
Bella Barrows' legacy of accomplishments is incredible. She was a missionary in India; first woman to work in the U.S. State Department; first woman eye surgeon in the United States; first woman to have her own medical practice in Washington DC; first woman professor at Howard University. She was also a magazine editor, a published author, and an internationally known activist for prison reform and human rights.
SOURCES
Wikipedia: Isabel Barrows
Bella Chapin Barrows: So Much in a Lifetime
William Wilberforce Chapin Papers, 1860–1865 – PDF
Two Pioneer 19th-Century Women Who Breached Ophthalmology's Glass Ceiling – PDF