Wife of 21st President Chester A. Arthur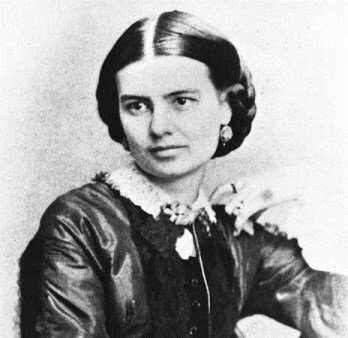 Ellen Lewis Herndon Arthur was the wife of the 21st President of the United States, Chester A. Arthur, but she would not join him at the White House. Ellen died on January 12, 1880, before her husband was elected vice president November 2, 1880; and before James A. Garfield's assassination would have made her first lady, but she has been honorably credited with the role.
Early Years
Ellen Herndon, nicknamed Nell, was born August 30, 1837 at Culpeper Court House, Virginia, the only child of Frances Elizabeth Hansborough and naval commander William Lewis Herndon. When her father was assigned to help establish the Naval Observatory in September 1842, the family moved to Washington, DC. Ellen joined the youth choir at St. John's Episcopal Church across from the White House, and her beautiful voice attracted attention.
Courtship
In 1856, Ellen Herndon was living with her mother in New York City and spending summers with her mother in Saratoga Springs, New York. That summer her Virginia cousin Dabney Herndon, then a medical student, introduced Ellen to lawyer Chester Alan Arthur, with whom he shared rented rooms in New York City. Her singing voice and refined manner attracted the young lawyer, and they soon fell in love. Arthur proposed to Ellen on the porch of the U.S. Hotel in Saratoga Springs after a brief courtship, and she accepted.
At that time, Arthur was establishing a law practice in New York City with a friend, Henry Gardiner. Arthur was a committed abolitionist (Ellen, or course, was not), and he handled legal matters for antislavery organizations like the New York Vigilance Committee. Arthur traveled to Kansas Territory, which was then embroiled in conflict over slavery, to see what he could do.
Arthur considered buying land and opening a law office there, but fontier life did not appeal to him; after a few months he returned to New York City. On his way back, he wrote a letter to Ellen dated August 30, 1857:
This is your birthday – my own precious darling – my own Nell. The remembrance came with my first awaking in the early morning… I have never been with you on your birthday – two years ago, I can not realize it now – neither of us had heard the other's name. … I sat down to write two hours ago, but I could not. … I sat in the coming on of the still, soft Sabbath evening, dreaming of the soft, moonlight nights of June, a year ago in our old place in the window seat – of the happy, happy days at Saratoga – the golden, fleeting hours at Lake George… It has been a happy year to me. The happiest of my life…
Ellen's father, Lt. William Lewis Herndon, was famous for exploring the Amazon River, and he was to earn even more fame when he took command of the merchant steamship SS Central America in 1855. Two years later, while carrying mail and gold from Havana, Cuba to New York, a hurricane off Cape Hatteras, North Carolina tossed the ship about in its strong winds.
Herndon and his crew safely evacuated 152 women and children to another vessel during very severe weather, but the storm damaged his ship so badly that it could not be saved. Herndon and his remaining men went down with the ship, and was hailed a hero. Ellen, age 20, did not know her father well due to his long absences from home serving in the military, and it was reported that she was not greatly affected by his death.
Marriage and Family
Ellen Herndon (22) married Chester Arthur (30) October 25, 1859, at Calvary Episcopal Church in New York City. From rural Vermont, Arthur learned to dress like a gentleman while at Union College, where he was on the debating team, and the ways of high society from Ellen's socially prominent family. The couple threw lavish parties in their Lexington Avenue townhouse in Manhattan.
Ellen Arthur gave birth to three children; the first a son named for her father, William Lewis Herndon Arthur, who lived less than three years (December 1860 – July 1863); Chester Alan Arthur II (1864–1937) was called "the Prince of Washington" and took advantage of all the perks as son of the President; Ellen Nellie Herndon Arthur (1871–1915), still a child while her father was president.
After their wedding, Chester and Ellen Arthur lived with her mother. Arthur was a successful attorney, but the luxurious lifestyle they enjoyed in a three-story brownstone on Lexington Avenue came from her mother's wealth. Thanks to Mrs. Herndon, the Arthurs traveled in the elite circles of New York society from the start.
Chester Arthur, however, was rapidly building his law practice, as well as developing an interest in Republican Party politics. Ellen Arthur sang with the Mendelssohn Glee Club and performed at benefits around New York. While the Arthurs appeared to have a strong marriage, it is likely that Chester's political activities took more of his time than Ellen would have liked.
Civil War
In 1860, New York Governor Edwin Morgan appointed Arthur engineer-in-chief on his military staff. With the outbreak of the Civil War in April 1861, New York was faced with recruiting and equipping more troops than ever before. The governor gave Arthur the rank of brigadier general and assigned him to the quartermaster department. He was so good at housing and outfitting soldiers who poured into New York City that the army promoted him to inspector general, and then to quartermaster general.
Four New York City regiments organized as the Metropolitan Brigade elected Arthur as their colonel, giving him an opportunity to serve at the front. However, Governor Morgan requested that he remain at his post in New York, and he turned it down. Arthur did inspect New York troops at Fredericksburg, Virginia in May 1862, shortly after forces under General Irvin McDowell seized the town during the Peninsula Campaign. This was the closest Arthur came to the front.
During the following summer, Arthur consulted with Secretary of State William Seward before raising additional troops, and then spent the next few months enlisting New York's quota of 120,000 men.
Ellen Arthur remained in her New York home throughout the Civil War, and she and her mother were distraught over the well-being of their relatives fighting for the Confederacy. Tensions developed between Chester and Ellen, whom he referred to as his little rebel wife. However, Arthur helped his wife's family whenever possible.
Ellen's cousin from Fredericksburg, Dr. Dabney Herndon (not General Dabney Herndon Maury, as stated by other sources) was now a Confederate surgeon. Herndon, then a medical student, had introduced Ellen and Chester in New York in 1856. Union forces captured Herndon and held him prisoner. With her husband's help, Ellen visited her cousin in prison, and Arthur later negotiated his release.
With Chester Arthur successfully investing Mrs. Herndon's wealth, she was able to donate substantial monies to Ellen's favorite uncle, Dr. Brodie Herndon Sr., who used the money to repair his home, which had been damaged during the Battle of Fredericksburg in December 1862. Dr. Herndon also supported himself and his three sons – Brodie, Jr., Dabney and James – until they re-established all of their medical practices.
Chester Arthur received much praise for his work as quartermaster general, but his post was a political appointment. When Democratic Governor Horatio Seymour took office in January 1863, Arthur was relieved of his militia duties. He returned to his law practice and, with contacts made in the military and a new clientele suing for war-related damages, for the first time in his career, Arthur began to amass wealth of his own.
His political prospects also improved when New Yorkers elected ex-Governor Morgan to the United States Senate. Thomas Murphy, who sold goods to the Union Army, hired Arthur to represent him in Washington, and the two men became associates in Republican party circles. Arthur and Murphy raised funds in New York for the presidential election of 1864 and attended President Abraham Lincoln's 1865 inauguration.
In 1871, President Ulysses S. Grant appointed Chester A. Arthur collector of the Port of New York. The Arthurs enjoyed life together during this period, and Ellen gladly accepted an invitation to the 1874 White House wedding of the President's daughter, Nellie Grant.
In April 1878, Ellen Arthur received a telegram that her mother had died suddenly in France, where she had been visiting. Ellen was stunned by her mother's death, and she made the trans-Atlantic voyage alone to retrieve her mother's remains. Chester declined to make the trip with her, saying he was too busy to leave his post.
Sudden Death
One evening in early January 1880, after attending a benefit concert in which she sang with the Mendelssohn Glee Club, Ellen Arthur waited outside in the cold for a carriage to take her home. Soon after, she came down with a cold, which developed into pneumonia over the next few days.
An article in the New York Times reported:
[Ellen Arthur] is now lying dangerously ill at her home, suffering from an attack of pneumonia of a serious character. The lady was seized with the malady on Saturday last, General Arthur being at the time in Albany, and early on Sunday her illness had assumed such a severe form that he was telegraphed to return to New York at once. He took passage on a milk train, and reached this city late on Sunday night, and has since then been in constant attendance at her bedside. At a late hour last night, Mrs. Arthur was announced to be in a critical condition, and grave fears were entertained that she would not survive the attack.
Some accounts indicate that she never regained consciousness after his arrival.
Ellen Arthur died January 12, 1880 in New York City at age 42. She was buried in the Arthur family plot in Albany, New York.
Deep Mourning
Chester Arthur was devastated by his wife's death. In his grief, he preserved her room in their New York brownstone exactly as it was when Ellen was alive. The following November, when he was elected Vice President of the United States on a ticket with James A. Garfield, he was still mourning her loss. "Honors to me now are not what they once were," he said at that time.
In September 1881, after Garfield was assassinated, Arthur assumed the office of President. Once in the White House, President Chester A. Arthur hung a portrait of his late wife, and he ordered fresh flowers to be placed there daily in honor of her memory.
President Arthur would not give anyone the place that would have been his wife's. He asked his sister Mary Arthur McElroy served as hostess and unofficial First Lady for social events he hosted as president. She also helped care for the Arthur children – Chester Jr. was then sixteen and Nellie was nine years of age.
Image: President Chester A. Arthur
Official White House portrait
From his office at the White House, Arthur could see St. John's Episcopal Church. He commissioned a stained glass window in Ellen's memory, which depicted angels of the Resurrection and donated it to the church. At the president's request, the church installed the window where he could see it at night with the lights in the church shining through.
Chester A. Arthur never remarried; he died of Bright's Disease, a kidney ailment, November 18, 1886 at age 57.
SOURCES
History.com: Ellen Arthur
Wikipedia: Chester A. Arthur
FirstLadies.org: Ellen Arthur
White House Historical Association: Ellen Arthur