First Woman to Exhibit Her Art at the Paris Salon
Elizabeth Gardner was among the first wave of Americans who sought art training in Paris during and after the Civil War. She was the first American woman to exhibit a painting at the Paris Salon, and the first woman awarded a gold medal there. Her prize-winning painting The Farmer's Daughter sold April 23, 2010 at Sotheby's New York for $494,500, significantly more than the $200,000 to $300,000 estimate.
Image: The Farmer's Daughter (1878)
By Elizabeth Jane Gardner
The painting for which Gardner received a gold medal at the Paris Salon
Early Years
Elizabeth Jane Gardner was born October 4, 1837 in Exeter, New Hampshire. After attending the Young Ladies' Female Academy in Exeter, she attended the Lasell Female Seminary in Auburndale Massachusetts, where she studied languages and art. She graduated in 1856 and for the next few years taught French at the newly opened Worcester School of Design and Fine Arts in Worcester, Massachusetts. Elizabeth longed to become a famous artist.
Art Education
In 1864, Elizabeth Gardner and her former art teacher at the Lasell Seminary, Imogene Robinson, set sail for France. They rented a flat in Paris and obtained licenses as copyists at the Louvre and the Musee du Luxembourg. During that summer they fulfilled commissions they had brought from America by copying paintings in prestigious galleries by contemporary artists and the old masters.
In the autumn Gardner applied to the School of Fine Arts (Ecole des Beaux-Arts), the most prestigious art academy in Paris, but her application was rejected. Like many art establishments at the time, the school had a male-only admissions policy. The banning of women from the L'Ecole des Beaux-Arts was not lifted until 1897, thirty-five years later. Gardner refused to give up; she enrolled in private classes, and developed a large portfolio of work.
Paris Salons
From the seventeenth century to the early part of the twentieth century, artistic production in France was controlled by artistic academies which organized official exhibitions called salons – not to be confused with literary gatherings called salons. These French academies monitor, foster, critique and protect French cultural production. The Academy of Fine Arts (Academie des Beaux-Arts) ran the annual exhibition called the Paris Salon.
In 1868, Gardner (age 30) was the first American women to exhibit a painting at the Paris Salon, one of Gardner's strongest ambitions. That year the Salon jury actually accepted two of Gardner's works. To have a painting exhibited at the Salon was a great moment in the life of an aspiring painter. This honor not only recognized her talent, but enhanced the value of her future works.
In the late 1870s, renowned Paris art dealer Goupil began purchasing her work. In the 1880s her work was so much in demand that the prestigious Knoedler art dealership of New York bought her Salon paintings, sight unseen.
William Adolphe Bouguereau
By the late 1870s, Gardner was studying with William Adolphe Bouguereau (1825-1905), whose use of rich color and portrayals of children and domestic scenes were widely acclaimed. Bouguereau enjoyed significant popularity in France and the United States, was given numerous honors, and received top prices for his work. During his lifetime, he executed 822 known finished paintings. An early reviewer stated:
M. Bouguereau has a natural instinct and knowledge of contour. The eurythmie of the human body preoccupies him, and in recalling the happy results which, in this genre, the ancients and the artists of the sixteenth century arrived at, one can only congratulate M. Bouguereau in attempting to follow in their footsteps … Raphael was inspired by the ancients … and no one accused him of not being original.
Bouguereau had a strong impact on Gardner and her work. Gardner and her companion Imogene lived on the same street where Bouguereau and his family resided. She got to know the family and was on friendly terms with Bouguereau's wife, Marie-Nelly. In April 1877, both Bouguereau's wife and infant son died during childbirth.
In 1879, the grieving widower proposed marriage to Elizabeth Gardner (age 42), who happily accepted, but Bouguereau's mother and daughter Henriette opposed the union. The daughter threatened to leave home and join a convent if a marriage took place. Bouguereau could not go against his family, but the couple remained engaged. Gardner wrote home:
… And now about my engagement. … I am very fond of Mr. Bougereau and he has given me every proof of his devotion to me. We neither of us wish to be married at present. I have long been accustomed to my freedom. I am beginning to attain a part of the success for which I have been struggling so long. He is ambitious for me as well as I for myself. … I wish to paint by myself a while longer. He has a fretful mother who is now not young, 78, I think. She is of a peevish, tyrannical disposition and I know she made his first wife much trouble…
Gardner's relationship with Bouguereau was widely known and discussed within the Parisian artistic community. They made no secret of their relationship over the course of an engagement that was to last seventeen years. Mary French, the wife of major American sculptor Daniel Chester French later recalled that she had:
interesting memories…of Bouguereau's studio, where we used to go often, and where was also Miss Jennie Gardner of Exeter, New Hampshire, whom he either married or didn't marry – I have forgotten the details. There was a certain glamour of that young woman of Puritan birth, a contemporary of my Puritan aunts, living there in the Latin Quarter and doing something that all Paris talked about.
Gardner and Bouguereau continued to work together. During the 1880s, the popularity of her work increased greatly, and she was inundated with commissions but her mind was still focused on her Salon entries.
In 1881, the French government withdrew official sponsorship from the annual Paris Salon, and a group of artists organized the Society of French Artists (Societe des Artistes Francais) to take responsibility for the annual show.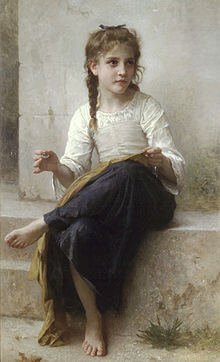 Image: Sewing (1898)
By William Adolphe Bouguereau
In 1887, the Paris Salon awarded Elizabeth Gardner a gold medal, the first ever bestowed on a woman. A dream come true! Her prize-winning painting was entitled The Farmer's Daughter. The idea came to her on a painting trip in the countryside. The weather turned stormy, and while taking refuge in a farmer's barn, she saw his daughter feeding the hens and made a quick sketch of the scene.
On May 30, 1887, she wrote to her brother John back in New Hampshire:
My pictures at this year's Salon have just received the medal which I have waited for so many years. I hasten to write you by the first mail for I know you will All sympathize with me in my happiness. The jury voted me the honor by a very flattering majority – 30 voices out of 40. … No American woman has ever received a medal here before. You will perhaps think I attach more importance than is reasonable to so small a thing, but it makes such a difference in my position here… and I hope it will be a good thing for the sale of my paintings. … Monsieur Bouguereau is very happy at my success.
This work by Elizabeth was to receive further awards when it was exhibited in the Gallery of the United States at the Paris Exposition Universelle in 1889 where it was awarded a bronze medal. To understand how great an achievement this was, consider that she was up against some of the finest American painters, like Thomas Eakins, William Merritt Chase and John Singer Sargent.
Marriage, Finally
Elizabeth Gardner and William Bouguereau had been courting for seventeen years, unable to marry for fear of crossing Bouguereau's mother who was adamant that the couple should not marry. In 1896 his mother died at the age of 91, and the couple wasted no time in getting married. The color of Elizabeth's bridal gown was black and white because, as she explained, although it was her wedding day, she was still in mourning for Bouguereau's mother. The groom was 71, and the bride 59 years of age.
After marrying Bouguereau, Gardner almost stopped painting altogether and spent most of her time looking after her husband and his studio. When asked why she stopped painting she simply replied: "He was alone and needed me. I abandoned the brush." She did not resume her painting career until after his death nine years later and after that she signed all her works in her married name.
Elizabeth and William worked happily together in their studio. They spent their summers away from the claustrophobic atmosphere of the French capital and returned to the calming atmosphere of his birthplace, La Rochelle.
Opening Doors for Women
For the years 1901 through 1903, William Bouguereau served as President of the Society of French Artists. Gardner persuaded her husband to use his influence as President of the Society, Head of the Salon, and President of the Legion d'Honneur, to convince the Academie Julien (and a few years later the Ecole des Beaux Arts) to open their doors to women for the first time in history.
There followed an exhibition at the Dahesh Museum in New York called Overcoming All Obstacles: Women Artists of the Academy Julien, which traveled to the Clark Museum, Williamstown, Massachusetts and the Dixon Museum in Memphis, Tennessee. It featured Gardner's work and that of other important women artists of the era. Female artists began to get the credit they deserved.
Near the end of his life William Bouguereau described his love of art:
Each day I go to my studio full of joy; in the evening when obliged to stop because of darkness I can scarcely wait for the next morning to come … if I cannot give myself to my dear painting I am miserable.
During their summer at La Rochelle, William Bouguereau died of a heart attack August 19, 1905, three months short of his eightieth birthday. Almost nine years they had together, just the two of them.
Back to the Brush
After William's death, Gardner resumed her painting, and turned out about four large pictures a year.
Art critics of the time often disapproved of her painting style, saying that she copied her husband's style too closely. But she was unrepentant and very proud of her work and in a 1910 interview stated:
I know I am censured for not more boldly asserting my individuality, but I would rather be known as the best imitator of Bouguereau than be nobody!
Although her subjects were quite different, her paintings did strongly resemble his, she accumulated a stunning body of work, some of which express her unique voice. The similarity in their styles was good for her finances as well. This genre of art was very popular with the public in France and even more so in America where clients could not get enough of her art.
Gardner was also an astute businesswoman and an excellent linguist, switching from her native English to French, Italian or German, to make her guests and potential clients feel at ease. She excelled in the social graces and knew how to manage publicity and nurture relationships that would help her further her career. Her ability to work her way into the social networks in Paris earned her sales and commissions.
Image: Elizabeth Gardner (1895)
Painted by William Adolphe Bouguereau
Elizabeth Gardner Bouguereau died January 28, 1922 at her summer residence in St. Cloud, a western suburb of Paris, and was buried, like her husband, in the Cimetiere de Montparnasse in Paris.
Elizabeth Gardner Bouguereau deserves to be remembered as the feisty young woman who challenged the French art establishment. She lighted the way for other women artists to challenge the stranglehold men had on the art world in the 19th century. At least forty of her paintings still exist.
SOURCES
Wikipedia: Elizabeth Jane Gardner
Wikipedia: William Adolphe Bouguereau
Art Renewal: Elizabeth Jane Gardner Bouguereau
Elizabeth Jane Gardner: the resolute and tenacious artist