Women Smugglers in Hoop Skirts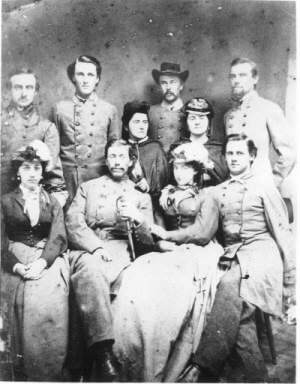 Civil War women smugglers carried weapons, ammunition, medicine and food across enemy lines. Some patriotic women brought fashion into the war effort, using their skirts to conceal all sorts of supplies, and they often attached these items to the frame of their hoop skirts. One Union official called them fashionable women spies.
Image: Hoop Skirt Smugglers
Seated: Annie Hempstone, Colonel Elijah White and Elizabeth White
Standing, second row: Kate and Betsie Ball
Image credit: Thomas Balch Library Visual Collections
The Skirts
Crinoline was originally a stiff fabric with a weft of horse-hair and a warp of cotton or linen thread which first appeared around 1830. The first skirts called crinolines were petticoats made of the new fabric and starched for extra stiffness. However, these fabrics were not stiff enough to support their own weight; extra rigidity was added to petticoats with hoops of whalebone or cane inside the hem by the 1830s.
By 1850 the word crinoline had come to mean a stiffened petticoat or a lightweight steel skirt-shaped structure, called the cage crinoline, which was adopted enthusiastically: the numerous petticoats were heavy and uncomfortable, but the crinoline was light, and it only required one or two petticoats worn over the top to prevent the steel bands appearing as ridges in the skirt. By 1864, fashion had begun to change from dome-shaped skirts to those flat on the front and sides, leaving volume only at the back.
Belle Boyd
Boyd was a Jill of all trades for the Confederacy. Her success in transmitting information won her growing attention from Confederate operatives, and by the autumn of 1861 she had become a courier between Generals P.G.T. Beauregard, J.E.B. Stuart and Stonewall Jackson, who credited her with assuring his victories in the Shenandoah Valley Campaign.
Then, after working briefly as a nurse, she became engaged in blockade-running and smuggling, in which her knowledge of the Shenandoah Valley and skilled horsemanship proved useful.
A network of Southern women, led by Belle Boyd, crept about Union camps late at night, gathering thousands of unattended sabers and pistols and tying an arsenal of weapons to the steel coils of her hoop skirt. She also smuggled precious quinine (best treatment for malaria) across the Potomac River to secessionist towns in Maryland.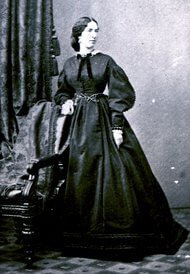 Image: Smuggler Belle Boyd in December 1863
Belle Boyd smuggled a veritable arsenal of weapons through Union lines in her spacious hoop skirts.
Image credit: Warren Heritage Society
By early 1862, however, Rose O'Neal Greenhow's arrest for espionage in Washington, DC led to widespread awareness of the potential danger of Confederate women spies and smugglers.
Thereafter, Boyd's activities attracted greater attention from Federal authorities, and she was arrested for lacking an official travel pass. After being detained for a week at a Baltimore jail, she returned to Virginia, where she visited an aunt who lived in the Shenandoah Valley town of Front Royal, which was under Union occupation.
Boyd performed the act that won her lasting fame at Front Royal. In the spring of 1862, General Stonewall Jackson launched an offensive in the Shenandoah Valley to divert the northern army from its operations against Richmond. Boyd had gained information she felt could be of use to the advancing Confederates, especially regarding bridges that the Federals planned to destroy in their retreat from Front Royal. If saved, the bridges would hasten the Confederate advance.
As Jackson's troops approached the town, Boyd met them in full view of the Union forces to deliver the information. Jackson's advance succeeded to a great extent. The depot building could not be saved, but fires set to the bridges were doused by the Confederate troops.
On May 23, 1862, 18-year-old Belle Boyd sprinted across the battlefield in Front Royal, Virginia, crinoline swinging, bullets penetrating the earth around her. She waved her white bonnet until she caught the attention of staff officer Henry Kyd Douglas. Speaking in gasps, Belle said she had vital intelligence for General Jackson:
I knew it must be Stonewall, when I heard the first gun. Go back quick and tell him that the Yankee force is very small – one regiment of Maryland infantry, several pieces of artillery and several companies of cavalry. Tell him I know, for I went through the camps and got it out of an officer. Tell him to charge right down and he will catch them all. I must hurry back. Goodbye. My love to all the dear boys – and remember if you meet me in town you haven't seen me today.
Detective Allan Pinkerton wrote to Secretary of War Edwin Stanton about Boyd's activities:
She gets around considerably, is very shrewd, and is probably acting as a spy. She is an open, earnest, and undisguised secessionist, and talks secession on all practicable occasions … informant considers her more efficient in carrying news to the rebels of our operations than any three men in the valley.
After Union forces reoccupied Front Royal in the summer of 1862, Boyd was placed under close surveillance. Arrested on the orders of Secretary of War Edwin M. Stanton, she was confined for a month in Washington, DC's notorious Old Capitol Prison (where Greenhow had also been held) before being released in a prisoner exchange.
Boyd's daring captured the imagination of both armies, and she became famous throughout the North and South. Northern newspapers accused her of impropriety, Frank Leslie's Illustrated Newspaper going so far as to dub her the Secesh Cleopatra. The Philadelphia Inquirer demurred, claiming that although she "passes far the boundary of her sex's modesty," she "has not yet lost the crowning virtue of woman" (12 July 1862).
After residing briefly in Richmond, Belle returned to her native Martinsburg, which had been recaptured by the Confederates during their drive to Gettysburg. When the town fell after the failed offensive, Boyd was again arrested and sent to the Carroll Prison in Washington, DC, where she remained, growing dangerously ill with typhoid, until her banishment to the South in December 1863.
Emma Kline
In 1864, 20-year-old Vicksburg, Mississippi resident Emma Kline was arrested by Union officials who were then occupying the city. She was charged with the crime of smuggling. She was one of a group of women who engaged in smuggling much needed supplies out of Vicksburg and into the area east of the Big Black River, which was still held by the Confederacy.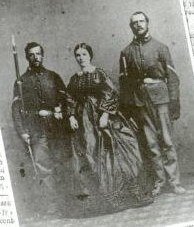 Image: Vicksburg resident Emma Kline
Union authorities created a photograph of Kline with two of her captors, both members of the 5th Iowa Infantry, and published it in the newspapers as a warning to other women involved in smuggling.
It is doubtful that Emma Kline was ever tried for her crime, but she probably spent some time in the Warren County jail, as did many civilians who angered the Union occupation troops in Vicksburg. The entire Kline family was eventually exiled from Warren County by this order:
HEADQUARTERS SEVENTEENTH ARMY CORPS, Vicksburg, Miss., January 26, 1864.

Major EASTMAN,
Commanding Cavalry, Red Bone Church:

MAJOR: It is reported to me on good authority that a party of Whitaker's band, say 15 or 20, contemplate crossing the Big Black to-night in the vicinity of Hall's or Regan's Ferries, and will probably come over to Mrs. Stowe's place, or possibly to Nelian Kline's. I desire you to entrap and catch these outlaws, if you can. I am also well satisfied that the Kline family, and especially Miss Kline, are guilty of acting in bad faith toward our Government and imparting information to the enemy.

You will, therefore, take immediate steps to put the whole family across the Big Black, not to return to this side without written permission from the proper military authorities, under penalty of being dealt with as spies. They will be permitted to take their household furniture and private clothing, and a complete inventory will be taken of what remains and a guard placed over it until it can be turned over to the U. S. Treasury agent.

Very respectfully, your obedient servant,
JAS. B. McPHERSON,
Major-General
The Nelian Kline mentioned by McPherson is Emma's father Nineon E. Kline, a rich planter who lived in the Redbone community south of Vicksburg.
Hoop Skirt Smugglers
In July 1864, in an effort to cause the Union to pull troops away from the siege of Petersburg, General Robert E. Lee ordered General Jubal Early to initiate an attack against Washington DC. In conjunction with this action, Colonel John Singleton Mosby (the Grey Ghost) was sent to disrupt communications between Washington and Harpers Ferry, Virginia.
On July 4th and 5th, Mosby attacked the Union base across the river at Point of Rocks, Maryland. They also cut all of the telegraph wires between Washington and Harpers Ferry and captured a number of Union wagons full of supplies.
On the evening of the 5th, Mosby ate dinner at Temple Hall Farm in northern Loudoun County, Virginia, a place of divided loyalties. Elizabeth White was the wife of Confederate Cavalry officer Elijah White of the 35th Battalion of the Virginia Cavalry. She had been living with her neighbors the Balls at Temple Hall, but she was not present at dinner that evening.
Early that morning of July 5, 1864, White, Kate and Betsie Ball of Temple Hall Farm and their friend Annie Hempstone had embarked on a daring mission. to retrieve desparately needed boots and clothing for soldiers of the 35th Battalion who had family in Maryland. The decision by these young women to risk charges of treason by crossing the Potomac River into Union territory to obtain supplies illustrates the increasing desperation in the Confederacy.
While guns blazed a short distance up the Potomac River at Point of Rocks on the morning of July 5, 1864, Elizabeth White and her friends crossed the Potomac River at White's Ford. Once in Montgomery County, Maryland, the four friends hurried to find the family members who were holding the supplies for Confederate soldiers.
The next morning, the women came back to the ford to cross the river and return to Virginia. They had tied the boots and clothing they collected to the frames of their hoop skirts. At the ford, they discovered that Union soldiers were guarding the river crossing. The women quickly retreated to the home of Elizabeth White's mother, where they hid their clandestine goods.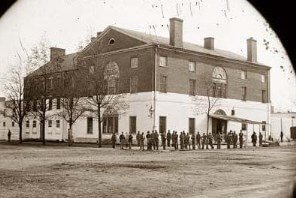 Image: Old Capitol Prison in Washington, DC
Elizabeth White, Kate and Betsie Ball, and Annie Hempstone spent three weeks here in 1864
The four women were arrested as spies and transported to the Old Capitol Prison in Washington, DC. Though Union officials knew the women were Confederate sympathizers, they could find no evidence to support a charge of spying. The women repeatedly stated that their trip to Montgomery County, Maryland was for pleasure alone, and Union officials released them three weeks later.
Somehow escaping detection, Elizabeth White and her comrades promptly returned to the house of White's mother in Dickerson, Maryland and retrieved their concealed items. The return river crossing was precarious simply because of the weight of the items concealed in the folds of the women's skirts, but went off without a hitch.
Colonel White distributed the boots and clothing to his grateful cavalrymen. Elizabeth White, Annie Hempstone, and Kate and Betsie Ball had taken great risks to retrieve these supplies, and had demonstrated their willingness to expose themselves to great danger to support their soldiers.
SOURCES
Wikipedia: Crinoline
The Hoop Skirt Smugglers
Gilbert's Corner Area History
American National Biography: Belle Boyd
Opinionator Blog: Siren of the Shanandoah
Heroines, Smugglers and Spies – The Forgotten Contributions of Women to the American Civil War