Teacher of Runaway Slaves at Fortress Monroe
Mary Peake was a teacher, best known for starting a school for the children of former slaves in the summer of 1861, under the shade of a tree that would become known as the Emancipation Oak in present-day Hampton, Virginia. This makeshift outdoor classroom provided the foundation of what would become Hampton University.
Image: Mary Peake
Early Years
In 1823, Mary Smith Kelsey was born free in Norfolk, Virginia. Her father was an Englishman "of rank and culture" and her mother was a free woman of color, described as light-skinned. When Mary was six, her mother sent her to the town of Alexandria (then part of the District of Columbia) to attend school while living with her aunt Mary Paine.

Mary Peake studied there for about ten years, attending a select colored school where she studied dressmaking, reading, writing and arithmetic. In addition to this, Mary acquired a knowledge of dressmaking and various kinds of needlework. Though fond of general reading and study, there was no book Mary loved more than the Bible, and she committed large portions of it to memory.
Peake studied there for about ten years, until growing sectional tensions and fear of slave unrest prompted local lawmakers to close all schools for free blacks in Alexandria in 1839. The US Congress also enacted a law prohibiting free people of color in the District of Columbia from being educated.
Career in Education
In 1839, at age sixteen Mary Peake returned to live with her mother in Virginia, where a law had been passed after the Nat Turner Rebellion in 1831 that closed all schools for free blacks, and forbade the education of slaves, free blacks and mulattos. Despite the risk, she secretly taught slaves and free blacks to read and write.
In 1847 her mother married Thompson Walker, and the family moved to Hampton, Virginia and bought a house. There they resided until the town was burned by the Rebels in 1861. While supporting herself by making clothes, at age twenty-four Peake began secretly teaching African American children and adults in Hampton. One of her students was her stepfather Thompson Walker.
In 1851 Mary Kelsey married Thomas Peake, a freed slave who worked in the merchant marine. He was intelligent, pious, and in every respect a congenial companion, with whom she lived happily until her death. They had a daughter named Hattie, whom they nicknamed Daisy. They all lived there together until Confederate troops burned the town of Hampton. Mary continued to hold classes for African Americans.
Civil War: Burning of Hampton
On August 7, 1861, General John Magruder took 500 Confederates with him sometime around midnight and fired the buildings with torches. The town was estimated to have somewhere around 500 buildings. By the morning of August 8, seven or eight buildings were left standing. We do not know how this wanton act affected Mary Peake and her family.
A New York Times correspondent wrote from Fortress Monroe on August 8, 1861:
A few minutes past midnight, Gen. MAGRUDER, with about 500 Confederates – some of them belonging in Hampton – entered the town, and immediately fired the buildings with torches. A greater part of the five hundred houses were built of wood, and no rain having fallen lately, the strong south wind soon produced a terrible conflagration. There were perhaps twenty white people and double that number of Negroes remaining in the town from inability to move…

Image: Hampton, Virginia
Determined to keep the picturesque town of Hampton from being used by Federal troops and runaway slaves, Confederates burned it to the ground on August 7, 1861.

Image: Hampton after the conflagration
April 1862 photograph by George Barnard shows ruins of Hampton

The fire raged all night. The greater part of the Confederates withdrew towards morning, and at noon to-day, when I visited the place, but seven or eight buildings were left standing. The destruction of the town was a wanton act of cruelty to the resident Unionists, and moreover entirely useless. Perhaps twenty white people and double that number of Negroes remained in the town; unaware of the fire or unable to flee, some were killed in their sleep.
Fortress Monroe
Completed in 1834 and named in honor of President James Monroe, Fortress Monroe is recognized as the largest stone fort ever built in the United States. It was a military installation near Hampton, Virginia at the southern tip of the Virginia Peninsula, which is bounded by the York River, James River, Hampton Roads and Chesapeake Bay. It was the only federal military installation in the Upper South to remain under United States control throughout the War.
Contraband of War
When three slaves fled to Union lines at Fortress Monroe in May 1861, General Benjamin Butler, Union commander at the fort, decided that Virginia's secession from the Union nullified his obligation to return the slaves to their owners under the Fugitive Slave Act of 1850. He was also aware that these three slaves had been employed building Confederate fortifications, and therefore were being used to wage war against the Union.
Butler declared the three fugitives contraband of war, and decreed that any escaping slaves reaching Union lines would not be returned to bondage. This resulted in a steady stream of enslaved people from neighboring plantations who flocked to Union lines hoping for liberation. Fortress Monroe became a place of refuge.
Butler's decision to classify the slaves who gathered there as contraband of war changed the fate of many African Americans, enabling hundreds to reach freedom behind Union lines. Butler received the approval of Congress with the passage of the First Confiscation Act on August 6, 1861, which announced that any enslaved person used for a military purpose against the United States could be confiscated.
As the number of former slaves grew too large to be housed inside the fort, they began to build housing from the ruins of Hampton, outside the fort. They called their new settlement the Grand Contraband Camp. The contraband slaves of the Virginia Peninsula are credited with establishing the first self-contained African American community, where they quickly created schools, churches, businesses and social organizations.
Many contraband slaves and free blacks volunteered to serve in the Union Army, forming the U.S. Colored Troops (USCT). Some also became scouts, guides, spies, cooks, hospital workers, blacksmiths and mule-drivers, contributing immensely to the Union war effort for the balance of the Civil War. Numerous Union officers became more aware of the plight of the contrabands and made contributions to their continued education.
First Black Teacher
The rising number of ex-slaves in the Grand Contraband Camp prompted the establishment of schools for those freedmen who exhibited a great thirst for knowledge. The American Missionary Association (AMA) had been preparing for just such a situation, and within days it dispatched Rev. Lewis C. Lockwood, who opened the first Sabbath school in early September.
When Lockwood told the students about his plans to open a full-time freedmen's school, they said Mary Peake should teach them. Peake was still teaching secretly, defying the Virginia law against educating slaves and free blacks that was passed after the Nat Turner Rebellion in 1831. The AMA hired Peake, and paid her a small salary to become its first black teacher.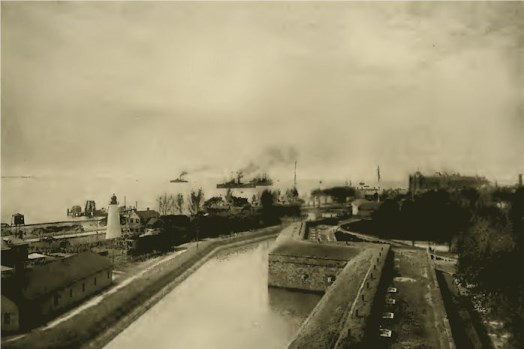 Image: Fortress Monroe
In order to provide the masses of refugees some kind of education, the AMA began by gathering the newly freed men, women and children who were eager for an education in the shade of a southern live oak tree near Fortress Monroe. This famous tree would later be called the Emancipation Oak. Several similar schools would later be established in the same fashion.
Pioneering teacher Mary Peake held her first class under that tree on September 17, 1861 with "only about half a dozen" pupils, but within several days, attendance had grown to between fifty and sixty students. Among her students was her own little daughter Daisy, five years old. The children learned to read simple lessons fluently in a very short time. When adults expressed an interest in education, Peake organized night classes for about twenty adults.
The AMA gave Peake the use of Brown Cottage, where she worked and lived; it is often referred to as the first building on the Hampton University campus. Unfortunately, Peake was seriously ill with tuberculosis, which she had contracted before the war, but she continued to teach. This excerpt from Mary S. Peake: The Colored Teacher at Fortress Monroe by Lewis C. Lockwood illustrates her dedication to her students:
In these multiplied labors, she exhibited a martyr spirit, of the true type. Often when she was confined to her bed, her pupils would be found around her, drawing knowledge as if it were from her very life. Again and again did Dr. Browne, brigade surgeon, who concerned himself for her like a brother, advised her to consider her weakness, and intermit her exhausting duties. The scene of these labors was the Brown Cottage, near the seminary, fronting on Hampton Roads. The school room was the front room, first story. Her own family apartment was the front room, second story. It will ever be a place about which precious memories will linger.
Peake continued as the primary teacher at Fortress Monroe until she became too ill to continue. Her strong will to educate the freedmen and their children was no match for the hold tuberculosis had on her frail body. Shortly after Christmas 1861, she was forced to give up teaching and was confined to her bed.
Mary Peake died February 22, 1862 of tuberculosis.
Although her personal role in freedmen's education was cut short, the very ground upon which she taught would later become home to the renowned Hampton Institute, and her own commitment to the education of her people would be emulated by other African Americans. The self-sacrifice and commitment of Mary Peake and others helped dispel the racist assumptions that many white Americans shared about black inferiority. One of Peake's students wrote:
Some say we have not the same faculties and feelings with white folks. What would the best soil produce without cultivation? We want to get wisdom. That is all we need. Let us get that, and we are made for time and eternity.
Emancipation Oak
In 1863, the Virginia Peninsula's black community gathered under the tree that had sheltered Peake and her students to hear the first Southern reading of President Abraham Lincoln's Emancipation Proclamation, and thereafter it was called the Emancipation Oak. Though Mary Peake did not live to see that historic event, the oak tree had already earned its place in history by serving as her first classroom.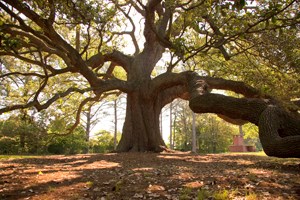 Image: Emancipation Oak today
Site of the first southern reading of the Emancipation Proclamation
With limbs sprawling over a hundred feet in diameter, the Emancipation Oak is designated as one of the 10 Great Trees of the World by the National Geographic Society.
Today the Emancipation Oak (planted in 1831) stands near the entrance of the Hampton University campus in what is now the City of Hampton. It has been designated a National Historic Landmark by the Department of the Interior and one of the 10 Great Trees of the World by the National Geographic Society.
Hampton Normal School
To continue the work started by Mary Peake, General Benjamin Butler founded the Butler School for Negro Children in 1863. There students were taught reading, writing, arithmetic, geography and grammar, as well as various housekeeping skills. In 1866 Brigadier General Samuel Armstrong was appointed Superintendent of the Freedmen's Bureau of the Ninth District of Virginia.
Drawing upon his experiences with mission schools in Hawaii, General Armstrong procured funding from the American Missionary Association to establish a school on the Wood Farm, adjacent to the Butler School. On April 1, 1868, Armstrong opened Hampton Normal and Agricultural Institute with a simple declared purpose:
The thing to be done was clear: to train selected Negro youth who should go out and teach and lead their people first by example, by getting land and homes; to give them not a dollar that they could earn for themselves; to teach respect for labor, to replace stupid drudgery with skilled hands, and in this way to build up an industrial system for the sake not only of self-support and intelligent labor, but also for the sake of character.
Practical experience in trades and industrial skills were emphasized and students were able to pay their way through school by working in various jobs throughout the burgeoning campus. The Butler School was used as a practice ground for students of the Hampton Normal School.
Hampton University
Today, Hampton University is a dynamic, progressive institution of higher education, providing a broad range of technical, liberal arts and graduate degree programs. In addition to being one of the top historically black universities in the world, Hampton University is a tightly-knit community of learners and educators, representing 49 states and 35 territories and nations. The surrounding city of Hampton features a wide array of business and industrial enterprises.
SOURCES
Wikipedia: Mary S. Peake
History of Hampton University
Wikipedia: Hampton University
Encyclopedia.com: Mary Smith Peake
Wikipedia: Grand Contraband Camp, Virginia
History Engine: Confederates Burn Hampton, Virginia
Encyclopedia Virginia: Fort Monroe During the Civil War