Civil War Women Prisoners of War
Many of the arguments against women fighting in combat is the fear that they will become prisoners of war. Documentation proves that some soldiers who were discovered to be women during the Civil War were briefly imprisoned. Madame Collier was a Union soldier from East Tennessee who was captured and imprisoned at Belle Isle, Virginia. She continued concealing her gender, but another prisoner learned her secret and reported it to Confederate authorities, who sent her North under a flag of truce.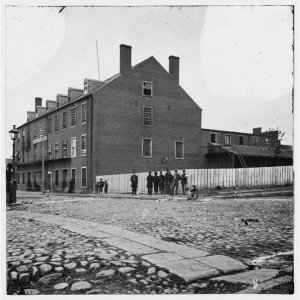 Castle Thunder
At Castle Thunder in Richmond, Virginia approximately one hundred female inmates were held throughout the war. Although Confederate authorities created a department at the prison specifically for the detention of "depraved and abandoned" women – prostitutes, spies and smugglers – most female inmates were political prisoners, the most famous of which was Dr. Mary Edwards Walker.
Image: Castle Thunder after the fall of Richmond, 1865
Prisoners were divided among the three buildings: Confederate deserters and political prisoners in one, black and female prisoners in another, and the last reserved for Union deserters and prisoners of war.
Castle Thunder was filthy, overcrowded, disease-ridden and lacked adequate food and medical supplies for the prisoners who were held there. Executions of Confederate deserters took place in full view of the other prisoners and a notoriously brutal captain, George W. Alexander, patrolled the prison accompanied by his aggressive black dog, Nero, both of whom taunted and terrorized the prisoners.
Other famous prisoners included two cousins, Mary and Mollie Bell. The Bells were secret soldiers who had disguised themselves as men in order to fight for the Confederacy. They fought for two years under the command of General Jubal A. Early, and took part in a number of key battles, including the Battle of Chancellorsville and the Battle of Gettysburg, before they were discovered.
When authorities learned that they were women, the Bells were sent to Castle Thunder in October of 1864 and held for three weeks. With no official crime to charge them with, prison officials finally released the cousins and sent them home to Pulaski County, Virginia.
Castle Thunder remained an active Confederate prison until the fall of Richmond in April of 1865. The Confederates destroyed many Castle Thunder records before they left town. Union military personnel took then took control of the building and used it to incarcerate former Confederates. The building was later returned to its original owners, but it was destroyed in a fire in 1879.
Dr. Mary Edwards Walker
A New York–born abolitionist and physician, Dr. Mary Edwards Walker was captured in April 1864 when she encountered a group of Confederate soldiers at Tunnel Hill in Georgia. She was transferred to Castle Thunder, accused of being a spy for the Union Army. She remained there until exchanged on August 12. Due to her unconventional profession and her trademark uniform, Walker attracted a lot of attention from the press and locals in Richmond.
The details of Walker's capture were reported in the Richmond Sentinel on April 22, 1864:
The female Yankee surgeon captured by our pickets a short time since, in the neighborhood of the army of Tennessee, was received in this city yesterday evening, and sent to the Castle in charge of a detective. Her appearance on the street in full male costume, with the exception of a gypsy hat, created quite an excitement amongst the idle Negroes and boys who followed and surrounded her. She gave her name as Dr. Mary E. Walker, and declared that she had been captured on neutral ground. She was dressed in black pants and black or dark talma [a cape] or paletot [a jacket]. She was consigned to the female ward of Castle Thunder, there being no accommodations at Libby [Prison] for prisoners of her sex. We must not omit to add that she is ugly and skinny, and apparently above thirty years of age."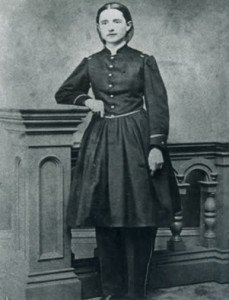 Image: Dr. Mary Edwards Walker in 1863
In this image Walker wears trousers beneath her dress, known as a Bloomer costume, which was popular among women's rights activists at the time.
During her four months at the jail, she wrote numerous letters to the press describing the horrible conditions at the prison. She complained that her mattress was infested with insects, rats ran throughout the prison at night and food rations were meager and inedible. On August 12, 1864 prison officials released Dr. Walker. For the rest of her life, she suffered from health problems caused by the malnutrition and exposure to disease she suffered at the prison.
Libby Prison
Also in Richmond, Virginia, Libby Prison consisted of three tenement (loft style) buildings, each 110 feet x 44 feet, 4 stories high. They were built between 1845 and 1852 by John Enders Sr., a founder of the tobacco industry of Richmond. Enders was killed instantly when he fell from a ladder through a hatch during the construction of the central building. The three buildings were connected by inner doors.
Captain Luther Libby leased the west building on 3 year terms from the Enders family and erected the now renowned sign, L. Libby & Son, Ship Chandlers. Following the First Battle of Bull Run, so many prisoners were coming into Richmond that these buildings were among those which were commandeered for use as prisons and hospitals. So rapidly was the building converted to its new use that the sign was not removed and thus it came to be called Libby Prison.
Libby gained an infamous reputation for the overcrowded and harsh conditions under which officer prisoners from the Union Army were kept. Prisoners suffered from disease, malnutrition and a high mortality rate. By 1863, one thousand prisoners were crowded into large open rooms on two floors, with open, barred windows leaving them exposed to weather and temperature extremes.
More than 50,000 men passed through this prison while it was used by the Confederacy. The prisoners were not kept on the ground floors, while the cellars contained cells for dangerous prisoners, spies and slaves under sentence of death. Its capacity was reported as 1,200 though it is certain that at times it exceeded that number.
Image: A photo of Libby Prison (1865)
Combined, the buildings were designed for 1,400 prisoners, but at least at one point housed 3,000. The most famous prisoner held at Libby Prison was the eccentric Union Cavalry Commander, General Judson Kilpatrick. Following the occupation of Richmond in April 1865, Federal authorities used the prison to house former Confederates until August 1868.
Elizabeth Van Lew at Libby Prison
Hundreds of women acted as undercover agents during the Civil War, willing to risk their lives to help their cause. One of the most effective was Union spy Elizabeth Van Lew – a prominent member of Richmond, Virginia society. The 43-year-old lived with her widowed mother in a three-story mansion. Educated in the North, Van Lew fervently opposed slavery and secession, writing her thoughts in a secret diary she kept buried in her backyard.
After the First Battle of Bull Run in July 1861, Van Lew volunteered to become a nurse at Libby Prison, but her offer was rejected by the prison overseer, Lt. David H. Todd, half-brother of Mary Todd Lincoln. Van Lew went over his head and persuaded General John H. Winder to allow her and her mother to bring food, reading material and medicine to the prisoners.
Van Lew and her mother were vehemently criticized for their relief efforts in the Richmond Enquirer:
Two ladies, a mother and a daughter, living on Church Hill, have lately attracted public notice by their assiduous attentions to the Yankee prisoners… these two women have been expending their opulent means in aiding and giving comfort to the miscreants who have invaded our sacred soil.
It is believed that she obtained much valuable information from the men there and passed it throuth her efficient agents to the Union. Threats of violence hounded her: "I have had men shake their fingers in my face and say terrible things. We had threats of being driven away, threats of fire, and threats of death." The bullying only made Van Lew more determined to help the Union.
Van Lew passed information to prisoners using a custard dish with a secret compartment and communicated with them through messages hidden in the books she shared with the prisoners. She bribed guards to give certain prisoners extra food and clothing, and to transfer them to hospitals where she could interview them. She even helped prisoners plan their escape, hiding many of them briefly in her home.
In December 1863, two Union soldiers who had escaped from Libby Prison with the help of Van Lew's underground network told Union General Benjamin Butler about Van Lew. Impressed with the stories, Butler sent one of the men back to Richmond with orders to recruit Van Lew as a spy. Van Lew agreed and soon became the head of Butler's spy network and his chief source of information in Richmond.
Old Capitol Prison
In August 1814, during the War of 1812, the British burned the United States Capitol building in Washington, DC. The Congress, forced to meet in temporary quarters, built a temporary brick capitol building in the Federal style at 1st and A streets, which they occupied from 1815 through 1819, while the U.S. Capitol building was being rebuilt.
The building acquired the title Old Brick Capitol in 1819 when Congress and the Supreme Court returned to the restored U.S. Capitol Building. Until the Civil War, the building was used as a private school, then as a boarding house. John C. Calhoun, former Vice President of the United States died in the boarding house in 1850.
With the start of the Civil War in 1861, the Union used the building as a prison for captured Confederates, as well as political prisoners, Union officers convicted of insubordination, and local prostitutes. The adjoining row of houses were also used as part of the prison. Famous inmates of the prison included cavalryman John Singleton Mosby and Henry Wirz, commander at the infamous Andersonville Prison, who was hanged in the yard of the prison.
In April 1865, many of the people who were arrested following the assassination of President Abraham Lincoln were also held here. These included Dr. Samuel Mudd, Mary Surratt, Louis Weichmann and John Ford, owner of Ford's Theater, where Lincoln was shot.
Belle Boyd
Celebrated beauty Isabelle Belle Boyd became one of the Confederacy's most notorious spies after a skirmish with a drunk Union soldier in July 1861. According to her account, the man invaded her home, tore down a Confederate flag and spoke offensively to her mother. Enraged, 17-year-old Belle shot and killed him, but she was acquitted of the crime.
Image: Belle Boyd
In May 1862 Boyd was residing in Fort Royal, Virginia with relatives whose hotel had been taken over by Union officers. She eavesdropped on their meetings through a hole in a door and rode through enemy lines, reportedly dodging bullets along the way, to report the information to Confederate General Stonewall Jackson.
Having continually spied for the Confederacy by carrying important letters and papers across enemy lines, Belle Boyd was arrested for her espionage activities on July 29, 1862, and brought to the Old Capitol Prison the next day. During her stay there, she received special treatment, became friends with the superintendent of the prison, and became engaged to a fellow prisoner.
An inquiry was held on August 7, 1862, concerning violations of orders that Boyd be kept in close custody. Belle Boyd's exploits have become a thing of legend. She beguiled her enemies into revealing military secrets, which she then transmitted to Confederate commanders. Boyd was held for a month before being released on August 29, 1862.
After a second incarceration the following year, Belle Boyd was banished to the South. She sailed for England in May 1864 to serve as a Confederate courier but was intercepted by Union troops. One of them, a naval officer named Samuel Hardinge, fell in love with the alluring spy and helped her escape to London, where they wed. He apparently died shortly thereafter.
Boyd, now a widow and mother at 20, remained in England to compose her memoirs and launch a successful stage career. She later returned to America, where she continued acting, married twice more and lectured on her wartime experiences across the United States.
SOURCES
Wikipedia: Old Capitol Prison
Richmond Then and Now: Libby Prison
Elizabeth Van Lew: An Unlikely Union Spy
Women Prisoners of War at Castle Thunder
Encyclopedia Virginia: Castle Thunder Prison