Pioneer Chemist and First Woman to Graduate from MIT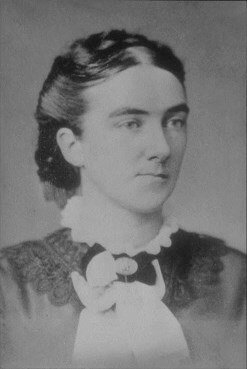 The most prominent American woman chemist of the 19th century, Ellen Swallow Richards (1842–1911) was a pioneer in sanitary engineering and the founder of home economics in the United States. She was the first woman admitted to any scientific school in the United States and the first female graduate of MIT. During her career, she also helped her break new ground for women in science.
Early Years
Born December 3, 1842 at Dunstable, Massachusetts, Ellen Henrietta Swallow was the only child of well-educated parents and received most of her early education from them. In 1859 the family moved one town over to Westford, Massachusetts, where her father opened a store. Ellen helped her father in the store, while also studying mathematics, French and Latin at Westford Academy, graduating in 1862.
In 1863, to enlarge his business, her father moved the family to nearby Littleton, which was close enough to Worcester for Ellen to attend lectures there during the winter of 1865-66. While Ellen focused her energy on assisting him in the store, she remained determined to continue her formal education, but there was no money to spare.
Therefore, Ellen taught school, tutored students and cleaned houses for years, saving every penny, but her mother was often ill and caring for her frequently took precedence over teaching. When she reached her mid-20s, she had earned enough money to attend college, but no colleges in New England were open to women. Frustrated by the seeming impossibility of realizing her goal, Richards experienced a period of ill health and deep depression.
Education
With the $300 she had saved, Ellen Swallow finally entered Vassar College in Poughkeepsie, New York in September 1868, at the age of 25. Vassar was opened in 1865, as a "college for young women which shall be to them what Yale and Harvard are to young men." The main building at Vassar included rooms outfitted for teaching science.
In this stimulating environment, Ellen was attracted to astronomy and chemistry and devoted much time to studying under Professor of Astronomy Maria Mitchell [link], the most important woman scientist in 19th century America and one of the first women science professors. However, the influence of Vassar chemistry professor Charles Farrar ultimately led Ellen into chemistry and gave her the idea that science should help in the solution of practical, everyday problems.
Ellen Swallow graduated from Vassar with a Bachelor of Science degree in 1870. She then applied for positions with various industrial chemists, but was always refused. At the suggestion of one of these chemists, however, she applied and was accepted as a special student in chemistry at the recently founded Massachusetts Institute of Technology in Cambridge, Massachusetts in January 1871.
Her acceptance, however, did not constitute a signal that MIT was willing to open its doors to any woman who applied (the institute didn't begin admitting women directly until 1878). The university accepted her as a special student without charge, not because of financial need, but as she learned later, so that the president of MIT "could say I was not a student, should any of the trustees or students make a fuss about my presence."
Thus Ellen Swallow became the first female student at MIT and the first woman admitted to a scientific school of any kind in the United States, and she understood the important role she played as the only woman admitted to the Institute:
I hope in a quiet way I am winning a way which others will keep open. Perhaps the fact that I am not a Radical or a believer in the all powerful ballot for women to right her wrongs, and that I do not scorn womanly duties, but claim it as a privilege to clean up and sort of supervise the room and sew things… is winning me stronger allies than anything else.
She received a Bachelor of Science degree in 1873, becoming the first woman to graduate from MIT. After graduation, Ellen tried again to find a job as a chemist, but there were none available for a woman. So she continued her studies at MIT. Three years later, she received a second bachelor's degree from MIT, as well as a Master of Arts from Vassar College, writing her thesis on the chemical analysis of iron ore.
Swallow was never awarded the doctorate degree she badly wanted, reportedly because "the heads of the department did not wish a woman to receive the first D.S. [Doctor of Science] in chemistry." (MIT did not award its first doctorate to a woman until 1886.) While this was a great disappointment, the lack of a PhD did not prove to be much of a hindrance to Ellen in her work.
Marriage and Family
During her years at MIT, Ellen worked as an assistant to Professor William Nichols who was engaged in water analysis, a new branch of chemistry, for the Massachusetts State Board of Health. She also met Professor Robert Hallowell Richards, chairman of MIT's mining engineering department. Richards proposed to Ellen Swallow, appropriately enough, in the chemistry laboratory.
On June 4, 1875 Ellen Swallow married Professor Robert Richards. At the time of their marriage, he was engaged in building the Institute's metallurgical and engineering laboratories. Three days after their wedding, the newlyweds set off on a trip to Nova Scotia – accompanied by Robert's class in mining engineering.
Marriage brought economic as well as emotional stability. Professor Richards supported his wife's work, while she used her training in chemistry and her language skills to help him keep up "with all the German and French mining and metallurgical periodicals" that came to their home in the Boston neighborhood of Jamaica Plain.
Ellen also acted as her husband's chemist for a project in which he experimented with methods of concentrating copper ores, and Richards took great pleasure when his wife was the first woman elected to the American Institute of Mining and Metallurgical Engineers.
Woman's Laboratory
Since the couple had no children, Ellen Swallow Richards was able to devote herself to the scientific education of women. With funding from the Women's Education Association of Boston, in 1876 she established the Woman's Laboratory at MIT and assisted the professor who ran it. It was the first laboratory in the world specifically designed to encourage women to pursue scientific study.
Training was offered in chemical analysis, industrial chemistry, mineralogy and biology – subjects many female students were encountering for the first time. In 1879 Richards was recognized as an assistant instructor, without pay, for teaching chemical analysis, industrial chemistry, mineralogy and applied biology. She contributed her services and an average of $1,000 a year during the lab's seven years of existence.
Richards' students from the Woman's Laboratory began to gain admission to regular courses at MIT. A group of local women raised $10,000 for a new building equipped with chemical laboratories and a parlor and reading room for women students. Once women were no longer relegated to the status of special students, the Woman's Laboratory was closed in 1883.
Home Economics
From her days at the Women's Laboratory, Richards was eager to apply scientific principles to domestic topics – good nutrition, pure foods, proper clothing, physical fitness and sanitation. In 1882 she published The Chemistry of Cooking and Cleaning: A Manual for Housekeepers. By setting up model kitchens open to the public, establishing programs of study and organizing conferences, Richards campaigned tirelessly for the new discipline of home economics.
In 1884 Richards was appointed to the MIT faculty as a full-fledged instructor. In the same year, MIT opened the nation's first chemical laboratory for the study of sanitation, and appointed her to the faculty as an instructor in sanitary chemistry, a position she held until her death some 27 years later.
Over the next quarter century, she devoted most of her energy to the domestic science movement. Not only did she do more than anyone else to open scientific education and the scientific professions to women; she virtually invented the new discipline called home economics. She developed courses of study, set standards for the training of teachers and edited a journal.
The research she and others had done clearly showed that exposure to contaminated air, water, food and soil made people sick. She believed that people had a right to know what they were breathing, drinking and eating. In a forward-looking speech she wrote:
The quality of life depends on the ability of society to teach its members how to live in harmony with their environment – defined first as the family, then with the community, then with the world and its resources.
In 1887, at the request of the Massachusetts State Board of Health, Richards and her assistants performed a survey of the quality of the inland bodies of water of Massachusetts, many of which were polluted with industrial waste and municipal sewage. This led to the first state water-quality standards in the nation and the first modern municipal sewage treatment. From 1887 to 1897 Richards served as official water analyst for the State Board of Health.
Richards and her colleague A. G. Woodman wrote a classic text in the field of sanitary engineering: Air, Water and Food from a Sanitary Standpoint (1900). Growing out of several summer conferences held at Lake Placid, New York, the American Home Economics Association was formed in 1908 with Richards as its first president.
During the last 15 years of her life, she was a prolific writer, publishing ten books and many scientific papers and magazine articles, and was in demand as a lecturer and consultant. Appointed to the council of the National Education Association in 1910, she was charged with supervising the methods of teaching home economics in schools.
Ellen Swallow Richards died March 30, 1911 of heart disease at the age of 68. She left virtually no estate. She had given all her money away.
The following obituary and tribute published in 1911 in the MIT alumni magazine, Technology Review, provide further details about her life and achievements:
The death of Mrs. Ellen H. Richards, on the thirtieth of March, occasioned a sense of personal loss to an unusually large number of friends, acquaintances and co-laborers in widely different walks of life. For nearly forty years a participant in the work of the Institute of Technology, she had become a prominent and most active figure among its corps of instructors; her scientific work had gained for her a wide acquaintance among various scientific organizations, local and national; her social service and interest in all that pertained to the higher education of women and to the betterment of living conditions for all had made her a leader whom thousands had learned to respect and were glad to follow.
Commentary
During my research, I noticed that Ellen Swallow Richards is conspicuously missing from many lists of important women scientists of the 19th century. Is this because she founded home economics, which might not be considered real science? If so, that is extremely petty and highly unfair.
SOURCES
Ellen H. Swallow Richards
MIT.edu: Ellen Swallow Richards: Biography
Gale Encyclopedia of Biography: Ellen H. Richards
Mass Moments: Ellen Swallow Marries Robert Richards