Pioneer Woman on the Santa Fe Trail
Susan Shelby Magoffin was the young wife of a trader from the United States who traveled on the Santa Fe Trail in the late 1840s. She recorded her experiences in a diary – Down the Santa Fe Trail and Into Mexico: The Diary of Susan Shelby Magoffin, 1846-1847 (1926) – which has been used extensively as a source for that period in history.
Image: 7-foot tall statue sculpted by Ethan Houser
Keystone Heritage Park
El Paso, Texas
Early Years
Susan Shelby was born into a wealthy family on July 30, 1827 on their plantation near Danville, Kentucky. She was the granddaughter of Isaac Shelby, a hero of the American Revolution and the first governor of Kentucky. She grew up with servants and received a proper education.

Marriage and Family
On November 25, 1845, at age eighteen, Susan Shelby married Samuel Magoffin, age 45, and they spent their honeymoon in New York. Magoffin was the son of an Irish immigrant who had prospered in Kentucky. Samuel had been active in the Santa Fe trade since the 1820s, traveling widely in the United States and Mexico and gaining considerable wealth.
The Journey
Susan had been a new bride for only eight months when the Magoffins began to prepare for a trading expedition down the Santa Fe Trail. War between the United States and Mexico was just beginning, making it a dangerous time to travel the Trail, but Susan was excited about the trip.
In June 1846 Susan Shelby Magoffin set out with her husband, a veteran Santa Fe trader, on a trek from Independence, Missouri through the areas that are now the states of Kansas, Colorado and New Mexico, and then south to Chihuahua, Mexico.
The Diary
Susan Magoffin began her extensive diary in June 1846, when she and her husband departed from Independence, Missouri. Her diary describes the excitement, routine and dangers of a merchant's wife. On the trail for fifteen months, moving from town to town and house to house, she became adept in Spanish and the lingo of traders, and wrote down in detail the customs and appearances of places she went.
Throughout the expedition, she wrote in her diary almost every day, keeping careful records of plants, animals and people she encountered as she crossed the vast prairie. According to her diary, their wagon train included:
Fourteen big wagons with six yoke [oxen] each, one baggage wagon with two yoke, one dearborn with two mules (this concern carries my maid), our own carriage with two more mules, and two men on mules driving the loose stock.
Life on the Santa Fe Trail could be harsh, but as the wife of the expedition leader, Magoffin brought many of the comforts of home on the journey. She lived in a tent with a bed and mattress, a table, chairs and even carpeting. She traveled with her servant Jane and her dog Ring, and also brought a cook and a coop of live chickens with her.
The Santa Fe Trail
The trip took the Magoffins due west, across the prairies of what is now the state of Kansas, where she observed many migrating buffaloes. Magoffin wrote:
Such soup as we have made of the hump ribs, one of the most choice parts of the buffalo. I never eat its equal in the best hotels of N.Y. and Philadelphia. And the sweetest butter and most delicate oil I ever tasted is not surpassed by the marrow taken from the thigh bones.
By July 13 some of the novelty seems to have worn off. She wrote:
Passed a great many buffalo, (some thousands) they crossed our road frequently within two or three hundred yards. They are very ugly, ill-shapen things with their long shaggy hair over their heads, and the great hump on their backs, and they look so droll running.
As the Magoffins continued on the Santa Fe Trail, the green prairies and forests gave way to rocky deserts and mountains. Susan's carriage rolled over on July 4, and on the 21st their tent collapsed in a violent storm. When they reached Bent's Fort in modern-day southeastern Colorado, Susan described in her diary the buildings at the fort, which were constructed of adobe, dirt floors and ceilings made of logs.
On July 27, Susan became ill, and she took to bed in the spacious private rooms they had reserved at the Fort. On July 31, 1846, the day after her nineteenth birthday, Susan suffered a miscarriage, most likely caused by the carriage accident, delaying their departure. She lamented: "In a few short months I should have been a happy mother and made the heart of a father glad."
At the time of Susan's miscarriage, an Indian woman at the fort "gave birth to a fine healthy baby." Susan stated in her journal that the woman "went to the River and bathed herself and it [the baby]" only half an hour after giving birth, and then goes on to say: "No doubt many ladies in civilized life are ruined by too careful treatments during childbirth, for this custom of the heathen is not known to be disadvantageous, but it is a 'heathenish' custom."

Image: Map of the Santa Fe Trail
Leaving Bent's Fort on August 7, 1846, the Magoffins arrived at Mora, the first New Mexican town along the Santa Fe Trail, on August 25. Susan's first impression of the New Mexicans she met reflected common stereotypes of the time. She described the houses she encountered as "genteel pigstys in the States," but tempered her initial response by saying that "within these places of apparent misery there dwells that 'peace of mind' and contentment which princes and kings have oft desired but never found!"
At the town of Las Vegas, New Mexico, Susan was shocked to see children "in a perfect state of nudity" and scantily-clad women, who wore skirts showing their calves and low-cut blouses, and some breastfeeding babies in public. Susan obviously believed that proper ladies should wear skirts down to their ankles and blouses up to the neck.
Just a few days later, and in the context of her new surroundings, her opinion had changed:
I did think the Mexicans were as void of refinement, judgement and c[ulture] as the dumb animals till I heard one of them say bonita muchachita [pretty girl]! And now I have reason and certainly a good one for changing my opinion; they are certainly a very quick and intelligent people.
The Magoffins reached Santa Fe on August 31, 1846, and moved into a real Mexican house, which Susan described as "quite a nice little place." The main room was long with a dirt floor, plank ceiling and whitewashed adobe walls. Cushioned benches of adobe along the wall provided seating, and a screen behind protected backs from whitewash.
One side of the room was carpeted and served as a parlor. The other was bare earth with a dining table. Nearby was la cocina (the kitchen). The bedroom was "a nice cool little room" with two windows. It could be darkened at midday, enabling Susan and Samuel to indulge in one of the most agreeable local customs: "I must say it is truly pleasant to follow after the Mexican style, which is after dinner to close the shutters and take a short siesta."
Many of the observations and descriptions of New Mexico and its people are unique to Magoffin's journal. Her descriptions of her daily activities in Santa Fe centered on housekeeping, particularly managing servants and shopping for household goods but also on her daily interactions with locals.
The Camino Real de Tierra Adentro
The Magoffins left Santa Fe on October 7, 1846, and headed south toward El Paso del Norte (the Pass of the North) on the Camino Real de Tierra Adentro (Royal Road of the Interior Land), a 1,600 mile trade route between San Juan Pueblo, New Mexico and Mexico City from 1598 to 1882. Along this road, they encountered Pueblo Indians, the main farming people of New Mexico.
They spent some time at San Gabriel, where Susan was ill for a while with a fever. A lady there taught her to make tortillas, commenting that the work was "a deal of trouble." The same woman also showed Susan her knitting techniques. Susan then shared her own knitting technique, which she termed "the much easier mode of the U.S."
In late January 1847, the Magoffins again headed south. They had heard news of a rebellion at Taos, which Susan called "a perfect revolution." Soon rumors came that the population of New Mexico was "rising between us and Santa Fe… and in truth we are flying before them." They were also in a state of constant fear as they passed through the Jornada del Muerto (journey of death), a hostile and waterless stretch of desert.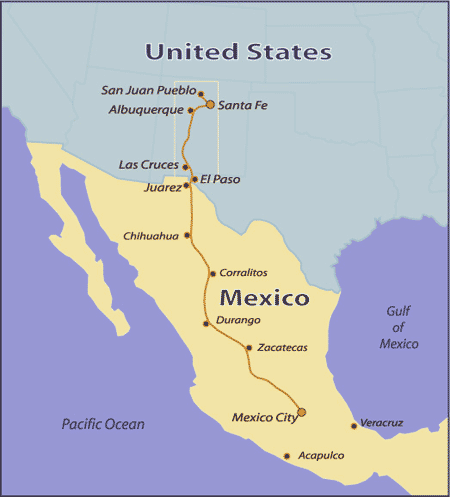 Image: Camino Real de Tierra Adentro
During the colonial period, the early settlements of New Mexico were connected to the outside world by the Camino Real de Tierra Adentro, or the Royal Road to the Interior Country. The route followed the the Rio Grande valley south to El Paso and then through the provinces of New Spain to Mexico City.
South into Mexico
When they reached El Paso del Norte on February 17, 1847, Susan was greatly impressed with the civilized manners and learning of her Mexican hosts. They lodged at the house of the priest Ramon Ortiz y Miera, a spacious house surrounded by orchards and vineyards. She was struck by the civilized atmosphere of the house, and particularly taken with a little girl who:
…only six years of age, carries with her the dignity of our girls of eighteen. It attracted my attention particularly the evening I came, with the same ease of a lady much accustomed to society, she entered the room, with a polite bow and 'Buenos tardes,' shook hands with me and seated herself.
On top of "wars and rumors of wars," Susan was pregnant again, and for the first time her diary hints at a change regarding her relationship with Samuel. Instead of girlish, hero-worshipping references to her husband, the reality of womanhood seems to have set in:
I do think a woman emberaso [pregnant] has a hard time of it, some sickness all the time, heartburn, headache, cramps etc., after all this thing of marrying is not what it is cracked up to be.
By July 1847, after thirteen months of adventure, Susan's health was deteriorating due to the hardships of the journey. To make matters worse, she contracted yellow fever at Matamoros, Chihuahua. During her illness she gave birth to a son, who died soon after his birth. Susan Magoffin's diary ended unceremoniously on September 8, 1847.
In 1848 the Magoffins boarded a vessel from the Mexican coast to New Orleans, then went north to live in Lexington, Kentucky. Samuel abandoned the Santa Fe trade for the real estate business. Susan gave birth to her third child, Jane, without complications in 1851, and in 1852 the couple moved to Barrett's Station near Kirkwood, Missouri, where Samuel bought a large estate.
Susan never fully regained her health. Shortly after the birth of her second daughter, Susan Shelby Magoffin died on October 26, 1855 at age 28. She was buried in Bellefontaine Cemetery in St. Louis, Missouri.
For decades historians believed that Susan Shelby Magoffin was the first American white woman to travel the Santa Fe Trail. But an article in the August 19, 1885 issue of The Santa Fe New Mexican discovered in 1987 by author Marian Meyer stated that a woman named Mary Donoho had crossed the Trail in 1833, thirteen years before Susan Magoffin. Magoffin's diary – Down the Santa Fe Trail and Into Mexico: The Diary of Susan Shelby Magoffin, 1846-1847 (1926) – remains a valuable record of the development of the West.
SOURCES
Wikipedia: Susan Shelby Magoffin
New Mexico History: Susan Shelby Magoffin
Historic Missourians: Susan Shelby Magoffi>
Down the Santa Fe Trail with Susan Shelby Magoffin