Daughter of Abraham Lincoln's Secretary of State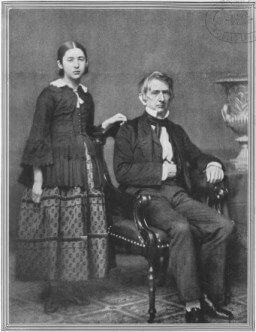 The only daughter of Frances and William Henry Seward – Secretary of State under President Abraham Lincoln – Fanny Seward was a delicate young woman who dreamed of becoming a writer. She kept detailed journals of her life in Washington, DC during the Civil War.
Image: Fanny Seward with her father, circa 1861
Early Years
Frances Adeline Seward was born December 9, 1844 into privilege in Auburn, New York, the only surviving daughter of William H. Seward and Frances Adeline Miller Seward. Fanny was given a progressive education and upbringing by her parents, which undoubtedly led her to become a passionate reader.
William Seward was a powerful Whig politician who served as United States Senator and Governor of New York. Frances Seward was a devoted abolitionist who established their Auburn home as a stop on the Underground Railroad. Many runaway slaves, including Harriet Tubman, received assistance from the Seward family on their journey to freedom.
The Sewards were seldom in the same place for very long. Frances Seward resented her husband's absences and would have been perfectly happy if he had chosen family over politics. She also had strong opinions about politics and the issues of the day, which she and her husband often discussed in their letters.
Life in Washington, DC
Frances Seward suffered from poor health throughout her adult life and preferred the relative quiet of her Auburn home to the hectic Washington social life. Therefore, when President Lincoln appointed Seward as Secretary of State in 1861, sixteen-year-old Fanny became her father's companion and hostess at social events in wartime Washington. She recorded her experiences during the Civil War in a diary.
Carriage Accident
On April 5, 1865 William Seward, 63, was thrown from the family carriage and suffered a concussion, a broken jaw and a broken right arm. Fanny recorded the event in her diary:
The carriage door not being tightly closed kept flying open. The coachman was told to dismount & shut it. While he was doing so the horses started. The coachman had the reins in his hand, and was swung by them some distance. Fred [Fanny's brother, Assistant Secretary of State Frederick Seward] immediately jumped out, thinking to head the horses. Although they were not going very fast he was thrown to the ground.

The horses turned round with a rapid sweep & went on increasing their speed. Father had some idea of being able to stop them, & sprang from the carriage in spite of my entreaties that he would not jump. I was on the back seat & could not see whether he reached the ground safely or not…. The horses tore along. I had a momentary thought of catching the reins, but they were swinging widely in the air far beyond my reach…

At the alley between Mr. Tayloe's house & ours the horses turned. We brushed against a tree. The brick corner of the house was in front – I was sure we were to be dashed against it and crushed to death. But just there the off horse fell, all crowded in between his mate and the carriage. Before we had time to get out of the carriage, the horse was up again, & we were dashing down the alley, when a soldier headed & stopped the horses, & saved us from being dragged into the stable.

As soon as we could get out I hastened back to look for Father, I met a crowd of men carrying him, & I thought he was dead, but they told me no… While I stood in our hall the men carried Father in & up stairs… I rested in the library then went to my own room…

The doctors were there… One of the surgeons examined his [Seward's] arm – I could hear the cries which the pain of the examination caused him. The right arm was found broken between the shoulder and the elbow… About six o'clock… I went into the room – he was so disfigured by bruises, his face so swollen, that he had scarcely a trace of resemblance to himself. His eyes were closed by immense swellings… I sat up till three o'clock in the morning – Father was restless, & talking constantly, in his sleep – holding my hand…

Mother & Will [Fanny's brother William] came in the evening – the late train… I told Mother before she saw father something of his appearance – still she was much shocked by it. I had thought there was no danger in his situation, but she explained to me that of congestion & inflammation, which made me feel very badly… I remember meeting Mother… later, when she took a cup of tea in the dining room… She had been sick on the way, but was looking well then – & was in the greatest anxiety about father…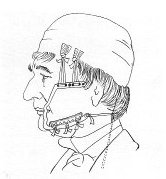 Image: Seward's Mouth Splint
A dentist designed a splint to keep Seward's jaw fragments lined up while they healed; he had to wear the device for several months.
The doctors stabilized Seward's broken bones, and prescribed bed rest while his body recovered from the accident. He was still recuperating when President Lincoln came a few days later with news of Grant's final victory in Virginia. Artist Francis Carpenter recalled the scene:
After words of sympathy and condolence, with a countenance beaming with joy and satisfaction, he entered upon an account of his visit to Richmond, and the glorious success of Grant, – throwing himself, in his almost boyish exultation, at full length across the bed, supporting his head upon one hand, and in this manner reciting the story of the collapse of the Rebellion.
The Assassination
On April 14, 1865, Lincoln assassin John Wilkes Booth assigned his co-conspirator Lewis Powell (alias Lewis Paine) to kill Secretary of State William Seward that night at approximately 10:15pm to coincide with Booth's attack on President Abraham Lincoln at Ford's Theatre. Seward was still confined to his third floor bedroom at his home on Lafayette Square, across from the White House.
Image: William Seward's assassin, Lewis Powell
Lewis Powell knocked at the front door of the Seward house a little after 10:00pm. Seward's butler William Bell answered the door. Powell told Bell that he had medicine for Seward from his physician, which he must deliver personally. Upon gaining admittance to the residence, Powell began making his way up the stairs to Seward's third-floor bedroom after much persuasion on his part.
At the top of the staircase, Powell was stopped by Frederick Seward, who was suspicious of the intruder, told Powell that his father was asleep. Powell then lunged at him, pointing his revolver at Frederick's forehead. The assassin pulled the trigger, but the gun did not fire. He then panicked and began to beat Frederick on the head with the gun.
Powell shoved Fanny aside, ran to her father's bed, and began stabbing him several times in the face and neck. The third blow went entirely through the Secretary's right cheek. The splint doctors had made for his broken jaw after the carriage accident nine days earlier was the only thing that prevented the blade from penetrating his jugular vein.
Fanny Seward described the scene in her diary:
…I saw that two men come in, side by side. I was close by the door, & the one nearest me, was Fred. The side of his face was covered with blood, the rest very pale, his eyes full of intense expression. I spoke to ask him what was the matter, – he could not answer me. On his right hand was the assassin. I do not remember how his face looked, his arms were both stretched out, he seemed rushing toward the bed.

In his the hand nearest me was a pistol, in the right hand a knife. I ran beside him to the bed imploring him to stop. I must have said "Don't kill him," for father wakened, he says, hearing me speak the word kill, & seeing first me, speaking to some one whom he did not see – then raised himself & had one glimpse of the assassin's face bending over, next felt the blows – and by their force (he being on the edge of the bed, where fear of hurting his broken arm, had caused him to lie for some time) was thrown to the floor.

I cannot remember seeing him – nor seeing Payne [Powell's alias] go around the bed – but Anna [Frederick's wife] was in the room and saw it. I have no remembrance of going around the foot of the bed, to the other side, but I remember standing there, by the corner at the foot, & thinking "This must be a fearful dream!" Then I looked about and saw, first, what I had seen before I think, but more fully now, three men struggling beside the bed.

I knew who they all were then. I could not tell the next day. But they were Fred & [George] Robinson [an attending nurse assigned to Seward] & the assassin – next I saw all the familiar objects in the room, the bureau, the little stand, the book I had been reading, all looked natural. Then I knew it was not a dream. I remember pacing the room back & forth from end to end – screaming. My screams wakened Gus [her brother Augustus]…

The first recollection I have of seeing Augustus – except when the assassin broke away from him, was with his forehead covered with blood. It seemed to me that every man I met had blood on his face… I remember running back, crying out "Where's Father?" seeing the empty bed. At the side I found what I thought was a pile of bed clothes – then I knew that it was Father. As I stood my feet slipped in a great pool of blood. Father looked so ghastly I was sure he was dead, he was white & very thin with the blood that had drained from the gashes about his face & throat…
When Augustus Seward announced he was going for his pistol, Powell panicked. As he exited the room, he fought off Robinson, Augustus and Fanny, stabbing them as well. In all, he injured five people during his wild rampage in the Seward home. Powell then ran downstairs and out the front door, screaming, "I'm mad! I'm mad!"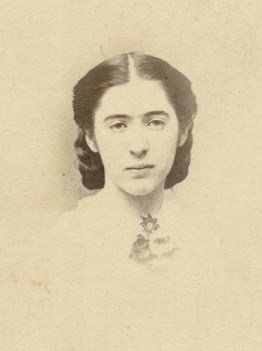 Image: Fanny Seward as a young lady
Powell hid for three days in a wooded lot, taking shelter in the branches of a tree. Three nights later, he showed up at Mary Surratt's boarding house just as she was being arrested. Powell was taken in for interrogation, and was identified him as Seward's attacker. Powell was tried and hanged July 7, 1865.
Back in her father's bedroom, Fanny Seward cried, "Oh my God, father's dead!" Sergeant Robinson lifted the Secretary from the floor and back onto the bed. Seward spat blood out of his mouth and said, "I am not dead; send for a doctor, send for the police. Close the house." Seward was covered in blood, but Powell's wild stabs in the dark room had not hit anything vital.
Fanny continued in her diary:
Notwithstanding his own injuries Robinson stood faithfully at Father's side, on the right hand – I did not know what should be done. Robinson told me everything – about staunching the blood with cloths & water. He applied them on the right side, & I, kneeling on the bed, on the left, put them on a wound on that side of the neck…

Dr. Norris sewed up the great gash in father's cheek – which had lain open – I was standing by the door, against the wall while he did it. I imagined all the time that father suffered dreadfully. I thought I heard him moan. But Father has since told us that he remembers no feeling of pain, & that he thinks he both fell asleep & woke during the operation – he remembered being sewed up…

At one time all the doctors were in Fred's room, & Mother & I were with Father. Once I thought his wounds were bleeding afresh – but it proved to be only a clot of blood. At another time when the doctors were in the room, mother was sitting down – & I went to her. She was ill in some way I think – perhaps with palpitation. She showed feeling & anxiety that must have been anguish, but she bore up with the greatest fortitude – as we spoke together she told me she was afraid Fred could not live. By that time it had been ascertained that his injuries were very serious… the skull fractured.

In the morning… Mr. Stanton [Secretary of War Edwin Stanton] came. I think it must have been he… that answered Mother's inquiry as to whether any thing later had been heard from the President. "Yes. He is dead." He died at 7 & we heard of it within two hours. While Mr. Stanton was there by the bed Mother said very gently to Father – "Henry – the President is gone."

He received the news calmly, but seemed to know the meaning of the words. He was not able to talk much of the time – and communicated… by means of a white slate & pencil – but owing to his exhausted state, & to his broken arm, it was almost impossible for him to write so that it could be read.

Miss Dix [Dorothea Dix] sent a note which I answered… quite early she came over & saw Mother & Father. Father conversed with her by using his slate. It was very difficult to read the writing – he was so weak. The following sentence, addressed to Miss Dix – I copied from the slate for her: "…The friends of America ought to have watched Mr. Lincoln better. His life however is the forfeit. The Nation will do him Justice."
Miraculously, William Seward made a full recovery and continued to serve as Secretary of State under President Andrew Johnson, but his face was permanently scarred. Frederick Seward also recovered from the head wounds Powell inflicted on him.
Image: A rare photograph of William Seward's scarred face – after Powell's attack he seldom allowed photographs to be taken of the right side of his face.
However, the strain of traveling to Washington and the traumatic events she witnessed there were too much for Frances Seward to bear. She died of a heart attack on June 21, 1865, nine weeks after the attack.
Fanny's frail health was also greatly affected by Lewis Powell's attempt on her father's life and the wounds he inflicted on the Seward family. She had contracted typhoid fever as a child, and the disease had weakened her already slender frame. As her health declined further, she returned to the Seward home in Auburn, New York.
Despite being diagnosed with badly diseased lungs in August 1866, Fanny went to Harrisburg, Pennsylvania the following month to be with her father, who had become ill with cholera while campaigning with President Johnson. Seward recovered but Fanny did not.
Fanny Seward died October 29, 1866 at the age of 21, most likely of tuberculosis.
SOURCES
Civil War Trust: William H. Seward
Lincoln and His Circle: Fanny Seward Diary
The Lincoln Institute: William Henry Seward
Abraham Lincoln's Assassination: Lewis Powell
Wikipedia: Powell Attacks Secretary William Seward