Civil War Nurse and Hospital Administrator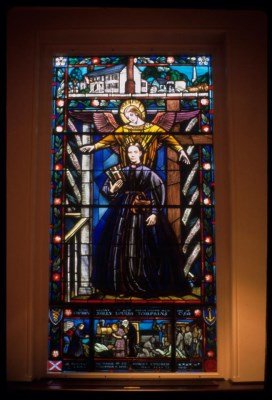 Captain Sally Tompkins was a Civil War nurse, humanitarian and philanthropist who founded a Confederate hospital in Richmond, Virginia. During the war she cared for 1,333 Confederate soldiers in her hospital with only 73 deaths – the lowest mortality rate of any military hospital – establishing the remarkable record of returning 94% of them to service.
Image: Sally Tompkins Stained Glass Window
St. James Episcopal Church
Richmond, Virginia
Depicts Tompkins with her medical bag around her waist and a Bible in her hand with the Angel of Mercy to guide her. Above the center panel is a picture of the Robertson Hospital, and below are scenes depicting Captain Tompkins caring for wounded soldiers.
Early Years
Sally Louisa Tompkins was born on November 11, 1833 at the Poplar Grove estate in Mathews County, Virginia to a family of wealth and rich military history, dating back to the American Revolution when her grandfather served under General George Washington. Her father died when Sally was only five years old, after which Sally and her mother moved to Richmond, where they joined St. James Episcopal Church and made the acquaintance of Judge John Robertson.
The Civil War
When the Civil War began, Sally Tompkins was 28 years old; she was a petite woman, less than five feet tall. The first battle of the conflict – the First Battle of Bull Run – took place on July 21, 1861 and was expected by the people of both sides to decide the war quickly. Some warned of high casualties, but no one actually believed it.
Washingtonians, including members of Congress and their ladies, traveled to the Virginia countryside, loaded down with picnic baskets, to watch the Rebels receive a resounding beating. Instead, they witnessed a panicked Federal stampede and the utter defeat of their blue-coated soldiers, leaving the onlookers shocked at the sight.
The city of Richmond had few hospitals and was totally unprepared for the large number of casualties that were brought into the city, primarily by rail. The sights of mangled and bloody men, brought home to the citizens the terrible reality of war. Warehouses and temporary shelters were not enough to care for hundreds of Rebel wounded.
President Jefferson Davis appealed to the citizens of Richmond to absorb this multitude of injured by opening their homes to the soldiers and establishing private hospitals. Miss Tompkins wanted to help, and asked her friend Judge John Robertson if she could convert a large home he owned in the downtown area into a private hospital.
Robertson agreed, and Sally set to work preparing the building, using her substantial inheritance from her father as well as donations from her lady friends at St. James Episcopal Church to refurbish the house into a hospital. The furniture was moved upstairs, and cots were assembled on the first floor. However, Mrs. Robertson insisted that the furniture they had moved upstairs be rearranged and used. It was, and the capacity of the house was thereby increased to hold 25 beds.
Robertson Hospital
Ten short days after the First Battle of Bull Run, Sally Tompkins opened the Robertson Hospital (she would hear of no other name for it) to care for wounded soldiers from the battlefield. The Confederate government assigned six surgeons to her staff. Her mother's cook ran the kitchen, and civilians donated bandages and linen. Women who could not stomach working directly with the wounded rolled bandages at home; others donated food. Sally supplied everything else with her own money.
A portion of the female social elite of Richmond also came forward to assist Miss Sally. Since there were no trained nurses, these women formed a group known as the Ladies of the Robertson Hospital, who undertook tasks that before the battle would have been deemed too indelicate for women of their standing. Robertson Hospital received its first patient on August 1, with Sally and a staff of six to care for the wounded.
At first there was some opposition. The prevailing attitude was that refined Southern ladies should not be exposed to the horrors of war by treating mutilated, sick and dying soldiers in military hospitals. This soon changed. The hospital staff also included female volunteers, cooks and slaves, one of whom was 'Mammy Phoebe' who had helped raise Sally from birth. Even wounded soldiers pitched in with the day to day chores needed to keep the place in perfect order.
Sally was very fortunate in acquiring the services of several well respected physicians. Chief surgeon during most of the war, Dr. A.Y.P. Garnett, who had left a large and lucrative practice in Washington, DC, to cast his fortunes with those of the Confederacy. He and Captain Sally were not always in accord, which is equivalent to saying that he frequently was forced to surrender his opinions.
Patients would later recall with pride the image of the frail angel of mercy who, with medical receptacle suspended from her waist, flitted from bed to bed solicitous of their comfort and quick to enjoin them, once they were well, to return immediately to their commands. "The little lady with the milk-white hands" they called her. But however soft those hands, one said, "She ruled her hospital with a stick in one… and a Bible in the other."
She worked tirelessly, and always carried that Bible on her rounds, ready to offer a verse reading or a kind word to an injured and troubled soldier. She also held nightly prayer meetings and, if a soldier was too sick to attend, she would stop by his bed later that night to pray and read the Bible to him. When she discharged a patient, she sent him off with a knapsack containing a blanket, clean clothes, warm socks she knitted herself and a copy of the Gospels bound in oil cloth.
Infections were the cause of many deaths among the wounded. Scientists did not discover that bacteria and other microorganisms caused infection until after the war. Sally Tompkins' personal obsession with cleanliness was a major factor in attaining a very low mortality rate at her hospital. Her hard work and tireless devotion earned her the name Angel of the Confederacy.
Some private hospitals charged outrageous fees for their care, so Confederate authorities decided to close all private hospitals. All sick and wounded soldiers could only be cared for at government hospitals run by a commissioned officer with at least a rank of captain. When Sally heard the news she ran to see Confederate President Jefferson Davis, and begged him not to take her boys.
The President was so impressed with the outstanding results she had achieved that he commissioned Tompkins a Captain of Cavalry, unassigned, making Robertson Hospital an official government facility. This made Sally the only female commissioned officer in the Confederate Army. As an unassigned officer she could remain at the hospital permanently. Her military rank also allowed her to draw government rations for her patients, but she would not allow her name to be added to the army payroll.
Famed Civil War diarist Mary Boykin Chesnut, a frequent visitor to Robertson hospital, wrote, "Our Florence Nightingale is Sally Tompkins." Most of the men fortunate enough to be placed under her care, simply called this remarkable woman, Captain Sally. Her unprecedented commission as captain of the Confederate Army was to stand alone until women were made eligible for officer rank in the Army Nurse Corps of the United States Army in 1901.
In June 1864, Dr. William Carrington, an inspector of hospitals for the Confederacy, filed an order to have the Robertson Hospital closed. Carrington was under the impression that Tompkins was admitting too many soldiers into her hospital. In a letter to Dr. Carrington dated June 9, 1864, she replied:
Sir
I have just received the Copy of your order to close the Robertson Hospital and in justification of myself, must make the following statement.

Dr. Garnett's endorsement on the morning report of June 5th – "that this Hospital, limited to 19 patients, numbered 44" – was written under a misapprehension of the facts. The number allowed (by measurement) was 22, but in consideration of the number of chambers – it was extended to 25. Dr. Garnett found on examination that there were occupying beds in the Hospital – at that time but 22 patients. The remainder – entirely with his approbation; sleeping in private quarters, but fed and tended in this Hospital. Had Dr. Garnett but suggested that he considered the sick and wounded too much crowded, I certainly would have had them transferred to other Hospitals, but I was entirely unconscious of the fact.

If I have ever been guilty "of violation of orders, or disregard for the safety of the wounded" it has proceeded entirely from ignorance and not from intention; it being my earnest wish to do what is right. Dr. Garnett's numerous engagements have prevented his giving much of his time and attention to the patients of late – notwithstanding I think the register of this Hospital will show as great success in its management of the sick and wounded as any other. Since the 1st of last June, we have had 337 patients and but 8 deaths. Many of them sent to us were (by the statement of Dr. Garnett made to myself), the worse cases.

Should this statement of facts remove your objections to this Hospital, I induce you to withdraw your order – it shall be my aim to endeavor to conform to all rules, to the best of my knowledge.

Very Respectfully Yours,
S. L. Tompkins
Captain Sally kept Robertson Hospital in operation until June 1865, discharging her last patient on June 13, 1865. Records showed that of the 1,333 soldiers in her care, only 73 died, a remarkable 5.5% mortality rate, the lowest of any hospital, North or South.
After the War
Sally Tompkins became one of the most beloved citizens of Richmond after the war and was bombarded with letters of gratitude. She was active in work for the St. James Episcopal Church and attended many functions of the United Daughters of the Confederacy and the United Confederate Veterans. Two chapters of the UDC were named in her honor. Whenever she appeared before one of their conventions, she received a standing ovation.
Sally also received many offers of marriage, many from the veterans who had received care at her hospital, but she remained a single woman throughout her life. Her family fortune mostly depleted by the war, she devoted her time and energies to charitable causes and the St James Episcopal Church.
Late Years
The Home for Needy Confederate Women originated with a small group of impoverished widows of Confederate soldiers living in Richmond after the Civil War. Having no other options, they combined their limited resources and set up house together. Even so, their financial situation remained grim, with residents sometimes having to salvage vegetables left over from the city market for food.
Help came in 1897 from the Ladies Auxiliary of the Pickett Camp of Confederate Veterans, which raised $1,000 for the women at a benefit bazaar. In 1898, the General Assembly of Virginia followed up with a charter to "provide a home for needy wives, widows, sisters, and daughters of Confederate Sailors, Soldiers and Marines." This action paved the way for an initial appropriation of $1,000 from the Commonwealth.
Captain Tompkins, her inheritance completely spent, was invited to take up residence at the Home for Needy Confederate Women as a lifetime guest in 1905. She lived there free of charge for the last nine years of her life.
On July the 26, 1916, Sally Tompkins died at the age of eighty-three and was buried with full military honors at Christ Episcopal Church near Mathews, Virginia. An eight foot monument marks her final resting place.
SOURCES
Civil War Richmond: Sally Tompkins Letter
Civil War Richmond: The Captain Was A Lady
Southern Heritage News and Views: Angels of the Confederacy
History Engine: Captain Sally Tompkins Defends Top Civil War Hospital