California's First Woman Lawyer
Clara Shortridge Foltz deserves to be called California's First Woman. She became the state's first woman lawyer, but only after fighting to change the law that denied women the right to become lawyers. That was only the beginning of her many firsts. She was the first woman to serve as clerk of the judiciary committee of the state assembly, the first woman deputy district attorney in the United States, and the first to run for governor.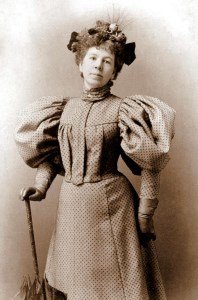 Early Years
Clara Shortridge was born July 16, 1849 in Lafayette, Indiana, the only daughter of Elias and Talitha Harwood Shortridge. Trained as a lawyer, Elias Shortridge turned instead to preaching and in 1860 became pastor for a church in Mt. Pleasant, Iowa. Clara attended Howe's Academy, a progressive school whose founding principles were women's rights and the abolition of slavery. She earned honors in Latin, philosophy, history and rhetoric.
Marriage and Family
In December 1864, at age 15, Clara eloped with farmer Jeremiah Foltz, and during several difficult years on an Iowa farm, she bore four children. In 1871, Mr. Foltz moved to Oregon; in 1872, Clara followed with their four children (the youngest only nine weeks old). She found her husband working as a clerk for miniscule pay. To support her family, she went to work as a dressmaker and took in boarders.
The Foltzes then migrated to California, settling in 1875 in San Jose, where Clara gave birth to their fifth child. They arrived in the midst of a severe economic depression, and Jeremiah Foltz made matters worse by making frequent trips back to Portland to visit the woman who ultimately became his second wife. During this time, Clara contributed articles to the New Northwest and the San Jose Mercury newspapers.
Her husband abandoned Foltz and their five children in 1876 (they would divorce in 1879). Realizing that she alone must support her family and that her former occupations of boarding, sewing and teaching would not suffice, Clara Foltz embarked on a public speaking career for the women's suffrage movement, which was fighting to gain the right to vote for women. Her passionate sincerity and the novel sight of a woman lecturer brought her some success.
Advocate for Progressive Legislation
Simultaneously, Clara Foltz began studying law at the local firm of Black and Stephens. However, in the 1870s, California law allowed only white males over twenty-one years of age and of good character to take the bar exam. Therefore, Foltz authored the Woman Lawyer's Bill, a proposed amendment to section 275 of the Code of Civil Procedure, changing white male to person.
Foltz and her sister suffragist Laura Gordon, soon to become the second female lawyer in California, lobbied throughout the twenty-second session of the California Legislature for the Woman Lawyer's Bill. It easily passed the senate but met strong opposition in the assembly. In the waning hours of the session, on the last possible day, March 29, 1878, the governor signed the bill, opening the legal profession to women.
On September 4, 1878, Clara Foltz was the first to take advantage of the new law; she passed the examination and was sworn in to the Bar, becoming the first woman admitted to the California bar, and the first female lawyer on the Pacific Coast. Her story generated nationwide publicity, and a nickname she liked: the Portia of the Pacific.
In 1879 Foltz and Laura Gordon decided to improve their skills by studying at the new law school, Hastings College of the Law, the first in the state. However, after only a few days of classes, Foltz received a letter from the Hastings Board, informing her that the directors had resolved not to admit women. Foltz and Gordon filed suit to compel the college, a state institution, to admit women, representing themselves in court.
The district court judge, who reportedly did not like the idea of female lawyers, found the women to be correct in the law, and ordered Hastings to admit them. Hastings appealed, and the case went to the California Supreme Court, where the women eventually won the case. The decision came too late for Foltz, however, who was already a busy lawyer supporting her family.
California's 1879 Constitutional Convention, influenced by the Hastings lawsuit, adopted two clauses guaranteeing women access to employment and education, unprecedented in any American constitution. The first clause prohibited restrictions to any business, vocation or profession based on sex; the second prevented sex discrimination in college faculty hiring.
Legal Career
Though she struggled at times for enough business and sufficient income, Foltz had a long and successful career as an attorney – practicing probate, criminal, family and corporate law. Some of her very first cases, in 1878, heard in justice court, involved reclaiming the property of young women put in vulnerable circumstances by desertion, illness or an ex-employer. She always actively encouraged the participation of women in the legal profession.
During the fifty years she practiced law, she was often the only woman in the courtroom. When an opponent tried to use her gender against her, Foltz typically responded thusly:
I am a woman and I am a lawyer – and what of it? I came into the practice of my profession under the laws of this State, regularly and honestly… and I have come to stay. I am neither to be bullied out nor worn out. I ask no special privileges and expect no favors, but I think it only fair that those who have had better opportunities than I, who have had fewer obstacles to surmount and fewer difficulties to contend with, should meet me on even ground, upon the merits of law and fact, without this everlasting and incessant reference to sex.
In 1880, the Lady Lawyer moved to San Francisco. She had always regretted her lack of formal legal training and worked to make the study of law easier for other women. In 1893 she founded the Portia Law Club in San Francisco to prepare women for the bar, and over the years she often taught law classes in her office. Ever on the move, Foltz moved to San Diego in the late 1880s, where she practiced real estate law and started a daily newspaper.
After returning to northern California in the early 1890s, she set out on a nationwide lecture tour ending in New York City, where in 1896 she joined the bar amid considerable press coverage. By some accounts, she was the first woman to argue in the city courts. She also started the Clara Foltz Gold Mining Company with a group of prominent businessmen, and sued a restaurant that refused to serve her and her older daughter Trella because they had no male escort.
Foltz Public Defender Bill
Clara Foltz was also a primary force in improving the criminal defense system. In 1893, she represented the California bar at the National Congress of Jurisprudence and Law Reform at the Chicago World's Fair. There she introduced the Foltz Public Defender Bill, which proposed that salaried lawyers devote all or part of their time to the practice of representing indigent defendants.
Foltz's radical concept proposed that a public defender would be a county officer who would defend, without expense to them, all persons who could not afford to pay an attorney. A public defender should also meet certain qualifications, receive a salary, have clearly defined job responsibilities and serve for a term of office.
Foltz went on to wage a long campaign of writing, speaking and lobbying a public defender statute from New York to California. Two decades passed before the first public defender office was established in Los Angeles County in 1914. In 1921 California passed a statewide public defender bill. This proposal was subsequently adopted in over thirty states, and was one of her greatest achievements.
Late Years
By the turn of the century Foltz was back in San Francisco after a short period of practice in Denver. Specializing for a time in oil and gas law, she published Oil Fields and Furnaces, a trade and technical magazine. When she lost her home and office in the 1906 earthquake, she moved to Los Angeles, where she spent the last third of her life.
In 1910, she was appointed to the Los Angeles District Attorney's Office, becoming the first woman deputy district attorney in the United States (1911-1913). She continued to be active in the suffrage movement, authoring the Women's Vote Amendment for California. In 1911, when California women finally won the vote, Foltz stood all night receiving congratulations as one of the few original suffragists who had lived to cast a legal ballot.
In 1918, she helped found the Women Lawyers' Club in Los Angeles. Her other trail-blazing accomplishments include becoming the first female clerk for the State Assembly's Judiciary Committee; the first woman appointed to the State Board of Corrections; the first woman named director of a major bank; and she helped pass California laws that allowed qualified women to act as administrators, executors and notaries public.
Though she was mentioned for national posts and federal judgeships, her career was past its prime by the time women had even a remote chance of being appointed to such offices. In 1930 Foltz made a largely symbolic run for Governor of California, at the age of 81, but it was politically too early and personally too late.
Throughout her life, Foltz was also an active writer and publisher. She founded the weekly newspaper The San Diego Bee. She also published a feminist weekly, The Mecca, during a brief stay in Colorado, and New American Woman Magazine, for which she wrote a monthly column until her death. She also raised her five children as a single mother, and encouraged other women not to overlook their domestic roles.
During a career that spanned 56 years, Foltz almost single-handedly pushed through numerous legislative bills that granted additional legal rights for women, including the right to vote. Looking back on her accomplishments, she wrote:
Everything in retrospect seems weird, phantasmal, and unreal. I peer back across the misty years into that era of prejudice and limitation, when a woman lawyer was a joke… but the story of my triumphs will eventually disclose that though the battle has been long and hard-fought it was worthwhile.
Clara Foltz died in Los Angeles on September 2, 1934 of heart failure. The pallbearers for her funeral included the governor and several prominent federal and state judges.
Honors
At the insistence of its women students, Hastings College of the Law granted Foltz a posthumous degree of Doctor of Laws in 1991. In 2002, the Criminal Courts Building in downton Los Angeles was renamed the Clara Shortridge Foltz Criminal Justice Center.
Clara Foltz was a famous first woman during her lifetime, with name recognition that few practicing attorneys achieve. Yet in terms of wealth and influence, she never reached the upper levels of the profession or gained the prestige she craved, but her efforts paved the way for generations of women lawyers to follow. This quote from the Clara Foltz page on the American National Biography website sums up her life quite nicely:
For almost five decades, whatever Foltz did and wherever she went, she was the first woman. As lonely as it was to be first, she gloried in its towering advantage: there is no standard for comparison and thus little room for failure. For Clara Shortridge Foltz, being first was success itself.
SOURCES
Wikipedia: Clara S. Foltz
13 Pioneering Women in American Law: Clara Foltz
Clara Foltz Entry: American National Biography – PDF
Clara Foltz Entry: Yale Biographical Dictionary of American Law – PDF