Volunteer Nurses: Forgotten Heroes of the Civil War
At the beginning of the war, women in all walks of life saw the need for nurses and simply showed up at military hospitals. A few of the more famous nurses kept a written record of their experiences, including Hannah Ropes, Jane Stuart Woolsey, Kate Cumming and Katharine Prescott Wormeley. Some are merely names on lists in dusty government archives; others we will never know.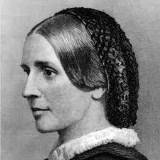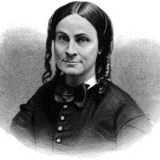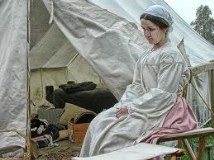 Backstory
In April 1861, Dorothea Dix and a hastily assembled group of volunteer female nurses staged a march on Washington, demanding that the government recognize their desire to aid the Union's wounded. Secretary of War Simon Cameron quickly named Dix to superintend the women nurses assigned to the Union Army. Dix was also a no-nonsense leader. At first she required nursing applicants to be at least 30 years of age and plain looking.
As casualties mounted, Dix was forced to relax her standards, and accepted anyone willing to work. Her Civil War nurses were paid 40 cents a day plus rations, housing and transportation, while male nurses received $20.50 a month plus superior benefits. As the war dragged on, other women volunteered. Soldiers' wives, residents of battlefront areas and agents of the U.S. Sanitary Commission all helped care for the sick and wounded.
Although it was believed that women have a natural aptitude for nursing, it was considered improper for women to care for strange men in army hospitals. Despite public ridicule, it is estimated that more than 3,000 women served as paid nurses in both the North and the South. This figure does not account for the thousands who were not compensated. As more and more volunteers came forward, the press applauded them for their patriotism and compassion.
Many women in the Confederacy traveled to battle sites to nurse soldiers from their home states. Margaret Elizabeth Clewell of Salem, North Carolina left a rare, unpublished account of her nursing experiences that was found in the Perkins Library at Duke University. This narrative tells of nursing the troops of the 21st North Carolina Regiment at Thoroughfare Gap and at the battlefield at Manassas in August 1862.
Her memoir, A Volunteer Nurse, reads in part:
I remember that day, September 19, 1861, when I left Salem with a part of volunteer nurses, to go to Fauquier County, Virginia, where the 21st N.C. Regiment was in camp. We were given the use of a fine old Virginia home, Blantyre, which we soon made as comfortable as possible, and as many sick soldiers were brought in as the house could hold.

We had carried many things with us, knowing we could get nothing in the way of supplies when we reached the camp. One thing I remember was a large box containing a barrel of good whiskey packed in dry fruit. Both whiskey and fruit were of great benefit to us, the former being used only when requested in the way of medicine….
A young woman from New York named Sophronia Bucklin had similar motives for enlisting. Because of her age, beauty and social standing, she initially met with opposition. She was finally given the opportunity to interview with the Soldier's Aid Society and was appointed to the Judiciary Square Hospital in Baltimore. In her book, In Hospital and Camp, she wrote:
The same patriotism which took the young and brave from workshop and plow, from counting-rooms and college halls… lent also to our hearts its thrilling measure, and sent us out to do and dare for those whose strong arms were to retrieve the honor of our insulted flag. Because we could not don the uniform of the soldier and follow the beat of the stirring drums, we chose our silent journeys into hospitals and camps, and there waited for the wounded sufferer…
Emily Parsons
In January 1863, Emily Parsons went to St. Louis and was assigned to the Lawson Hospital. A few weeks later, she was placed as head nurse on the hospital steamer City of Alton during the Vicksburg campaign in the summer of 1863. A large supply of sanitary stores were entrusted to Miss Parsons' care, and the steamer proceeded down the Mississippi River.
At Vicksburg, Mississippi the ship was loaded with four hundred invalid soldiers sick with fever, many of them past recovery, and returned as far as Memphis. On this trip, the strength and endurance of Miss Parsons were tried to the utmost in caring for the helpless and suffering men, several of whom died on the passage up the river. During that trip she contracted malaria.
For a few weeks after her return to St. Louis and at intervals during the ensuing years, Miss Parsons suffered from an attack of malaria. While recuperating she wrote home:
It is a life of hard work, and uncertain work: you never know one week where you may be sent the next. I have gone wherever I was asked since I came here, and nearly killed myself – though I do not mind that – and now if I get my strength back, I shall keep where I can use it, and not, by getting sick, become of no use or comfort to anybody. We must have our bodies in good order, if we want to do for others.
Miss Parsons soon recovered and was back at work at Benton Barracks hospital in St. Louis; this is an excerpt of a letter she wrote on June 5, 1863:
I am rather busy now; I have to look after refugees, contrabands, soldiers, both black and white, and keep my senses. I have… many duties, and I hope and pray that I shall perform them in the right spirit and faithfully. The comfort of many depends in a great degree upon me.

I wish I had a little stronger body, that I was a small Hercules for instance. I wish you could have seen the face of one poor white soldier as I was bathing him the other day. I do get such sweet words and looks sometimes. The world may not think I do much here, but the poor men like to have me round….
Emily Parsons died of a stroke on May 19, 1880. Later that year, her father published her correspondence entitled Memoir of Emily Elizabeth Parsons, detailing her experiences as a Civil War nurse.
Amanda Akin
Single and 35, Amanda Akin left her home in Quaker Hill, New York in April 1863 to serve as a nurse at Armory Square Hospital, one of the largest hospitals in Washington, DC. During her fifteen months there, she wrote long letters to her sisters and recorded her daily experience in diaries. She was responsible for administering medicines and distributing special diets, as well as non-medical tasks such as entertaining and comforting the patients.
In her first letter home Amanda wrote:
You are no doubt anxiously looking for a 'sign of life' from me, but I can tell you initiation into hospital life of such a novice is not lightly to be spoken of, and until my ideas ceased floundering and I could recognize my old self again, I could not trust myself with a pen.
As battles were fought nearby, large groups of wounded soldiers were brought to Armory Square, where Akin's eyewitness reports registered the brutality of war. On June 14, 1863, in a letter to her sisters, she wrote:
It seemed to me this evening, as I sat at my table adding to the list of medicines – writing down name, regiment, list of clothing, etc., of the new arrivals, calmly looking at the poor maimed sufferers carried by, some without limbs, on a stretcher – that I had forgotten how to feel… it seemed as if I were entirely separated from the world I had left behind.
In another letter, Akin describes how visiting the Smithsonian grounds next door to the hospital helped her escape from the turmoil of the patient ward and the suffering. She also tells of meeting important figures, including photographer Matthew Brady, poet Walt Whitman and President Abraham Lincoln:
His homely face with such sad eyes and ungainly figure did not fill my youthful idea of a President of the United States; but it was a grand thing for him to come and cheer our soldier boys with his presence. No doubt the fearful responsibility of his office weighs heavily upon him.
In 1909, at age eighty-one, Amanda Akin published an account of her nursing experiences, The Lady Nurse of Ward E.
Harriet Eaton
In October 1862, 42-year-old Harriet Eaton became one of the first nurses sent by the Maine Camp Hospital Association (MCHA) to provide relief services to Maine soldiers in the Army of the Potomac. From October 1862 to May 1863, Eaton worked as a roving regimental nurse in northern Virginia.
Eaton found the politics challenging; conflict between Eaton and coworker Isabella Fogg erupted almost immediately. The two rode in ambulances in the wake of battle, cooked meals on outdoor campfires, cared for wounded soldiers in hospital tents and distributed medicine. Though Eaton praised some of the surgeons with whom she worked, she labeled others charlatans whose neglect had deadly implications for the wounded.
Harriet Eaton returned home in May 1863 due to illness and then returned to the field in October 1864. This time she was stationed at City Point, Virginia at the confluence of the James and Appomattox Rivers, which she described as "a relief city in which were concentrated hundreds of the eastern theater's medical and relief personnel during the summer of 1864 through the spring of 1865."
Unlike the deplorable medical conditions that dominated her previous tour, Eaton found City Point well supplied and well staffed. By this point in the war the Union medical corps had become more efficient at moving wounded and sick men from the battlefield, and there was less need for nurses in the field. Instead these volunteers were limited to transportation hubs like City Point, where soldiers were cared for while waiting to be transferred to hospitals in the North.
While the Union medical corps had made substantial improvements in the care of wounded soldiers, the inevitable bureaucracy deprived nurses of the opportunity to provide personal care to the soldiers. Eaton was constantly under the watchful eye of the U.S. Sanitary Commission personnel, who often assigned her to care for men from other states, not her beloved Mainers.
Eaton quickly decided that she much preferred regimental nursing over hospital nursing and her time at City Point was deeply unsatisfying for her. She wrote less than a month after her arrival:
I am more than ever dissatisfied with this way of working. I reach the suffering and destitute so indirectly. I don't want to sit here and do the polite for a mess table, but would much prefer to live on hard tack and a cup of tea untrammelled.
After leaving City Point, Harriet Eaton spent two months in Alexandria, Virginia nursing soldiers who had been released from Confederate prison camps. Her diary and letters about her experiences during the war were published as This Birth Place of Souls: The Civil War Nursing Diary of Harriet Eaton in 2010.
African American Nurses
Except for a very few that are very well known, there is a great dearth of information about black nurses. Many of these women were illiterate, and therefore incapable of leaving a record of their experiences. This does not mean, however, that they did not serve. This excerpt from the article titled Women Amidst War on the National Park Service website partially fills the void:
The Confederacy impressed black women as hospital workers but thousands voluntarily entered the Union ranks as spies, nurses and laundresses. In running away or refusing to continue to work for masters and mistresses, enslaved women contributed to the destruction of slavery and the making of freedom. Like white women, they endured sacrifices.

The enlistment of black soldiers placed even greater responsibilities on their shoulders. While black soldiers tried to return for their families when possible, increasingly the task of getting a family to Union lines fell to enslaved women. Freedom was not free and enslaved women paid the ultimate price. Tens of thousands lost their lives, dying on the war's battlefields, in contraband camps, and on government-run and leased plantations from disease, hunger, cannon and bullets.

An untold number were beaten to death by masters and mistresses seeking to crush their bid for freedom. And when the war ended, black women had disproportionately lost husbands, fathers and brothers. The death rate of black soldiers exceeded that of both northern and southern soldiers.
Women nurses volunteered their services for a variety of reasons: patriotism, a sense of duty or to be near relatives. As male breadwinners went to war, many women needed to support themselves, but they were routinely paid less than male relief workers. Some nurses worked for particular regiments; others became involved through relief organizations like the United States Sanitary Commission. Women who lived near battlefields often showed up to lend a hand.
White middle class women were not the only nurses in the Civil War; they only kept better records of their experiences than lower class women and African American women who were mostly trying to survive. However, these poor women were there to do their part by the hundreds, probably thousands. They bound wounds, washed clothing and cooked meals for suffering soldiers, just like their more affluent counterparts, but we will never be able to tell their stories; they are lost to history.
SOURCES
Civil War Nurses
North Carolina Nursing History
Diary of Civil War Nurse Opens at the American History Museum